Against the Current, No. 128, May/June 2007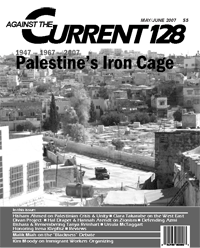 IRIS MARION YOUNG, one of the leading feminist and political philosophers of our time, died in August, 2006 at the age of 57. Born January 2, 1949 in New York City, she studied philosophy as an undergraduate at Queens College, where she graduated with honors in 1970, and received her masters and doctorate in philosophy from Pennsylvania State University in 1974.
In 2000, Iris Young joined the University of Chicago as a professor of Political Science. She was highly regarded for her work on theories of justice, democratic theory and feminist theory. Previously she taught political theory for nine years in the Graduate School of Public and International Affairs at the University of Pittsburgh. She also taught philosophy at a number of institutions, including Worcester Polytechnic Institute and Miami University.
Young was known for her humor and optimism: Cheerfully announcing the birth of her daughter, Morgan, Iris Young wrote to her friends, "Another socialist feminist has come into the world!" It was her humor coupled with compassion, intelligence and generosity which made her so endearing to her colleagues, students, friends and family.
Iris Young's life work could perhaps be summarized by: an intense ethico-political commitment to praxis philosophy; an attentiveness to group differences; and a curiosity about the embodied experience.
First, as an active member of the Radical Philosophy Association, she compelled a number of younger philosophers and graduate students to stay committed to combining a life of the mind and a passion for activism while pursuing academic careers. Much of her own solidarity work focused on women's and workers' rights, locally and globally, including demanding debt relief for Africa.
Secondly, her groundbreaking recognition of the value of group difference has led to new ways of theorizing about justice. Young reminds us to be wary of idealizing community at the expense of ignoring oppressive circumstances of marginalized people. In her brilliant essay "The Five Faces of Oppression," Young maps out an analysis of the function of oppression that is of great value to diversity teachers in the academe and "on the streets" alike.
Mindful of the importance of weighing in on policy issues, Young published an article on "Pregnancy, Drugs and the State," in this magazine (ATC 34, Vol. VI, No. 4, September-October 1991). Finally, Young's famous essay "Throwing Like a Girl" looks at difference from a gendered and embodied phenomenological perspective. It is a staple in many sports and leisure studies programs — attesting again to the interdisciplinary appeal of Young's work.
Whatever Young discusses in her many articles, books and interviews, her passion for political praxis shines through: solidarity work informs her writing, which is intricately linked with theorizing about such work. Thus, while Young's work is expansive, a common thread runs throughout all her writings: from the early socialist feminist analysis of dual systems theory and phenomenological analysis of the gendered body experience, to recent writings on global justice and political responsibility.
Her work foregrounds the importance of political activism by struggling against the structural injustices for which we share responsibility. In her teaching and mentoring, Iris Young compelled her students to get involved in community struggles and she was heartened when they did.
A gifted speaker, Young was much sought out nationally and internationally. She served as a fellow or visiting professor in Germany, Austria, South Africa and New Zealand, and her work has been translated into more than 20 languages. Young was a popular teacher both of graduate and undergraduate students. At Chicago, her class on global justice was among the most sought-after courses offered in Political Science.
Young's monographs include Intersecting Voices: Dilemmas of Gender, Political Philosophy and Policy (1997); Inclusion and Democracy (2000); and On Female Body Experience (2004).
Her most famous book, Justice and the Politics of Difference (1990), received the American Political Science Association's Victoria Schuck Award for the best book on Women in Politics published in 1990. In the same year, Young published Throwing Like a Girl and Other Essays in Feminist Philosophy and Social Theory.
She is also coeditor of six anthologies, two of which are forthcoming: Colonialism and its Legacies (with Jacob T. Levy, Lexington Press), and The Illusion of Consent: Essays after Carole Pateman (with Daniel O'Neill and Molly Shanley, Pennsylvania State University Press). The feminist journal Hypatia is planning a special issue (edited by philosopher Christina Bellon), commemorating her work, and a festschrift (anthology) will be edited by philosophers Ann Ferguson and Mechthild Nagel.
Iris is survived by her husband of 34 years, David Alexander, daughter Morgen Alexander-Young, brother L. James Young and sister Jacqueline Young.
ATC 128, May-June 2007