Against the Current, No. 128, May/June 2007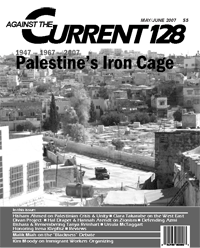 THE SUDDEN AND untimely death of Tanya Reinhart is a tragic loss. It is particularly painful as this brilliant Israeli linguist and dissident, with her husband and poet Aharon Shabtai, had moved to New York in December feeling they could no longer live in Israel while the brutal repression continued in the Occupied Palestinian Territories.
Both in her scientific field of linguistics and in her activism, Tanya Reinhart was a disciple and colleague of Noam Chomsky, who wrote of her "original and highly influential" professional contributions and her struggles "not only as a resolute and honorable defender of the rights of Palestinians, but also as one of those who have struggled to defend the moral integrity of her own Israeli society, and its hope for decent survival."
Michael Warschawski recalled their four decades of comradeship, beginning in 1968 when Tanya fished him out of a pool where he had been thrown in a scuffle with some fascists at Hebrew University ("I don't know you, we need to speak!" was her first greeting on that occasion).
In addition to a regular newspaper column in Yediot Aharonot and numerous articles, Reinhart authored two powerful books, "Israel/Palestine: How to End the War of 1948" (Seven Stories Press, 2002) and "The Road Map to Nowhere: Israel/Palestine Since 2003" (Verso, 2006).
Her political activism began during the 1960s in the Israeli Communist Party, which she left along with other activists of Israel's post-1967 "New Left." In recent years, she supported calls for global boycotts of academic conferences in Israel and of Israeli academic institutions, although not of Israeli academics as individuals. She had taken up a position as Distinguished Global Professor at New York University when she died of a stroke on March 17.
The memory of righteous people blesses our lives.
ATC 128, May-June 2007