Against the Current, No. 127, March/April 2007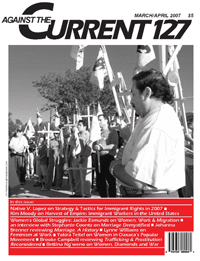 What's the Use of Walking if There's a Freight Train Going Your Way? Black Hoboes & Their Songs
with Companion CD
by Paul Garon and Gene Tomko
Chicago: Charles H. Kerr Publishing Co., 2006, $22, paper with CD.
THE CONTENTS OF this intriguingly titled new book by blues music authorities and authors Paul Garon and Gene Tomko are perfectly described by its subtitle: Black Hoboes & Their Songs.
Hoboes and hoboing were integral both to the development of the blues, especially the country blues. Many of the leading blues singers of the period encompassed in this informative and enlightening book — that of the "Golden Age of Hoboing" from the late 19th century through the Great Depression — were hoboes themselves.
Black and white hoboes were integral to giving U.S. capitalism a transitory and dispensable pool of migrant labor to draw upon in time of need.
Black hoboes especially present a reflection of the horrors resulting from what was the essential continuation of slavery in the South through its exploitation of Black labor, its practice of sharecropping, and the South's vigorous use of the penal system for social control and subjugation. But hoboes also served as a vital source for working-class culture, and a positive influence on working-class folklore.
The migrant hobo was at the nexus of so much that is American, both as positive working-class cultural, political and economic affirmation, and as representation of the seamiest underside of U.S. capitalism.
Hoboes, especially as sources of migrant labor in the late 19th and early 20th centuries, constituted an economically necessary but socially despised class of human beings. Principal author Paul Garon, with Gene Tomko's extensive transcriptions of blues and union songs of the hobo era from the participants themselves, tells the story of Black hoboes particularly well.
Small Numbers, Great Importance
The importance of Black hoboes, despite their paucity in absolute numbers, is succinctly put by Garon and Tomko at the beginning of their concluding chapter:
"Statistically speaking not many hoboes were African Americans. Alice Solenberger's group of 1000 homeless vagrants contained only 42 blacks. John Webb, author of The Migratory-Casual Laborer and other population analyses for the WPA, felt that few African Americans were migratory casual laborers. Only 5% of his sample of 500 migratory-casual workers were black. Black migratory workers' employment opportunities were limited, and racial prejudice made traveling a more dangerous proposition. The police and railroad detectives were a greater menace to black hoboes than to white ones, and jobs often refused to hire black workers. And yet, in a 1914 Buffalo study of the homeless, nearly 7000 were white and nearly 2000 were blacks. While these studies are hardly sufficient, we can nonetheless note that while a great number of blacks were in dire straits (the Buffalo study), a comparatively small number took the hobo route." (239)
This passage underscores the contribution of Garon and Tomko's study to a vital and extensive Political Economy of Black America. They have achieved this in a medium-length book written in an easily accessible, informal style that is nonetheless scholarly and informative. The book contains 20 pages of footnotes; nine pages of references; and 110 transcribed songs that date from the 19th century to 1961 that are especially indicative of the country blues of the 1920s and 1930s.
It is profusely and appropriately illustrated to boot, with photos of blues artists and Black workers; flyers, handbills, and posters; hand-drawn illustrations; and even, as frontispiece to the beginning of the footnotes, the Preamble of the Industrial Workers of the World.
Garon and Tomko depict the Black hobo's reality: the blues and migrant labor camps; police and railroad bulls; the South's vagrancy laws, chain gangs, and prevailing economic conditions that drove African Americans to the road and made the Black hobo's life far more precarious than that of the white hobo; how the economic opportunities and formally freer racial climate Up North weren't always that much better; the hobo jungles, key railroad lines, and highways; and the IWW and other unions, which were also part of the hobo's world because they were integrally part of the world of Black labor and Black communities as much as they were of the realm of white workers and white working-class communities.
Indeed, a theme that runs throughout is the multiracial camaraderie that characterized many of the hobo jungles (especially those outside of the South), and the militant organizing of sharecroppers and migrant workers by the Southern Tenant Farmers' Union, the Share Croppers' Union and the IWW, and the IWW and Communist organizers' insistence on racial equality in the face of the racial discrimination that was overlooked, when not actually encouraged, by the AFL and the Railroad Brotherhoods.
The racial egalitarianism that so often characterized the hobo jungles "'cause everybody was poor," as hobo Leonard Banks put it, and especially of the IWW's insistence on racial solidarity and its uncompromising opposition to the Ku Klux Klan, "whites only" trade unions, and all forms of white supremacy, are concretely noted and pithily given. (129-134)
Anti-racist author and activist David Roediger properly states of this book, "The music and the poetry of black workers in motion — hoboing, hitchhiking, timbering, mining, railroading, loving, leaving, fighting back and searching for a new job, a new life and even a new world are brilliantly recorded and explained in this arresting collection." Labor historian Robin D.G. Kelly also rightly notes: "The stories and songs [gathered] together in this remarkable book disrupt common notions of what we mean by 'freedom' when it comes to black folk…[As Garon] so eloquently demonstrates, the men and women who took to the road and their bards have so much to teach us about America's 'bottom rail.'"
The only major flaws I found in the book were some few, but glaring and distracting, grammatical lapses. Some additional editing and proofreading was needed.
Classic Tracks
But the prose text of What's the Use of Walking if There's a Freight Train Going Your Way? albeit significant, is only half of the significance, the vitality and the delight of what's presented by Garon and Tomko. For every bit as significant, as vital, and as delightful as Garon's text itself are the 110 songs transcribed by Tomko, along with the Companion CD which contains 25 original recordings. Both deserve being examined carefully. They are integrally part of the informative meat that gives this work its fulsome solidity.
The CD comprises tracks remastered from the vintage 78 record original, reproduced with redoubtable clarity given the original sources (only two of the tracks recorded jar the listener with pervasive static). These tracks feature several of the leading country blues singers of the 1920s and 1930s, including Bukka White, Tampa Red, Texas Alexander, Son House and Sleepy John Estes.
Featured on this CD are the original versions from their creators of two very renowed classics of the blues, Bukka White's "Special Stream Line" and Charlie Segar's 1940 recording of "Key to the Highway," a notable blues of the road greatly popularized in later recordings by Big Bill Broonzy and Little Walter.
Befitting an anthology of hobo blues, where the railroad train played such a substantial role, and the instrumental re-creation of train sounds an integral part of the genre, White's "Special Stream Line," along with Wesley Wallace's "No. 29," are musical re- creations of these train sounds — the pounding of locomotive drivers, the shriek of whistles, the clanging of bells, the hiss of air brakes, and the hobo's thump as he rolls on the ground after jumping off — as rendered on guitar and piano respectively.
Yet it isn't just trains or traveling that enter thematically on the Companion CD, but indeed the whole thematic gamut of hobo and migratory-labor lives and ways. Tampa Red's "Turpentine Blues" and Texas Alexander's "Section Gang Blues" address two of the worlds of work common to Black laboring migrants, the turpentine/lumber camps and labor for the railroads respectively. Two tracks here feature that great storyteller of the blues, Sleepy John Estes, as he recounts the stark, perilous realities of hobo life on "Special Agent (Railroad Police Blues)" and "Hobo Jungle Blues."
Charlie Patton's "Mean Black Moan" and Bumble Bee Slim's "I Done Caught My Death of Cold" recount how the North could be economically hostile to Black migrants from the South, and the Northern winters physically hostile as well. Washboard Sam's "C.C.C. Blues" describes graphically the welfare programs of the New Deal, and their all-too-palpable limitations and exclusions.
Also included are three blues depicting one of those all-too-characteristic evils of being Black in America: life in prison. Sylvester Weaver's "Penitentiary Bound Blues," Son House's "County Farm Blues," and Smokey Hogg's "Penitentiary Blues Parts 1 & 2" all recount this ugly reality of the Political Economy of Black America in the classically evocative poetry that's always been integral to the blues.
Of the traveling blues featured on this CD, Blind Willie McTell's "Savannah Mama" and Son Bonds' "Old Bachelor Blues" give us two reasons why Black men would be moved to hit the road: bad women in McTell's blues, and no woman or family ties to hold one down in Bonds.' Bonds also recounts on "80 Highway Blues" the saga of traveling down the length of U.S. Highway 80, extending from easternmost Georgia to San Diego, California.
Blind Blake informs us on "Georgia Bound" of how the lack of economic opportunities and harsh weather of the North frequently impelled a reverse Black migration back to the South. On a happier note, but also describing a facet of Black hobo life, is Blind Willie McTell's "Travelin' Blues," his fortuitous tale of cajoling both a free train ride and a breakfast of eggs and cheese by entertaining the engineer through his songs.
While most of the songs on the CD are solo guitar or piano blues, five songs are not blues at all, yet are representative of African-American hobo and community life of the period. Will Bennett's "Railroad Bill" is a folk story-song about a Black outlaw and train robber of the last decade of the 19th century.
In tune with their appreciation of songs depicting prisoners and prison life, the African-American people, especially those of the lower classes, instinctively regarded outlaws with respect and admiration, as fellow outcasts and rebels against "respectability" and celebrated them in song and story.
Work, Unions and Travel
There are also three union songs sung a capella by their creators, for unions and union organizing were also integral to Black working-class and community life. These songs, Sam Johnson's "We Done Quit," John Handcox's "Going to Roll That Union On" and "There Is Mean Things Happening in This Land," were recorded in the 1930s by the Library of Congress as part of the New Deal's effort to put intellectuals to work through employment preserving America's folk culture and heritage — for which we of the left should be highly grateful.
Black work song is represented on this CD by the 1927 recording for Paramount Records by a TCI Section Crew of "Track Linin,'" a rhythmic song the workers of the Tennessee Coal, Iron and Railroad Co. used to set their pace and coordination in aligning railroad track. As is noted alongside the transcription, this Paramount 78 may have been the first commercial recording of a Black work song.
There's musical variety here as well. Henry Thomas' guitar blues, "Railroadin' Some," incorporates the Pipes of Pan, Willie Scarecrow Owens' "Traveling Blues" is jazz-blues done by an old-time jazz band with horns, Sleepy John Estes' "Hobo Jungle Blues" features his long-time partner Hammie Nixon accompanying him on harmonica, and Bumble Bee Slim's "I Done Caught My Death of Cold," recorded in 1936, is a very modern-sounding guitar-and-piano ensemble number.
Other songs transcribed in What's the Use of Walking if There's a Freight Train Going Your Way? available on other recordings include Yank Rachell's "Hobo Blues" and "Up North Blues (There's a Reason)," both of which are on the Wolf Records CD James "Yank" Rachel: Complete Recorded Works In Chronological Order, Volume 2 (1938-1941), while Big Joe Williams' 1961 recording of "T.B. Blues" is on a Folkways LP. Many of the others can undoubtedly be found on any number of blues LP and CD anthologies and compilations.
Other well-known country blues artists of the 1920s, 1930s and 1940s whose songs are transcribed in the book but are not on the Companion CD include Peetie Wheatstraw, Memphis Minnie, Kokomo Arnold and Mississippi John Hurt. Also transcribed are 1920s jug-band artist Will Shade's "Better Leave That Stuff Alone" and Sloppy Henry's "Canned Heat Blues," both about the infamous, deadly and debilitating use of Sterno portable heating fuel canisters as a cheap source of alcohol.
The songs of modern blues artists are transcribed also, including Louis Jordan's 1946 hit popular with both Black and white audiences and record buyers, "Choo Choo Ch'Boogie." Other modern blues artists whose works are featured in What's the Use of Walking if There's a Freight Train Going Your Way? are James Cotton, Howlin' Wolf, John Lee Hooker, Floyd Jones, J.B. Hutto and Big Mama Thornton.
All this, and more, make Paul Garon and Gene Tomko's book compelling as scholarship, as blues history, as a social history of the U.S. in the late 19th and first part of the 20th centuries; as a depiction of fact, folklore and apocrypha about hobo life; and above all, as a vital and indispensable Political Economy of Black America in both text and song, words and music.
ATC 127, March-April 2007