Against the Current, No. 126, January/February 2007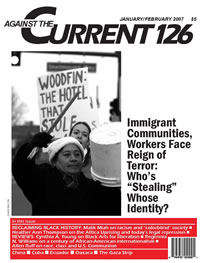 [The following is from a press release issued December 12, 2006 by Milo Mumgaard, Executive Director, Nebraska Appleseed Center for Law in the Public Interest, (mmumgaard@ neappleseed.org); and Professor Lourdes Gouveia, Director, UNO Office of Latino/Latin American Studies (OLLAS), 402-554-3835 or 402-554-3358 (lgouveia@mail.unomsha.edu). For information in English and Spanish for detained workers and their families on their rights after being detained, see www.NeAppleseed.org and www.IRNIN.org.]
TODAY'S WORKPLACE RAID in Grand Island, Nebraska meatpacking plant is merely the last gasps of a broken system, and is both an economic dead-end and cause of human misery. There is a better way.
The mass raids on the Swift meatpacking plant in Grand Island, and five others around the country, by Immigration and Customs Enforcement (ICE) is not only a heartless and meanspirited action during the holiday season, it is merely the last gasps of a broken immigration system.
All this will do is break up hundreds of Nebraska families, send desperately needed workers (including, based on past experience, citizens and fully legal workers) into an indefinite stay in our county jails, deport hundreds more who will then risk life and limb to be rejoined with their families, leave American children to go home to empty houses at the end of today's school day, and create longterm economic damage for the Grand Island and Nebraska economy.
This ICE effort has all the appearances of the Department of Homeland Security deciding it wants to look tough. Cracking down on hardworking breadwinners simply trying to make a living for their families right before Christmas is acting tough, alright, but does it make any sense?
Legacy of "Operation Vanguard"
There is a recent similar example. In December 2000, the INS (ICE's predecessor) raided Nebraska Beef in Omaha, accusing managers of smuggling undocumented immigrants into the country to work. INS claimed that a Nebraska Beef recruiter had gone to Mexico to lure workers with promises of high-paying jobs, free housing and fake Social Security cards.
The raid provoked public outrage when it ended in the deportation of more than 200 workers who were vital to the local economy right before Christmas. The case against Nebraska Beef was ultimately dismissed by a federal court when, ironically, all of its best witnesses had been deported.
This workplace action was immediately preceded by "Operation Vanguard." The stated purpose of this INS mass action in the meatpacking industry was to remove the employment "magnet" that draws undocumented workers to the United States.
The program targeted undocumented workers in the meatpacking industry by identifying workers with "discrepancies" between their employment and Social Security records, suggesting the use of a false Social Security number. The INS identified thousands, including many citizens and fully lawful workers, who then in fear simply quit.
Because so many workers left their jobs in Nebraska, fewer cattle and hogs were slaughtered. Meatpackers argued that losing their workers could cause them to close plants, damaging the whole infrastructure of the industry. Others pointed out that the economic effects reached the entire business community in town after town. The Latino immigrant community, of course, was devastated.
The economic impact of Operation Vanguard on the state was so profound that Gov. Mike Johanns (now USDA head) appointed a task force to study its statewide effects. In October 2000 the task force recommended against a resumption of the program and for endorsing changes in law, to ease restrictions on permanent residency and citizenship and to consider a legalization program for families and workers already here.
Going back even further, the Swift plant presently under siege previously operated as a Monfort plant. In a scene straight from an action movie (and being replayed again today), in 1992 helicopters and police vans surrounded the plant and seized and deported over three hundred immigrant workers. This terrifying episode at the same plant surrounded by ICE today implanted itself in the community's memory, and the negative effects of the raid played out for years.
Why is this history relevant to today's raid at the Swift plant in Grand Island? Some will say it's about time ICE is doing its job, and enforcing the law. Others will note that if the goal is to stop undocumented workers from working in the industry, there's plenty of history to show workplace enforcement doesn't seem to do the job.
A Better Way is Possible
Nebraska needs workers for its meatpacking industry. Immigrant workers need the jobs. Nebraska's economy and communities — and all of its working families — benefit from the vitality and energy of our immigrant stream. But our immigration system is broken, and it simply fails to reflect the real world. Let's put our energies into solving this immigration policy problem, not into dead-end enforcement of a broken system.
Playing tough (having SWAT teams pounce on mild-mannered fathers and mothers, sending them to jail, separating them from their children for an unknown period, and deporting them, all at Christmas time), apparently looks good to some — apparently, if one finds human misery to be a good policy tool.
Rather than enforcing a broken system, we should be redoubling our efforts to fixing it. Today's raids dramatically remind us of this basic reality.
ATC 126, January-February 2007