Against the Current, No. 122, May/June 2006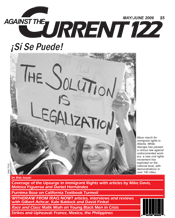 LOU RAWLS
DECEMBER 1, 1933-
JANUARY 6, 2006

"WICKED" WILSON PICKETT
MARCH 18, 1941-
JANUARY 19, 2006
LOU RAWLS AND Wilson Pickett were two of the most distinctive Black voices in pop music. From the 1960s right up to the present, both were major players in that extraordinary scene of the 1960s and 1970s, an artistic and soulful creative renaissance that stretched the boundaries of what could be done with popular culture well beyond the expected. It is a renaissance still remembered, still very much cherished as much outside the borders of the United States as within, even as today's virulently rampaging lowest-common-denominator commercial pandering tries to overwhelm us.
Their deaths call us to remember and cherish those legacies, as their accomplishments were vital in shaping what precious little there is of the good that's still left. On the modern cultural stage, Rawls and Pickett stand among the "world historical" figures.
Lou Rawls died on January 6 at Cedars-Sinai Medical Center in Los Angeles, with his wife at his side. Rawls, 72, had been diagnosed with lung and brain cancer a year earlier. Wilson Pickett, the "Wicked Pickett," a truly seminal influence in creating that very special R&B genre, the soul music of the 1960s and 1970s, died in a hospital in Reston, Virginia, of a heart attack. He was 64, and had been in poor health for the past year.
Both Rawls and Pickett always expressed so naturally, so excellently, that sometimes non-definable but obvious "you know when it's there!" thing called soul. Through their very different musical approaches, each could bring out this uncanny soul substance, make it real in the most unlikely of songs, songs one never thought could come out this way.
That classic Sixties Wilson Picket soulful grit of "In The Midnight Hour" and "Mustang Sally" could make itself felt every bit as much in his unique rendition of the Beatles' ballad "Hey Jude." Lou Rawls, likewise, could move us from the R&B collaboration with fellow high school classmate Sam Cooke on "Bring It On Home To Me," or blues-jazz with pianist Les McCann's combo, to those musical archetypes of soulful sophistication "Love Is A Hurting Thing," "Lady Love" and "You'll Never Find Another Love Like Mine."
Their mastery was every bit acknowledged by their musical peers. Rawls was notable for his velvety-smooth, rich baritone with the four-octave range that the Chairman of the Board himself, Frank Sinatra, called "the silkiest chops in the singing game." The Queen of Soul, Aretha Franklin, said in a statement, "A fellow Detroiter, Wilson Pickett was one of the greatest soul singers of all time. He will absolutely be missed."
Shaping Consciousness
Both Lou Rawls and Wilson Pickett shaped not just music, but consciousness as well. Their music, always affirmatively African American while simultaneously "crossover" successes that hit the top of both the R&B and pop charts, expressed to many of us young white radicals of the day a new consciousness that impelled and enlightened us, through music, the same way reading Malcolm X and W.E.B. Du Bois did politically.
Yes, comrades, lest we forget — we need that cultural affirmation that's within Pickett's "Don't Let The Green Grass Fool You" and Rawls' "Your Good Thing (Is About To End)" just as much as we need that political affirmation that's within the Communist Manifesto and The Revolution Betrayed. For the Real Revolution is that place also where we can dance, as kindred soul Emma Goldman insisted we be able to do!
Rawls and Pickett both stand out as integrally connected to the African-American communities that nurtured them, and to which they gave back more than they took. This community connection is most directly seen in Rawls' hosting since 1980 the "An Evening with the Stars" national telethons, which have raised more that $200 million for the United Negro College Fund. He was, in fact, seen posthumously in the latest "An Evening with the Stars" telethon, taped in September but not broadcast until shortly after his death.
Dr. Michael Lomax, president and CEO of the United Negro College Fund, had these words of praise for Rawls: "He's just someone who recognized, like many African-Americans of a certain generation, that education was something our kids didn't get access to, and that it was critically important for their future, and for our communities' future and for the nation."
Aretha Franklin also regards Rawls as someone "who made a serious impact in the interest of historically Black colleges and Black folks." Rawls himself, who never went to college, expressed what this work on behalf of African-American higher education meant to him:
"I remember a woman came up to me once and said, 'Thank you. You made my grandson the first college grad in our family.' That makes it all worth it."
Wicked Pickett
Wilson Pickett's connection to the African-American community is there as well. Pickett, who gained the nickname "Wicked" for the open sexuality he expressed both onstage and offstage, had 49 hits on the Billboard R&B singles chart, including 16 Top Tens, five No.1's, and 38 songs that registered on the pop charts.
The Alabama-born-but–moved-to-Detroit Pickett sang gospel in his native Alabama, and after moving to Detroit joined a local group, The Falcons.
Pickett, who also dated fellow Detroiter and future R&B star Mary Wells, was the lead vocalist on The Falcons' 1960s hit "I Found A Love" (which Pickett made a hit again when he re-recorded it).
Shortly after, he left the group and landed a contract with veteran R&B record label Atlantic, where he collaborated with pioneer soul guitarist Steve Cropper to write his first solo hit, "In The Midnight Hour."
He soon followed this with the soul classic extraordinaire, "Mustang Sally." The latter, of course, has now become an R&B staple automatically associated with Pickett but also covered by other musicians of stature such as Buddy Guy, and a soul standard/ chestnut expected from virtually every rock, soul and blues band playing a gig.
"Mustang Sally," in this writer's opinion, became an unfortunate victim of its own notable excellence, along with another truly great song, B.B. King's "The Thrill Is Gone," now so overplayed they've become the contemporary soul/blues/R&B equivalents of "Louie, Louie"!
Others among the many memorable hits that Wilson Pickett had in the 1960s include "634-5789 (Soulsville, U.S.A.), "Funky Broadway," "Land of 1,000 Dances" and "Three Time Loser." Pickett continued into the 1970s with memorable songs, including three consecutive Top 20 hits with "Engine No. 9," "Don't Let The Green Grass Fool You" and "Don't Knock My Love, Pt. 1."
Although he continued to record into the mid-1980s, Pickett's musical heyday was over. But his fortunes were much revived by Alan Parker's award-winning, runaway hit film from 1991, The Commitments, about a struggling Irish soul band that aspires to play with Wilson Pickett. One of the film's characters, Jimmy Rabbitte, declares memorably, "Soul is the music people understand. Sure it's basic and simple. But it's something else, because it's honest, that's it. It's honest. There's no fucking bullshit. It sticks its neck out and says it straight from the heart."
Wilson Pickett was inducted into the Rock and Roll Hall of Fame in 1991, and received the Pioneer Award from the Rhythm and Blues Foundation in 1993, two deserved acknowledgements of his musical contributions to both genres.
He had troubles with drugs and alcohol in the 1990s as well, however: He served a year in jail after a 1993 conviction for drunken driving after hitting an elderly person with his car, and had several other convictions on drug charges.
Despite these woes, Pickett never let them destroy his innate creativity. That was made masterfully evident by his 1999 comeback album It's Harder Now, his first recording in twelve years. It's Harder Now garnered not only a Grammy nomination for best R&B vocalist, it also won two W.C. Handy Awards, the blues world's Oscar, for both soul/blues album and comeback album of the year!
Miraculous Life
Same as with so many Black musical artists before him, Chicago-born Lou Rawls started out singing gospel. Rawls was a member of the Pilgrim Travelers, and had sung earlier in the Teenage Kings of Harmony gospel group with classmate and future soul giant Sam Cook (before Sam took the extra "e" to become Cooke).
While on tour with the Pilgrim Travelers and Cooke in 1958, Rawls was in a serious car accident that killed one person. Rawls was pronounced dead at the hospital and was in a coma for five-and–a-half days. This became life changing for him. "I really got a new life out of that," he said of it. "I saw a lot of reasons to live. I began to learn acceptance, direction, understanding and perception — all elements that had been sadly lacking in my life."
Rawls performed with Dick Clark at the Hollywood Bowl in 1959, and signed his first recording contract after being noticed by Capitol Records producer Nick Venet, who heard Rawls sing at small Los Angeles club on the Sunset Strip, Pandora's Box. Rawls was working there as a vocalist — for $10 a night plus pizza!
In his over 40-year musical career Lou Rawls won three Grammys, received 13 Grammy nominations, recorded several critically-acclaimed albums, did many voice-overs for a children's animated cartoon show, and recorded Here Comes Garfield, Grammy nominated in 1982 for Best Children's Album.
Rawls was also an actor who appeared in a number of movies and TV shows, toured extensively, and was a regular guest host on cable station BET Jazz's "Jazz Central." He was also noted for his "pre-rap" lengthy monologues on life and love that prefaced certain of his songs — along with numerous other achievements and activities!
Wilson Pickett is noted not only for his many hit soul records, but also as a Promethean creator of the soul genre itself, a legend in life whose legendary status and inspiration continues: the Soul Man who collaborated with other soul masters such as Atlantic producer Jerry Wexler, songwriters Eddie Floyd and Sir Mac Rice (who penned "Mustang Sally), and guitarist Steve Cropper as a matter of course, and was a regular at the famed Stax and Muscle Shoals recording studios.
Creators like Rawls and Pickett leave us with legacies we feel obligated to honor, understand, and preserve for those who follow us. They are vital parts of our lives, giants both in life and in the legacies they leave after their deaths, not mere celebrities. Giants such as these enhance our lives, and this political/cultural Marxist revolutionary and writer is proud to affirm how Lou Rawls and Wilson Pickett have inspired and enriched him and his work.
These and other affirmative creators I've been honored to give due in earlier pieces — giants like Ray Charles, Little Milton, Gatemouth Brown, Johnny Cash, Sam Phillips and Hank Ballard — all were products of an unusually fruitful era when boldness and creativity could be commercially viable as well.
They shaped the consciousness of so many of us, precisely because they were giants who stood apart. Giants so different from the corporate-manufactured pygmies of today, those ersatz palmed off and misrepresented to us as authentic simply because they are celebrities with lots of money, commercial successes automatically become "artists" in an especially obnoxious "greed is good" corporate capitalist culture where "profitability equals art" is even more pervasive than in past times.
Lou Rawls and Wilson Pickett, same as those others listed above, were able to become the giants they were because the specific features and struggles of their time and place allowed and tolerated that.
Our left today needs so much, so desperately, to understand how the specific that's embedded in the general is at the heart of creating that "world to win" of the Communist Manifesto — creating that world-to-be-won "where the free development of each is the condition for the free development of all" that makes for far more Lou Rawlses and Wilson Picketts, and for far fewer Justin Timberlakes and Donald Trumps.
It's that "world to win" that will give forth genuinely liberated human beings, human beings who are neither stifled, and stifling, capitalists, nor stifled, and stifling, political or cultural commissars.
ATC 122, May-June 2006