Against the Current, No. 122, May/June 2006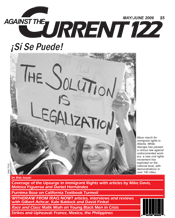 AGAINST THE CURRENT interviewed Isaac Steiner, a member of Solidarity in Atlanta, about his experiences in a grassroots reconstruction project in New Orleans.
ATC: When did you travel to New Orleans, why and under whose auspices?
Isaac Steiner: This March I traveled to New Orleans with hundreds of other students to help with rebuilding and various organizing projects underway there. I'd visited the city before, was somewhat familiar with the history and political situation there. But this was the first time I or most of the other participants had been there since Katrina.
The trip was organized by a coalition called Katrina on the Ground (KOTG). This group was initiated by student organizations, ranging from service organizations to radical groups, who had come into contact at Black Leadership conferences and decided to organize this project. There was also celebrity support from individuals such as Mos Def and Kevin Powell, who actually spoke at the orientation for my group.
I was part of the first week's group, which led to some logistical confusion but also a lot of excitement. I traveled to the dispersal point outside Selma, Alabama with Georgia State University's Black Student Alliance. Organizers expected participation of about 150 students; we were thrilled to arrive to almost twice that number.
Participants came largely from the Southeast, mainly from historically Black colleges and universities including North Carolina A&T, Hampton, Morehouse, Spelman, FAMU. There were also some students from schools such as Wilberforce in Ohio, and even a few Chicano high school students from the Los Angeles area.
One aspect that sets KOTG apart from other groups who are coordinating rebuilding efforts is its emphasis on recruiting Black volunteers and a focus on following community leadership in the affected areas.
I felt fortunate to participate in this opportunity for a several reasons. On one hand, physically aiding in the reconstruction was a way to contribute and help overcome the feeling of helplessness, anger and despair many of us felt watching the humanitarian disaster and neglect that devastated the poor and Black residents of the Gulf Coast.
I was also excited to meet other activists, meet new friends and support the initiative of Black student organizations. Finally, I wanted a chance to see New Orleans myself and gain firsthand knowledge.
ATC: What were your first reactions to the scene when you got there? Were you prepared for it? How did your feelings about what had happened evolve or change as you spent more time there?
IS: The conditions that were most shocking to me were not necessarily the worst hit areas of the city, but the fact that wealthier areas showed no signs of damage. That's not to say that it wasn't difficult to see the Lower Ninth Ward, where the levee actually broke. I knew from my pre-Katrina visit to New Orleans that many areas were already in bad shape due to underdevelopment and poverty of the residents.
Aside from some street cleaning practically nothing has been done — houses are flattened, cars stuck in trees, houses washed away from their foundations half standing in the middle of the street. There is even some standing water left.
The environmental problems haven't been discussed very much in most reports but are quite substantial. Areas of the city that had been covered in polluted water for weeks have a lot of dead and dying trees, things like that. In the Ninth Ward, which was completely flooded, the ground is covered in bare river silt, petroleum and other chemicals. It was very windy and this stuff was blowing all over the place. Some areas have tar and other pollutants on the ground.
African Americans in New Orleans have created one of the most lively cultures in this country, known around the world. It was very sad to see areas like the Ninth Ward — which, despite their poverty had clearly developed a rich street culture — completely emptied out. The entire neighborhood is abandoned and city services have not been restored.
One member of my team, whose father is Palestinian, said that it reminded her of the Occupied Territories. Almost as frightening was how quickly all of the devastation began to seem normal as we worked amidst it all day.
ATC: Tell us in more detail about the reconstruction project you were working on, and how it fits in the larger struggle.
IS: The team that I worked with gutted a house in the Lower Ninth Ward. Students doing this work suited up in hazmat outfits and construction gear and emptied out houses, took down the walls and cleaned them out. By the end of the week the house we were assigned to was a wooden skeleton, ready for the next team to begin rebuilding it.
At first I assumed this would be strictly manual labor, which I was interested in because of the very tangible benefit to displaced people, but there was a good deal of politics involved as well.
My group, which besides myself included students from Hampton and NC State, was fortunate to be assigned a house which the former resident, Mr. Nathaniel, ended up helping to gut. He and our chaperone/driver, Mrs. Ethel — a community leader in the Lower Ninth — were two of the coolest and most inspiring people I've met. They shared stories about the neighborhood going back several decades.
Mr. Nathaniel's daughter was a victim of police murder in the 1990s. This became one of the first cases of a successful prosecution under hate crimes legislation.
The Land Struggle
The Lower Ninth Ward, almost exclusively African-American, significantly had many residents who owned their own homes. The land question within the Black freedom struggle in the South, which had seemed fairly abstract to me before, was made very clear during my week in New Orleans.
The attachment of residents to this neighborhood is profound and was a huge motivation to work as hard as possible. Various levels of government and NGOs are actively trying to dissuade people from returning, even on the level of taunting some of the KOTG reconstruction crews.
Other students who were part of KOTG worked with local community organizations, mainly members of the People's Hurricane Relief Fund. Activities included gathering data for a workers' center for reconstruction laborers, interviewing survivors in order to record direct testimony of the human rights disaster following the hurricane, and doing outreach for survivors' councils.
Due partially to logistical issues that made having any kind of report back difficult, and possibly an organizational oversight as well, there was no formal means for participants in the week to connect the different work we were involved in. We opened the week with a morning of political education that framed the project as an extension of the Civil Rights movement, but there wasn't as much information on the structure of things in New Orleans.
Clearly, our work is part of a much larger movement to rebuild the Gulf Coast with maximum leadership from African-Americans, and other groups who are politically marginalized, in the affected areas.
On the last day of our visit, we were lucky enough to attend a council-style meeting where residents of the Ninth Ward discussed priorities for the rebuilding process. Although of course the KOTG participants were all younger, most of the folks we interacted with were our parents' ages or older. I did meet one younger resident, who decided to move back to the neighborhood and was attending her first meeting.
The task of rebuilding New Orleans with a just and democratic process that puts the demands of African-Americans, women, and workers at the forefront to challenge the threat of gentrification and privatization is staggering.
ATC: After being there, what do you find are the easiest things, and the hardest things, to explain about the situation to people who haven't witnessed it directly?
IS: As with most emotionally powerful political events I've participated in, the most difficult thing is to transmit to people back at home the feelings of solidarity (and to be honest, some of the challenging feelings of despair against all the odds), and the urgency. It's difficult to return home and attempt to go on with your life and interact with people who can't directly relate — I can't imagine the feelings of isolation displaced Katrina survivors must feel.
The week was capped off by a tour of the disgusting inequity in levee protection of different areas in the city — practically nonexistent for poor Black areas and fortresslike for the rich areas. Katrina on the Ground participants, some of them from fairly wealthy backgrounds themselves, were very impacted by this totally naked institutional racism.
Many students pledged to return in the summer, and I've heard talk of a Freedom Summer-type initiative to have Black college students teach New Orleans students in areas where the city refuses to reopen schools. I know that Black Campus Progressives at Hampton have planned two successive weeks of reconstruction volunteers immediately after school lets out.
An Indian-American political science grad student friend of mine at Georgia State has cancelled his plans for more education and decided to move to New Orleans and participate in rebuilding. In his words, "I've studied American Government for the past several years, and during the past week I saw the absolute failure of that government." So the week definitely changed us all.
Aside from the impact of the situation on the ground, the other lasting memory I have is of the amazing relationships I developed or strengthened during what was really a short time. As I said in a reportback session with the Georgia State University Black Student Alliance, there's nothing like a regimented cycle of waking up early, tearing down drywall all day, showering at a halfway house and then a night of heavy drinking to bond with your fellow activists.
ATC: What do you feel activists can do as allies of the struggle for a democratic reconstruction of New Orleans?
IS: The most important thing to do is hook up directly with survivors' councils or people in the Gulf Coast. Residents there stressed the need to keep Katrina in people's consciousness around the country.
Material supplies are still needed desperately. So are any skills you may have — whether it's in carpentry, medicine, education, electrician and so on.
I would say that Katrina on the Ground was itself a great example of allies identifying the need for reconstruction volunteers and putting together a very successful outreach effort to Black students within a short time frame.
ATC 122, May-June 2006