Against the Current, No. 119, November/December 2005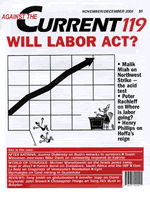 IN MEMORY OF
LITTLE MILTON
9/7/34-8/4/05 and

CLARENCE "GATEMOUTH" BROWN
DIED 9/10/05
ONE OF THE classic of the electric blues says it all about the time of late summer, 2005, when two of the most distinguished practitioners of contemporary blues, both with five-decade-long musical careers, passed away.
"Little Milton" Campbell, 71, died on August 4, following a stroke he suffered on July 27.Clarence "Gatemouth" Brown died at age 81 on September 10 in his hometown of Orange, Texas, following the August 28 evacuation from his home in the New Orleans suburb of Slidell, Louisiana made necessary by Hurricane Katrina. (August 27 was also the fifteenth anniversary of the death of yet another remarkable contemporary blues master, Stevie Ray Vaughan.)
But instead of "The Sky Is Crying," this author chooses as the theme for this occasion the affirmative, celebratory blues anthem Little Milton recorded in 1984, "The Blues Is Alright." The blues is still very much alright despite these losses, losses we commemorate because we honor and cherish the legacies we inherit from their lives.
We affirm with the words of yet another artist of the blues who has left us physically, but lives with us always because of the music he left behind, Hound Dog Taylor, who insisted, "When I die, don't have a funeral, have a party!"
Little Milton, also referred to as Mr. C, was born Milton Campbell on September 7, 1934, near the Mississippi Delta town of Inverness, within that 100-mile radius around Clarksdale noted for its material poverty but cultural richness, a region distinguished for its contributions in face of adversity to African-American cultural life.
It was within this region of the famed Mississippi Delta that not only Little Milton was born, but also B.B. King, Albert King, Muddy Waters, Elmore James, and that Promethean progenitor and legendary player of the blues himself, Robert Johnson. But more African-American cultural excellence came out of there than just that from the blues: Country artist Charlie Pride was born and reared there as well, as was actor Morgan Freeman.
Little Milton grew up hearing not only the African-American blues and gospel music that surrounded him, but also the white country music of the South, which surrounded him culturally as well. It's not often realized how significantly white country music and Black blues mutually influenced each other, but Black blues artists regarded country music as an expression of soulfullness and deep artistry as well, and referred to it as "White Blues."
Country music pioneers such as Jimmy Rodgers often incorporated the blues into their own music, Black and white artists jammed together, and Black musicians and bands often played at white dances and parties — one of those rare forms of limited integration that was tolerated in the segregated South, and one not always favorable to the Black musicians as the barriers to racial intermingling were every bit as much physical as they were cultural, social and legal.
In this world created by segregation, the truly Kafkaesque codes and taboos engendered could cause some very grisly things to happen, and happen all too unexpectedly. A story from the life of the legendary "Blues Mandolin Man" Yank Rachell, when as a young man he was part of a Black band hired to play at a white farmer's dance in his native Tennessee, relates what could and did happen all too easily.
Some drunken white farmer suddenly burst out with an accusation that the band's Black guitarist was "looking lasciviously at a white woman," and the band was set upon. The guitarist was lynched, and the young Yank Rachell, even though he'd managed to escape, still had to lay low for several days lest he be found and lynched also.
But this is just one of those stories from the life of a blues artist who lived in the South, Yank Rachell, who was almost denied that chance to even live long enough to become the legendary player, singer and songwriter who was renowned some 60 years later!
Fortunately, there are other, far more positive elements that are relevant here — for example, how the incorporation of white country music into Black blues resulted in two modern blues hits, commercial successes noteworthy also for their accomplished blues artistry. The first is Johnny Adams' 1969 "Reconsider Me," which was produced by a famed country record producer as well, Shelby Singleton.
The other is the 1970 classic, "Let's Straighten It Out," the signature song of blues artist Benny Latimore, that incorporates into its blues not only country but also the surrealistic rock of the Doors, to create a singular, poignant statement that's become a blues masterpiece. And of course, there's the legacy of the Genius himself, Ray Charles, whose love of the "stories" he found so evident in country music impelled him to perform these songs in new, previously-unheard-of arrangements reflective of his trademark funky blues/R&B urbanity.
Prolific Recordings
Little Milton learned guitar by ear and from his father, "Big" Milton Campbell, and as early as 13 was playing on Mississippi recordings by blues artists such as Elmore James and Sonny Boy Williamson (Rice Miller). He was discovered by blues player/ talent scout Ike Turner, recorded for Sun Records at 18, and went on to record with, and become A&R man for, Bobbin Records in East St. Louis, Illinois.
From 1965 on until his death, Little Milton recorded for the major blues/R&B labels Chess, Stax, and since 1984, Malaco. His numerous hit records include such songs now regarded as contemporary classics of the blues as "We're Gonna Make It," "Grits Ain't Groceries," "Who's Cheating Who?" "Walkin' The Back Streets And Cryin'," "Little Bluebird," "Annie Mae's Café" and "My Dog And Me." Little Milton recorded 34 albums from 1965 on, 14 for Malaco alone, where he had his longest label stint.
He was nominated for a Grammy in 2000 for "Welcome to Little Milton," a CD recorded at the famed blues/R&B Muscle Shoals recording studio and considered one of the finest recordings ever to come out of there, which teams Little Milton with such noted guest artists as Government Mule, Susan Tedeschi, Keb' Mo', and Delbert McClinton.
The music of Little Milton, expressed in both in his own original songs and in the songs he covered from other artists, is deeply affirmative of African-American life and culture, as affirmative in its way as the more direct affirmations of W.E.B. DuBois, Paul Robeson, and even Malcolm X. His music celebrates Black ethnicity through positive reference to such culinary staples as collard greens, Buffalo fish (carp), and Hennessy cognac.
Another aspect of this affirmation can be seen in the covers of blues classics he recorded in his own way, songs such as Elmore James' "It Hurts Me Too," Jimmy Rogers' "That's All Right," and that soul-blues masterpiece of the early 1960s, "A Nickel And A Nail."
But more than that, as a delightful audio perusal of Little Milton CDs easily confirms, is the way in which he made himself at home in all kinds of musical arrangements, from soul to horn-driven soul blues and more traditional blues approaches with horn backing, and even to funky down-home approaches incorporating harmonica. He makes a guest appearance on the 2004 Handy-nominated soul blues CD of his nephew Charles Wilson, "If Heartaches Were Nickels" (the Handy is the Grammy or Oscar of the blues), and has another notable soul-blues relative in cousin Artie "Blues Boy" White.
Little Milton toured extensively with his guitar "Bessie," but even though considered by many as significant a blues guitarist as B.B. King, never achieved the fame. In fact, it was only within the last couple of years that Little Milton began to emerge from the confines of the Chitlin' Circuit to broader recognition (which means, of course, acknowledged as a "real" blues artist by white blues devotees as well as Black).
When Little Milton was first coming into prominence, B.B. King and Bobby Bland held sway, and commercial success meant following in the familiar paths they had made, but even then, as already demonstrated on those Chess recordings of the middle and late '60s, Little Milton was always his own bluesman.
A Crossover Giant
Uniquely his own artist as well, of course, was Clarence "Gatemouth" Brown. Although considered by many, including this author, to be rightly a significant and integral part of contemporary blues, Gatemouth Brown didn't like being called a bluesman, and considered the blues to be too confining as a musical form.
Although his early hits such as "Okie Dokie Stomp" were in the blues idiom, Brown deliberately moved away early in his career from performing the strict blues to develop a music uniquely his that he called "American music, Texas-style": a music that featured big-band horn sections and incorporated not only blues, but jazz, R&B, country, zyedco and Cajun as well.
This was as close as he felt comfortable with in applying labels to his music. As Brown put it in a 2001 interview, "I'm so unorthodox, a lot of people can't handle it." Ironically, the musical approach Brown developed specifically to get away from the blues, that Gatemouth sound of driving horn sections riffing underneath his fiery guitar solos, has become a mainstay of contemporary Texas blues!
Interestingly enough, while he expressed disdain for most blues guitarists, and especially for modern Texas blues guitarists such as the late Albert Collins and Johnny Copeland, one of the few musicians Brown openly admired was none other than the granddaddy of Texas electric guitar blues himself, T-Bone Walker.
T-Bone himself, or rather his absence, was responsible for propelling Gatemouth into musical prominence. Although Brown had been working as a swing band drummer in the 1940s, when he acquired the "Gatemouth" moniker because of his deep voice, it was only in 1947 when Brown established himself as an artist, during an evening at Houston's Bronze Peacock nightclub when he was asked to fill in for an ailing T-Bone Walker, who had to leave the stage.
Gatemouth Brown went onstage, picked up T-Bone's guitar, and prompltly rocked the house with "Gatemouth Boogie," a song he claims he made up on the spot. The enthusiasm Brown sparked that night garnered him two things: $600 in tips within 15 minutes, and more significant for continuing his career, the immediate signing to Peacock records by club owner and record-label entrepreneur Don Robey, whose Peacock and Duke labels went on to record other seminal post-World War II Black artists such as Johnny Ace, Junior Parker and Bobby Bland.
Gatemouth Brown's early music, blues-based and described in the New York Times September 12 obituary as "a hair's breadth away from rock 'n' roll," established his prominence as a guitar player; but Clarence "Gatemouth" Brown was noted as an excellent fiddle player as well, and also played mandolin and harmonica.
Both Brown's overall musical mastery, as well as his place of honor in the blues he scorned in Guitar Player magazine as "these old cryin' and moanin' guitar players always talking about bad women," are given in detail by Colin Walters, who is working on a biography of Gatemouth.
Walters says, "He is one of the most underrated guitarists, musicians and arrangers I've ever met, an absolute prodigy. He is truly one of the most gifted musicians out there."
As to Gatemouth's place in the blues, Walters says this: "He never wanted to be called a bluesman, but I used to tell him that though he may not like the blues, he does the blues better than anyone. He inherited the legacy of great bluesmen like Muddy Waters and John Lee Hooker, but he took what they did and made it better."
Bluesman/eclectic Gatemouth Brown, who dressed for performances in cowboy boots, cowboy hats and Western-style shirts, expressed that musical eclecticism not only in what he played and recorded, but also where he played.
Born in Vinton, Louisiana but moving with his family to Orange, Texas a few weeks after his birth, and growing up amidst a potpourri of musical influences, Brown played for periods of time in the 1960s in Colorado and New Mexico; hosted the house band in 1966 for a teenage-oriented R&B TV show out of Nashville Tennessee, "The !!!! Beat;" appeared on the country music TV show, "Hee Haw," also out of Nashville, in the '70s; and recorded an album of blues, country and even jazz in 1979, Makin' Music, with country banjo wizard Roy Clark.
Gatemouth Brown recorded over 30 albums in his career, and received a Grammy in 1982 for "Alright Again!" Even while dismissive of most musicians, Brown recorded with contemporary music masters Eric Clapton, Ry Cooder, Frank Zappa and Bonnie Raitt.
Besides T-Bone Walker, the only other musician for whom Gatemouth Brown ever expressed admiration was his railroad worker father, who sang and played fiddle in a Cajun band. Brown summed up what he felt both of his father's playing and his own musical ambition this way, "If I can make my guitar sound like his fiddle, then I know I've got it right."
Though sick from lung cancer and heart disease, Brown did make his scheduled appearance on April 28 this year at the New Orleans Jazz and Heritage Festival, and a few other small performances in the following months. He successfully evacuated to Orange from his home in the New Orleans bedroom community of Slidell on August 28, but his house was totally destroyed by Hurricane Katrina.
Although advised to stay in the hospital in Port Arthur, Texas where he'd undergone an angioplasty, Brown insisted on returning to Orange. He died in his brother's house, with his family present.
His booking agent, Rick Cady, said Gatemouth "was completely devastated" by the destruction of his home by Katrina, and added, "I'm sure he was heartbroken, both literally and figuratively. He evacuated successfully before the hurricane hit, but I'm sure it weighed heavily on his soul."
Affirmations
The music of Clarence "Gatemouth" Brown is as affirmatively African American as that of Little Milton — in that same indirect but honest celebratory way — gathering and combining influences from a wide variety of Black musical genres to create a music uniquely his own, and solidly African American as well. But Brown's music is tellingly indicative of a broader affirmation, through its deliberate inclusion of white country and Cajun music, genres which are positive working-class cultural affirmations every bit as much as are Black blues, zydeco and jazz.
For both artists, from these specific affirmations comes also an affirmation of the realizations and capabilities of working-class people generally that, albeit indirect, is just as substantive as that of more specifically political, explicitly polemical artists such as Pete Seeger and Phil Ochs.
Authentic culture is not manufactured and handed down to the masses as politically correct nostrums; nor is it the massive commercial dissemination of a mood or fad by very much self-interested capitalists, even though this very commercial dissemination may be disguised as a real expression of a pure folk culture.
Affirmations of the working class generally, yes, but also of the African-American working class specifically, are most tellingly seen in the blues of Little Milton. This writer (having found out the hard way that being a member of the lower strata of the working class made him an irritating, undigested morsel inside the maw of the "helping professional" mental health and welfare bureaucracies far more often than his "whiteness" prevented it), particularly appreciates those songs that some on the left would classify as "backward" in Little Milton's repertoire, such as the welfare-scorning, Protestant Work Ethic-affirming "Strugglin' Lady."
That middle-class left simply does not know what's really involved in getting those necessary goods and services from these officious, frequently arbitrary, rule-imprisoned and rule-imprisoning bureaucracies.
For me, as one who's actually "been there," the "backwardness" expressed in "Strugglin' Lady" demonstrates, instead, a deeper, very real, working-class understanding of The Man's iron fist that's very much within the velvet glove that appears on the surface — to which anyone who's ever had to apply for Medicaid or Social Security benefits can attest.
In this respect working-class culture contrasts with hostile, aggressive lumpen cultural styles, which are sometimes confused with actual representations of the political content of working-class consciousness. This preoccupation manifests itself especially in a queasy yet affirmative attitude toward gangster rap, and the notion that somewhere lurking within gangster rap is a militant, liberating, but presently incoherent, political consciousness.
For uncritical devotees of hip-hop, gangster rap, as a no more ominous and threatening statement than any other form of rap, stands as an automatic, positive measure of rebellion against the capitalist order simply because its stylistic trappings make it seem rebellious.
This writer will gladly pass on this cultural counterfeit so eagerly proffered by very obviously capitalist "cultural revolutionaries" and listen, instead, to the far more genuine working-class cultural expressions to be found in the recordings of Little Milton and Clarence "Gatemouth" Brown.
ATC 119, November-December 2005