Against the Current, No. 118, September/October 2005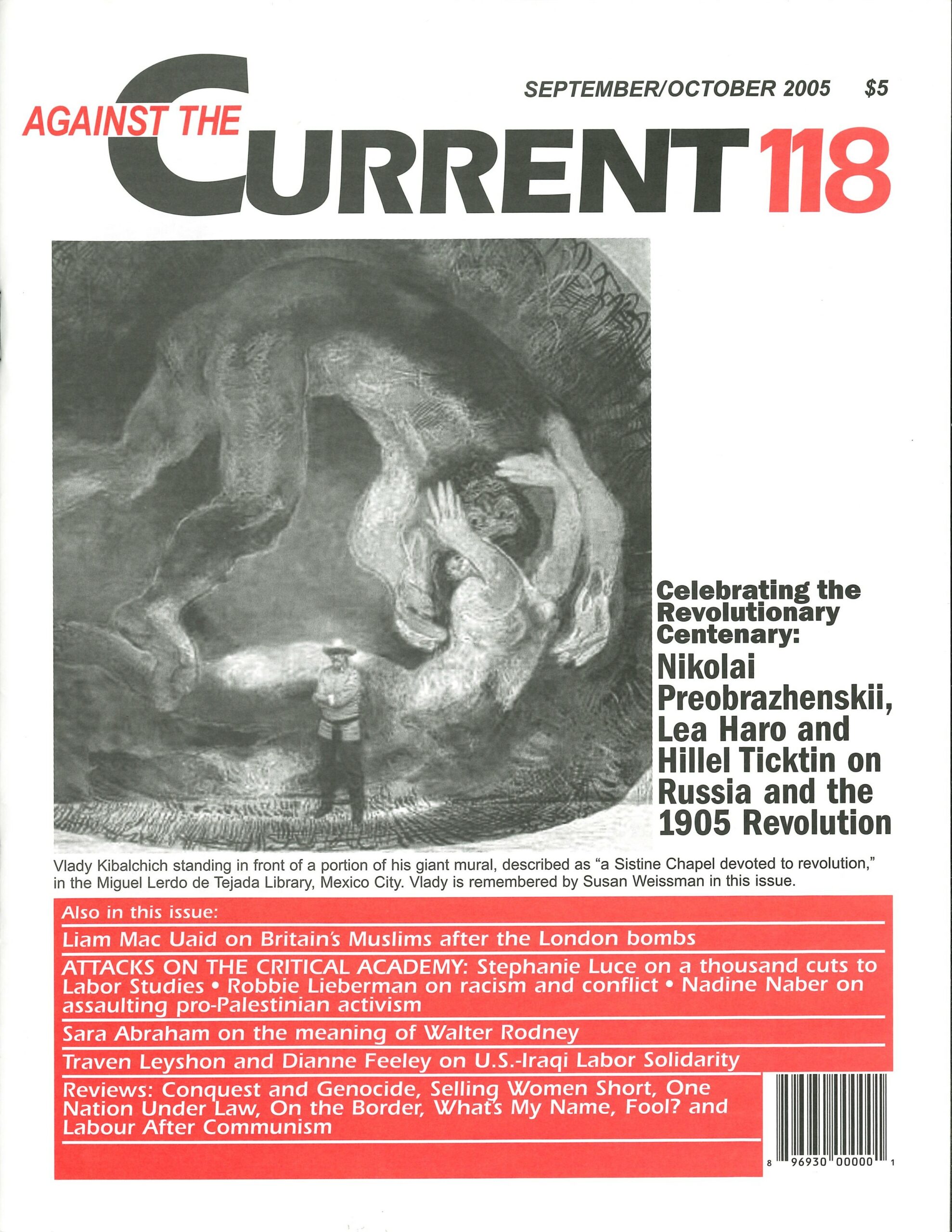 IN MARCH, 2005 the student assembly at the University of Michigan held a campus- wide meeting to vote on a resolution calling for the university to form an advisory committee to review university investments in companies supporting the Israeli occupation. This was not a divestment resolution, but a small-scale resolution calling for an investigative committee to investigate university investments.
As individuals from various organizations and institutions, including representatives from Amnesty International, and university professors were invited to speak for or against the resolution, the students who drafted the resolution asked me to speak in support of the resolution.
Within a brief five minutes, I argued that much of what was being discussed in this meeting made it difficult to look at what this resolution is really about. At the meeting, we had witnessed rhetoric that was covering up what the resolution was really about by portraying the situation as if there are "two equal sides," "Arabs" vs. "Jews"—as if there is not an asymmetry in the balance of powers between Israel and the Palestinians, and as if all Jews support the occupation.
We had also witnessed a discourse of censorship, which insists that any and all critiques of Israel are anti- Semitic or that Palestinians are terrorists and want to throw all Jews into the sea. This rhetoric made it difficult to actually discuss the resolution—which was calling for an investigative committee, so that the university community can learn about whether the funds the university invests in Israel are going to policies that run counter to international human rights principles and/or business ethics.
I stated that the resolution was calling for our right to know and for academic freedom. As a professor, I stated that I am really concerned about the values our students are learning if our university invests in corporations that do not uphold international human rights principles.
I added that we do not have to look far to find evidence that the state of Israel and the Israeli military systematically target children with the intention to kill (25% of all Palestinians killed are children), that these killings do not take place in "cross fire" or as "accidents," and that the Israeli state and military demolish homes, hold pregnant women at checkpoints, and deny indigenous people the right to live on their land.
All of these are violations against international human rights law. I then said that even if one can look to Israeli historical archives, to Israeli human rights organizations or international human rights organizations for evidence of all this, the resolution is not asking you to take a position on these issues—only asking for an investigative committee, to investigate what the university is investing in and whether the corporations we invest in support human rights principles.
Harassment
After walking off the podium, I was verbally harassed by a male student who shouted, a few inches away from my face for approximately five minutes, words such as "You are disgusting! You are a disgrace to our university!"
He continued to shout until security was called in to carry him out of the room. Over the next few months, until the end of the academic semester, Zionist students launched a smear campaign in the campus newspaper, The Michigan Daily, writing letters to the editor that misquoted me and referred to me as "anti-Semitic" and as someone who is spreading hate on campus.
The paper supported this process by titling these articles with inflammatory titles such as "Professor Distorted Facts about the Israeli Military" and "Campus Climate Troublingly accepts Ignorance, Prejudice." (March 21 and 28, 2005)
During this period, in addition to several articles that students published in my support, a group of faculty members at the University of Michigan organized themselves and wrote a letter in my support and in support of academic freedom. Due to the urgency of the matter, they obtained 21 signatures and submitted it for publication to The Michigan Daily.
After it was published, I received email messages on a daily basis for several weeks from other concerned faculty, who expressed their concern about academic freedom and affirmed that if they had seen the letter or known about it, they too would have signed.
The Support Letter
The text of the letter follows:
To the editor:
As faculty who are deeply invested in maintaining free and open discourse on all university campuses, we support our colleague Dr. Nadine Naber and her right to speak on the issue of human rights in the Palestinian/Israeli context. By accusing the university of promoting "ignorance, prejudice and anti-Semitism," Or Shotan presented a one-sided view that distorted UM's mission and specifically impugned the character of Professor Naber. Widely regarded for her original and path-breaking research on Arab Americans, she is assuredly well-respected by students, faculty and staff of all backgrounds.
International agencies and mainstream media outlets have provided extensive documentation of human rights violations committed by the Israeli military in the occupied territories. To suggest that anyone voicing these concerns is promoting "anti-Semitism" is a blatant smear campaign. Those who want to take issue with the overwhelming majority of international observers who believe an Israeli withdrawal from the occupied territories is critical to peace in the Middle East are entitled to express their dissent. However, ad hominem attacks are antithetical to the spirit of mutual respect and free exchange of ideas that is essential to the academic enterprise.
Vast numbers of Jews and Israelis oppose the State of Israel's military actions in the occupied territories. Over six hundred members of the Israeli Defense Forces [IDF] have joined the Courage to Resist Movement. Many are combat veterans who now refuse to serve beyond Israel's "1967 borders in order to dominate, expel, starve and humiliate an entire people." They further argue that they "understand now that the price of Occupation is the loss of IDF's human character and the corruption of the entire Israeli society." [See www.seruv.org.il/english/combatants_letter.asp] To assert that they are also anti-Semitic would be absurd, yet this is the assumption behind the argument of Mr. Shotan and those who share his position.
(Signed by 21 members of the University of Michigan faculty)
ATC 118, September-October 2005