Against the Current, No. 118, September/October 2005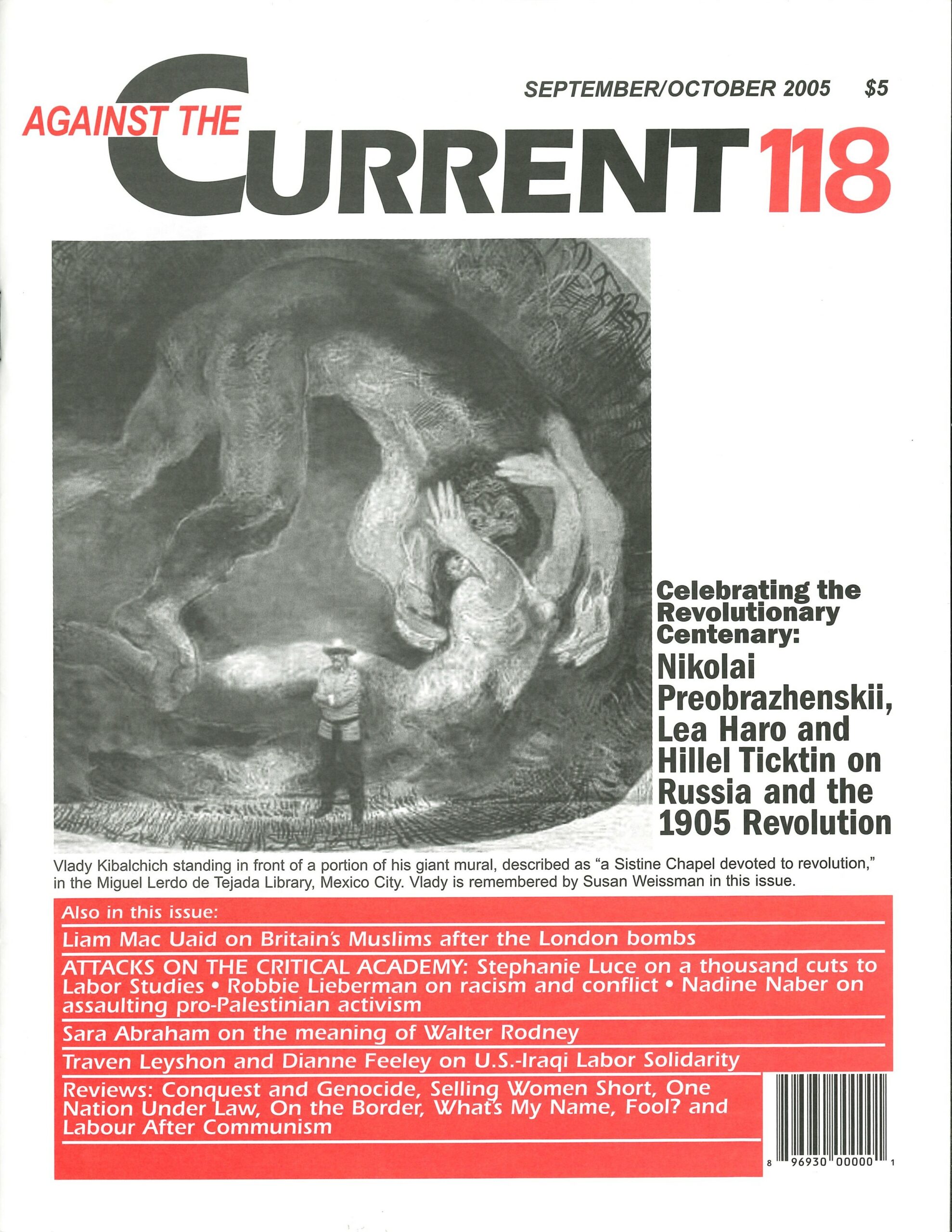 ANDREA SMITH'S CONQUEST not only thoroughly documents the impacts of colonialism and sexual violence, but also highlights sites of resistance by Native women and women of color.
For instance, Smith is one of the co-founders of the Boarding School Healing Project (BSHP) (http://www.boardingschoolhealingproject.org), a coalition of Native and allied organizations around the country documenting and organizing around physical, sexual, emotional, cultural and spiritual abuse suffered by the hundreds of thousands of Native children forced by the U.S. government to attend residential schools run by churches between 1869 and the late 1950s.
A summary of the BSHP's work to date is included in Conquest, along with incisive and insightful commentary on strategies for securing reparations for historic abuses such as those suffered by Native boarding school survivors.
First and foremost among the strategies Smith advocates is collaboration with other peoples, including African-American survivors of chattel slavery and their descendants. Putting this theory into practice, the Boarding School Healing Project convened a gathering of progressive Native and African-American reparations activists at the University of Michigan in March of 2004 to help build ongoing relationships and possibilities for collaboration.
The meeting began with both groups sharing information on the specific legislation, case law, policies and practices employed by the U.S. government to seize Native land and engage in wholesale genocide of Native peoples, while simultaneously Africans seized from their homelands and brought through the horrors of the Middle Passage were put to work on land stolen from Native peoples and to build an economy which would relegate both groups to its margins.
Current visions and strategies for securing reparations — defined broadly to include not only monetary damages, but also collective remedies aimed at addressing structural harms and promoting self-determination — employed by representatives of both groups were also examined.
Out of these discussions came a solid sense of the critical similarities in the historic and current experiences of Native peoples and people of African descent in the United States, as well as a sense of the resulting need to share information, strategies, and support to obtain redress on both national and international levels.
Prominent among the similarities are the use of sexual violence as a central tool of enslavement and genocide, the denial of nationhood and sovereignty, loss and appropriation of language, culture, and spiritual practices, denial of the right to parent and form families, framing of our communities as inherently dysfunctional rather than as reflections of the effects of intentional destruction, and the experience of the criminal legal system and prisons as part of a continuum of genocide, slavery and Indian boarding schools.
Out of these experiences comes a need for both groups to develop and share creative strategies. In so doing, however, participants in the gathering recognized and honored important differences, including those arising from race-based as opposed to nation-based identity among people of African descent, and the emphasis on peoples'— as opposed to "minority" or "civil" — rights espoused by Native activists.
Participants also engaged in an honest assessment of potential barriers to solidarity based in the often intertwined history of Native peoples and people of African descent in America. Much healing remains to be done to address the effects of colonialism in dividing people of African descent in America from our Native brothers and sisters.
While the two groups share a history of resistance to colonialism, at times joining forces, Native peoples and people of African descent in American have also been used against each other as tools of subjugation in the colonial project, and have internalized images and stereotypes about themselves and the other that present barriers to shared struggle, and must be addressed and overcome in order to pursue mutually supportive strategies for reparations.
Issues discussed at the meeting include the enslavement of people of African descent by Native people and the participation of soldiers of African descent ("Buffalo soldiers") in the genocide of Native peoples. There are also tensions arising from claims made by certain African-American reparations activists to land in the United States as restitution for the "sweat equity" invested through the labor of our ancestors, as well as from the exclusion of some people of African descent from the Native tribes to which they claim membership through descent.
At the conclusion of this historic gathering, those in attendance committed to creating further dialogue on these issues and to fostering support in their respective communities for each others' struggles for reparations.
Smith takes this discussion a step further in Conquest, offering a blueprint for working toward an international reparations movement which recognizes and addresses our differences while meeting the needs of both peoples. Ultimately, as Smith concludes, a demand for reparations has the potential to serve as a radical demand for social transformation, or a narrowly focused request for individual compensation that fails to transform the systems which produced the injuries it purports to redress
In order to pursue the former path, we need to develop an analytical and structural framework for our struggles which builds towards "a global reparations movement that unites all colonized peoples."
ATC 118, September-October 2005