Against the Current, No. 113, November/December 2004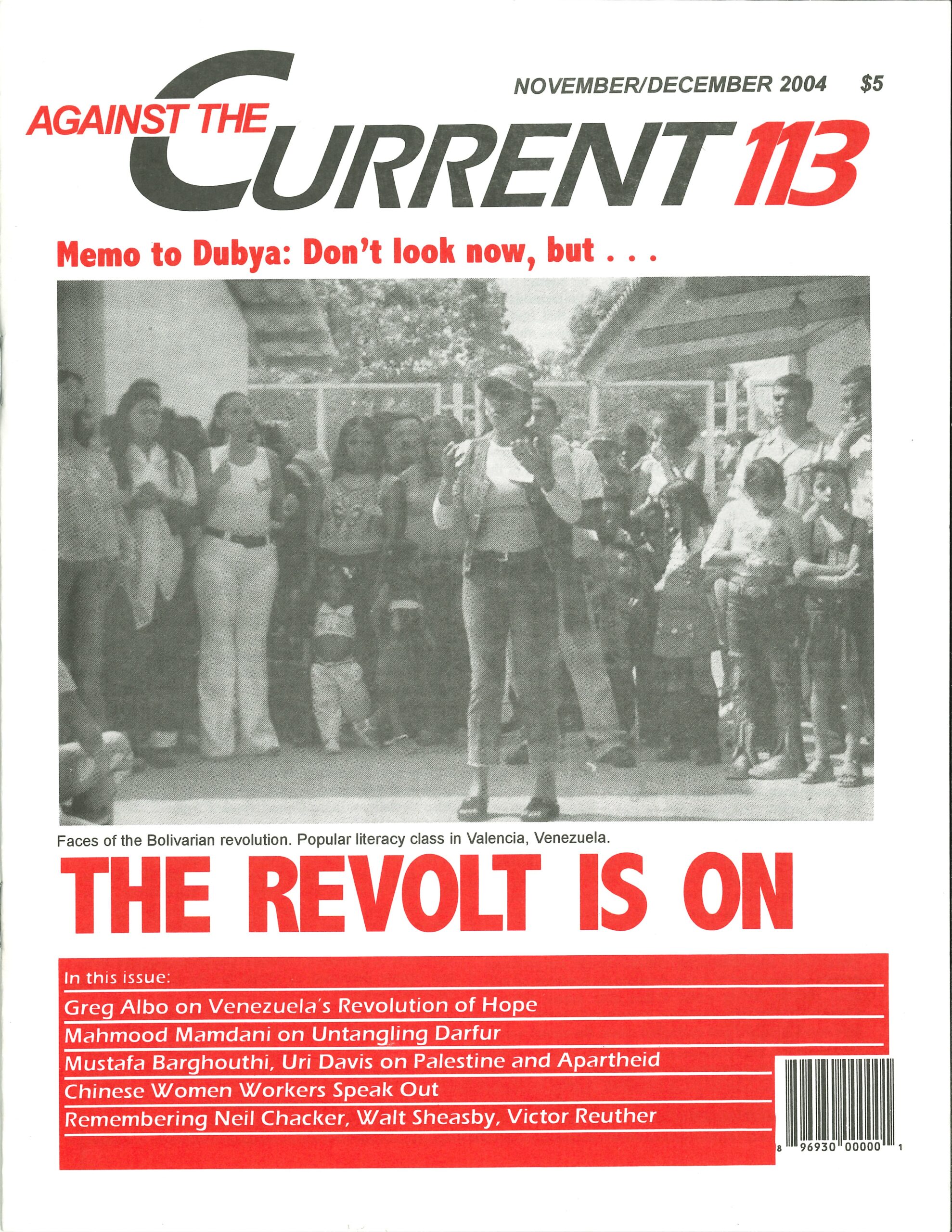 JIM HARD'S RESPONSE to "Reutherism Redux" seems to be that all union members gripe a lot; therefore critiques of SEIU should be ignored because Hard "could walk into any CWA workplace that Steve Early or anyone else represents and find similar criticisms."
I never claimed that every rank-and-file (or staff member) criticism of SEIU cited in my review was equally valid or "represents the way most members feel." The piece did accurately suggest, however, that more members are questioning the necessity and desirability of SEIU's forced consolidation of locals, abuse of trusteeship powers, and implantation of new local officers drawn from the appointed national staff, rather than the working membership.
Some of these challenges are coming from longtime SEIU activists — like Local 509 President John Templeton. 509 is a 7,000-member social workers local, well known in Massachusetts for its democratic practices and traditions. Among the SEIU constitutional changes sought by Templeton — but opposed by the International leadership at the union's national convention in July — were the following:
* "SEIU shall establish clear and consistent guidelines for placing local unions under trusteeship. Trusteeship shall be used only as a last resort in the case of corruption or serious malfeasance and never for political reasons."
* "SEIU shall encourage the process where rank-and-file members in trusteed and new locals are encouraged to run for top leadership positions."
*"SEIU shall not interfere in local elections by arranging for trustees, interim appointed officers, staff or any other persons not currently or recently employed within the local's jurisdiction to run for local office/s."
* "Any provisional local officer shall serve in that capacity for no more than one year, and shall not be eligible to run for office unless that person is a member by virtue of being currently or recently employed within the bargaining unit jurisdiction of the local…"
Although a "founding member" of a "reform movement" in CSEA Local 1000, Hard doesn't seem very supportive of fellow SEIUers like Templeton, who are "fighting for democratic rights" in other locals or the national union. Would any of these modest protections against staff domination have crippled SEIU's organizing program or rendered it incapable of "training thousands of member activists" for "contract and electoral campaigns?"
I don't think so. How do I know? Well, during the 24 years that I've worked for CWA, that union has been able to grow from about 500,000 workers to nearly 670,000 — without stripping members of their rights or local unions of their autonomy in the process. By utilizing hundreds of rank-and- filers as organizers and becoming a general union (contrary to SEIU's advice in "United We Win"), CWA has been one of the few private-sector labor organizations to register net growth.
SEIU's NUP [New Unity Partnership] partners — HERE and UNITE — have both shrunk in size during this same period, despite their reputation as leading "organizing unions" with an SEIU-style "market share" focus. Meanwhile, even larger organizational victims of deregulation and/or de-industrialization — such as the UAW, USWA, IAM, IBEW and IBT — have also been unable to offset membership losses in their traditional jurisdictions through union diversification. (All of these except the Teamsters are now smaller than CWA.)
By emphasizing membership mobilization and workplace militancy, CWA local unions have waged effective contract campaigns and strikes — such as the four- month walkout by 60,000 workers at NYNEX in 1989, the 1998 anti-concession battle at Southern New England Tel in Connecticut, the 12-state work stoppage by 85,000 telephone workers at Verizon in 2000, and this year's nationwide walkout by 100,000 CWA members at SBC Communications.
Unlike Hard, most labor observers acknowledge that CWA activity in this area runs counter to the "general decline of the U.S. union movement in every industry" — one sign of which is fewer strikes. CWA is also widely credited with being the main initiator and supporter of Jobs with Justice, the national network of community-labor solidarity coalitions which has demonstrated, for 16 years, how unions can "help each other" and "succeed together as a union movement."
Fighting to improve the climate for organizing and bargaining for all unions through JWJ is a far better strategy than SEIU's current one. Lately, SEIU has been trying to secure "high road" organizing deals by embracing anti-labor Republicans like Gov. George Pataki in New York and, in Hard's home state, supporting industry attempts to curb patient lawsuits against HMOs and for-profit nursing homes.
This narrow, self-defeating and socially irresponsible "partnership" approach is not one that I would encourage any union to "replicate."
ATC 113, November-December 2004