Against the Current, No. 111, July/August 2004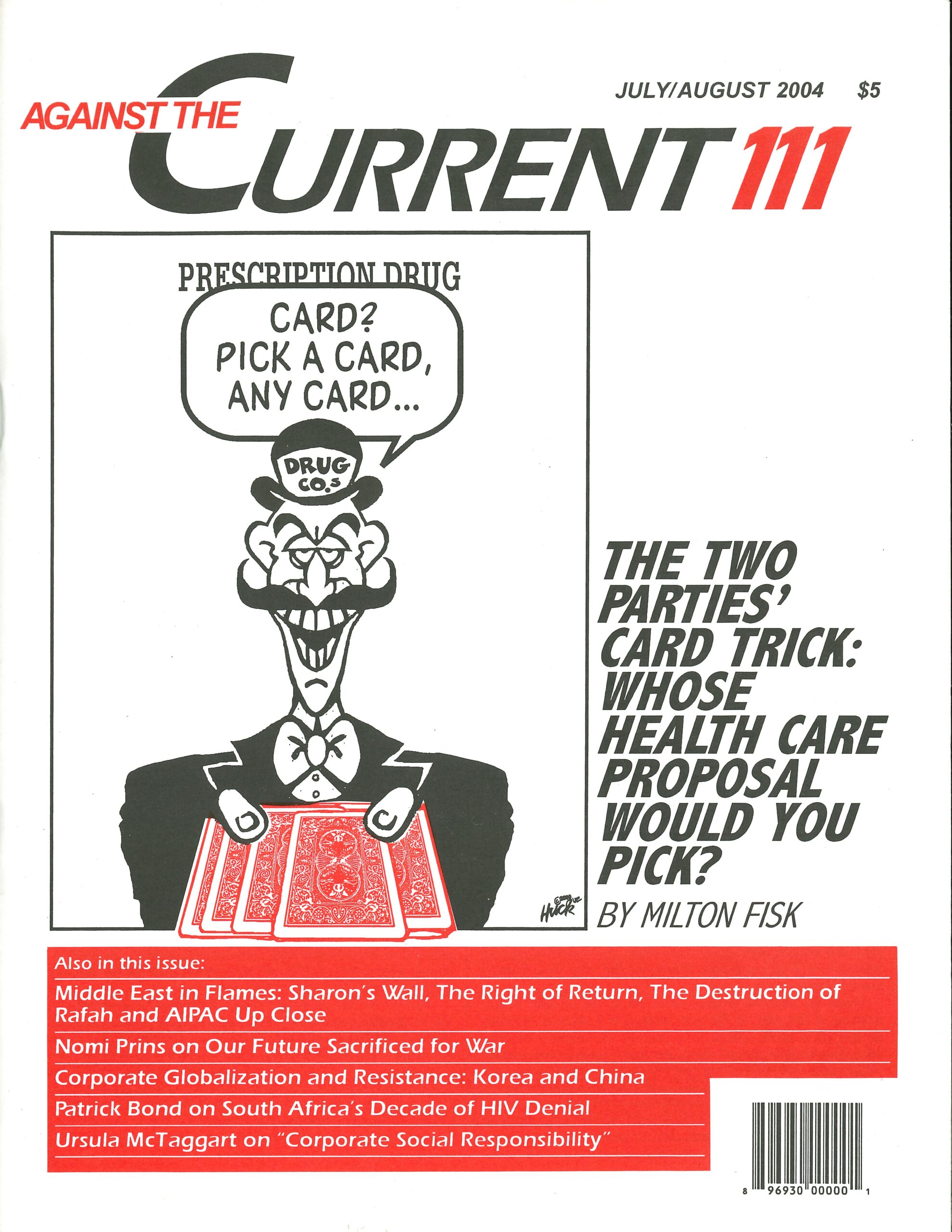 AFTER 20 YEARS on death row, February 10, 2004 was supposed to be the last day of Kevin Cooper's life. Instead, it turned out to be the best day yet in the fight to end the death penalty in California.
Years of patient work by activists and Cooper himself to get out the word about his case laid the basis for a furious month long fight which created a perfect storm of publicity, activism, media work and good lawyering to confound the racist and anti poor criminal justice system.
Kevin Cooper was sent to death row for the 1983 murder of four members of a white family in San Bernadino County. The murders were particularly brutal and the police were under tremendous pressure to get a quick conviction. When the cops realized that Cooper, who is Black, had escaped from a nearby minimum security prison where he was serving time for a non violent offense, the investigation of the murders stopped and a manhunt began.
Cooper was soon arrested and subjected to a trial replete with police suppression of evidence, falsified testimony and a racist, witch hunt atmosphere, including the hanging of a gorilla in effigy outside the courtroom.
In the depths of San Quentin's dungeon, Cooper transformed himself into a talented painter, writer and orator. His writings collected on the website www.savekevincooper.org catalogue his opposition to oppression and exploitation in all forms. Kevin was no passive object to be pitied and saved, but a central agent in his own case.
Mobilizing for Cooper
Upon learning of the February 10 execution date, dozens of religious, community and political organizations banded together to form the Committee to Save Kevin Cooper. At an emergency meeting on January 5, the Committee voted to organize a string of events that would culminate in an unprecedented march on San Quentin prison the night of the planned state murder.
The Committee included the American Friends Service Committee, the Idress Stelly Foundation (founded by the mothers of a young African American man murdered by the San Francisco Police Department), Death Penalty Focus, the Campaign to End the Death Penalty, ACLU, the Mobilization to Free Mumia Abu Jamal, San Francisco Bay View (the Bay Area's leading Black newspaper), the International Socialist Organization and Amnesty International.
Knowing that we couldn't put tens of thousands of people in the street in such a short time, we mapped out a strategy that banked on creating enough of a ruckus to force our side of the story into the media. We felt that if we could compel newly elected Gov. Arnold Schwarzenegger and the courts to deal with the facts of Kevin Cooper's case in public, we had a chance.
The Committee organized a contingent of 150 to march in San Francisco's traditional Martin Luther King Day parade, distributing over 2,000 flyers to the predominantly African American crowd of 5,000.
Later in the month, the Campaign to End the Death Penalty hosted a "Live From Death Row" event that drew 175 people, featuring Cooper himself on the speakerphone along with Danny Glover, civil rights attorney Lynne Stewart and Murder Victims Families for Reconciliation member Derrell Myers.
Death Penalty Focus orchestrated an incredible press conference in Los Angeles outside Gov. Schwarzenegger's church, with the participation of a dozen local clergy and Rev. Jesse Jackson, Sr.
Then on February 3, just one week before the execution date, activists in Fresno, LA, Sacramento, San Francisco, Santa Cruz, Davis and Riverside organized protests, mass meetings and press conferences.
Two hundred protested on the steps of the State Building in San Francisco and 400 packed an auditorium in Santa Cruz to hear Angela Davis. The actions coincided with a full page ad that the Committee took out in the west coast edition of the New York Times and San Jose Mercury News calling for a stay of execution.
Hari Dillon of the Vanguard Public Foundation, the ACLU and Amnesty International provided crucial financial support to place the ad, which was signed by Mike Farrell, Danny Glover, Rubin "Hurricane" Carter, Jeaneane Garofalo, Angela Davis, Howard Zinn, Noam Chomsky, ILWU Local 10, more than a dozen members of the California state legislature, an equal number of Members of European Parliament and more than 1500 other famous and not so famous supporters.
Call to Action
Jesse Jackson became convinced of Kevin Cooper's innocence after meeting with him at San Quentin, and spent nearly a week traveling up and down California campaigning for a stay. His barnstorming ended in a electrifying call to action from the pulpit of Allen Baptist Temple in Oakland, where Rev. Jackson urged the African American congregation to take action to save Cooper.
The fight to save Cooper was on the front page of the major newspapers and on the evening news most days in early February. Meanwhile David Alexander, a major corporate lawyer in San Francisco, took on Cooper's case pro bono and brought to bear the robust financial and logistical resources of his firm.
Within weeks of getting involved, Alexander tracked down the witnesses whose testimony the police and prosecution had suppressed. He even managed to bring forward five former members of Cooper's jury who stated to the press that if they had known then what they know now, then never would have voted for Cooper's execution.
Incredibly, Gov. Schwarzenegger refused to even consider clemency for Cooper and with just 24 hours to go, we feared the worst.
Last Minute Mobilization
On the morning of the execution day, the Ninth Circuit Federal Court issued a stay of execution sparking a glimmer of hope. Yet the instant that piece of good news arrived, Democratic Attorney General Bill Lockeyer petitioned the U.S. Supreme Court to overturn the stay and proceed with the execution.
As we prepared for the march on San Quentin with the knowledge that Cooper's life was in William Rehnquist's hands, we kept in mind that Cooper saw this fight as not just a fight to save him, but to strike a blow against the death system. If we couldn't stop the execution, then we were determined to exact a political price from the executioners.
Around 8 pm the march of 300 reached the gates of San Quentin chanting "They say death row, we say hell no." We met up with hundreds more already gathered there just in time to hear Jesse Jackson announce that the U.S. Supreme Court had voted to uphold the stay of execution.
Cheers erupted from the crowd as hundreds laughed and cried. Anger and fear turned into relief and exultation as we realized that we'd actually won, a rare feeling for activists these days. Despite the fact that news of the stay was widely broadcast on radio and TV, hundreds more protesters continued to converge on San Quentin right through 10:30 pm, when we decided to wrap up the protest.
Undoubtedly, had the stay not been upheld, the protest would have swelled to 1500 or 2000 by the execution time of midnight. This number is two or three times bigger than any previous execution protest at San Quentin, demonstrating the impact the Cooper campaign had and showing the potential for future mobilizations.
Cooper is still on death row. But stopping his execution, and the potential to win him a new trial based on procedural misconduct by the prosecution and new evidence, raises the possibility of winning a statewide moratorium on the death penalty in California, like the one in Illinois.
Building the Movement
Legal proceedings in Kevin's case will likely continue for many months, or even a year or two. During this window of opportunity, abolitionists have the opportunity to organize a grassroots movement that lays out the concrete steps we need to follow in order to win.
These include building public awareness about Kevin's case and the more than 600 other men and women on the state's death row; developing a legislative strategy to put a moratorium bill in motion; and putting together a network of religious, community, legal, labor and political organizations that will spring into action to prevent individual executions while we fight to put an end to all executions.
In addition to Kevin's victory, other recent developments put us in a strong position. The April 15 national broadcast of FX cable's feature movie "Redemption: the Stan 'Tookie' Williams Story," starring Jamie Foxx and Lynn Whitfield, brought the California death penalty into millions of homes across the country.
The film caused a sensation at the Sundance Film Festival and played at the Cannes Film Festival as part of the festival's celebration of the ten year anniversary of the end of apartheid. Barbara Becnel, Williams' literary cohort, hopes that Nelson Mandela himself will attend the screening.
The film highlights the transformation of Williams from a LA gangbanger into a Nobel Peace Prize nominee, based on his role in securing a truce between the Crips (which he co founded) and the Bloods and his award winning series of anti violence children's books.
At an April 15 screening hosted by the International Socialist Organization in San Francisco, Barbara Becnel, who is portrayed in the film by Lynne Whitfield, said "The state did everything they could to prevent this movie from being shown, but they failed and now millions of people know Stan's real story."
Growing Consciousness
Meanwhile, anger at the criminal justice system in California is growing in other areas. A scandal in the California Correctional Youth Authority has exposed prison guard torture of teenagers and overcrowded and dangerous living conditions.
In San Francisco, the police chief was forced out after covering up an investigation into his deputy chief's son, who was a SFPD cop himself, for beating civilians in order to steal their fast food, the infamous "fajita gate." And recent police torture and frame up revelations in Oakland and Los Angeles have put the authorities on the defensive.
On top of all of this, prison guards pocketed a huge raise last year while schools across California are closing because of the budget crisis. If activists succeed in making the death penalty an focal point of all this anger, we can mobilize a broad constituency.
The California state legislature has already given abolitionists one important tool. They have authorized creating a commission to study the capital punishment system.
If conducted fairly, this study will uncover systematic inequities, just like the ones in Kevin Cooper's case. It will, no doubt, lay out in black and white why no death penalty in California's anti poor and racist criminal justice system could ever be fair. According to Stephen Rohde of Death Penalty Focus, appointments to this commission should be made this fall.
Once this commission is up and running, we hope to make it very difficult for the state to carry out executions because they will have admitted that there are enough potential problems with the death system to commission an official study.
What happens in the legislature is important, but the fight to save Cooper shows that grassroots mobilization plays a crucial role. Therefore, strengthening the networks of people consistently organizing against the death penalty is just as important.
The Campaign to End the Death Penalty in California is focusing on students and death row inmates and their families. The CEDP has active chapters at San Francisco State University and UC Berkeley, and hopes to launch a new chapter in LA.
Students provide the activist legs to host the marches, press conferences, Live From Death Rows, letter writing campaigns and other activities. They can use their access to school newspapers to reach tens of thousands of people and make their campuses centers of abolitionist agitation.
Death row inmates, like Cooper and Williams, can be powerful advocates on their own behalf. Their family members are often the most effective speakers at press conferences and platforms, because the human face of the death penalty is made real.
Moreover, when we say the death penalty is racist and targets the working class–only six percent of Californians, but 35 percent of the state's death row inmates, are African American–the racial and class background in the visitors' room at San Quentin makes that obviously apparent and brings the issue to the most affected communities.
A Sharpening Struggle
Many liberal churches have long opposed the death penalty, and several important African American churches in Oakland and Los Angeles have taken steps to get back to their civil rights roots in hosting events to speak up for Kevin. And labor unions like the ILWU and the Oakland Teachers Association, despite the California Federation of Labor saying that the death penalty is "too controversial," are on our side.
Death Penalty Focus has activists in more than a half dozen cities in California, while the ACLU, Amnesty International and Rainbow/PUSH maintain broad networks as well.
We don't expect that the state will quietly allow the death penalty to be abolished. The Republican governor and the Democratic Attorney General are both enthusiastic proponents and are actively strategizing about how to push through the next execution.
Our belief is that they will try to pick someone out who is not widely known, commands less sympathy or doesn't have an innocence claim like Cooper and Williams. Their goal will be to try to "normalize" executions again.
Shamefully, Democratic Senator Dianne Feinstein has launched a personal crusade to reinstate the death penalty in San Francisco county, where political opposition by the former and current district attorney has meant that they do not seek the death penalty in any murder cases.
At the funeral for a police officer who was shot dead on duty last month, Feinstein brought the thousand plus cops in attendance to their feet with a call to execute the accused gunman, and a vicious political attack on the first ever African American woman to serve as DA in San Francisco.
Now a Democratic state legislator is sponsoring a resolution to support Feinstein. Activists are planning a response to protest Feinstein and defend the de facto moratorium in San Francisco.
From Moratorium to Abolition
While we still have a long ways to go, there are signs that this fight is winnable. Death Penalty Focus recently commissioned a poll that found that 72% of Californians support a "time out" on executions, and over 160,000 have signed a petition supporting that demand. Eleven cities, four counties and hundreds of community, religious, labor and political organizations have passed resolutions supporting a moratorium.
Activists are in the early stages of planning a major moratorium conference for the fall in Berkeley that aims to feature live call ins from death row inmates at San Quentin, some of the stars of "Redemption," exonerated death row inmates from around the country, and well known death penalty foes such as Jesse Jackson and others who supported the Kevin Cooper New York Times ad.
The next year will not in all likelihood see a ban on the death penalty in California. But if we do our work right, it may well be the year that we lay the basis for that success in the not so distant future.
You can contact Kevin Cooper by writing to: Kevin Cooper, C-653044-3-E-82, San Quentin State Prison, San Quentin CA 94974.
ATC 111, July-August 2004