Against the Current, No. 110, May/June 2004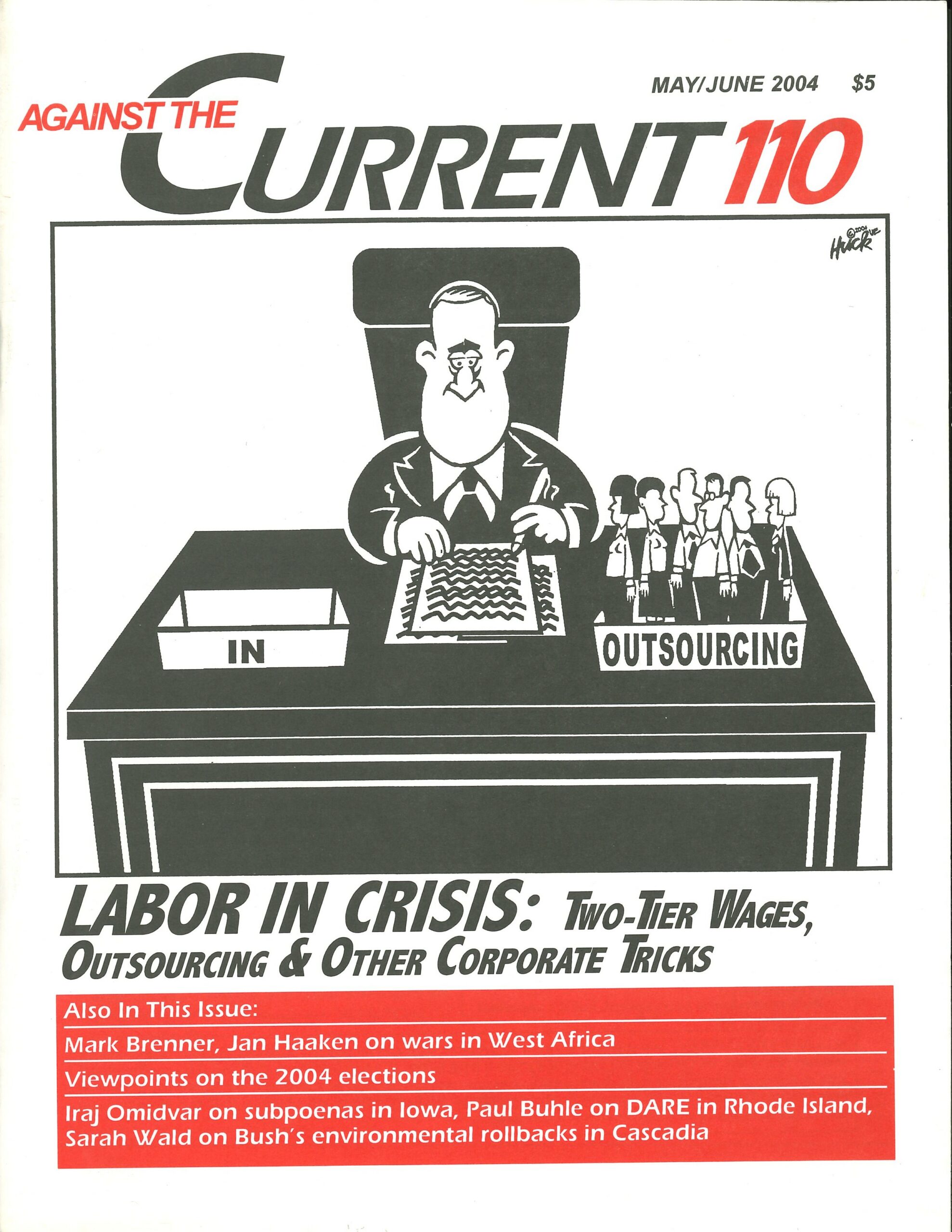 IT WAS A decade or so ago, at what was then called the "Montreux-Detroit International Jazz Festival," that jazz percussion master Max Roach presented a music education workshop that he called "The Transparent Sound."
True to form, Roach did not spend the time showing off his own prodigious technical ability. Instead, he invited young student drummers up to help them learn some basic polyrhythms. He also demonstrated how achieving "the transparent sound," making all parts of the drum kit sound clearly–the snare, cymbals and tom-toms–requires subtly different pressure from the right and left hands, unlike classic technique where both hands are required to play with precisely equal force.
There were a few autobiographical anecdotes. Going to school by day in New York City, Roach recalled the percussion class where rudiments were to be performed with each stick raised to shoulder level after every stroke.
This technique wouldn't exactly work by night on 52nd Street, where the teenage drummer was already gigging with Charlie Parker and other bebop pioneers, playing "Cherokee" and "I Got Rhythm" variations at tempos too fast to think, let alone count.
So Max switched to composition class, a move that paid its own dividends. "Listen to the beautiful melody," I remember hearing him say in concert as he sat down to perform a trademark solo on the hi-hat cymbal alone.
Max Roach turned eighty in January. Perhaps along with Kenny Clarke the seminal figure in modern (bebop and beyond) jazz percussion, he gained his orig<->inal inspiration from Chick Webb, Sid Catlett and Jo Jones, took their tradition to another level and passed it on to successive new generations. This shouldn't be written in past tense, as Max continues to be active and creative.
His central contribution is concisely summarized by Burt Korall:
"The twenty-one-year-old drummer had developed a declarative, expanded language on the instrument that, in many ways, was quite new. Kenny Clarke and Roach broke up the rhythm around the drums, particularly on the brutally fast tempi. The ride cymbals and the
hi-hat served as time sources. A linear, unimpeded pulse was established in the timekeeping hand–generally the right. The left hand and both feet provided counterpoint and accents–rhythmical ideas to play against the primary pulse, the ensembles, and the soloists. Because of Roach's increasing technique, dexterity, and independent usage of hands and feet, the drums assumed multilevel musicality . . . much more of a partner in what was done in the small group and big band." (Drummin' Men. The Heartbeat of Jazz. The Bebop Years, Oxford University Press, 2002: 98)
If I were to attempt a summary retrospective on Max Roach's recorded career, it would be in something like five themes:
"Present at the Creation:" This would cover Roach's participation in classic founding sessions of the modern jazz movement, with the likes of Coleman Hawkins, Fats Navarro, Dizzy Gillespie and Bud Powell, culminating in the 1953 "Jazz at Massey Hall" concert with Charlie Parker, Gillespie, Powell and Charles Mingus.
"Joy Spring:" The Max Roach-Clifford Brown Quintet produced the most spectacular music of the mid-1950s for three joyful years, until the brilliant trumpet player, with pianist Richie Powell and his wife Nancy died in a 1956 overnight crash on the treacherous
Philadelphia Turnpike. This was a trauma which took a lasting toll on both Roach and Richie's older brother Bud Powell.
"Freedom Now:" With vocalist Abbey Lincoln and a stellar instrumental cast, Roach created in 1960 the album "We Insist" Max Roach and Oscar Brown's "Freedom Now Suite," without exaggeration one of the half dozen or so quintessential jazz albums and a crucial musical document of the Civil Rights struggle, on the order if not quite as well-known as, say, Nina Simone's "Mississippi Goddam."
Roach's powerful social commitment was also expressed in other recordings including "Straight Ahead" (also with Lincoln) and "Percussion Bittersweet." A recording of Roach's solo drum accompaniment to a tape of Martin Luther King's "I Have A Dream" speech is not to be missed.
"The Long March:" Here I would try to chronicle a few of Roach's modernist groups featuring trumpeters Kenny Dorham, Booker Little and Cecil Bridgewater; tenor saxophonists Sonny Rollins, Billy Harper and Odean Pope; multi-record duet recordings with Archie Shepp and Anthony Braxton; and M'Boom Re: Percussion, an all-star
percussion ensemble including among other Detroit's Roy Brooks.
"Max and the Pianists:" In a category all by itself would be Max Roach's trio or duet sessions with the aforementioned Bud Powell, Thelonious Monk, Herbie Nichols, Duke Ellington (do not miss the album "Money Jungle," where Roach and Mingus bring
out Ellington's monster pianistic powers), the only recording ever made by a Philadelphia master known as "the legendary Hassan," a controversial but unforgettable duet concert with Cecil Taylor, and Connie Crothers.
Crothers, who recorded her album "Swish" with Roach in the early 1980s and has continued their musical friendship and collaboration since, summed up her feelings about Max Roach in a phone interview:
"Besides being a phenomenal musical genius, Max is a powerfully insightful political thinker, very aware of the music's implications. These things come together–in fact, they are inseparable–in his art. He has told me that as a young man he was aware that this art form had a transformative power.
"I think the main thing I've learned from Max is that music ultimately comes from depth of character, not from technical expertise or ego. We all have to work very hard at it; but once you have done that hard work, music has to come from your character and
who you are, from the level of your insight.
"Max himself personifies that, and always will. He is an extraordinary virtuoso, in two respects."
A transparent sound comes from a transcendent spirit. Happy birthday and many more!
ATC 110, May-June 2004