Against the Current, No. 110, May/June 2004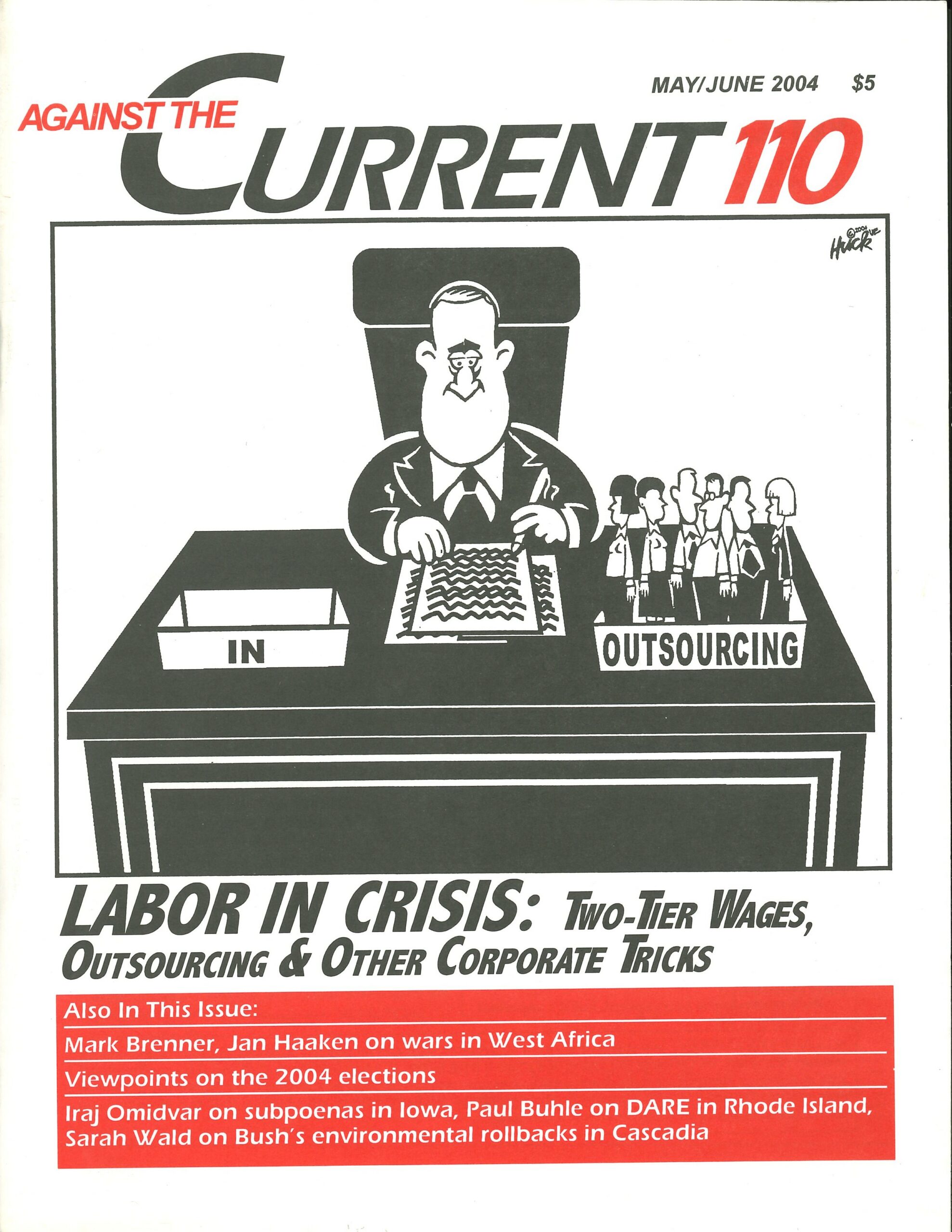 THE FOURTH ANNUAL World Social Forum (WSF), held January 16-21 in the Indian city of Mumbai (what used to be called Bombay), drew 100,000 activists from over 130 countries. For three previous years it had been in the Brazilian city of Porto Alegre, to which it returns in 2005.
Particularly impressive was the massive grassroots participation–unions, women's groups, youth organizations, environmental groups, organizations of the Dalits ("untouchables"), and many more–staging an incredible array of rallies and marches and cultural activities throughout the WSF grounds. All this was in addition to the 1200 formally organized mass meetings, seminars, panel discussions and workshops.
A Manifesto of the World Social Forum has described this annual gathering as "a new international arena for the creation and exchange of social and economic projects that promote human rights, social justice and sustainable development."
The WSF is an alternative to the World Economic Forum, the yearly gathering of the global economic elite in Davos, Switzerland, whose perspectives on "globalization" dovetail with those of the World Bank, International Monetary Fund and World Trade Organization.
Contested Terrain
Among the NGOs playing a role in the World Social Forum (including around the not trivial matter of providing more than $2 million required by the 2004 event's infrastructure), one finds organizations and funding agencies based in Europe, Canada and the United States.
Oxfam International, which has done so much to push back world hunger, plays a particularly important and visible role. Honorary president of Oxfam, Ireland's Mary Robinson, urged that "we should seek ways to focus even more on promoting in practice the values of freedom, equality, solidarity, tolerance, respect, and shared responsibility which can unite rather than divide North and South, rich and poor, left and right, religious and secular, them and us."
Somewhat less sanguine was Sylvia Borren of Oxfam Netherlands, who commented: "We always said we have to make sure people get support to organize themselves on the ground in specific poverty or human rights situations, but we also have to look at the structural inequities, because our big aim is towards global equity."
The United Nations was also present, particularly in the form of its Millennium Campaign whose goals are to 1) eradicate extreme poverty (the more than one billion people living on less that $1 a day), and hunger (the more than 800 million people who are chronically hungry); 2) achieve universal primary education; 3) promote gender equality and empower women; 4) reduce child mortality (11 million die before their fifth birthday every year); 5) improve maternal health; 6) combat HIV/AIDS, malaria, and other diseases; 7) ensure environmental sustainability; 8) develop a global partnership for development.
Eveline Herfkins of the Netherlands, who is executive coordinator of this UN campaign, noted that while 160 governments have signed on to meeting these goals by 2015, "we are not on track," adding: "Business as usual will not do, so we have to hold governments to account."
In many ways the World Social Forum can best be understood as a "contested terrain." Indeed James Wolfensohn–president of the World Bank, a central institution of the "globalization" vigorously opposed by so many WSF activists!–was on hand to hail the fourth World Social Forum as coming "not a moment too soon."
Embracing the UN's Millennium Development Goals, Wolfensohn asserted in a column published in TerraViva (a daily WSF newspaper) that 2004 could be "a year in which we move ahead together to join forces and resources behind a vision of a more balanced world."
He was especially appreciative of Lula's government in Brazil for "pursuing a development strategy based on the premise that economic and social progress are inseparable" and for "maintaining fiscal discipline and attracting foreign investment" through far-reaching compromises with business interests and neoliberal policies.
While Wolfsensohn asserted that "conversations of many participants in Mumbai" would "be focused on the promise of this new type of leadership," many eloquently argue that the goals of the UN's Millennium Campaign will never be achieved by "uniting rather than dividing" with the globalization strategy urged by Wolfensohn.
Vandana Shiva, Indian feminist and environmental activist, insisted that it is necessary to push back "the power and legitimacy of giant corporations, institutions that serve big money–the World Bank, IMF, WTO–and the violence, coercion and anti-democratic processes on which economic globalization [is] based," adding: "The struggle between people and capital is now an epic struggle between life and death."
Voices of Resistance
Another eloquent Indian activist, Arundhati Roy, in her major speech on the WSF's opening labelled the "New Imperialism" as "a remodeled, streamlined version of what we once knew." She added:
"For the first time in history, a single empire with an arsenal of weapons that could obliterate the world in an afternoon has complete, unipolar, economic and military hegemony. It uses different weapons to break open different markets. There isn't a country on God's earth that is not caught in the cross-hairs of the American cruise missile and the IMF checkbook.
"Argentina's the model if you want to be the poster boy of neoliberal capitalism, Iraq if you're the black sheep. Poor countries that are geopolitically of strategic value to Empire, or have a "market" of any size, or infrastructure that can be privatized, or, God forbid, natural resources of value–oil, gold, diamonds, cobalt, coal–must do as they're told or become military targets.
Roy's assessment of what constitutes "promising leadership" was, consequently, quite different from that of World Bank officials:
No individual nation can stand up to the project of corporate globalization on its own. Time and again we have seen that when it comes to the neoliberal project, the heroes of our times are suddenly diminished. Extraordinary, charismatic men, giants in the opposition, when they seize power and become heads of state, are rendered powerless on the global stage.
I'm thinking here of President Lula of Brazil. Lula was the hero of the World Social Forum last year. This year he's busy implementing IMF guidelines, reducing pension benefits and purging radicals from the Workers Party. I'm thinking also of the former president of South Africa, Nelson Mandela. Within two years of taking office in 1994, his government genuflected with hardly a caveat to the Market God. It instituted a massive program of privatization and structural adjustment that has left millions of people homeless, jobless and
without water and electricity.
Why does this happen? There's little point in beating our breasts and feeling betrayed. Lula and Mandela are, by any reckoning, magnificent men. But the moment they cross the floor from the opposition into government they become hostage to a spectrum of threats–most malevolent among them the threat of capital flight, which can destroy any government overnight.
To imagine that a leader's personal charisma and a c.v. of struggle will dent the corporate cartel is to have no understanding of how capitalism works or, for that matter, how power works. Radical change cannot be negotiated by governments, it can only be enforced by people.
Walden Bello from the Philippines, executive director of Focus on the Global South, pointed out that "promising prosperity via accelerated globalization won't work–since the overwhelming evidence is that, as even the World Bank admits, poverty and inequality increased globally in the 1990s, which was a decade of accelerated globalization." Policies advanced by the U.S. government and businesses constitute "a mortal threat to global peace and justice."
In Bello's opinion, the growing and increasingly radical movements of civil society that struggle "to de-legitimize power and cut into corporate bottom lines"–ile derided by <169>governments as disparate as Beijing and Washington" and deeply hated by the corporations–constitute a "rapidly expanding trans-border network that spans North and South [and] is the main force for peace, democracy, fair trade, justice, human rights, and sustainable development."
Promise of Internationalism
The contradictory swirl drawing so many thousands of people to Mumbai reflect the real struggles of our time.
Of special importance was an all-day Global Anti-War General Assembly, where 500 representatives of anti-war movements around the world gathered to share experiences and analyses, and to discuss strategies and possible campaigns.
U.S. aggression in Iraq was the central focus, and March 20th was projected as a global day of protest against war and occupations. The developing relationships among global antiwar activists seems particularly promising.
A major session on left-wing parties and social movements drew an audience of several thousand to hear an impressive array of articulate radical and revolutionary leaders, seeking to help comprehend how diverse forces on the Left could learn from past experiences and new developments–d from each other<197>in order to win durable victories in the future.
There were representatives of Brazil's Central Workers Union (CUT), Indian feminist and community movements, the European Federation of Green Parties, the peasant/worker/indigenous movements that brought down the government of Bolivia, the sizeable Communist Party of India (Marxist), the Socialist Party of Chile (and the Socialist International), Italy's militant Party of Communist Refoundation, the PT (Workers Party) of Brazil, and the now-fragmented Nicaraguan Sandinistas. The contributions ranged from searchingly self-critical
to revealingly uncritical, from eloquently visionary to insistently
pragmatic.
One of the larger sessions was "The World of Labor: Freedom, Equality, and Labor Rights." Panelists included the leaders of the International Confederation of Free Trade Unions (ICFTU), the World Federation of Trade Unions (WFTU) and World Congress of Labor (WCL), as well as representatives of the Women's Commission of the European Parliament and of the International Labor Organization (ILO).
All of these offered details on the devastating impact of "globalization" on the workers of all countries and called for labor unity. There was also a prominent Indian economist, Prabhat Patnaik, who projected a strategy to press on every continent and in every country for policies that would combat the ideology of the capitalist market, bring down unemployment, increase living standards, and truly make another world possible.
Bringing It Back Home
One valuable workshop that drew together U.S. activists was "Peace and Global Justice or War and Empire? Struggles of U.S. Social Movements." This panel included Claudia Rodriguez-Zinn (Global Exchange), who chaired; Paul Le Blanc (Solidarity); Njoki Njehu (50 Years Is Enough); Rev. Calvin Morris (Jobs with Justice); Jessica Marshall (National Youth and Student Peace Coalition); Jason
Erb (American Friends Service Committee); Ahmed Shawki (International Socialist Review); and Dennis Brutus, the eloquent South African poet who lives much of the time in the United States and who chaired the massive anti-war rally later in the week.
This workshop touched particularly on the roots of globalization in the vast inequality in wealth and power in the United States and the world, and the relationship of this to militarism, war, racism and repression. Gains can only be made by independent mass movements struggling for peace, justice, human rights and human needs.
All of us who participated in this panel felt that the World Social Forum is important for our work in U.S. struggles. A key advance will be the development of a North American Social Forum–something that is projected for some time during 2005. There already exist European, Latin American, Asian, and African Social Forums. These help connect the issues and concerns of the World Social Forum to regional struggles and organizations, which in turn impact on the global movement.
Yet there is a "contested terrain" quality to all of these entities. Certain governments, mass reformist parties and NGOs seek the imposition of a more "practical" (and moderate) framework, but this is matched by the determination of many to maintain a radical independence and diversity.
The World Social Forum cannot be seen as some Revolutionary International. It is a conglomeration of reformers, reform-socialists, left-liberals, radical-populists, anarchists, revolutionary socialists and more, jostling together in animated discussions and sometimes divergent trajectories.
The World Social Forum provides an opportunity to share information and experiences of our oppression and of our struggles across borders, worldwide. Building links, a common global pool of knowledge and analyses, global strategies and campaigns, all flow from the various, inter-linked forms of oppression that are global, perpetuated by a global set of oppressors: the multinational corporations of international capitalism, and the agencies, institutions and governments that they control.
Through global struggles a mass Left can be rebuilt, in our various countries worldwide. Within such a context revolutionary socialists can become a more effective force in local, national and global struggles for a better world.
For more information on the World Social Forum, see: http://www.forumsocialmundial.org.br/home.asp; http://www.wsfindia.org; and http://www.focusweb.org.
ATC 110, May-June 2004