Against the Current, No. 110, May/June 2004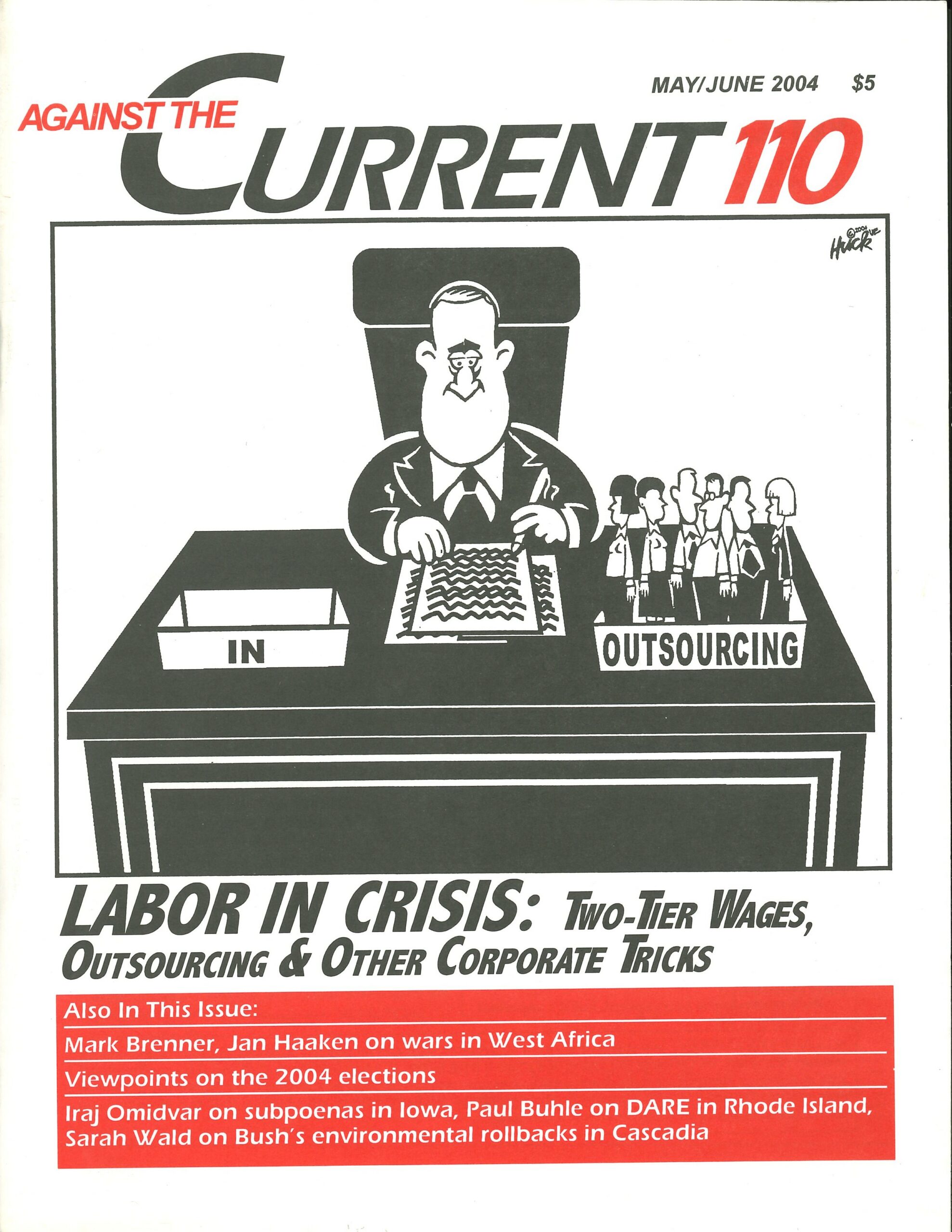 "The final contract in Southern California is less costly to Kroger than the offer that was on the table when the strike and lockout began…" –Kroger CEO David Dillon
"[This was] the most successful strike in history." –recently resigned UFCW President Douglas Dority
EXHAUSTED AND BROKE after four-and-a-half months on the picket line, Southern California grocery workers voted overwhelmingly on February 28-29 to accept a two-tier wage and benefits system with a cap on employers' contributions to the health care benefits plan.
In yielding to the employers' two main demands, the United Food and Commercial Workers (UFCW) gave the three supermarket chains involved–Albertson's, Vons (owned by Safeway), and Ralphs (owned by Kroger)–a decisive victory in their campaign to cut labor costs across the country to compete with low-wage nonunion firms, especially Wal-Mart.
Much has been written about why the strike was lost, most of it faulting the leaders of the seven UFCW locals for the union's unimaginative, often confusing, and even conflicting strike "strategies."
Despite the fact that all three chains were obviously united, even signing a mutual-aid pact, UFCW officials at various times seemed to think they could split off Ralphs from the other two.
Three weeks into the strike, mutual-aid pact notwithstanding, they called off the pickets at Ralphs and encouraged the public to shop there. When that didn't work, some locals decided to picket Ralphs again while others didn't.
Picketers were encouraged to be polite and respectful, even to strikebreakers. Other unions, such as the ILWU, initiated support demonstrations, but not the UFCW.
Several weeks into the strike, the L.A. County Federation of Labor, and later on the national AFL-CIO, began to organize community-based rallies and even sent UFCW members to picket Safeway in other cities around the country. But fundamentally the strike remained a traditional, formalized affair.
In early February, as if to advertise their weakness and desperation, the seven locals publicly called on the chains to accept binding arbitration to end the strike. The chains quickly declined.
Giant Firms Rule
By the end of the strike, it had become clear to several strike analysts that the union's greatest strategic failure was its inability to recognize and adjust to the trend toward mergers and consolidation.
The grocery industry is now dominated by a few gigantic firms–firms which could use their national resources to beat down local or regional strikes with relative ease. This view seems to have been shared by Wall Street, as stock prices for the three chains, despite a combined $11/2 billion loss in sales during the strike, were not significantly affected while the dispute lasted.
Nevertheless, the UFCW international leadership refused to even consider pulling out its members at other Safeway, Albertson's and Kroger stores nationwide, a fact that spells certain trouble for grocery workers in Northern California whose contract expires in September.
In an attempt to explain the reluctance of the unions to take on the chains more effectively, some critics have suggested that the excessively high salaries of UFCW officials show that they have more in common with corporate CEOs than the workers they supposedly represent.
Rick Icaza, for instance, President of the Los Angeles UFCW Local 770, earned almost $275,000 in 2002, more even than John Sweeney, national president of the AFL-CIO. The UFCW Orange County local president earns about $200,000, while International UFCW President Dority made $329,792 in 2002, tops among heads of AFL-CIO unions.
All this in an industry in which the average worker works part time and makes about $12 an hour! But perhaps even more telling than Rick Icaza's outrageous salary are his business unionist views.
When asked to explain why the UFCW was so poorly prepared for the employers' intransigence, Icaza said he had always worked out solutions with the stores in the past. "I felt that by having that relationship . . . we had passed the era of a need for strikes. I thought those days were over." (LA Times, February 16, 2004)
In this respect, Icaza's "solutions" are no different than the UFCW officialdom as a whole. One dissident group of UFCW members and officers found that from 1980 to 2000, the hourly wages of workers in the mostly UFCW-organized grocery industry have declined to eighteen cents below the wages of workers in the mainly nonunion retail industry.
This collapse is the result of a consistent pattern of concessionary bargaining, including acceptance of multi-tier wages, increasing part-time work, and depletion of workers' pension funds.
Pressure from Below Needed
Here we can see that making tactical and strategic suggestions to the existing UFCW leadership is like throwing good money after bad. If ever there was a hide-bound union bureaucracy it is that of the UFCW, from top to bottom.
The primary reason for this is that up until the present, rank and file pressure on the union leadership has been for the most part absent. This has allowed UFCW officials to become even more complacent and compliant in their dealings with the employers than officials in those unions with a tradition of rank and file involvement and activism.
In particular, the union's acceptance of a mostly low wage, part-time work force has also helped to entrench its leadership in power.
It was no accident that the one group of UFCW members who defied the UFCW leadership during the strike were not clerks, but warehouse workers.
In late November in an act of solidarity, local Teamster officials ordered their members to honor the UFCW picket lines at the ten distribution centers. But a month later, they decided to put a stop to that and got the UFCW leadership to agree to pull their pickets at all the warehouses.
At one warehouse–Von's in El Monte–the pickets were actually UFCW members from that warehouse, not clerks recruited from the stores. When asked by their officials to leave, they refused and continued to picket. Teamster drivers and warehouse workers, who knew them, honored their lines, forcing Teamster and UFCW officials to make an "exception" to the general policy.
These UFCW warehouse workers are veteran, fulltime, better-paid workers. Most clerks, however, are younger part-timers with much less invested in the job and whose union experience before this strike was minimal. We should not be surprised then that they were less able to organize themselves to pressure their officials.
At the same time, a core of UFCW members who worked with strike supporters for the last several months are ready to organize a rank-and-file network and will be meeting in late April.
Their work is cut out for them. The two-tier system will bring in new hires resentful of the differentials in wages and benefits between them and workers hired before the strike. Building rank-and-file unity will be more difficult.
The new hires will also be even less invested in the job. At the same time, though most strikers voted for the agreement, no one likes it and many strike participants are angry at both the companies and the union.
Whether the rank-and-file organizing efforts can successfully capitalize on this anger remains to be seen, but local and national rank and file networking and caucus building offers the best hope for grocery workers to resist the employers' attacks.
ATC 110, May-June 2004