Against the Current, No. 109, March/April 2004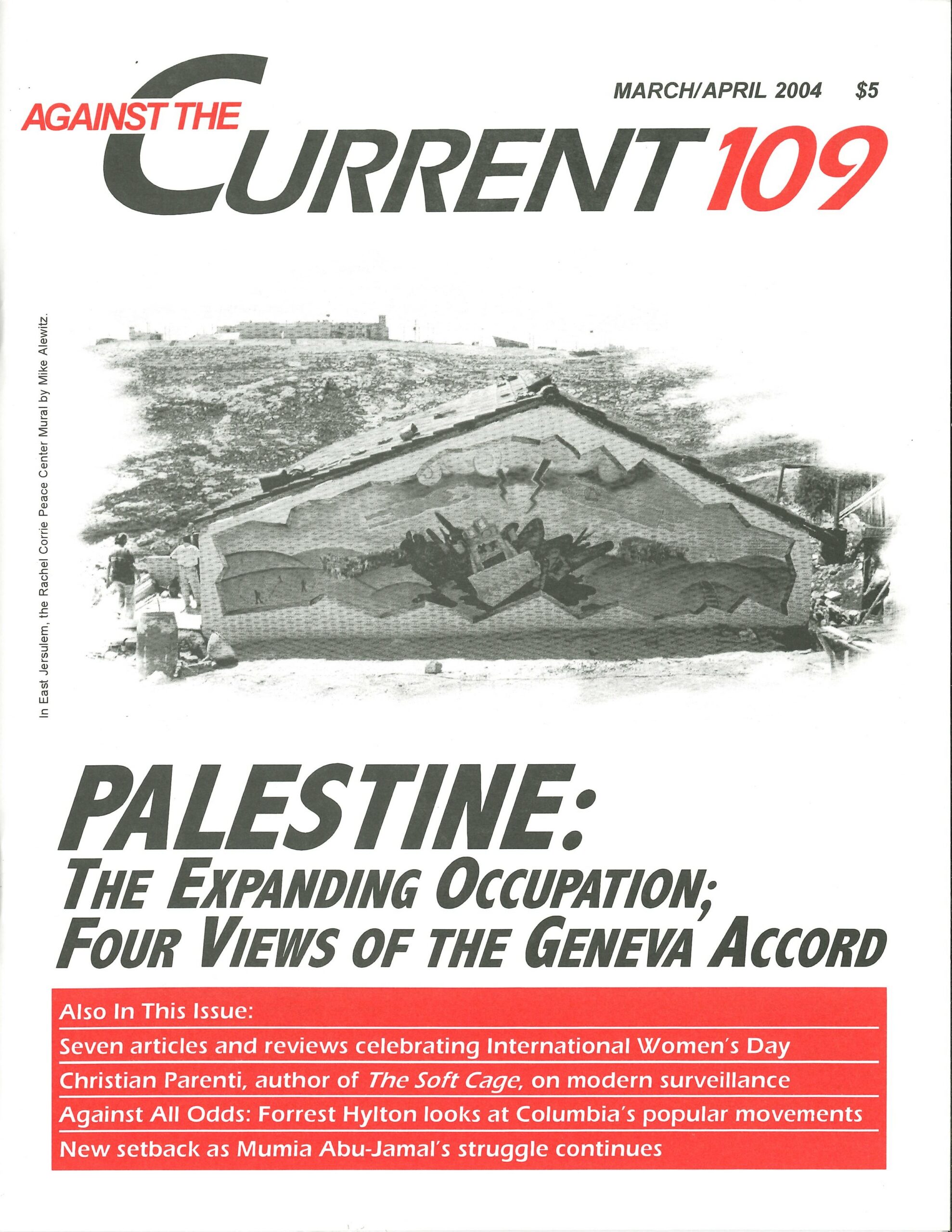 DESPITE HISTORIC TIES to the inmost nexus of cocaine trafficking and aramilitarism, Colombian President Alvaro Uribe Velez is Washington's leading exponent of the "war on drugs and terror" in the Western hemisphere.
At the inauguration ceremony of President Nicanor Duarte in Paraguay on August 15, 2003, on Uribe's initiative, and excepting Hugo Chavez, South American presidents signed the "Declaration of Asuncion," a pledge of loyalty that placed "the war on drugs and terror" at the top of the region's foreign policy priorities.
During the brief stay of Donald Rumsfeld in Bogota four days later, 13,000 troops and intelligence agents, U.S. as well as Colombian, patrolled the airport, public buildings and roadways.
The day before, on August 18, Uribe faced machine-gun fire from the Colombian Revolutionary Armed Forces (FARC) when his helicopter approached Granada, Antioquia, a town destroyed by the FARC's gas cylinder bombs on December 6-7, 2000.
Since the FARC have sophisticated grenade launchers, and since Uribe returned to Granada to deliver his speech after leaving his wife in Medellin, one wonders if, like nearly everything else in Uribe's presidency, the attack was not stage-managed to drive home the case for more resources to fight "drugs and terror" and eliminate the FARC, now held to be responsible for the country's accumulated problems.
Washington Consensus and Crisis
Beginning with Plan Colombia in the late 1990s, in the name of "the war on drugs" — which, soon after September 11, 2001, became "the war on drugs and terror" — the U.S. government responded to the growing challenge to the Washington Consensus in South America.
This meant eradicating coca along with legal crops in FARC strongholds, Putumayo and Caqueta; erecting a military base in Manta, Ecuador (a country in which two governments were overthrown by popular uprisings between 1997 and 2000); "Plan Dignity" to eradicate coca — and the coca growers' movement — in the Bolivian Chapare and Yungas; a coup attempt in Venezuela; offhand comments from former U.S. Treasury Secretary Paul O'Neill that rocked Brazilian financial markets as elections neared.
The cornerstone of U.S. policy in the hemisphere, though, is to be found in Colombia itself, which, measured in terms of "aid" money, is the world's third most important U.S. client state after Israel and Egypt. This at a time when, as a consequence of its thorough implementation of neoliberal economic policies, the region's peoples are living through the deepest crisis since the 1930s.
Though the AUC paramilitaries [extreme right-wing landowner-financed Militias–ed.] have been on the U.S. State Department's list of terrorist groups since September 10, 2001, Uribe officially began a "peace" process with them in July 2003.
Violating U.S. laws, U.S. Embassy Political Officer Alexander Lee, and Stewart Tuttle, head of the Human Rights Section, met in secret with AUC representatives in early May 2003. The U.S. government then proposed to spend $3 million to "disarm and demobilize" the 13,000 AUC fighters under the control of Carlos Castano and Salvatore Mancuso.
Mancuso — who, along with Castano, has been convicted in absentia for war crimes, and is wanted for extradition on charges of smuggling seventeen tons of cocaine into the United States — has said that since it is politically willing to try to eliminate the guerrillas, Uribe's government has made the paramilitaries irrelevant.
The first "phase" of paramilitary demobilization took place in Medellin on November 25, as 850 soldiers from Bloque Cacique Nutibara handed over a tiny portion (112) of the weapons they possess, to tremendous media fanfare — there were more journalists than onlookers in attendance.
"Don Berna," leader of Bloque Nutibara, helped found one of Medellin's largest and most fearsome gangs, "La Terraza," which boasts 6,000 foot soldiers, and has long waded neck-deep in cocaine trafficking. At the demobilization ceremony, Castano and Mancuso broadcast messages of "peace" from their not-so-secret hideouts.
Financing Murder and Impunity
A proposed bill would allow paramilitaries to avoid prison by paying indemnities to families of people they massacred or murdered, or in some cases through public service. If sworn into law, the proposal would reinforce impunity in a country where 95% of homicides go unpunished.
People like Castano and Mancuso would become political operators and advisors to ex-AUC congresspersons and senators, while their foot soldiers become government spies or "peasant militiamen and women." Meanwhile, teachers and other trade unionists, community leaders, human rights workers, independent journalists and academics; petty drug dealers and consumers, the homeless, transvestites, homosexuals, addicts and street kids; all will continue to be murdered,though in much smaller numbers than peasants — like the six Afro-Colombians murdered outside Buenaventura by the AUC in early July 2003, for example.
Or the four young Guajibo women, one of whose fetus was hacked out of her stomach and thrown into the nearby river, raped and killed in the Betoyes reserve in Arauca in May 2003. The perpetrators, according to Guajibo survivors, were soldiers from the 18th Brigade's Navos Pardos Battalion, wearing AUC armbands and coordinating with the ACC, a "dissident" paramilitary block that has opted out of "peace negotiations" with Uribe.
As for making peace with the FARC, "if they break the will of these rebel groups, that's when negotiations will work," a Colombian military official told Jim Garamone of the American Forces Press Service.
Uribe's imperial backing is nearly unlimited, demonstrated by Rumsfeld's visit as well as visits from U.S. Secretary of State Colin Powell in late September 2003, Chairman of the U.S. Joint Chiefs of Staff Gen. Richard Myers and U.S. Trade Representative Robert Zoellick, in early August.
Powell saluted Uribe's commitment to "human rights" in his fight against terrorism, while Myers declared that Uribe had achieved "significant victories," compared Venezuela to Syria, and called Colombia a "staunch ally" in the "war on drugs and terror," indicating very clearly the State Department-Pentagon vision of foreign policy for the region.
For his part, Zoellick promised Uribe that Colombia was next in line for a bilateral trade agreement similar to the one the Bush administration recently reached with Chile.
The message to the rest of South American rulers was simple: follow Uribe and you will be rewarded (although former president of Bolivia Gonzalo Sanchez de Lozada did so, and was promptly overthrown). In April 2003 the U.S. Congress awarded Uribe an extra $104 million, on top of the $2.5 billion already been disbursed since 1999 under Plan Colombia.
Opposition Upsurge
Under the Pastrana administration, activists from trade unions, feminist and human rights groups, families of the disappeared, organizations that work with the displaced, indigenous and Afro-Colombian groups began to try to stake out autonomous territory for a participatory, bottom-up peace process, which culminated with an antiwar march of 30,000 women in Bogota in August 2002.
The earlier peace activism laid the groundwork for the current upsurge of opposition, exemplified by the antiwar gathering of 3,000 women in Putumayo in late November 2003, which denounced the effects of U.S.-led war and fumigation: the deterioration of "life, health, the destruction of the environment, and traditional as well as alternative crops."(1)
Led by the indigenous organization in Cauca, CRIC, a mass antiwar, anti-Uribe protest march took place in October 2002, which brought tens of thousands onto the highways and into the city streets in spite of government and paramilitary harassment.
The nineteen-point referendum that Uribe put to the country in October 2003, delaying local elections, locking in IMF austerity measures and instituting a two-year public-spending freeze and cap on pensions, failed due to an abstention rate of 81%, thanks to trade union agitation, centered in the public sector, and Liberal Party dissidents like Afro-Colombian Senator Piedad Cordoba.
Afro-Colombian and indigenous communities in Cauca and the Choco continue to press collective land claims, and in mid-May 2003, efforts to forge an alliance led to a meeting of 2,000 of the former and 3,000 of the latter, which centered on strategies for land reclamation and cultural survival.(2)
In June 2003 in Arauca, the Uwa and the Guajibos formed The Association of Cabildos and Traditional Indigenous Authorities (ASCATIDAR) to demand indigenous autonomy from armed conflict, self-determination and control of natural resources.
There have been community-labor protests over the privatization of EMCALI, a utilities and telecoms company, and ECOPETROL, whose installations in Barrancabermeja were militarized in June with 1,500 troops in order to block strike activity. Over 600,000 trade unionists took to the streets in July 2003 to protest the cuts to the public sector work force proposed in October's referendum.
It was the referendum's dramatic failure that constituted the first real domestic political setback for the Uribe administration, as the high abstention rate demonstrated that Uribe's ostensible popularity in the opinion polls (over 70%) did not translate into political support on the ground.
It also suggested that Uribe is not nearly as popular as the Colombian media insist. The election of Lucho Garzon, the first Left-Liberal mayor of Bogota since Gaitan, is a clear sign that a significant part of the middle lass has already decided to throw its weight behind organized labor and the electoral left.
This occurred not only in Bogota. In Medellin, homicide capital of the world; in Barrancabermeja, where 120 activists were assassinated in 2003; and in two departments, opposition candidates won municipal and regional elections — crucially, in the south: Cauca and Valle de Cauca.
Lucho Garzon, however, a former trade union leader whom some have billed as Colombia's "Lula," has already distanced himself from what he called "the ultra-left," Carlos Gaviria and the Social and Political Front (FSP), and has decided to govern with the Liberal Party.(3)
This can only lead to an independent municipal politics minus the independence, and cannot possibly present an alternative to the Uribe regime.
Uribe's Course
Shortly after the defeat of the referendum, Uribe's "superminister," Fernando Londono Hoyos (Justice and Interior), as well as former model Marta Lucia Ramirez (Defense), were forced to resign, but their replacements (Sabas Pretelt and Jorge Uribe, respectively) leave little doubt that Uribe will continue on course as if nothing had happened.
The entrepreneurs will handle both economic and military policy. The paramilitaries, meanwhile, despite the so-called "ceasefire" declared in late 2002, have stepped up threats, harassment, intimidation and killing, in order to punish those responsible for the defeat of the referendum.
In November 2003, they killed four public sector trade unionists in two weeks, in accordance with the threats leveled at Domingo Tovar Arrieta, director of the CUT's Human Rights Department, on October 30.(4)
While Uribe has relaxed credit in an attempt to stimulate a consumption and construction boom, with import demand from the United States (and Venezuela) weakening, oil and coffee prices falling and a deteriorating world market, the economic outlook for his regime is far from sunny.
The military statistics are as unlikely as those trotted out during Vietnam — in the field of combat, there have been no major defeats for the insurgencies, just a barrage of lies about army successes, and the capture of one or another comandante, such as Simon Trinidad.
Ultimately, the fate of Uribe's government will be decided by the success of its drive to terminate armed opposition to "capitalismo a la colombiana," permanently. On December 6, 2003, Uribe declared that it was time to "exterminate the guerrillas . . . by good means or bad — to calculate less and risk more."
Where Guerilla War Continues
The exceptional growth and longevity of the guerrillas in Colombia has been a product of four main factors: the closure of the political system; the extent of the country's agrarian frontiers; its highly divided and corrugated topography; and the contingencies of the coca boom.
High-tech weaponry and surveillance systems, of the kind tested out in the Balkans, Afghanistan and Iraq, will be called upon to overcome the last three. Aerial fumigation of wide swathes of the countryside, to destroy coca cultivation, is now in full swing, yet the cocaine business is booming.
Washington and Bogota are already claiming unprecedented success in their campaign against coca, with no mention made of its impact on the volume of cocaine imports and interdiction. In December 2002 a UN study claimed that coca planting in Colombia had been cut by 30% in the past year, to 252,000 acres.(5)
Currently over 35,000 acres are being destroyed every month — now, according to legislation approved by the U.S. Congress in early December, including National Parks, which contain seventy percent of Colombia's water and ten million hectares of officially-protected forest.(6)
In Putumayo, "Towns dedicated to the harvest and production of cocaine have been abandoned like ghost towns in the old American West, their stores empty, their people vanished," reported the Los Angeles Times in early June 2003:
"Of more than a dozen farmers interviewed in mid-May, not a single one planned to continue planting coca. Repeated visits by the crop dusters wiped out the coca as well as nearby food crops and convinced them to give up the business.(7)
In Bush-Uribe's "war on drugs and terror," the institutionalization of genocidal impunity and escalation of public-private repression appear to be the order of the day. Not since the dark night of Laureano Gomez's reign (1950-53) have civil liberties and human rights been under such severe attack in Colombia.
We may perhaps take hope from the fact that the radical-popular movement there has been nothing if not resilient; surviving wave upon wave of state and/or paramilitary terror since 1880, it has always resurfaced with vigor.
Notes
ATC 109, March-April 2004