Against the Current, No. 109, March/April 2004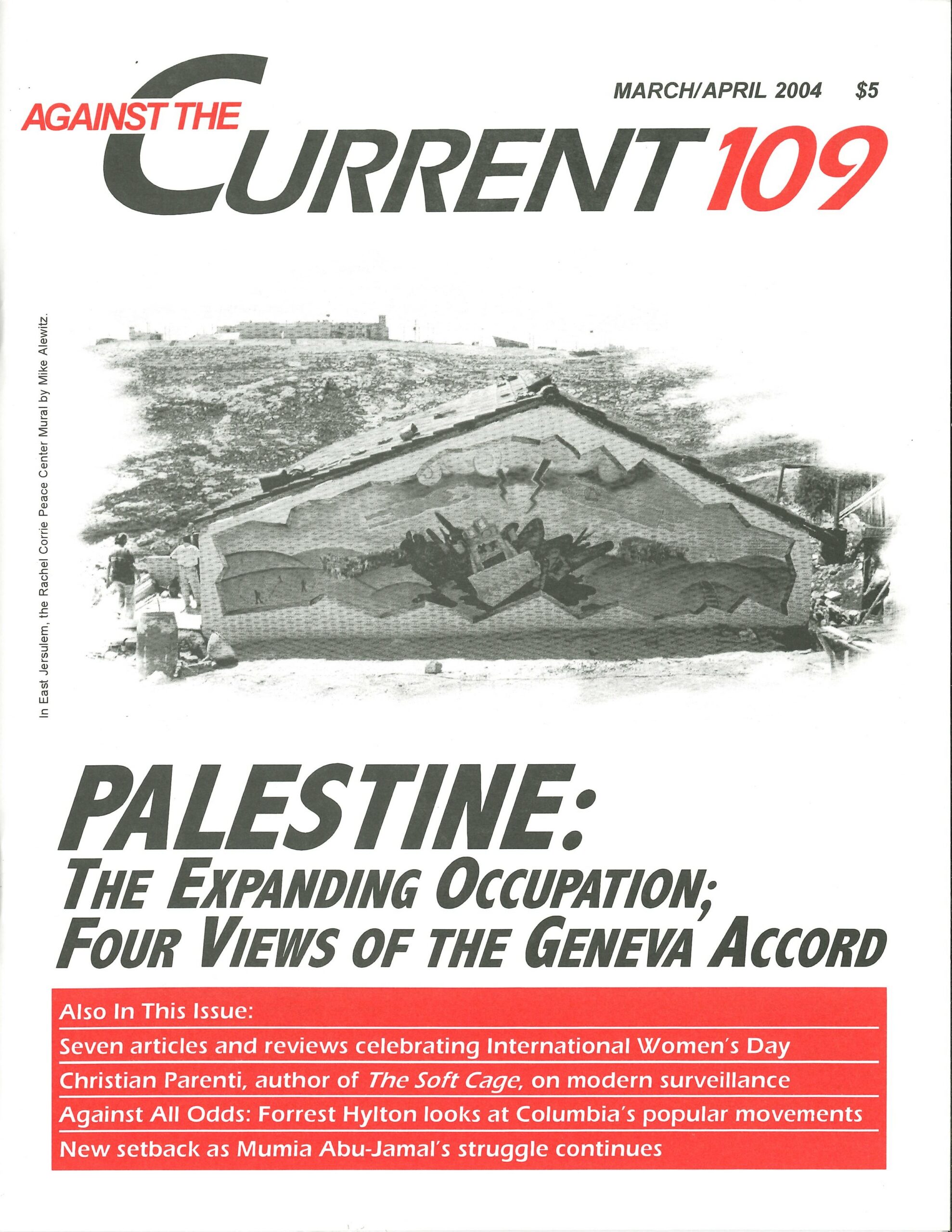 IN A NEW legal setback for one of the world's best-known political prisoners, the Pennsylvania Supreme Court on October 9, 2003 rejected Mumia Abu-Jamal's petition for a hearing on new evidence in his case. This evidence includes a confession by another man, Arnold Beverly, that he fired the shot that killed Police Officer Daniel Faulkner in 1981, the crime for which Mumia was convicted and sentenced to death.
Mumia, an award-winning journalist and former Black Panther, was convicted during a frame-up trial, presided over by a racist judge, in front of a jury from which Blacks had been systematically excluded. His appeal to the federal courts is still in process.
In December 2001, Federal District Court Judge William Yohn overturned Mumia's death sentence, while upholding his conviction — on the grounds that trial judge Arnold Sabo gave misleading instructions to the jury during the death-penalty phase of the trial.
Mumia remains on death row, however, while Yohn's ruling is appealed by both the prosecution (asking that the death penalty be reinstated) and by Mumia (asking that his original conviction be overturned).While the appeal is in process, Yohn's ruling will not take effect.
Since the Spring of 2001 Mumia has been asking both state and federal courts to consider the Beverly confession. So far this request has been rejected at all levels.
The Pennsylvania Supreme Court based its latest ruling on a provision of state law that is similar to language contained in the federal "Anti-Terrorism and Effective Death Penalty Act": If a prisoner on death row wants to introduce new evidence it must be done within one year from the time that evidence was discovered.
The first request for the court to consider the Beverly confession was made in May 2001, after Mumia hired new attorneys. However, by that time the one-year limit had already expired — because Mumia's previous attorneys had known about the confession but advised Mumia against introducing it as evidence, asserting it was not really credible.
Subsequently, however, facts emerged which indicated the confession might indeed be genuine, and the new attorneys decided that it should at least be heard by the courts. So far, however, the courts have consistently said "no."
Innocence Doesn't Matter
The implications of this are, of course, chilling. It means that it does not matter if a death-row inmate can prove that someone else committed the crime. If they wait more than a year to introduce the evidence of this then they may be legally executed anyway, no matter what caused the delay.
In its October ruling the Pennsylvania Supreme court also rejected another request by Mumia — for consideration of a statement made by Terri Maurer-Carter, a former court reporter who recently stepped forward to tell of an incident that happened during the time of Mumia's original trial.
Carter overheard an informal conversation in Judge Sabo's chambers. She reports him as saying: "I'm going to help them fry the [n-word]."
This evidence could not be rejected on the basis that it was untimely, since Mumia's attorneys had presented Carter's testimony to the court only weeks after they became aware of it. But here the court fell back on another technicality, declaring that Judge Sabo's racism could not be reraised as a legal issue since it had already been considered during Mumia's 1988 appeal – when it was determined that this had not prejudiced the outcome of the original trial.
Apparently the court is saying: "If we did not have evidence in 1988 that Sabo's racism affected the outcome of the trial we will not consider new evidence of this now — a rather strange logic. And in this case it is based on a factual inaccuracy: Sabo's racism was, in fact, not considered as a legal issue in 1988.
At that time the court only considered Sabo's prejudice as a member of the Fraternal Order of Police, which was campaigning during the trial for Mumia's conviction. So the court has, in effect, invented a fiction in order to make an absurd ruling.
What's more, Judge Yohn, at the federal level, also refused to consider Carter's statement. But he did so based on a factual assertion that is precisely the opposite of what the Pennsylvania Supreme Court said: that Sabo's racial prejudice had not previously been considered in Mumia's state appeal, and thus could not be raised as a legal issue at the federal level.
Thus we have both the state court and federal court refusing to consider this evidence, basing themselves on completely opposite, and contradictory assertions regarding the facts in the case.
Injustice Compounded
Compounding all of this was the participation in the Pennsylvania Supreme Court's deliberations of Justice Ronald Castille. Castille, now a judge, was the Philadelphia County District Attorney at the time of Mumia's original trial. He approved all of the legal briefs filed by the DA's office against Mumia's initial appeal.
Castille's signature is also on a videotape produced at the time, explaining to prosecutors how to exclude Blacks from juries without seeming to base their actions on race (one of the key legal issues in Mumia's trial — see more below).
Mumia had asked that Justice Castille recuse himself (not participate in consideration of his latest appeal) on the grounds that he could not be impartial. But only Justice Castille himself has the power to make that decision, and he refused, participating fully in the deliberations of the court.
There is another appeal making its way through the federal courts which could have a legal impact on Mumia, a case called Banks vs. Horn, which the U.S. Supreme Court has agreed to consider. This is the appeal of another Pennsylvania death row inmate who had his death sentence overturned by a federal court because of misleading instructions by the judge to the jury.
It was this specific case that Judge Yohn cited as a precedent when he acted similarly, overturning Mumia's death sentence. The Banks decision, in turn, was based on a previous U.S. Supreme Court ruling in a case called Mills vs. Maryland.
The question to be reviewed by the Supreme Court regarding the Banks case is whether its Mills decision should be applied retroactively, or only to new cases that originate after that decision.
If the court finds that there should be no retroactive application, it could vacate the lower court ruling in the Banks case and reinstate the death sentence. This would also affect Mumia, since the basis for Yohn's action in overturning Mumia's death sentence would no longer apply.
The other relevant case is the finding last Spring by the U.S. Supreme Court, in an 8-1 decision, that a Texas inmate, Thomas Joe Miller-El, should be allowed to further appeal his claims of racism during jury selection at his trial.
This, as noted above, is an extremely important aspect of Mumia's petition to the federal courts. In the case of Batson vs. Kentucky, the Supreme Court already found that a racist jury selection process was grounds for granting a new trial.
More Protests Scheduled
The fact that the courts remain sensitive on this issue provides a ray of hope that in Mumia's case, too, the blatantly racist jury selection will be considered by the federal courts as grounds for overturning his 1982 trial.
Clearly, however, we cannot leave Mumia's fate solely in the hands of a capricious and racist court system. The weight of mass protest must be added to the scales if we hope for even a measure of justice.
On April 24, in Philadelphia, there will be a mass protest demanding that all the new evidence in Mumia's case be heard, and that Mumia be released from prison. For further information contact: International Concerned Family and Friends of Mumia Abu-Jamal [icffmaj@aol.com], (215) 476-8812; or New York Free Mumia Coalition, (212) 330-8029.
ATC 109, March-April 2004