Against the Current, No. 108, January/February 2004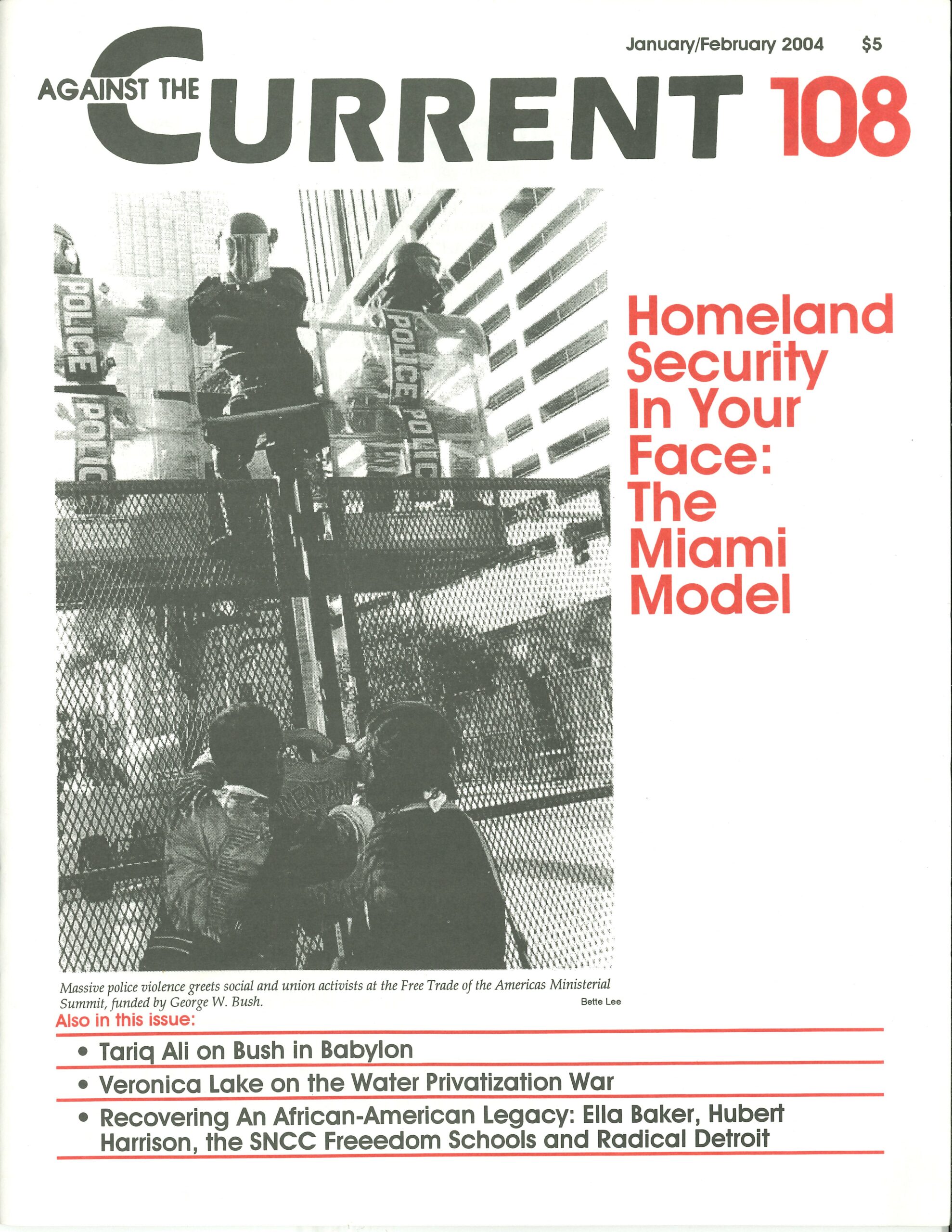 RECORDING PIONEER SAM Phillips died July 31, 2003, at age 80. Philips is best known for discovering and first recording Elvis Presley, but his contributions to the founding and development of rock `n' roll go far beyond just that.
Phillips was the founder and head of Sun Records, whose recording studio in Memphis, Tennessee was also declared a National Historical Site on July 31. Sun 45s, with their distinctive yellow label and mocha-brown rising sun logo, were a mainstay of Southern-based rock `n' roll, rockabilly and country in the 1950s.
The label's role is immortalized in the Lovin' Spoonful's song "Nashville Cats," where the young Northern white boy is knocked out by country music songs, "and every one of them was a yellow Sun record from Nashville."
Sun's roster of recording artists and records reads like a "Who's Who" and "What's What" of mid-'50s pop music. Besides Presley, Phillips recorded Jerry Lee Lewis, Carl Perkins, and the first recordings of Roy Orbison and Johnny Cash.
Classic recorded on Sun include Jerry Lee Lewis' "Whole Lotta Shakin' Goin' On" and "Great Balls Of Fire;" Carl Perkins' "Blue Suede Shoes," "Honey, Don't" and "Everybody's Trying To Be My Baby" (introduced to a new generation of rockers by Beatles covers); and the pioneer recordings respectively of Johnny Cash and Roy Orbison, "I Walk The Line" and "Ooby Dooby."
Justly mentioned among such classics is, of course, Elvis Presley's 1954 "That's Alright Mama," a small Southern regional hit that was neither country, blues or R&B, but a definition of a new music then gestating, rock `n' roll.
Sam Phillips and Sun Records stood in relation to this new music as did some other white businessmen/entrepreneurs operating small record labels, who were also instrumental in giving rock `n' roll a creative and commercial berth. Leonard Chess of Chess Records, for example, recorded not only blues greats such as Muddy Waters, Howlin' Wolf and Koko Taylor, but also Chuck Berry.
Chess also released Jackie Brentsten and the Delta Cats' 1951 "Rocket 88," a stinging piano-and-sax-driven number that many critics consider the first true rock `n' roll recording. There were also the Bihari brothers of King/Federal, label home to Hank Ballard and James Brown, and California's Specialty Records, where a blues guitarist instrumental in the new sound, Guitar Slim, recorded
along with pure rocker Little Richard.
Somehow these businessmen had the knack to know enough to leave the music alone, to give it space, and not try to make it more "saleable" by sophisticating it out of existence. Thus Phillips and the others, along with the pioneer rock artists themselves, stand out as unwitting cultural insurrectionists, firing cannon salvos of raw power and sexual energy into the staid, hidebound, Cold War cultural edifice of the Eisenhower years.
It was trailblazers like Phillips recording the likes of Elvis, Jerry Lee Lewis and others who made the later Beatles, Rolling Stones and other British Invaders possible, and who in turn made Bob Seger, Bruce Springsteen and John Mellencamp possible.
Around 1985 four recording pioneers of Sun Records — Jerry Lee Lewis, Carl Perkins, Roy Orbison and Johnny Cash — reunited in the Sun studio to record a truly seminal LP, "Class of `55." This LP not only was a tribute to the staying power of these artists, aged not like moldy fruit but like fine wine, and also to where it had all begun and which had made it possible — that small headquarters of Sun Records at 706 Union Avenue in Memphis, Tennessee.
Yes, Sam Phillips was about a lot more than just discovering Elvis.
ATC 108, January-February 2004