Against the Current, No. 108, January/February 2004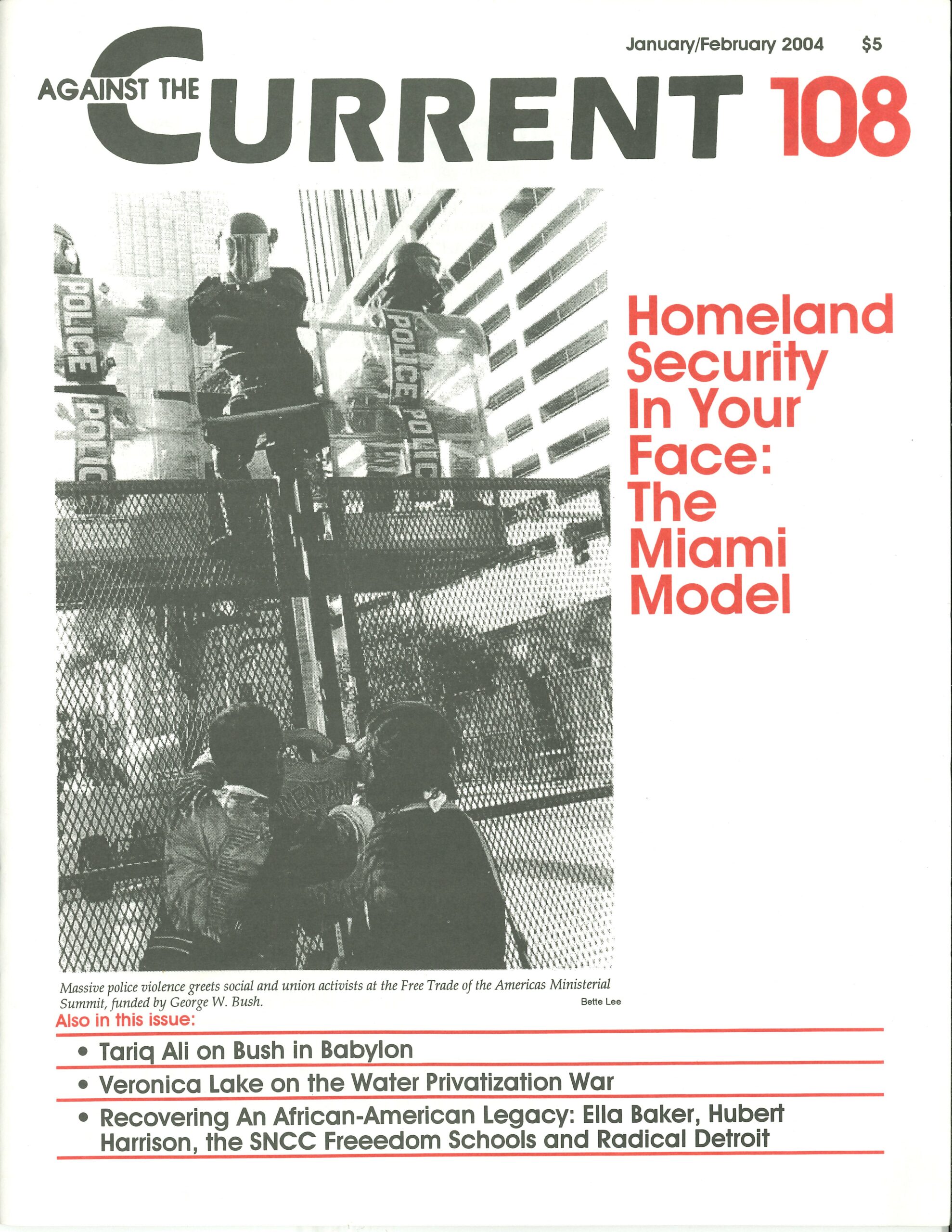 THE CLEANING WORKERS, kitchen workers, and maintenance workers at Miami University of Ohio — the people who make this place work because they work — voted on Wednesday, October 8 to end their strike and return to their jobs.
Management made an offer of a very small increase in wages in the first year, and the workers organized in AFSCME Local 209 voted to accept that offer, and return to fight another day.
They won a very small economic gain — but a great moral victory. The workers did not win a living wage, but they did build a stronger union. In stark contrast to the administration, they taught the rest of us how to lead with honor.
Workers voted 151 to 125 to end the strike at a hastily organized afternoon meeting at the new public park in Oxford. The union executive board recommended that the members accept the contract, though the union president was opposed.
The members debated the matter before voting. It was an impressive demonstration of grassroots democracy. Many were broke, they could not hold out much longer — better to vote to accept the contract, than to have the ranks break. They voted to return not without some angry words, not without some tears, but also with many handshakes and embraces.
They accepted a contract that provided a one percent increase in the first year for newer workers (over the contract implemented a week earlier by management). A strike of almost two weeks to win a one percent increase, but they could hold out no longer and still remain united.
Even this small victory, in these times, is a remarkable achievement. This was the first strike by a labor union in the history of Miami University, and the first strike by this union. Yet these workers created an impressive strike organization, pushed forward new leaders, kept up picket lines, held demonstrations and rallies, spoke truth to power, and educated all of us.
The cooks and cleaners, the plumbers and groundskeepers succeeded in winning over students and professors to their cause — because they educated us and convinced us that they were right.
The union's new leadership rose to the occasion. Randy Marcum, Local 209 president, proved to be a kind of local Cesar Chavez. He went on a hunger strike, slept on a cot and later in a tent in front of the university. He drew the students to join him, and even a few professors.
The ashram in front of Roudebush Hall became "Tent City," the site of teach-ins, rallies, songfests, and strategy sessions, a source of irritation and embarrassment to the administration, and of pride and a point of strength for the strikers.
Throughout, the workers took the moral high ground. The strike was peaceful, legal, and at the same time spirited and militant. Union members went to classes to speak with students, engaged in debates in various departments, and talked to whoever came to their picketlines.
There was no strike fund. Workers on strike lost almost $200,000 in wages. Their families went without, the rent came due, and past due. Workers on the picket line worked in four-hour shifts, including the midnight shift, with no picket pay.
They endured the cold, were struck by vehicles, physically attacked by angry sports fans, sworn at and jeered at by a few students — but they responded by standing proud, holding up their "Strike" signs, and continuing to speak sincerely and straightforwardly about the need for a living wage.
The Best Class
The strike was a great civics lesson, a study in leadership, the best course in political science, a seminar in sociology, a class in women's studies (seventy percent of the union members are women), and it has been history in the making.
What did we learn? We learned that the workers here do not earn a living wage, that many work two jobs, that 20% receive some form of public assistance, that many live in poverty. We also learned that they care deeply about students at Miami.
We learned that a public university that makes claim to high ideals will deal with its workers as if it were a private corporation that must grind employees to make a profit for selfish owners.
We learned that though the administration and managers may treat workers as if they were things, those workers can create a leadership, develop an organization, and carry out a struggle that proves their intelligence and their creativity, and proves their humanity and insists that we treat them with dignity.
The Miami Fair Labor Coalition, originally about 15 students, a few clerical workers, and a few faculty members working with AFSCME grew to be a group that could attract 50 people to its planning meetings and mobilize perhaps 150 at any moment for rallies and demonstrations.
Most important, the student activists had a significant impact on the majority of students, gradually swinging conservative and complacent students to become compassionate and concerned. By the time the strike ended, it seemed that a majority of students sympathized with and supported the demand for a living wage.
The most important thing students may have learned this year is that — as the Miami Plan for Liberal Education says — thinking critically, understanding contexts, and engaging with other learners can and will lead to reflection and then action. Many took action by joining workers on picket lines. (Several criminal charges against students for strike support activity were subsequently either dropped or dismissed by a judge.)
The Miami faculty also joined the strike. Within a week some 200 faculty members signed an open letter supporting the workers' demand for a living wage. Some dozen departments passed resolutions in support of the staff, many of them unanimous.
Support and Shame
The University Senate voted overwhelmingly to support the staff. We marched in our cap-and-gown regalia not to call attention to the caste and class differences, but to show that those differences could be surmounted by solidarity.
We professors created a new organization, Faculty for Staff, and pinned on ribbons and buttons to show support. In a sense we created our own union, for both historically and legally, a union is formed whenever workers unite to stand up for themselves and their co-workers. The cooks and kitchen workers, the plumbers and grounds keeper of Miami taught us professors how to organize.
The Oxford community supported the strike in various ways. Oxford Community Peace and Justice supporters came out and joined picket lines and spoke at rallies. Local restaurants sent food — sandwiches and pizzas — to keep up the strength and spirit of the strikers.
Local people came every day to stand on the picket lines, offer food and support, and many people contributed money to 209 Cares, the union social welfare fund. Local unions came by to offer their support.
The strike had many high points. Author Barbara Ehrenreich turned the convocation into a march and rally for the workers, and then later sent her $10,000 honorarium to help the strikers. Meg Riccio, Chief Steward of the Hotel and Restaurant Employees Union (HERE) at Yale University, came to offer her experience to Miami strikers.
Strikers succeeded in forcing ESPN to cancel televising a Miami football game because television workers would not cross the picket line. We picketed the dedication of the new Macmillan Building, confronting President Garland with signs reading "Shame," and leaving him virtually alone at the reception as most chairs of programs and professors went outside to join workers and students
on the picket line.
Workers in the public employees union of Luxembourg were contacted and asked if they could join a protest at Miami's Luxembourg campus when President Garland went there for the 35th Anniversary celebration — and they replied, "Of course." But the strike ended before that happened.
Despite all that was done by these workers, and all the support they won from the rest of us, and from workers around the country and even in Europe, they were forced to return with less than the living wage they fought for. Miami University ground them down, starved them out, hired scabs and brought in thuggish security guards, and ultimately forced the workers to return to work — not a proud moment.
But the workers forced Miami University to concede a small wage increase, and to recognize the unity and power of the union in an unprecedented two-week strike. They voted to return, and can return with their heads held high. While the strike is over, the struggle continues.
ATC 108, January-February 2004