Against the Current, No. 107, November/December 2003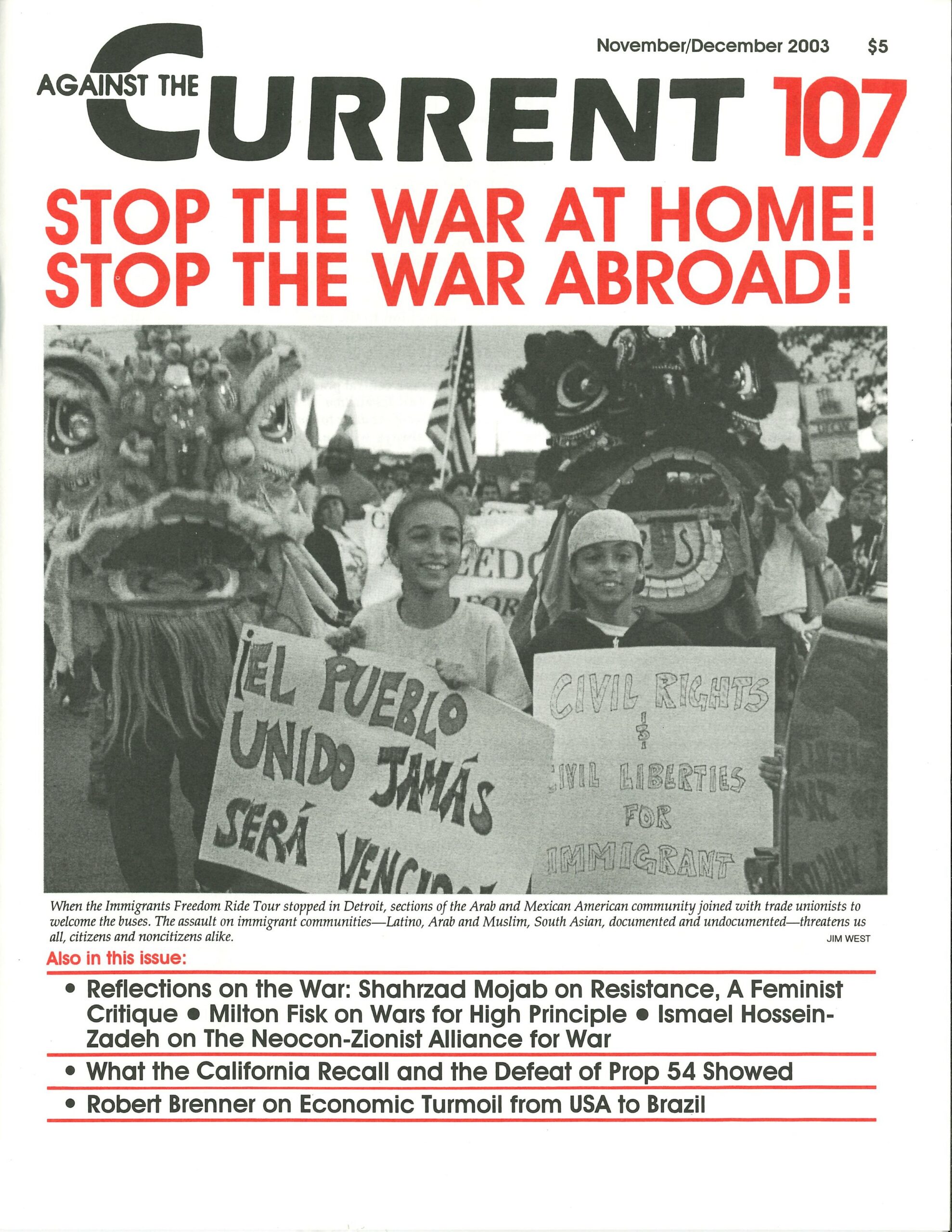 WITHIN DAYS, THE world lost two great and highly influential Cuban musicians. One was 95-year-old Don Francisco Repilado, better known as Compay Segundo, who had a great early career on the island and then was "rediscovered" along with many other Cubans in the context of the Buena Vista Social Club Project.
The other, the 77-year-old Queen of Salsa, Celia Cruz left the island and a great career shortly after the revolution, but managed to establish an even bigger career.
Against the Current interviewed two Detroit musicians and "aficionados" of Afro-Latin Caribbean music. Oswald (Ozzie) Rivera is a drummer with the band La Inspiracionand radio host for WDTR Detroit's "Caribe Serenade." Dr. Alberto Nacif, a physician, is also a drummer and former host of the "Cuban Fantasy" program on Public Radio in Ypsilanti.
The interview was conducted by Kim Hunter via phone and email. By way of disclosure, Ozzie and Alberto were not in the room together to answer questions at the same time.
Against the Current: You had the pleasure of interviewing Celia Cruz when she came to Michigan. What was the most important thing you took from that interview?
Alberto Nacif: The most important for me was her sense of history. She had a good understanding of Cuban music and her place in it. It wasn't out of arrogance or anything.
I asked who influenced her. She told me Paulina Alvarez. I had never seen that in print anywhere. Celia told me that Alvarez was one of the greatest heroines that she had. As a child she used to watch Alvarez perform. That was in the late 1920s, early `30s. So Celia Cruz was a girl then, perhaps not even in her teens.
We talked about when Celia was in Cuba with Sonora Matancera. I realized that her career virtually spanned the (20th) Century. Her contribution was incredible and she had a good sense of it. But I never got the sense of her being arrogant or bragging, she was very clear.
ATC: The interview you did with Celia Cruz took place before a concert that you were instrumental in arranging. There's a great story about the day of the show.
Alberto Nacif: First of all, I had been trying bring her here. U of M did a great Latin Jazz summit with Tito Puente, Arturo Sandoval, and Jerry Gonzalez and the Fort Apache band. It was fabulous, sold out.
So U of M invited me to do a presentation on (other Latin) musicians worthy of bringing. I did a presentation on Celia Cruz, (bassist and band leader Israel Lopez) Cachao and (the premiere Afro Cuban dance, drum and vocal ensemble) Los Munequitos de Matanzas.
When I talked about Celia Cruz, I really talked her up and told them she is one of the greatest singers ever in Cuban music. She can do anything. She can sing with anybody. She's dynamic and exciting. She's the best.
Now, I had not seen Celia live for maybe seven or eight years. But occasionally I'd see videos or see her live on TV and it was the same old Celia. She'd be there with her colorful clothes and her wigs and just beaming. So I thought that's the show we're going to get.
The day she arrived it happened to be a really cold day. I went up to the hotel, which was directly across from the venue, Hill Auditorium. She was getting ready, getting her makeup on and her niece was helping her.
She was complaining and complaining. Being a physician I'm used to hearing folks complain so I can take it in stride. But she was really going on about how this hurt and that hurt. Suddenly she seemed very old and frail.
She was moving very slowly and my heart sank. I thought: oh my God, this show is going to be terrible, a flop. The show was all but sold out. There were literally thousands coming and hundreds milling around outside in the cold looking for tickets.
[When it's time to go] She puts on this enormous fur coat with a collar right up to her ears. She has a person at each arm and they are walking very slowly, hunched over. She always had written into her contract that she must ride a limo from the hotel to the venue even if, as in this case, it was just across the street. She gets into the limo and the driver does a U turn and she got out. She goes to her dressing room and immediately they tell me she has to rest.
[When it's time to go] She puts on this enormous fur coat with a collar right up to her ears. She has a person at each arm and they are walking very slowly, hunched over. She always had written into her contract that she must ride a limo from the hotel to the venue even if, as in this case, it was just across the street. She gets into the limo and the driver does a U turn and she got out. She goes to her dressing room and immediately they tell me she has to rest.
I introduce (the opening act) the singer El Canario. This guy just smoked, scorched the stage. Everybody's going nuts. I'm thinking now after this act what's going to happen? Well Celia's going to come out, she's old, tired and doesn't look very well.
They tell me to go out and really pump up the crowd and yell her name because that will make her feel better and I'm thinking, yeah, right. But I did go out there and pump, and the crowd, folks were screaming and cheering.
I turn around to walk off stage and I see her peel off this enormous coat and it was like Superman coming out of Clark Kent. She came out and hit it with the band, knocked off forty years and started performing like a young woman. It was the most amazing transformation I had ever seen.
ATC: We know that Celia was quietly anti-Castro, but did you ever have political discussion with her or Compay Segundo? What do you know of their politics?
Alberto Nacif: Well, I never talked politics with Compay Segundo. But I did get a feeling from Celia. She told me her greatest wish was to go back to Cuba before she died.
She also told me how angry, sad and hurt she felt when her mother died in Cuba and she was not allowed to return for the funeral. It was very painful for her. I interviewed her eight or nine years after her mother died and you could tell she was still hurt and very emotional about that.
I thought she was going to cry. So I backed off because I didn't want to make her feel worse about it than she already did. So she had very strong anti-Castro feelings based in part on that.
Ozzie Rivera: I cannot say how supportive Compay was of the revolution. I have not come across any materials that spoke one way or the other about his views.
What is interesting is that in terms of the commercial musicians playing in Cuba today, it's hard to tell where they fall on this question. With the obvious exceptions of groups like Los Van Van and Pablo Milanes, there is a dearth of political/social commentary type of songs. Ten to twenty years back this was the exact opposite.
What that is attributed to, I can't say. In fact for a short while there was a strong underground/semi open community of singers/musicians who questioned aspects of Cuban society, if not in direct conflict with Castro. They would raise questions about the rise in prostitution, the black market, and need for artistic/ political freedoms among other topics. I don't know if that movement is still vibrant.
ATC: Despite her right of center stance on the Revolution, Celia Cruz played with musicians like Willie Colon (Puerto Rican musician and band leader) who is, if not explicitly pro-Castro, then certainly activist, leftist and to the left of her politics. In fact she made a great record with Colon. ("Only They Could Have Made This Album," 1977)
Ozzie Rivera: That is considered by salsa aficionados to be part of her golden years. The Puerto Rican community as a whole, though some weren't supportive of Castro, weren't nearly as anti-Castro as the Miami community. So during that period Cruz didn't do many songs about Cuba.
Celia (at that time) was surrounded by a left-leaning, socially conscious movement. She was not part of that movement but she was there. Willie Colon is a leftist politician. Then there's Ruben Blades and Ray Barretto.
Even the Cuban Americans in New York were not as vehemently anti-Castro as those in Miami. At least they didn't take the salivating, right wing approach. That (the `70s) is also the period when she produced "Quimbara" (a signature song).
Alberto Nacif: When Isaac Delgado (a Godfather to Cuban folkloric music, writer of many important songs) came here; he had a young (Cuban) woman with him, a singer, named Haila Mompre. Haila did a tribute to Celia Cruz in Cuba with Cuban musicians. It is one of the best albums I've heard.
Haila told me yeah, you know, I know Celia Cruz. I met with her. She likes me, we're friends. So yes, Celia was quietly anti-Castro but she wasn't the kind to badmouth anybody on stage. She was a class act. She thought she would do more damage by not saying anything than making a fool of herself.
ATC: Should I stay or should I go? One of the big differences between the careers of Celia Cruz and Compay Segundo is that she left Cuba while he stayed. Could you talk about what that difference means to musicians?
Alberto Nacif: There's an interesting thing about that. All the Cubans who have left are looked upon as Cuban musicians, and consider themselves Cuban musicians, no matter what they do or where they go. But they are perceived by many still in Cuba as not being Cuban any more.
In fact when I was in Cuba they had that big tribute (in Miami) to Celia Cruz done by Gloria Estefan and Marc Anthony on TV. Just about every Cuban has a dish. So they can see shows like that from Miami. So (as we were watching this tribute) my friend Jorge says he can't believe they are doing a tribute to this great Cuban musician and they don't have any Cubans there.
So I say okay, Arturo Sandoval is playing, Estefan is running the show, and these folks are Cuban. He says yeah, but they're not Cubans from here. So there's a bit of an edge there culturally as to whether they are "real" Cubans or not.
ATC: Realizing that issues of gender and color play out differently in different cultures (the United States vs. Cuba, the immigrant community vs. those on the island, etc.) how important was it that Celia was a black woman in the male world of salsa?
Ozzie Rivera: Celia Cruz is powerful because she is a salsa diva and Cuban artist. Then there is the undeniably African nature of Cuban culture. It is part of and fundamental to Cuban culture. So it is extremely hard to separate that from her being Cuban, in a way that in the United States is so "easily" done.
For most black Cubans, as with Puerto Ricans and other Spanish Speaking Caribbean folks, when they come here they define themselves first by their nationality/ethnicity, e.g. Cuban, Puerto Rican.
The general public may not be aware of other females and/or blacks in the field, e.g. Celina Gonzalez, Bobi Cespedes, Albita, La India, La Lupe, among quite a few others. La Lupe was a really interesting character, whom some considered making a movie about even before they thought of doing one on Celia Cruz.
Clearly the salsa field is a predominantly male field. Besides the typical explanations, this is not something I have figured out.
In terms of racism, it was practiced in an "institutional" manner in Cuba that did not occur in other Caribbean countries. I get the impression that the Cuban government and scholars are only now exploring the full depths of that.
One book, which begins to go into it, is Afro Cuba, edited by Pedro Sudray. He actually spent some time here in Detroit during the mid `90s.
ATC: On one of your many trips to Cuba you got to see Compay Segundo shortly before he passed away.
Alberto Nacif: I saw him probably three months before he passed away, even though everyone said he was going to die within the week. And he had really fine physicians working with him around the clock. I just wanted to say hi and see if there was anything I could do in terms of bringing medicine to him.
He was in bed when I got there and not very responsive. But I got a chance to say hello. We had an okay conversation. When I got back I told everyone to watch the news because I thought Compay was going to die any day. But it was three months before he died.
I called Jorge Rayez (bass player with popular Cuban band Irakere) to find out what happened and he said they all thought Compay was going to die while I was there. When I left, Compay got better. He got out of bed, he was walking around with his (trademark) hat and suit and smoking his cigars. This guy was 95 with kidney failure.
So they decided to do a tribute to him. They had the Havana Symphony do Jorge's arrangement of one of Compay's songs "Las Flores de la Vida." Compay was there, dressed up, in the front row the Friday before he died. They brought in dignitaries and a who's who of musicians. They spoke glowingly of him; everyone loved it. He went home and died Sunday in his sleep.
ATC: One couldn't pick a better way to go.
Alberto Nacif: Jorge said to me, everybody in Cuba is happy. No one is sad about Compay's passing. He died and of course we'll all miss him. But he was 95, had a good life that included fame and recognition. Their (the Cubans') attitude about death is a little different. For them it is a more natural, accepted part of life.
ATC: Give us a thumbnail historical musical sketch of these two. Segundo was a few years older than Cruz. But certainly there were some similar things they would have grown up with.
Ozzie Riviera: I look at Celia Cruz's career as having three phases. In the Cuban pre-Castro period she did some of her most famous work like "Cao, Cao Mani Picao" and the old stuff with Sonora Matancera (one of the legendary Cuban ensembles of the `50s and `60s).
Then she left Cuba. It was a number of years before she became famous again with (the help of) Tito Puente. How most of us know her is through that (third) New York period, unless you're very young. Many of her songs from this period were more pop.
ATC: In terms of culture, can you try to explain (for those who may be unaware) the importance of the Yoruban religion, or what's referred to here as Santeria, for Cubans in general and Cuban musicians in particular?
Ozzie Rivera: In my presentations, I try to explain the importance of West African religion to Latin music like this. When we think of Soul, Rhythm and Blues we know how that music has roots in gospel (that stretch back to Africa). That is even stronger in Latin Caribbean music with a variety of traditions from West Africa. The Yoruban is one of them.
Many of the musicians who were active in the United States, especially in the `70s, were practicing Santeria or the Yoruban religion. Even today you'll hear West African language in songs like "Que Viva Chango" (Chango is a West African deity).
The Yorubans were one of the last nations to be conquered before slavery ended. Slavery was not abolished in Cuba (or) Puerto Rico until 1890. The Cubans were the very last to stop importing slaves. So African tradition and influence, religious and otherwise remain very strong. Mongo Santamaria and Benny More both had Yoruban grandparents.
Alberto Nacif: Santeria is a very important religion to the Cubans. It has powerful historic value. When people were taken from Africa and brought to the "New World," they maintained this belief system through oral tradition. They have maintained it since the time of Columbus in fairly pure form.
The power of that belief system and the strength that it gave people under horrible conditions can't be underestimated. Much of the freedom that people enjoy wouldn't be there without that music (that helped them survive slavery).
The other thing is that a lot of the rhythms played in Cuban music come from the religious music (of West Africa), like the music of the rumba. It has antecedents that come from the religious music.
Compay Segundo was not a "rumbero" (rumba musician), but a "sonero" (singer of the son music form). He was a troubadour who told stories with his music. Sometimes in the songs he would invoke (different) orishas, deities for different purposes.
Each deity has a specific (purpose or) meaning. One is the god of thunder and lightning, Chango. One is a warrior goddess, that's Oya. One understands herbs. One works with iron. Another is goddess of love and rivers. Each one invokes a different aspect of nature or human nature.
Also, many of the musicians and many Cuban people generally are not only bilingual but also bi-religious. They're Catholic and go to church or they're Jewish and go to synagogue. But they are also Santeros. They go to ceremonies where the Bata drums are played and people get possessed.
Many of them are professionals. It's not just the poor people. It has a lot of value for them and holds an important place in Cuban culture.
ATC: This article began as a tribute to Celia and Compay because they died so close in time to one another. But the person who really begs a comparison/contrast to Celia is (the folkloric singer) Celina Gonzalez who stayed on the island and who, as I just found out, is very favorable to the Revolution.
Alberto Nacif: Well that's interesting, because there are a lot of people there who say they are pro-Revolution. But when you talk to them privately, you can get a variety of responses.
I have very close friends there that I trust. Some are still very pro-Revolution because it has allowed them to accomplish things that they couldn't have accomplished otherwise. For instance the literacy rate there is incredibly high. Everybody reads and writes in Cuba.
The medical system there is really great; their delivery system of providing medicine to the masses is really good. The problem is not having access to supplies and medication. But that's not their doing. That's other people's doing.
They decided they were going to go a big anti-mosquito sweep of the island. When you have dictatorship you can mobilize everybody because they are afraid for their lives. They're going to do everything together. They don't have to go to Congress to approve it or fight over it. He (Castro) says it's going to get done and it gets done.
There are some positives to that kind of dictatorship but of course there's a lot of the negative stuff, people living in fear of something bad happening, their property being taken from them or them being put in jail for being dissident or being accused of doing something even if they didn't do it.
ATC: On that note, I've heard that some musicians left the island because they felt they couldn't play what they wanted. Specifically, I've read that Paquito D'Rivera (Jazz, Latin Jazz saxophonist, protege of Dizzy Gillespie) left because he felt he was restricted.
Alberto Nacif: During the 1960s and `70s during the cold war, any American music like jazz or the even the Beatles, music from outside was considered taboo, the music of the bourgeoisie. And in Cuba (officials would say) everybody is the same and we play our music, Cuban music.
So musicians formed a group Irakere (which included both Paquito D'Rivera and Arturo Sandoval), under the guise of playing Cuban music, but they were playing jazz. Eventually the government realized that music is a great moneymaker and decided, let them play what they want as long as we're making money from it.
They did, however, censure Afro Cuban All-stars for playing in Israel and Charanga Habenara (a young sexy modern salsa band) for playing something they thought was vulgar. I'm not sure of the details but for a year they weren't allowed to play.
ATC: How was Celia's passing taken on the island?
Alberto Nacif: I wasn't there until after she had passed. But I know that it wasn't ignored. I know that a lot of people loved her music and love her voice and would have loved to see her come back there to perform.
ATC: And was Compay's death noted here in the United States?
Alberto Nacif: It was mentioned, in a few brief obituaries. He was tremendously important in part just because he lived a long time, and some of that was just luck because this guy smoked everyday. His importance too was like Celia's in that he played with important groups like Cuarteto Cubacan, the municipal band for Santiago de Cuba.
His name came from the band Los Compadres. Compay is a shortening of Compadre: Compadres is like brother-in-law or like when you're godfather to somebody and the father and you are compadres, a relative but not by blood. It also means second, because he was the second voice.
He did a lot of quartets and trios and retired until this Buena Vista Social Club project came along. That project was supposed be an encounter between African and Cuban musicians, but the Africans couldn't get visas.
So Nick Gold (the producer) and Ry Cooder were there with all this video and audio recording equipment but they had no Africans. So one of the Cubans, Juan Demarcos, said well why don't we get this guy and that guy (all famous but retired Cuban musicians) and one of them happened to be Compay Segundo.
ATC: He also wrote "Chan Chan," in essence, the signature song for the Buena Vista Social Club project.
Alberto Nacif: In fact that's his nickname. Many musicians just call him Chan Chan. To me that's when you're really bad. You know what I mean?
ATC: There's seems be a generation of folks passing on. In addition to Celia and Compay we've lost Tito Puente, Mongo Santamaria and others. Who's there to pick up the torch?
Alberto Nacif: The truth is there are a lot of incredibly talented (Cuban) musicians that we don't even know about in America. And every time I go to Cuba I encounter dozens of them. Their musical skill, their stage presence is just phenomenal. They have the total package. They are great musicians.
It makes me kind of sad that it is very hard to get quality Cuban music in the United States on a consistent basis. You have to go to websites. You have to go to third countries. I have to go to Canada. It's getting better. But it's not easy.
ATC: What were your last impressions of Celia?
Alberto Nacif: She was just incredibly gracious, a real class act. I saw her (at the U of M show) backstage before the show and after the show. She signed tons of auto<->graphs, a woman her age (mid seventies) up at that hour of night, after the show signing autographs. She did a show in Ypsilanti (Michigan) last year.
ATC: That was the dance concert.
Alberto Nacif: It was packed, 3500 people. She looked even older and wasn't moving as well, and the show was shorter. But there was an older couple from Cuba who had seen her perform in Cuba when she was in her twenties. They were in the front and they had this Cuban flag that they were waving and this old LP cover with Celia Cruz's face on it.
Celia stopped and picked up the album and signed it. She took the flag and waved it around while she danced and sang. She didn't act like the great star that she was. She was humble. She loved people and they loved her back.
ATC 107, November-December 2003