Against the Current, No. 105, July/August 2003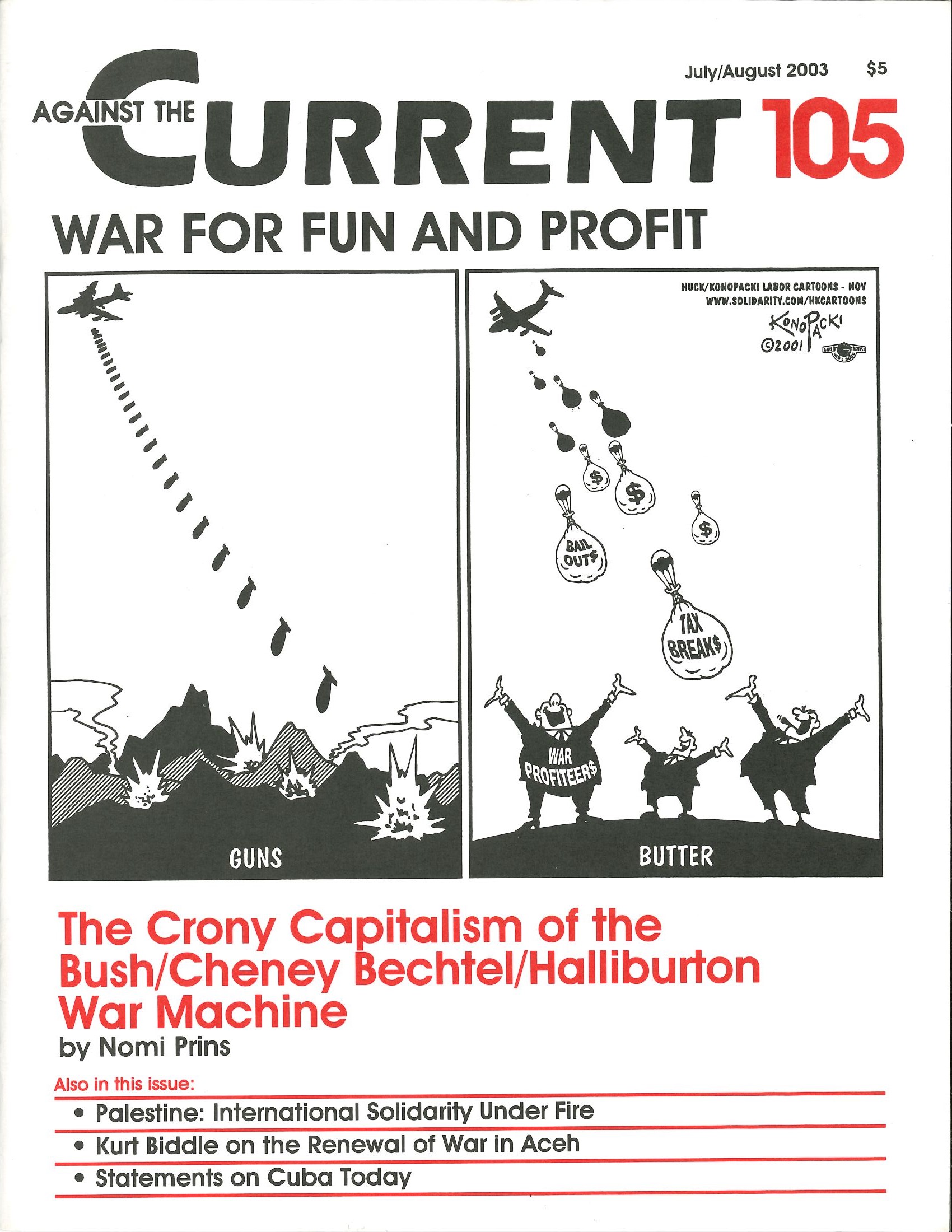 I HAVE BEEN asked to speak at this rally as the sister of Tom Hurndall. As many of you may know, Tom was shot while trying to save children from Israeli army fire. While I would emphasize that my family have no political affiliation, what Tom and we discovered during our separate visits to Israel and Gaza has caused us deep concern. I am here today to describe our experiences.
My brother Tom was a keen and talented photographer — he was also a caring human being. He travelled to Gaza because he had heard about human rights abuses and wanted see for himself the way in which Palestinians were living, and to photograph and document what he saw.
Tom is now lying in hospital in Israel in a deep coma. His brain has suffered severe damage and the doctors have said he is unlikely to regain consciousness.
In the days before Tom was wounded he sent e-mails home detailing several incidents he had observed in which civilians had been shot by Israeli soldiers and also a helicopter attack in which forty-six civilians were wounded, some of whom later died.
Tom had already sent us photographs including one of a boy of about seven or eight, who posed no threat, being shot from an Israeli tank.
Tom was himself shot as he was trying to help a group of children. Waiting at the end of a street in Rafah, he saw machine gun fire being directed at a mound of earth on which about twenty children were playing.
Most of the children fled but three young children were too scared to move, two girls and a boy aged between five and eight. Tom walked forward and picked up the little boy, named Salem Baroum.
Having brought Salem back to safety he returned for the second child. Tom was shot in the head by a single sniper bullet as he leant forward to pick up the little girl.
The Israeli military released reports that Tom was armed, clothed in army camouflage and firing at the soldiers. They have also released a report saying he was involved in crossfire. These reports have been reflected in media around the world, especially in Israel.
These reports are not true. Many of you will have seen photographs of Tom in his fluorescent orange activist's vest. We have photographs of Tom immediately before and after the shooting — from several independent sources.
There were over ten eyewitness reports of Tom's shooting, including the accounts of journalists — all of which support the fact that Tom was fired at with no justification. But to this day, not a single one of these witnesses has been questioned by the Israeli Defence Forces or the Israeli authorities. Indeed some of them have since been arrested, detained and unlawfully deported.
Courage and Commitment
It was clear to all that Tom did not pose a threat to the Israeli army or to anyone else. He was with a humanitarian organization which was involved in peaceful protest, and which was known by the army to be present in the immediate area at the time.
He acted in a way which every decent human being should have seen as natural and necessary in going to the aid of a young, helpless and desperately vulnerable group of children. Many of us would not have had the courage to do what Tom did.
In return for his courage and selfless commitment, he is likely to have paid the ultimate price. Tom is the victim of a direct and deliberate shot to the head. This will be proved by the upcoming Dispatches documentary on [British television] Channel 4 tomorrow night at 9.
Our request for an explanation about the shooting is not unreasonable. My parents, my two other brothers and myself, have spent much of the last five weeks at Tom's bedside in Israel, and also in Gaza trying to find answers.
In spite of numerous repeated requests during that time, through the British Embassy in Tel Aviv and the media, we have been bluntly refused an explanation from, or any communication with, the Israeli forces.
My parents have even been shot at while travelling with British embassy officials in Gaza. They have now been refused entry unless they sign a waiver absolving the Israeli army of any responsibility if the army shoots at them as well.
Is that what freedom and democracy are in Israel?
My family is campaigning for an independent, public inquiry into Tom's shooting. Not only for Tom, but because every day Palestinian civilians are maimed and killed by the Israeli army. Tom showed us this through the e-mails he sent home.
It is absolutely unacceptable that innocent people continue to be killed or wounded whether they are journalists, peace activists or other civilians. We can<->not stand by silently and allow people like Tom and Rachel, Brian Avery, Iain Hook [UN representative] and James Miller [British journalist] to become such tragic victims. If we don't make a stand to make the Israeli government accountable for its actions, then there will be no end to this terrible loss of life in Palestine.
Help us to exert pressure for proper accountability and an end to this indiscriminate loss of life. Please contact the foreign secretary, Jack Straw, to reinforce our demand for an independent and public inquiry. Please look at our website www.TomHurndall.co.uk — and help us to make a difference. Thank you.
ATC 105, July-August 2003