Against the Current, No. 105, July/August 2003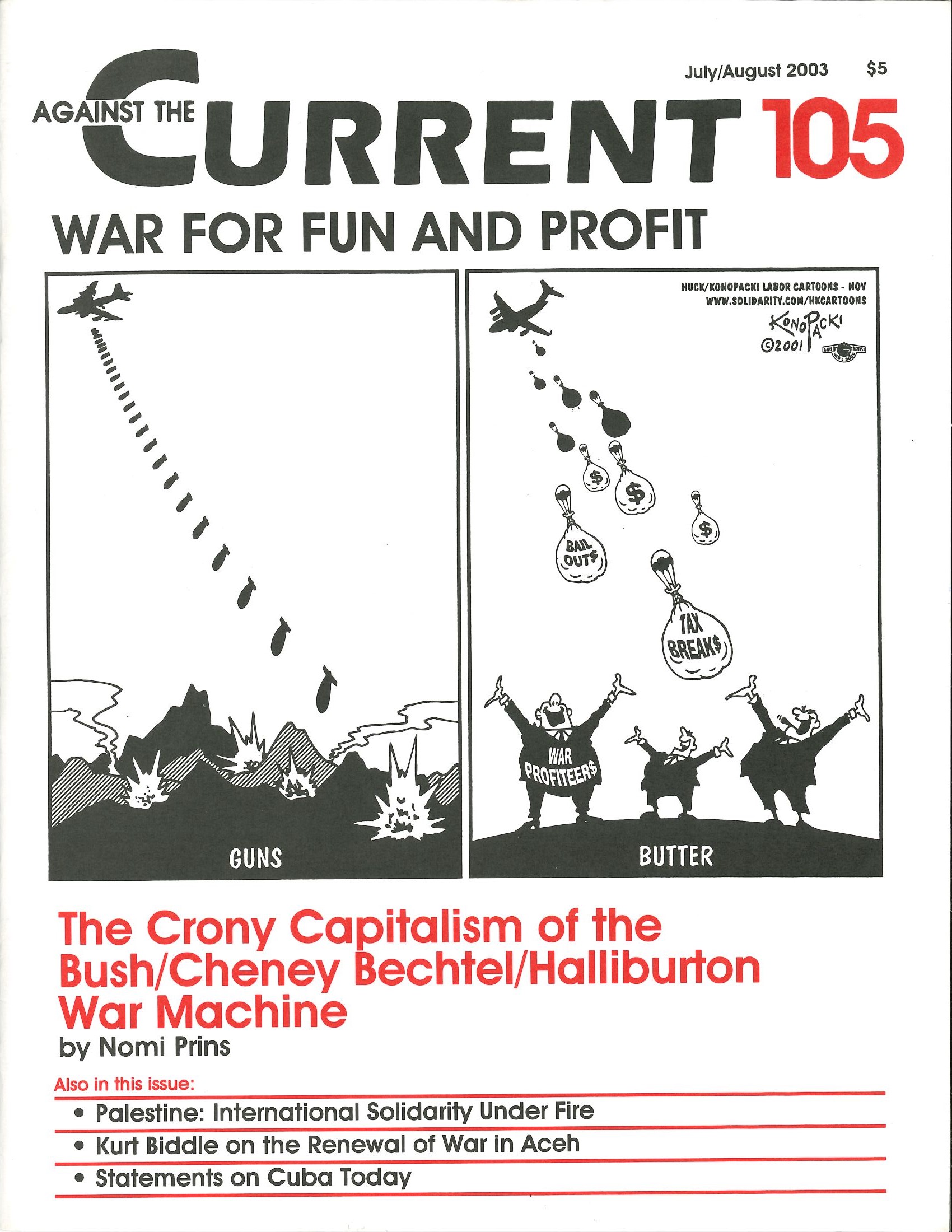 A QUINTESSENTIAL NINA Simone quote was made during a live recording of one of her most noted original songs, "Mississippi Goddamn," a scathing anti-racist ditty which she wrote after the murder of Medgar Evers, ironically set to a jaunty if not always jovial tune. She introduces the song by first stating the title and then, after a pause, in a tone that leaves no room for doubt or compromise, she says "And I mean every word of it."
Simone had little use for compromise or hypocrisy. This quality along with her often-vitriolic wit made for great quotes, but didn't make her a favorite amongst interviewers.
Simone was born Eunice Kathleen Waymon on February 21, 1933 in Tryon, North Carolina, the sixth of eight children in a very poor family. She revealed a prodigious musical talent, playing the piano at age three and later singing in the local church with her sisters in their mother's choir. At the age of six, in 1939, a benefactor paid for her first piano lessons, which culminated in her first piano recital at ten at the town library.
For a white child this might have been the beginning of a career as a classical pianist. But Eunice was a Black child in the segregated Southern United States. The audience loved her playing but before the concert could even begin, her parents were moved from the front row to make room for a white family.
Thus young Eunice began a career-long, lifelong coming to grips with racism. A lesser person might have been cowed. If her later pronouncements are any indication, Eunice was angered.
Indeed her passions, eclectic and idiosyncratic as they were, seemed to inform or inflame everything she did. She berated African Americans as "backward" for not adopting her song "Young, Gifted and Black" (written in memorial to the playwright Lorraine Hansberry) as their national anthem.
She maintained that separation of the races was the only way to abolish "slavery," her term for the current conditions of African Americans. But she loved living in Europe, always wanted to be a classical pianist and praised Bob Dylan for his utter honesty.
She was arrested for tax evasion, and for shooting at her neighbors in France because she thought they were noisy. In her late sixties, she claimed to have a "volcanic" love affair with a young Tunisian.
Stolen Royalties
Like many artists in general and many Black artists in particular, she was ripped off regularly by the record companies. She saw very little money from her first record, the top 20 hit of "I Loves You Porgy," because she had signed away her rights when she signed with the record company.
At the other end of her career, Chanel used her version of "My Baby Just Cares for Me" in a 1987 perfume ad. The record sold 175,000 copies in the first week and went to number five in the UK. She got all of $20,000 in royalties because the Charly record label had "licensed" the record from U.S. owners.
There were many ups and downs between those two low financial points Simone always characterized record companies as "pirates."
Throughout her career she showed great musical range and interests. In 1954 she took a job as a singer-pianist in the Midtown Bar and Grill in Atlantic City, where her repertoire consisted of everything from Bach to the blues.
She took the gig to pay for music lessons, having left the Julliard School of Music and having been rejected (probably due to racism) by the equally prestigious Curtis Institute for Music. But the Atlantic City gig itself proved to be crucial, the place where Eunice Waymon literally and figuratively became Nina Simone.
She adopted the stage name to avoid the disapproval of her minister mother and soon gained the notice that in 1959 led to her first recording. Her rendition of Gershwin's "I Love You Porgy" was an instant success, reaching the top 20.
The song remained one of her signature tunes. No one except maybe Billie Holiday rendered the song with such a combination of delicacy and angst.
Don't Let Me be Misunderstood
Many great songs came to be associated with the "high priestess of soul" (a tag that aptly describes her mystery and distance from the ordinary), from her poetic "Four Women" to her cover of "My Baby Just Cares for Me."
You will never hear the Screaming Jay Hawkins novelty, "I Put a Spell on You," the same once you hear Simone do it. With string accompaniment, she gives the tune grace and dignity that were unimaginable on the original.
She gives a bluesy twist to Jacques Brel's "Ne Me Quitte Pas" that at once seems totally empathetic to his own reading while marking the tune as her own.
The lyrics to "Four Women" speak to the condition of African-American women in general, but the song "Don't Let Me be Misunderstood" is about Nina Simone. She didn't write it, but you can well imagine her having uttered these lines many a time:
Baby, you understand me now if sometimes I get a little mad
Don't you know no one alive can always be an angel?
When things go wrong, you see some bad.
But I'm just a soul whose intentions are good.
Oh lord, please don't let me be misunderstood!
The utter vulnerability she manifest in the song belies her well deserved upfront, no-holds-barred reputation. But like her fellow Julliard alum Miles Davis, Simone in performance showed the tenderness and sensitivity that was missing from her public persona. And like Billie Holiday, all of her trials and tribulations were manifest in her voice that could be at once smooth, quavering and gritty.
I can't imagine the protest music without Nina Simone. Everyone from Dylan (who covered "House of the Rising Sun" after hearing her version) to Public Enemy owes her a debt.
I hope she can serve as an example of someone who followed her own artistic and political passions no matter the marketing strategy. Let's hope that quality is not dying off with her generation.
Selected Discography:
"Don't Let Me be Misunderstood" — Mercury (1988)
"My Baby Just Cares for Me" [303 Recordings] — 303
Recordings (2002)
"Best of the Colpix Years" — Roulette
ATC 105, July-August 2003