Against the Current, No. 105, July/August 2003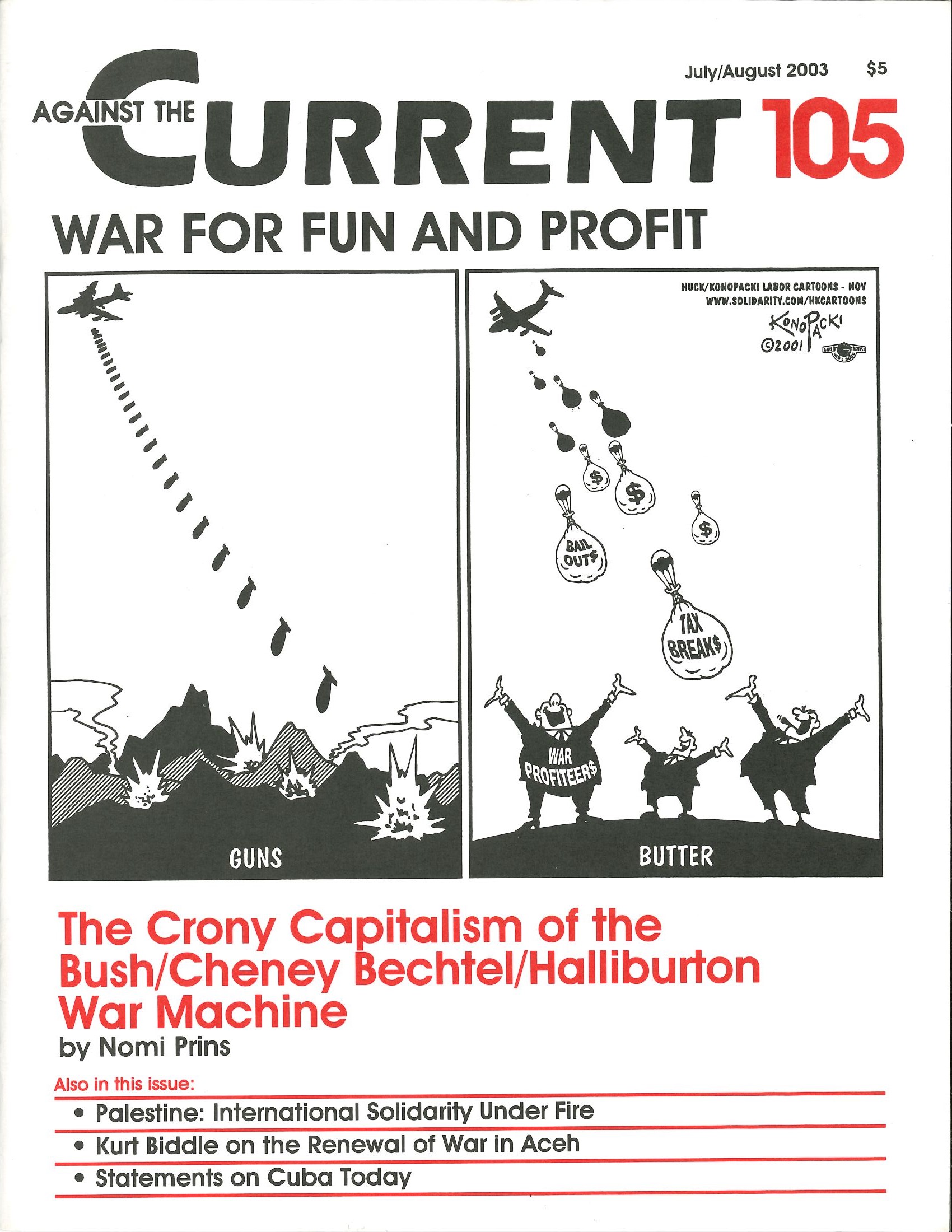 THE 1990s BUBBLE mantra was the bigger and richer, the better. Then the party ended; and the ugly remains were a collection of bad debt, record defaults, cancerous fraud, unprecedented bankruptcies, job cuts and pension depletions.
Unemployment increased nearly fifty percent, most significantly in the cities and technology and telecoms, and then spread to manufacturing, airlines and energy. No new jobs loomed on the horizon. And no retirement income was recovered from the pitiful fines laid on the guilty. In short, it was a bad spot for a new administration to find itself in.
Then 9-11 offered the perfect excuse to take an old plan down off the shelf: To distract a nation. To wage a war. A war that will ultimately exploit the individual taxpayer in other ways, but with the added killing of deliberately uncounted civilians and the plundering of another nation's oil.
From the moment he stepped into office, Bush zoomed towards the biggest deficit in history, projected to reach $304 billion by the end of 2003, surpassing his father's previous $290.4 billion record and eating through half a trillion dollars in less than three years. To compensate, the U.S. Treasury has been increasing debt volumes, and adding back old auctions, like the first three-year note auction in five years. Additionally the debt cap was increased by $1 trillion, or sixteen percent.
In George W. Bush's world, military and defense policy is economic policy. The war in Iraq is not about oil today. It is about paying today for oil tomorrow. It is about money up front for the promise of wealth and control later, funded with tomorrow's whopping deficit.
Incorporating Iraq
Carving up Iraq into choice bits of corporate contracts, in which almost every U.S. industry gets to pocket a few million or billion bucks, is part of Bush's economic stimulus package. It's also a combination of deflection and desperation designed to divert attention from the difficulties of the U.S. economy — and help out some friends.
Those contracts include "capital reconstruction" for Bechtel, oil well attending, pumping and distributing for KBR/Halliburton, army telecommunications for Sprint and mobile phone networks for the new-old MCI.
They cover education for Creative Associates, weaponry for Lockheed Martin, Boeing and General Dynamics, ground security for DynCorp, technology for IBM, EDS and financial systems for Bearing Point (one of the big-four remaining accounting firms, formerly KPMG). If Enron hadn't collapsed in bankruptcy, they'd be right up there in the contract bidding, or perhaps just trading the future value of those contracts.
The occupation of Iraq is about the profits to be garnered from launching an extraction program and controlling the flow of the world's second largest known oil reserves. And it's based on miscalculations. It's hard to see how oil will pay for the war or reconstruction, given the amount of Iraqi debt, the cost of the war and of rebuilding Iraq to pump the oil the United States wants, even going back to pre-Gulf War I levels of 3.5 million barrels.
Instead, two populations will go into more debt for the administration's greedy and short-sighted policy. The Iraqis, who have been given no choice in the matter of how their oil is to be appropriated, are the first group. The second group is the U.S. population. The budget deficit will increase to pay war and reconstruction costs, at the risk of defunding domestic social programs.
The defense budget and $80 billion war budget addendum are a channeling of funds with widespread bipartisan support. Both were easier to pass than copious amounts of tax cuts that Bush and buddy, Treasury Secretary John Snow, dressed up as economic salvation. Equally, the flow of contracts to American corporations, many of which will be doled out under exceedingly secretive conditions, is comparable to corporate execs skimming money off the top by virtue of insider information and control.
Same people at the helm, different treasure chest. The war in Iraq adds a dimension of money flow to a select subset of companies (and by extrapolation, their CEOs) in the form of murkily worded contracts, funded by future taxpayer debt. Debt on the road to power becomes a necessary evil to be paid off by other people.
The control of oil and its future flow, whether for reasons of profit, imperial power, or currency dominance is the only goal. It isn't even that control of Iraq's oil will be an instant Bush windfall; considerable costs will be racked up for years to get at it.
The promise of oil was a smokescreen for paying for the war, just in case the dose of fear didn't do it. We liberate them. They pay us back. We all go about our lives. Not quite.
Vessels of Contract Dispersion
Before the first Gulf War, the U.S. Department of Defense jacked up estimated war costs to ensure coverage by coalition members. Still, most costs were offset by these countries, and the war cost the U.S. treasury less than $7 billion. The U.S. share of reconstruction contracts topped $4 billion, or half of all contracts doled out, many funded by the Kuwaiti government.
After the Gulf War, the General Accounting Office (GAO) found that a total of eighty-seven percent of all contracts were awarded with "less than full and open competition." This time, that figure is more like one hundred percent. Furthermore, this time contracts for U.S. companies are double the levels following Gulf War I, and will be paid via the U.S. government.
But the Department of Defense is a generous subsidizer of U.S. corporations. Since 2001, it has doled out $315 billion, or 48% of its budget to them. There are also a number of other agencies that distribute money to U.S. companies. With respect to the contracting bonanza in Iraq, the most prominent are the U.S. Army Corps of Engineers (USACE) and the U.S. Agency for International Development (USAID).
Additionally, the Overseas Private Investment Corporation (OPIC) provides loans and insurance for U.S. corporate projects globally. Though it won't admit any Iraqi ties yet, OPIC will likely be a key future participant.
These agencies take their roles in promoting the country's imperial goals seriously. Thus USAID "provides economic assistance in support of foreign policy goals of the United States." USACE "contributes to the defense mission . . . by building communities . . . from which Army power can be projected orldwide."
OPIC implements "America's foreign policy objective of opening markets for U.S. businesses.<170> OPIC happens to be headed by Ross Connelly, a twenty-one-year Bechtel veteran and former CEO of Bechtel Energy Resources Corporation.
Tracking USACE and USAID
On March 24, 2003, the Department of Defense designated USACE the executive agent for implementing plans to extinguish oil well fires and assess oil facility damage in Iraq. The Corps promptly handed a Halliburton subsidiary, Kellogg, Brown & Root (KBR), the prime contract for extinguishing nine oil well fires in Southern Iraq. This was far from coincidence, or even a case of invoking a close relationship in a time of need.
KBR was well placed for that no-bid contract. They prepared the oil well fire contingency plans to begin with, alongside the Army Field Support Command's Logistics Civil Augmentation Program (LOGCAP).
KBR bagged the contract for those plans on March 8, 2003, without a bidding process, as part of an aptly named "indefinite delivery, indefinite quantity" (IDIQ) contract they held since December 2001. As such, KBR engineers were out in Iraq, well before the first bombs fell.
The U.S. Agency for International Development (USAID) spends one percent of the U.S. budget annually, on the same firms. In early March 2003, it invited a small group of U.S. engineering firms to bid for $900 million of Iraq contracts. The firms included Bechtel, KBR and Parsons Construction. British and other international firms were not welcomed.
Three non-engineering contracts valued at $180 million were signed soon afterwards. A fourth $26 million contract quietly went "internal," to another branch of the U.S. government, the Air Force Contract Augmentation Program.
Grants were also awarded, but were less lucrative, $10 million to the World Health Organization and $8 million to UNICEF for basic education, a fraction of the $62 million contract later awarded to Creative Associates to "democratize" Iraq's education system.
USAID denied bidding access to a larger pool of companies because "contract negotiations had to be conducted on a sensitive and expedited basis."
Bonanza for Bechtel
On April 24, 2003, Bechtel bagged the prime rebuilding or "capital construction" contract, $684 million over eighteen months, but more importantly a seat at the Iraqi dissection table.
Bechtel is one of the world's biggest and, despite their assurances to the contrary, most private construction firms. It is the sixth largest U.S. private company. By virtue of their private status, though, it is impossible to get their detailed financial records since these aren't filed with the Securities and Exchange Commission.
Established in 1898, the company's philosophy from day one was to make it indispensable to the federal government for any engineering projects, particularly highway or pipeline in nature.
In more recent history, securing their political status came via hiring key Washington figures. Based in San Francisco, Bechtel has a history of Republican ties. George Shultz, who served as Secretary of Labor and the Treasury, as well as director of the Office of Management and Budget under Richard Nixon, left the White House in 1974 to join Bechtel.
George Shultz was Bechtel's President for seven years before he left in 1981 to become Reagan's Secretary of State. Casper Weinberger was Bechtel's general counsel and served on the board from 1975-1981 before becoming Ronald Reagan's Secretary of Defense.
Today Shultz remains on the board of directors, though he denies using old Washington ties to benefit the company. Shultz's role, said a Bechtel spokesperson, is to offer his thoughts on matters ranging from the costs of a project to the procurement of goods such as cement. Who'd have guessed Shultz's propensity towards cement selection?
Riley Bechtel, chairman and CEO was appointed to the President's Export Council in February 2003. His compatriots there included the CEOs of Goldman Sachs, of Boeing and of Exxon-Mobil. He is also a board member of JPM Chase, while Shultz heads JPM Chase's International advisory council. Former secretary of state Henry Kissinger is on that council (and the Defense Policy Board), as is former Saudi finance minister, H.E. Sheikh Mohammed Ali Abalkhail.
Bechtel and the Middle East
Bechtel has two megacontracts in the Middle East, one in Bahrain and the other in Saudi Arabia. Their $20 billion contract to expand the Jubail Saudi Arabia industrial city is the most expensive industrial project ever.
Twenty years ago, during a period where Iraqi planes were routinely dropping chemical bombs on Iran, the revolving door between Bechtel and the Reagan Administration went into hyper-gear. The State Department, then under the command of George Shultz, invited a Bechtel official to discuss an oil pipeline project in early December 1983. The project would have created a pipeline running from Iraq through Jordan to the port of Aqaba. It would have meant oil flowing to Western markets, bypassing the Persian Gulf.
A few weeks later, Donald Rumsfeld was sent as a special U.S. envoy to the Middle East. Documents show that Shultz orchestrated his initial discussion with Iraq. Saddam Hussein ultimately nixed the pipeline, which would have decreased his control over oil flow (the U.S. goal).
That was in December, 1985. Fast forward eighteen years, and oil control and strategic positioning are at the heart of the "why now?" U.S.-led invasion of Iraq.
Subcontracting and Secrecy
After winning the award, Bechtel said that as much as half of the amount would be assigned to subcontractors expected to rely heavily on Iraqi workers. However "heartfelt" those intentions sounded, Iraqi firms aren't to be allowed in the reconstruction of their own country.
Bechtel's privileged position invoked press scrutiny. So after two months of headline attacks, their management got a bit disgusted by the accusations of favoritism and decided to set the record straight in a press release aimed at liberal journalists and watchdog groups.
Their rebuttal consisted of two basic arguments, one that they are, in fact, excellent at what they do. And based on being excellent and a history of being excellent for global projects, they got the job.
Second, they stressed they are not the biggest political donor. At $1.3 million over the 2000-2002 elections, that is comparatively true, but you don't need to part with lots of cash if your former colleagues or current officers are spread around various advisory and investment oriented agencies in Washington.
As additional evidence of their openness, Bechtel cited their annual report. "People who . . . read our annual report . . . know we are far from secretive."
First of all, it is an annual report, not quarterly like that of public companies. Second, it's a thirteen-page glossy puff piece with lots of pictures. It has no asset, liability, debt or compensation information. It is reason to be more worried about issues of secrecy, not less.
In the end, Bechtel summed it up best, "We do engage in the political process, as do most companies in the United States. We are proud of being a part of the process." And that process is funneling the resources of the Iraqi people to companies like Bechtel. It's called piracy.
Policing "Liberated" Iraq
Just because Bechtel got the prime reconstruction contract, doesn't mean other D.C. favorites weren't in the running for their share of the pie. Those included the Washington International Group, Fluor Corporation, Perini, and CSC-DynCorp.
Many other sectors are positioned to benefit from the spoils of war, including the still reeling high-tech sector, and the defense industry eager to make more weapons. One eager striver is Fluor Corporation, another global engineering and construction company, the number one such public firm in the United States.
Phillip Carroll took over the Chairman and CEO spots of Fluor in July 1998. Prior to that, he was the President and CEO of Shell Oil Company, North America. Today, he heads U.S. oil policy in Iraq.
Another California-based company, Computer Sciences Corporation was asked to bid on a long term contract to rebuild Iraq's national police force, prisons and judiciary. Their newly purchased subsidiary, DynCorp, began recruiting U.S. law enforcement officers for Iraq under a fuzzy clause in another 1996 contract awarded for work in the Balkans.
The work, funded by the State Department, could be worth up to $200 million. Reusing contracts is an easy way to reward pet firms and not put jobs out for competitive bidding or public disclosure.
DynCorp was invited to provide security personnel despite a checkered past. Under the same 1996 contract, a bunch of DynCorp employees were accused of trafficking women and a sex-for-hire scandal. A CSC spokesperson told the Los Angeles Times that the Army's investigation unit cleared DynCorp of wrongdoing. The case was closed.
Brown and Root (subsidiary of Halliburton) was accused of similar misconduct. Complaints of sexual harassment were lodged by several female workers when it was supporting American troops in the former Yugoslavia, stationed in Hungary, also in 1996. As in DynCorp's case, the army looked the other way.
The CSC-DynCorp combination ranks sixth as a Defense contract recipient. A full ninety percent of DynCorp's revenues came from the federal government.
Curing Telecoms' Depression
Iraq's communications network was left in a shambles of bombed out grids after the Gulf War. Yet sanctions prohibited reconstruction. As a result, Iraq was one of the few countries in the world not involved in the frenzied telecom expansion of the 1990s. There are only three telephone lines per 100 Iraqis, compared to six in 1990. Only a tiny portion of the population has Internet access and there is no substantial cell phone network.
The original infrastructure was built by the French company Alcatel, which still has a standing contract, though it is unlikely the U.S. "transition authority" will honor it. But one certainty is that U.S. telecom and equipment companies, looking for any way out of the debt and overcapacity abyss, will be up for the task. As a Motorola spokesperson said, "if an opportunity exists, we'll take
a look at it."
One congressman found a unique way to leverage corporate patriotism. Representative Darrel Issa (R-Ca) sent a letter to Donald Rumsfeld to ensure use of an American system, CDMA (cellular digital multiple access), developed by Qualcomm, one of his chief political contributors in post-war Iraq, instead of the more common European system.
Issa declared that if U.S. taxpayers were going to be "gifting billions of dollars to the Iraqi people, we ought to make sure those expenditures benefit the American economy."
But there's plenty of space for many telecom companies. Cost estimates for modernizing Iraq's networks approach $1.5 billion, with another $6.5 billion for other Middle East projects. With the worldwide telecom depression, any potential market is cause for glee.
According to one former WorldCom employee, "They are probably stringing wire right now . . . and I say that because someone passed along a job lead from inside the company, which requires contractors for six months `over there.'" That was in March; by May, sure enough, they bagged the first telecom contract of `postwar' Iraq.
Free Advertising on CNN
Televised wars are great for business; ratings for the networks, advertising for the military, particularly when done in as aesthetically pleasing a manner as possible. Wars conducted against a fuzzy green hued back-drop, with wind-swept shots of Ted Koppel and noble American soldiers, help market weaponry.
Indeed, according to Bill Fletcher, principal organizer of United for Peace and Justice, "what we've seen on TV is a deliberate act of repression on the part of the media as dictated by the government."
That's because messy doesn't work for defense contractors. Clean, calculated and quick does. The Philadelphia Index of defense companies rose ten percent after the war began; leading contractors like Lockheed Martin were up thirteen percent.
"Supporting the troops" was a euphemism for supporting Bush & Co. war policy. You were either with them, supporting the troops, or against them, letting the troops languish in the knowledge that their fellow patriots cold-shouldered them. Networks played along.
Halliburton's Subsidiary Empire
Halliburton is the world's second largest oil services provider headquartered in Houston, the oil-and-dodge capital of the world. After serving as Secretary of Defense for Bush I and Gulf War I, Dick Cheney was the Chairman and CEO from 1995, through August 1, 2000. His poor business acumen was best demonstrated when Cheney masterminded the acquisition of Dresser in 1998. That $7.7 billion purchase yielded him over 340,000 asbestos liability suits.
Between 1997 and 2001, Halliburton made $73 million of deals with Iraq to rebuild its oil infrastructure, but U.S.-led sanctions limited the reconstruction. In 1995, it was fined $3.8 million for violating a ban on exports to Libya. Four years later, it opened a subsidiary office in Iran, despite a U.S. ban on doing business there. It also racked up accounting irregularities, amounting to seven percent of after-tax profits. The SEC finally opened an investigation into those practices in July 2002.
And on March 6, 2003, the contract for putting out Iraqi oil well fires went to KBR, Halliburton's subsidiary, with no outside bidding or scrutiny. The up to $7 billion contract allowed KBR to earn an additional seven percent in profit, or $490 million. At the time, there was also no disclosure of its size or nature, because that would have been a "security violation."
Whereas in the 1990s it was all about accounting manipulation, in the year 2003 lack of transparency for corporate activities was rubber stamped by the military. In fact, the Army Corps only released contract details in response to an inquiry by Rep. Henry Waxman of California and Rep. John Dingell, D-Michigan. They had requested an investigation into the awarding of reconstruction contracts and whether Halliburton received favorable treatment.
That was rather like asking the GAO to investigate Cheney's role as head of the Energy Policy committee, a case closed before anything harmful to Cheney was disclosed. Ironically, that GAO lawsuit was prompted when Cheney rebuffed the same two congressmen Waxman and Dingell, who had requested information about the Energy policy task force in May 2001, before the Enron scandal.
Hopefully, this is an alternate tack for exposing Cheney's connections and clandestine activities via an investigation into Halliburton's Iraq-related contracts.
Asbestos and Contracts
In 2002, KBR paid a measly $2 million to the U.S. government to settle allegations it defrauded the military. Still, government money flows regularly to KBR. In addition to new contracts, KBR has a standing IDIQ contract to provide services on demand in any situation the government deems an emergency, e.g. a war with Iraq.
KBR's revenues consist almost entirely of government contracts. In fact, KBR's tight relationship with the Defense Department inspired a unique bankruptcy and litigation-avoidance scheme for Halliburton.
Through a bizarre global settlement deal, Halliburton is bankrupting part of KBR, the part liable for all the asbestos lawsuits, to be capped at $2.8 billion. The rest of KBR, the part where all the government monies get booked, will remain intact, no doubt for "security purposes."
After additional digging by Waxman, it became apparent that KBR's $7 billion contract wasn't going simply to put out oil well fires. Halliburton's involvement was much deeper and more lucrative, including the "operation of Iraqi oil fields" and the "distribution of Iraqi oil."
That disclosure sheds light on the frustration that Iraqi oil workers felt when surveying the damage caused to their site by looters, and watching KBR engineers enter their plants. Under KBR's control, frequent blackouts afflict nearly every town; and without reliable electricity cities can't operate water-purification plants.
It is pathetic that after "liberation," the second largest oil reserve country in the world is experiencing blackouts, a la California. But it was all good for Halliburton's stock price, which reached one-year highs at the start of the bombing campaign and didn't look back.
No matter which company gets oil contracts, Halliburton will profit.
Not only do they make money on contracts and controlling the oil industry,
they profit on each rig and part they sell to oil multinationals.
It's simply more convenient when they control the process.
Corporate Education for Iraqis
The contracting fest extended beyond Iraq's physical infrastructure to its mental one. Washington DC based Creative Associates International, Inc. (CAII), a private for-profit company founded in 1977, received a $62 million contract to rebuild the Iraq Education Sector.
After twelve years of war and sanctions, Iraq's education system, prior to 1991 one of the region's best, was more in need of supplies and solid buildings than a re-jiggering of its teaching methods to detail the benefits of democracy.
Says Jan Oberg, co-founder of the Transnational Foundation for Peace and Future Research, "Creative Associates views education as a tooling problem, a standard package that can be air-dropped anywhere American interests are at stake and USAID funding is therefore available."
In a recent interview Charito Kruvant, CEO of Creative Associates, stressed: "Education belongs to the people in the country." It seems that many things belong to the people of Iraq, yet U.S. firms are quite comfortable being compensated to control them.
Following the Money
So far there's been little public discussion about the role of financial firms in Iraq, though Bearing Point will probably win the lead financial restructuring award. But the entire banking, stock market and investment system is in play.
Furthermore, no matter what happens in the Gulf, U.S. corporations will need project financing and pipe<->line insurance. That means opportunities for insurance companies and for all the banks that serve as investment advisors and portfolio managers for Kuwait, the United Arab Emirates and Saudi Arabian oil wealth.
One day, the profits from Iraqi oil money will need to be invested somewhere. There are plenty of investment banks waiting for the opportunity to help out.
Meanwhile, there's the debt. A study by the Center for Strategic and International Studies found that since the 1991 Gulf War, Iraq has racked up one of the biggest single country debts. Overall, it is approximately $383 billion, of which $127 billion is owed to other countries, $199 billion is owed for Gulf War related compensations, and $57 billion is pending corporate contracts.
Unsettled Gulf War claims are $172 billion. Foreign debt was estimated between $62 billion and $130 billion. But John Snow was sympathetic to Iraq's debt, because little of it was owed to the United States. In a magnanimous gesture, he suggested that it be excused.
Consider that all of Africa has an external debt of $283 billion. Snow could have waved that away. Argentina's foreign debt amounts to less than half of Iraq's, at $141 billion, but he never suggested canceling that. Amazing what a difference a few hundred billion barrels of oil make. Of course, if debt is forgiven, the World Bank and IMF will have a new country to which to loan and dictate policy.
War Budget and Economic Calculations
Par for the course, Bush's $80 billion war budget offered little to the Iraqi people. The budget, aside from a few throw-ins for agriculture research and weather satellites and an upgrade of the U.S. embassy in Baghdad, was dominated by $62.4 billion for the invasion. In the end, it was overwhelmingly approved, 93-0 in the Senate and 414-12 in the House.
Tabulating all the numbers related to the invasion and domination of Iraq, added to its current debts paints a scary picture: a total of over half a trillion dollars, or five percent of the U.S. GDP.
But, we keep hearing, the oil will cover the costs of reconstruction. The oil will liberate the people of Iraq. The oil belongs to the people of Iraq. The 101st airborne division even named two of their bases after Shell and Exxon. Bush spokesman Ari Fleischer constantly parrots, "Iraq is a wealthy nation . . . because of their oil wealth." Then there are Rumsfeld's rants, "They [Iraq] have oil."
These people learned economics and ethics on a different planet because it's sure hard to see how even increased oil production can take care of reconstruction costs plus humanitarian needs. Even 3.5 million barrels per day would only bring Iraq revenues up to $22 billion which, minus the $7 billion Oil For Food amount, would leave $15 billion.
Against that presumed income, if you add the $80 billion war budget, the $100 million average reconstruction cost estimate budget, $7 billion in the possible USACE Halliburton contract and $2.5 billion in USAID/State Department contracts — roughly $189.5 billion — that would bring the war's net cost to $174.5 million. Divided by 260 million people in the United States that works out at around $670 per person.
It would take at least eight years and no further "investments" at that pace to cover just the reconstruction costs. Then there's the defense budget itself, the one that's around war or no war, of around $400 billion, or $1600 per American, making the cost of war and national security $2,270 per American.
Then there's the deficit of $300 billion, another $1200 per American. That brings the grand total of Bush military-economic policy per American to $3,470 — not including the additional $1 trillion in the debt cap.
The cost is magnitudes greater for each Iraqi. And unfortunately, it's just the beginning.
A NOTE ON SOURCES
MAJOR SOURCES FOR figures and quotations in this article include the Congressional Budget Office; General Accounting Office Records; Department of Defense reports; USACE, USAID, OPIC and Bechtel websites; articles in the Los Angeles Times (Mark Fineman, 4/18/03), Fortune magazine (Jeremy Kahn, 3/31/03); Crude Vision, by Jim Vallette with Steve Kretzman and Daphne Wysham, Sustainable Energy and Economy Network, Institute for Policy Studies (3/03). Readers can contact nomiprins@aol.com for a full set of endnotes.
ATC 105, July-August 2003