Against the Current, No. 105, July/August 2003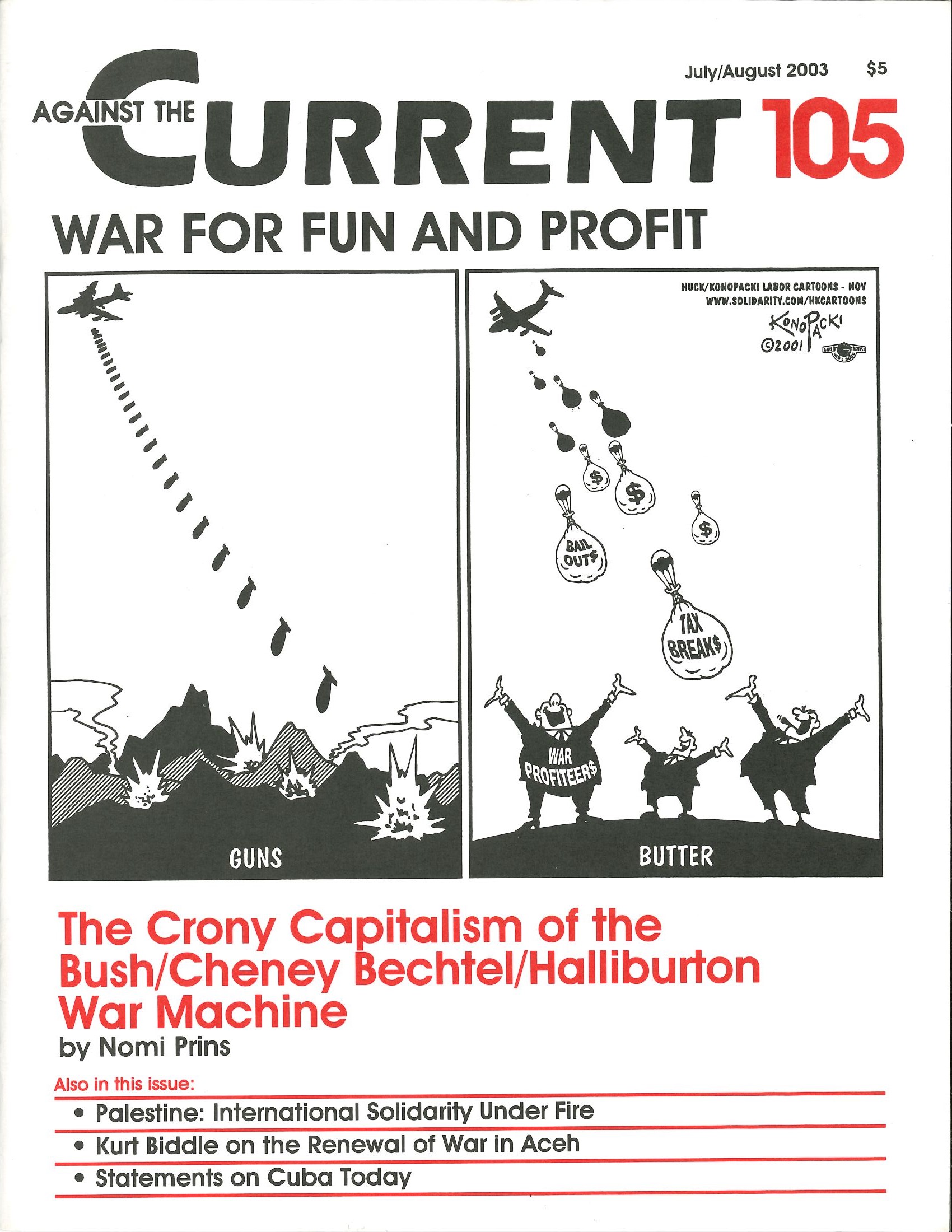 THE INDONESIAN MILITARY (TNI) is waging a full-scale war on Aceh. Indonesian President Megawati Sukarnoputri has instituted martial law and authorized military operations there for a period of six months, which may be extended. Some 50,000 Indonesian troops have been deployed to "exterminate" the rebel Free Aceh Movement (GAM), a force of less than 5,000.
On Monday, May 19, in what has been described as the biggest Indonesian military operation since the 1975 invasion of East Timor, Indonesian paratroopers filled the sky over Aceh, jumping out of U.S.-made C-130 transport planes.
OV-10 Bronco counter-insurgency planes, also supplied by the United States, fired rockets at positions near Banda Aceh, the capital. General Dynamics-manufactured F-16 fighter jets are being used to rocket and bomb rebel positions as well.
Although U.S. weapons shipments to Jakarta are currently suspended, the TNI plans to attack Aceh with a host of U.S.-supplied military hardware, including the aforementioned aircraft and five S-58 Twinpack helicopters. Rizal Mallarangeng, a senior adviser to Megawati, told the New York Times, "This is a blessing of September 11 — that we now know terrorism has two sources, God and nation."
Exultant Indonesian officials were also perversely blessed by the Iraq invasion, which has provided a series of disgusting excuses to employ overwhelming military force in Aceh. Jakarta argues that if the United States can invade Iraq without UN approval, then certainly Indonesia can pursue a military operation within its own borders.
Journalists Under Fire
Military PR tactics Washington employed in the recent assault on Iraq are also in full force: Indonesia has "embedded" about fifty reporters with TNI troops, and the aforementioned parachute drop was an entirely staged photo opportunity (the troops parachuted over the well-secured Blang Bintang airport in Banda Aceh).
There are also unfortunate parallels between U.S. attacks which killed three reporters in Baghdad and TNI treatment of journalists covering the war. On May 29 the New York-based Committee to Protect Journalists condemned sniper attacks on journalists in Aceh, citing at least six cases in which unknown gunmen opened fire on convoys of both foreign and Indonesian journalists, and noted "mounting evidence of a systematic effort by Indonesian security forces in Aceh to restrict reporting on the fighting there."
One of the least subtle examples of this came from Maj. Gen. Endang Suwarya, the military commander in Aceh, who warned journalists not to report any statements issued by GAM leaders and said, "I want all news published to contain the spirit of nationalism. Put the interests of the unitary state of Indonesia first."
The press has repeatedly come under fire during the renewed war on Aceh. Police and army officials have interrogated journalists reporting on TNI atrocities against civilians; some journalists have received death threats.
In Indonesia's "embedded reporter" program, journalists undergo "boot camp" style training and wear military uniforms. Reporters have been warned not to report on military abuses they have witnessed.
Mohamad Jamal, a cameraman for the Indonesian government-run television station TVRI, was kidnapped by unknown men on May 20, the day after current military operations began in Aceh. Jamal's body was found on June 17 in a river near Banda Aceh, bound and gagged with duct tape with a noose around his neck.
A reporter for Indonesian television station SCTV, Dhandy Dwi Laksono, was fired after interviewing an Acehnese man was about being tortured by the TNI. According to Laksono, the station received threatening messages from the military after the interview aired.
William "Billy" Nessen, an American and the only journalist to spend time with the rebel Free Aceh Movement (GAM) since Indonesia renewed the war on Aceh refused to surrender by the TNI's June 14 deadline. The TNI has repeatedly demanded that Nessen leave the rebels and questioned whether he really is a journalist. They have threatened to prosecute him for allegedly spying.
Believing his life was in danger, Nessen requested that he be allowed to leave Indonesia without being interrogated. Several U.S. officials reportedly asked the government to guarantee his safety.
When these conditions were not guaranteed, Nessen missed the TNI's deadline. However on June 24 he gave himself up in Paya Dua, a village in the north of Aceh. He was met by a U.S. Embassy official and a senior officer from the Indonesian military. As of press time it is not clear whether he will be prosecuted.
In May, the Indonesian military shot two German tourists. Luther Hendrik Albert was killed by the TNI, and his wife, Elizabeth Margareth, was shot in the leg. Indonesia has since banned all foreigners from going to Aceh.
Roots of the Conflict
The people of resource-rich Aceh endured decades of repression under Dutch occupation before Indonesia's war of independence. Unfortunately for the Acehnese, the more recent governing power, Indonesia, has not offered much of a respite from military terror.
In the 16th and 17th centuries Aceh was a sultanate. Strategically located on sea-lanes between south and east Asia, the region became a major trading post. The Anglo-Dutch Treaty of 1824 guaranteed Aceh's independence, but in 1871 the British authorized a Dutch invasion to avoid possible French annexation.
The Dutch waged a war that lasted 30 years, killing 100,000 Acehnese. The Dutch battled Acehnese guerrillas until being forced to leave their colonial possessions in what is now Indonesia during World War II.
The Acehnese were fierce fighters in Indonesia's 1945-1949 war for independence from the Dutch. But after Indonesia won its independence, resentment over Jakarta's centralization and secularist policies led to rebellions across Indonesia, including Aceh, in the 1950s.
Aceh won status as its own province (it had been part of North Sumatra province) and was promised "special status," with greater autonomy in matters of education, religion and culture. Jakarta never actually allowed these changes to be implemented.
The 1971 discovery of liquefied natural gas (LNG) in Aceh brought in large revenues, virtually all going to the central government and multinational corporations. After the initial rise in employment during the construction phase of extraction facilities, job opportunities for Acehnese dramatically declined.
People living near the LNG facilities suffered land expropriations, serious environmental devastation and atrocities at the hands of the Indonesian military (see ExxonMobil box). Revenues raised from taxes and royalties went directly to Jakarta, with little money spent locally. In 1997, before the Asian economic crisis, some 51 percent of Acehnese villages were categorized as poor.
Resentment over not benefiting from the wealth under their own soil and the extreme centralization of state power in Jakarta contributed to formation of the armed Free Aceh Movement (GAM), known formally as the Acheh/Sumatra National Liberation Front, in October 1976. GAM, whose platform was predominantly secular, declared Aceh's independence.
Military Terror and Impunity
From 1989 to 1998, Aceh was declared a Military Operations Area, known by the Indonesian acronym DOM. During this period of military rule, human rights violations soared as police and military intentionally targeted the civilian population as a means to destroy the armed GAM resistance.
The TNI implemented a systematic campaign of terror, burning down houses of families suspected of supporting GAM, disappearing people, routinely torturing and raping detainees and leaving corpses in public places as a gruesome example to others.
Human rights organizations estimate that thousands of people were killed during DOM. Many bodies were thrown into mass graves, one such grave was said to contain 200 bodies. Commenting on that site, Major General R. Pramono said "the grave certainly exists but I don't think it could have been 200 bodies. It's hard to tell with arms and heads all mixed up."
After the dictator Suharto was driven from power in 1998, DOM officially ended and investigations into Indonesian military atrocities began.
Abuses under the DOM left Acehnese with a deep anger toward the central government in Jakarta. The Habibie and Wahid governments did nothing to bring any officers to justice for carnage committed during the DOM period and the investigations into human rights violations ended.
But the post-Suharto democratic political space that opened up across Indonesia allowed for a growing nonviolent political movement to develop in Aceh. In 1999 more than one million people (almost a quarter of Aceh's population) peacefully demonstrated in Aceh's capital to demand a referendum on the region's political future.
Perhaps recognizing the potential threat of a well-organized non-violent movement, the TNI has directly targeted political activists, human rights defenders and members of civil society through imprisonment, kidnappings and murder.
This polarization of the conflict has made a peaceful solution much less likely. The TNI has vested interests in prolonging conflict in contested regions such as Aceh. After being put in check in the post-Suharto period, the military benefits by asserting their importance as an institution needed to prevent the breakup of Indonesia.
Aceh also provides the armed services with ample opportunities to enrich themselves: the police and military profit from their involvement in illegal businesses including logging, drug trafficking, the trade in endangered species and extortion.
Ceasefire Deal Fails
Violence in 2001 and 2002 spiked with almost 3,500 people, mostly civilians, killed in the conflict. After long negotiations between GAM and the Government of Indonesia, the two sides signed a Cessation of Hostilities Agreement (CoHA) on December 9, 2002 in Geneva, under the auspices of the Henri Dunant Centre. The CoHA dramatically reduced casualties and brought the Acehnese a long-overdue reprieve from violence.
Although the Joint Security Committee (a tripartite peace monitoring team comprised of members of the Indonesian military and GAM, along with regional observers from Thailand, the Philippines and other countries) cited both sides with violations of the CoHA, Indonesia began actively undermining the agreement in February by targeting nonviolent activists for arrest for speaking out against Jakarta.
In March, pro-Jakarta mobs began burning offices and assaulting members of the JSC. In one instance, forty angry Indonesian police officers stormed into a JSC office, kicked one monitor and occupied the building for eight hours. The JSC was forced to close all regional offices and pull back to Banda Aceh, making the body even less effective.
Indonesia began demanding that GAM give up their call for independence and accept autonomy. These political demands were purposely unrealistic. The CoHA was a ceasefire and had not addressed political issues on Aceh's future precisely because the two sides could not agree. The future of Aceh was to be discussed in the "All-Inclusive Dialogue" that was to take place at a later date.
The two sides agreed to meet to discuss the CoHA in Tokyo, but Indonesia was using the time to ready troops and equipment for a major assault on Aceh. Indonesia negotiated in bad faith by reiterating demands that GAM abandon independence and also insisted that GAM disband.
Immediately after the talks ended in Tokyo, on May 19, 2003, Indonesian President Megawati Sukarnoputri declared martial law in Aceh and the TNI began its offensive.
Indonesian police immediately arrested five GAM negotiators at the Kuala Tripa Hotel in Aceh as well as the hotel owner Cut Nur Asikin. When Johnson Panjaitan, a well known Jakarta lawyer, came to offer legal representation for Cut Nur Asikin, he was told that under martial law she was not entitled to counsel for twenty days. His hotel room was also searched by security forces who claimed they were looking for "marijuana and other banned drugs."
NGOs in Aceh and Jakarta critical of the TNI's latest scorched-earth offensive have come under attack from either military, police or militia groups. Some 100 members of the paramilitary police unit BRIMOB broke into dorms at Ar-Raniry University in Banda Aceh and arrested fourteen student activists.
On May 26 and 27 a militia group called Pemuda Panca Marga beat workers with the Commission for Missing Persons and Victims of Violence (Kontras), which reports on human rights abuses committed by the TNI in Aceh and elsewhere, and ransacked the NGO's offices. The uniformed group accused Kontras of being against the unitary state of Indonesia. Despite repeated calls for help, police didn't respond to the May 27 attack until thirty minutes after the mob left.
Reformasi Rollback in Jakarta
Aceh is perhaps the worst place in Indonesia right now, but human rights and democracy are in decline throughout Indonesia. The reform movement "Reformasi" that ousted the U.S.-supported dictator Suharto from power in 1998 has been in retreat. Grassroots groups are disorganized and the political elite, including the military, are taking full advantage.
The military may be giving up its appointed seats in the Indonesian parliament in 2004, but that doesn't mean its role in Indonesian politics is diminishing. A Defense Department "White Paper" released in March reaffirms the TNI's commitment to the territorial command structure, which places an officer at every level of the civilian government authority.
The pro-democracy movement has long campaigned for the removal of this system, as it is the primary mechanism the TNI uses to maintain political control and conduct much of its illegal business.
A bill before the Indonesian parliament would have allowed the TNI twenty-four hours to declare any national emergency and deploy troops without notifying the government. The bill prompted an outcry from critics who saw it as easing the way to a TNI coup. Army Chief of Staff General Ryamizard Ryacudu responded that the TNI would review the proposed legislation, adding that if the armed forces wanted to launch a coup they didn't need legislation.
Megawati is already on the campaign trail and attempting to further reinforce her ties to the TNI. Her government has been shopping for military hardware in Eastern Europe and has signed deals with Russia and Poland, with an immediate purchase of six SU-27 fighter jets for a total of US$197 million, and plans to buy 48 combat aircraft from Russia over the next four years.
This weapons shopping spree comes at a time when the Indonesian government is cutting subsidies on fuel for its already impoverished citizens. Students who protested Megawati's raising of fuel prices have received long jail sentences.
Two such demonstrators Ignatius Mahendra Kusuma Wardana, 23, and Yoyok Eko Widodok, 20, were given three years for burning a photo of Mega and Vice President Hamzah Haz, the same sentence handed soldiers (whom the TNI Chief of Staff called "heroes") convicted of killing Papuan leader Theys Eluay.
ATC 105, July-August 2003