Against the Current, No. 104, May/June 2003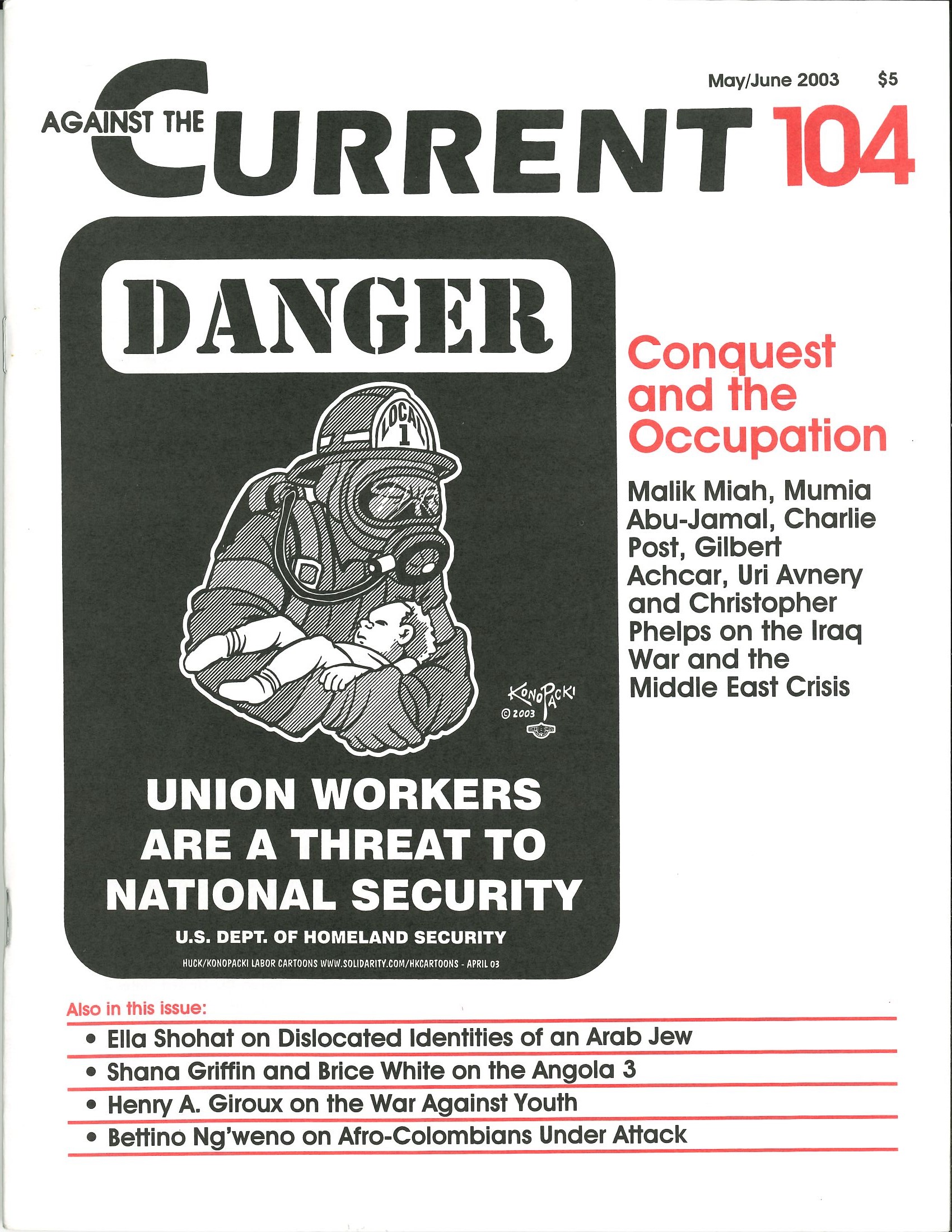 THIRTY-ONE YEARS in solitary confinement would be enough to drive many of us to despair. Yet as of April 17, Herman Wallace and Albert Woodfox of the Angola 3 have each spent the last thirty-one years inside a six by nine foot cell, for nearly 24 hours a day, in various segregation units of the Louisiana State Penitentiary at Angola.
Thirty-one years with only three to seven hours a week outside their cells to shower or exercise in enclosed pens. Thirty-one years with rare contact visits and limited access to medical care. Thirty-one years denied due process in disciplinary and classification hearings that would have allowed them to join general population.
Wallace and Woodfox are innocent men – political prisoners convicted of the murder of prison guard Brent Miller in 1972 in retaliation for their organizing on behalf of all inmates and for founding the only officially recognized chapter of the Black Panther Party in a prison.
They are freedom fighters today as they were in 1972. Wallace and Woodfox have worked for over three decades for human rights and dignity in a place designed to strip away both. According to Wilbert Rideau and Ron Wikberg, the editors of Life Sentences – a compilation of essays from Angola's award winning magazine The Angolite – Angola was the most deadly prison in the country for the ten years between 1966 and 1976.
"The fabric of life in Angola was woven by the thread of violence. The only law was that of the knife, and the only protection available to you was what you could acquire through sheer force of character and the ability to impose your will upon others. Slavery was widespread and human life was the cheapest commodity on the market." (Life Sentences: Rage and Survival Behind Bars, 1992, 85) Rape and murder were ways of life. Sex slavery kept inmates under control with weak and young inmates being bought and sold by those older and stronger. Armed prisoner guards ran the facility as the budget did not allow for enough "free men" to control the thousands of men incarcerated at Angola.
Disputes were settled by violence, often ending in death. Prison officials knew that keeping the men fighting among each other makes their job of control possible.
Struggle Behind Bars
Joined in this struggle for change is Robert King Wilkerson. In 1972, shortly after the Miller murder, Wilkerson was transferred shipped to Angola from Orleans Parish Prison. He was placed immediately into solitary confinement, officially called closed cell restriction (CCR).
According to prison records Wilkerson was kept in isolation for 29 years, "under investigation" for the Brent Miller murder – a murder that occurred before he arrived to the prison. Wilkerson had the same commitment to change as his comrades in CCR, and his arrival at Angola in the spring of 1972 and subsequent work for justice quickly coalesced with Wallace and Woodfox into the unbreakable bond known as the Angola Three.
All three men learned their political ropes from the Black Panther Party in Orleans Parish Prison (OPP) while incarcerated there on unrelated charges.
Woodfox had just been convicted in 1969 of armed robbery and given 55 years. His escapes are infamous and he soon broke out of OPP and headed north to New York City. In Harlem, he met Panthers and soon found himself incarcerated briefly with the New York 21 before being extradited back to Louisiana.
Wallace was picked up on a bank robbery charge and Wilkerson was falsely convicted of an armed robbery. All three men were totally disillusioned by these versions of "American justice," and their imprisonment at the parish prison coincided directly with the Louisiana Black Panther Party being attacked by New Orleans Police. In classic COINTELPRO fashion, prison officials mixed radicals with those they considered dangerous in hope that the two sides would eliminate each other. In OPP, as in prisons across the country, this strategy backfired as men united, educated each other politically and organized within prison walls. When they got to Angola all three continued their work to overcome the brutal hierarchies that threatened the lives of every inmate at Angola.
In December of 2000, the United States Court of Appeals ruled that Wilkerson had been denied the constitutional right to a fair trial when he was convicted of the murder of a fellow inmate in 1973. On February 8, 2001, two months after this ruling, Wilkerson was released from custody, having served nearly 29 years in solitary confinement.
Since his liberation, Wilkerson has dedicated his life to winning justice for his comrades who remain in solitary confinement, and to alert the world about "southern justice" and the growth of the prison industrial complex.
Angola's Violent History
The Louisiana State Penitentiary at Angola (LSP), commonly referred to as The Farm, is located 60 miles northwest of Baton Rouge in the town of Angola in rural West Feliciana Parish. Bordered by the Mississippi River, this amalgamation of former slave plantations was converted into a state penitentiary in 1901 and named after the West African country Angola because most of the slaves on the plantation were taken from that region.
Angola is the largest prison in the United States, comprising 18,000 acres of what prison officials refer to as "the finest farm land in the South." According to Mark Carleton, in Politics and Punishment: The History of the Louisiana State Penal System, "Blacks have been the permanent majority of the inmate population" of the Louisiana's penal system since the emancipation of the slaves.
Continuing to operate under the slave labor model of production, Angola maintains a beef herd of roughly 1,500 cattle and processes approximately four million pounds of vegetables each year.
As the only maximum security prison in the state of Louisiana, Angola warehouses over 5,100 men – 75 percent of whom are Black. The prison is divided into six "mini-prisons" – the Main Prison Complex, housing 2,500 inmates, and five out-camps (Camps C, D, F, and J), housing the remaining 2,600 inmates.
According to the documentary "The Farm," 85 percent of the men sent to Angola are expected to die at the institution – nearly two-thirds of them as a result of Louisiana's mandatory life sentencing laws.
There is a long tradition at Angola of families from West Feliciana Parish who worked for the penitentiary, inheriting jobs and positions and maintaining the culture of racism, violence and corruption.
Prison guard Brent Miller was part of one of these families. On April 17, 1972, after a short work stoppage in the kitchen during breakfast, Officer Miller was stabbed to death.
In the years around Miller's murder, Angola was the focus of national scrutiny for its rampant violence and high rates of inmate death. Inside the walls, traditional ruling families of Angola were fighting an internal battle against an outside warden, Murray Henderson, who had been brought in from Tennessee to clean up the prison.
State Representative Dorothy Taylor called for a congressional investigation into Angola in 1972. Unfortunately for the men housed there, little changed until 1975 when United States District Judge E. Gordon West determined the conditions of confinement at Angola to be unconstitutional. His ruling resulted in over twenty years of federal oversight and reform.
During the intervening years 1972-1975, 40 prisoners were stabbed to death and 350 more were seriously injured by stab wounds. (Life Sentences, 41) Against this backdrop, the Angola Three (Wallace, Wilkerson, Woodfox) and others organized to protect and empower the weaker inmates and united prisoners together to demand better food, humane living conditions, eliminate armed inmate guards, and to put an end to sex slavery.
Angola's Wardens and "free men" knew this system kept the prisoners policing themselves and opposed any attempts to change it. Over the past three decades, the Angola 3 have been organizing hunger strikes, educating other prisoners, and becoming highly skilled "jailhouse lawyers."
Activists known for campaigning for the rights of all prisoners at Angola, the three men were branded as troublemakers and set up by a vindictive and corrupt prison hierarchy. In the Angola of the 1960s and '70s, Miller's murder was the perfect excuse to set up Wallace and Woodfox for their political beliefs. Authorities were enraged about their founding of the only Black Panther Party behind prison walls and their organizing efforts to improve prison conditions for the inmates.
The Legal Cases
An unfortunate development occurred in the Angola 3 case with the denial of Albert Woodfox's application for post-conviction relief this January. Filed in the 21st Judicial District Court of Louisiana in October of 2002, this document was the culmination of several years of work by Woodfox, Wallace and their legal team, attorneys Nicholas J. Trenticosta of New Orleans, Louisiana, Scott P. Fleming of Oakland, California, and Michael J. Rocks, of Gretna, Louisiana.
The brief contends that two of the three prosecution witnesses still living have recanted their testimony, and for the first time the name of the man actually suspected of killing Officer Miller has been released.
The document highlights the complete lack of physical evidence, deals made with key state witnesses, prosecutorial misconduct, incompetent defense counsel, perjured testimony and shoddy police work.
Originally convicted by an all white-male jury in 1972, Woodfox was granted a new trail 20 years later after a Louisiana court ruled that his conviction had been obtained unconstitutionally since the grand jury that sentence him excluded African-Americans and women. In December of 1998, Woodfox was retried in Amite, Louisiana, where Miller's body is buried, and was once again found guilty while being represented by two utterly incompetent court appointed attorneys.
Since Woodfox's re-conviction, several of the state's key witnesses have recanted their testimony saying they were coerced into testifying against him. Even more strikingly, the name of the actual killer of the guard has come to light, with several inmates testifying that they heard an inmate named Irvin Breaux admit to Miller's murder (Breaux was later killed by another prisoner in 1973).
Herman Wallace is awaiting the results of his own post-conviction appeal filed in 2001. While he waits, he has been the target of further harassment at Angola. As if thirty-one years in solitary isn't enough, since March 2002, Herman has been in Camp J punishment unit, more appropriately called "the dungeon."
The Dungeon
At Camp J, Herman has lost even the few privileges he is afforded in CCR. He has already been stripped of all of his property except for writing materials, a dictionary, and his copy of Lockdown America by Christian Parenti.
He is forced to wear shackles during his three hours per week of solitary exercise in the fenced-in cage that serves as a "yard." Phone calls are limited to one per month and all visits are behind a thick metal screen that is almost impossible to see through.
The lack of air conditioning, heating and minimal ventilation turns Camp J cells into virtual sweat-boxes during the summer and ice boxes in the winter. The vindictive tactics used to control prisoner's behavior include sensory deprivation, body cavity and cell searches, tear-gassing, four-point restraints, and fabricated disciplinary write-ups.
At Camp J there is no fixed sentence. It is used as an extended lockdown unit for inmates with "alleged disciplinary problems." The camp has become a dumping ground for inmates targeted by prison officials and guards. Prisoners who dare speak out against the dehumanizing conditions of confinement find themselves targets of retribution.
Inmates sent to Camp J endure months, and in many cases years, of torment and degradation. Herman will have to "program" out through a three step process that lasts a minimum of six months. However, the arbitrary nature of incident reports, minor infractions and false disciplinary write-ups may keep him there longer and he has already been knocked back once from level two to level one.
In 1999, Herman, Albert and King were put there after the three participated in a hunger strike. At that time, the men were kept in Camp J for approximately 10 months because the prison refused to hold the classification hearings that were necessary for their return to CCR.
Lawsuit Challenges Isolation
In addition to these post-conviction applications, Wallace and Woodfox are the plaintiffs in a Civil Rights lawsuit filed by the American Civil Liberties Union (ACLU) contesting the constitutionality of their isolation from the general prison population.
The suit, now pending before a federal court, asserts that the men's three-decade stay in solitary confinement violates their constitutional protection against cruel and unusual punishment.
Theoretically, every three months the prison reviews their placement in CCR and maintains it. According to the lawsuit, Warden Burl Cain has admitted that the process is a "sham," confirming that the men are kept locked away for their political beliefs.
A victory in this suit may lead to improved conditions for other isolated prisoners, and force Angola officials to release Wallace and Woodfox into the general prison population and compensate all three men for their suffering.
The Protest
The strength of support for the Angola Three has grown exponentially in the last four years. The Angola Three have gained worldwide attention with statements of support from an incredible number of individuals including Mumia Abu-Jamal, Geronimo ji Jaga (Pratt), Yuri Kochiyama, Bobby Seale, David Hilliard, Ramsey Clark and Body Shop founder Anita Roddick.
Since 1998, grassroots movements in New Orleans, the San Francisco Bay area, Sacramento, New York, Chicago, Austin and Dallas have gain momentum to bring more attention to Wallace and Woodfox's 31 years of cruel and unusual punishment. There are several Angola 3 Support Committee in Belgium (Brussels), Portugal (Lisbon), Holland (Amsterdam), and England (Manchester, Nottingham, Liverpool, and Birmingham).
On the fourth anniversary of Albert Woodfox's retrial, December 7, 2002, a historic protest was held at the front gates of Angola. Dozens of demonstrators from around the world, including human rights activists, former prisoners and families and friends of inmates, gathered protesting Warden Cain's abusive treatment of prisoners.
This event marked the first time a group held a protest at the front gates of the facility – sending a message to prison officers that "the world is watching." (Anti-death penalty groups have held quiet vigils there before and during executions.)
Protest participants held signs calling for an end to the abuse, neglect and legalized torture of inmates, freedom for all political prisoners, and the immediate release of Wallace and Woodfox. Protestors were surrounded by a mob of prison guards and officers, West Feliciana Parish sheriff's deputies, and plainclothes state troopers.
Among those participating in the protest was Wilkerson, Wallace and Woodfox's comrade, who lead chants demanding the resignation of Warden Burl Cain, the closure of Camp J, and the Angola prison itself.
Wilkerson stood proudly and spoke emotionally, living up to his declaration when he was released two years ago, "I may be free of Angola, but Angola will never be free of me." Organize!
ATC 104, May-June 2003