Against the Current, No. 102, January/February 2003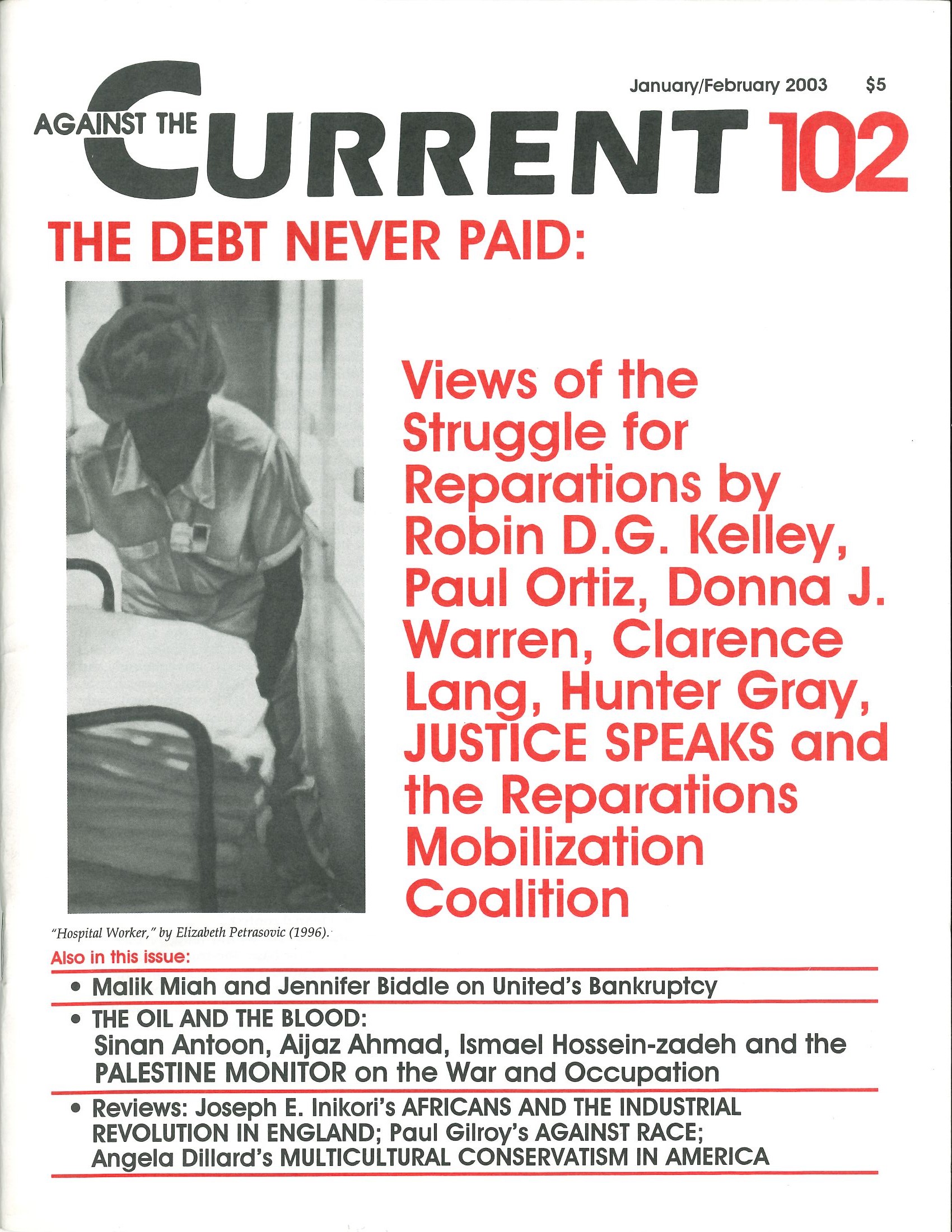 [These comments are from a talk given at a forum on Question 2 at the University of Massachusetts-Amherst, Campus Center, on October 29, 2002.]
"HOLA. ¿QUE TAL?" I want to thank you all for allowing me to share with you some of my experiences as a person who had both the challenge and privilege of being part of a Bilingual Program.
My name is Karina Altagracia Bautista. I am a graduate student in the Spanish and Portuguese Department, right now in the process of finish my Ph.D. in Latin American Literature.
Becoming part of the community of students who went through a Bilingual Program has been and continues to be a personal and professional journey of accomplishments and challenges that have shaped my life.
To talk about Bilingual Education in my case, and I am sure in the case of many, is to simultaneously speak about migration, family and the process of becoming a bilingual self. I want to say a few words today about the before-and-after of my experience with Bilingual Education, and about the importance the three years in a Transitional Bilingual Program still have in my life, twenty years later.
Unlike other generations of Dominican immigrants, like my mother who came in the late `60s to work in a clothing factory in New York City, I arrived in the early `80s. During these times, Bilingual Education Programs were one of the difficult choices Spanish-speaking immigrants had to contemplate in order to decide the future of their children.
In the ten years my mother spent working in the factory scene, she heard the concerns of immigrant parents (like her) who had to face the decision of choosing what was best for their children's education.
Many, as she explained on the phone this past weekend, were convinced that placing their children in "mainstream" classrooms would automatically guarantee them a better future, or at the very least keep them away from the factories. Other parents, like my mom, were not too sure that was the case.
I remember her basically interrogating young Latinos she would find in nearby McDonalds Restaurants. "¿Por qué no estas en la escula?" "Why aren't you in school?" She would ask in a firm tone, as if she knew them or had the right to ask them personal questions. "¿Tú hablas inglés no?" – "You speak English, no?"
They would respond with a timid, "sí." "Entonces, ¿cuál es el problema?" "So then what's the problem?" She would conclude looking at them in the eyes and making the rest of the people behind her wait on line.
I felt bad for the kids who had to experience my mother's questioning. Back then, I was not sure what that was all about — I was too busy feeling embarrassed about my mother making a scene.
Today, however, I am convinced that situations like that sent me a very strong message about what exactly it meant to learn English. A message that echoes in many things she would say like: "El inglés es muy necesario, pero no es una profesión."
"English is very much needed, but is not a profession," she would argue with our next door neighbor who kept telling her she was doing me a disservice by putting me in a Bilingual Program. Learning English for some Latinos was their only objective in life; for my mother life was more complicated than that.
Struggling for a Future
For my mother, watching English-speaking Latino teenagers in low-paying jobs was not much of a future. Nor was it seeing parents and grandparents unable to communicate with children and grandchildren who could barely speak their language. Determined not have either one of these scenarios occur in her life, my mom set out to find the best education she could find for her children.
Against the advice and criticism of other family members, neighbors and friends who only attribute success to the ability of learning English, my mother registered me in a Transitional Bilingual Education Program in an Elementary School in Uptown Manhattan.
My sister would follow two years later — it did not matter she was born in the United States; she also was enrolled in what is called a Developmental/Maintenance Bilingual Education Program. In this Program she received instructions in Spanish while also taking classes in English. The difference between this program and the one I was in was that the student could stay in the program until fluent in English and Spanish. My sister stayed in the Maintenance Program for about four years.
We lived in a pretty risky area of the Bronx and after a few drug related incidents outside the school, my mother pulled my sister out and placed her in a private school. Safety in many ways took center stage for my mother, but she never stopped defending matters of culture and language. She kept repeating to people who were willing to listen, as well as those who were not willing to listen: "Los qué hablan dos lenguas viven dos veces" – "Those who speak two languages live twice."
Transitions and Foundations
In the fall of 1981, learning English was just one of many worries I had to deal with. At eleven years of age and having just arrived from the Dominican Republic to live with my mother for the first time, I was trying to make sense of all the different emotions I was experiencing.
I was not sure what to do with the excitement of finally coming to live with her and with the resentment I felt towards her for taking me away from my home, my grandparents, my friends, my school, and my neighborhood.
I felt forced into a life I did not choose for myself, into a life of different colored Lee pants and matching Adidas sneakers that God forbid you stepped on them, as I found out the hard way. All of that craziness was too much for me, and all of it was my mother's fault.
In the years to come, Bilingual Education became for me a transitional point, the bridge to a complex life in a new country. It became the door to a future understanding of myself as a Latina, as a person who had to learn how to process two cultures and find a balance.
As short as those three years in the Transitional Program were for me, they served as a foundation, as the initiation of a long analytical process that empowered me to evaluate my surroundings; to think about my role in this society as the daughter of a Dominican immigrant.
Bilingual Education empowered me to think of myself as a bi-cultural and bi-historical being (if you allow me the term). In my humble opinion, Bilingual Education is the honest recognition of the diversity in this country.
It has become a threatening issue for the conservative mentality of people who want to stop our society from stepping up to challenge of continuing to find new ways of becoming what it is and what it has always called itself, a country of immigrants.
Thank you.
ATC 102, January-February 2003