Against the Current, No. 102, January/February 2003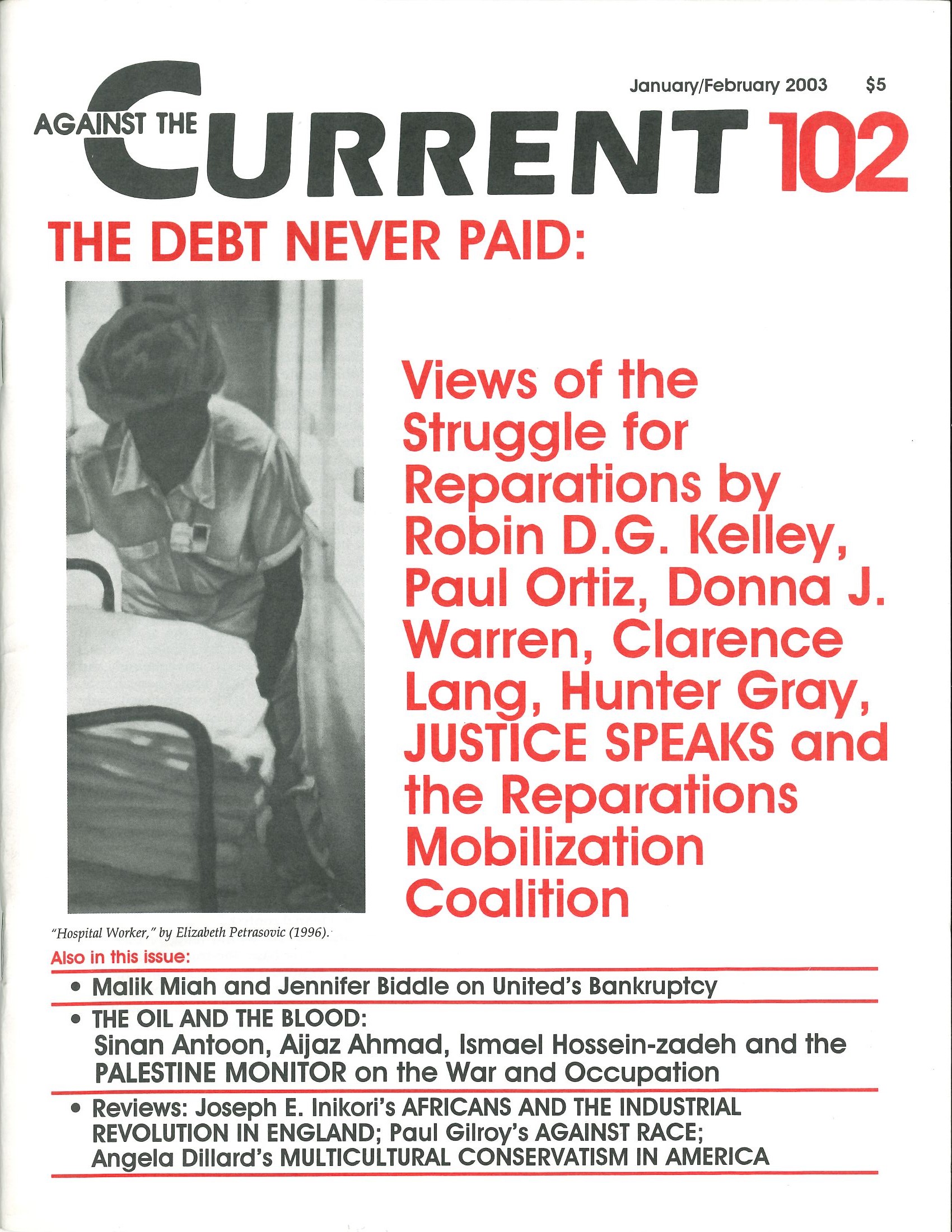 IN AUGUST 2002, one thousand striking University of California (UC) employees, mostly clerical workers, took over a city block in downtown Oakland to rally in front of University of California President Richard Atkinson's office.
This was the first multiunion strike at UC in thirty years, and the first UC strike ever to involve significant numbers of employees. Not surprisingly, this show of labor militancy originated at the UC Berkeley campus. What is more surprising is that the strike movement has spread to five other UC campuses since then, including even the traditionally conservative Riverside and Irvine campuses.
Five of the six strikes were led by the Coalition of University Employees (CUE), the independent member-run union that has represented UC's 18,000 clerical employees since 1997. UC lecturers (represented by American Federation of Teachers) struck at the same time.
This action by AFT was particularly important as it provided the strikes with AFL-CIO strike "sanction," meaning that we were able to stop deliveries and construction by other AFL-CIO unions.
The California Nurses Association's immediate announcement of a sympathy strike was the earliest sign of solidarity from other UC unions. CNA represents workers at student health centers and several large teaching hospitals in the UC system.
Graduate student instructors (organized by United Auto Workers) were next to announce they would not cross our picket lines just days before they went up.
Unprecedented numbers of workers refused to cross picket lines, in spite of employer threats of legal and disciplinary action. UPTE, United Professional and Technical Workers (part of the Communications Workers of America), told their members they would defend any worker who was threatened with discipline.
Members of other unions, including AFSCME, also joined us on the picket lines during lunch and other breaks.
CUE's Leading Role
Despite dire newspaper headlines about the state's financial crisis and economic slowdown, CUE has provided leadership in exposing UC's real economic strength, and has broadcast this information widely enough to provide confidence in CUE's membership to challenge UC's allegations about their "available" resources for staff salaries.
Other unions have expressed appreciation for this information. UC's budget outlook is significantly rosier than the state's, with a healthy increase in revenues from sales, services, contracts and grants, as well as an overall increase in state funding (despite the crisis), leading to an overall increase of 11% in its total operating revenue. UC's financial health is reflected in its financial reserves, which currently total more than $4 billion.
CUE is probably the only union on campus without resources to support a permanent "research department" on staff — dues are a meager 0.5% of income, which is less than half the dues of other unions we work with.
Yet CUE was able to prioritize both hiring an economist to do the initial research, and also developing members to share examples from the departments in which they work and to challenge top administrators to explain how UC can tell creditors they are in excellent financial health while telling staff and students that there is a budget crisis.
At some point, the resolution lies in a more equitable tax structure and de-privatizing much of the funding for so-called public universities, an idea that does not have broad support at the present time.
Stonewalling Salaries and Safety
A record number of legislators have indicated support for CUE and AFT, putting pressure on UC to negotiate in good faith. In spite of this, the university has so far been adamant in not moving towards any agreement with CUE to help close the salary gap (as high as 18%) between UC salaries and salaries for comparable jobs at other public institutions and in the private sector.
Nor have UC officials been willing to agree to commit funds to addressing health and safety problems, a huge issue for clerical workers, who continue to experience a high rate of disability due to preventable workplace injuries.
The university's bargaining position is that it is not responsible for fixing unsafe work situations beyond providing workers compensation insurance — so employees can come to work with a doctor's note requesting additional safety equipment (perhaps a better chair or more ergonomic work station), and end up on disability months later due to a condition aggravated by the employer's unwillingness to provide such preventative equipment.
At least one relatively young woman had three disks burst in her lower back after her department would not accommodate her by providing a stool — this after her doctor wrote saying she was unable to be on her feet for eight hours in any given day.
Despite important academic research on ergonomics, UC's rate of workplace injury has been increasing while going down in the state as a whole.
Trying for Impasse
In the face of these strikes and legislative support, and facing the prospect of more strikes, the university is responding with a publicity campaign. UC has changed their earlier policy of dragging out bargaining, now appearing to want to end it soon by demanding the government step in to declare a bargaining impasse.
Under state labor law, if impasse is declared, the process moves to mediation and fact finding. The fact-finding report is advisory, not binding, and UC clearly hopes to impose its version of the contract on CUE at the end of that process.
PERB (Public Employee Relations Board), the government board that governs labor law for UC, on November 26 refused UC's petition to declare impasse and told UC it had to continue negotiating with CUE.
PERB's ruling on impasse followed a series of rulings they made against UC: declaring that the basis for CUE strikes were legal, that the sympathy strike by CNA was legal, and ruling on a number of other unfair labor practices having to do with local campuses.
This denial of a declaration of impasse to a petitioning employer is unheard of, and can be attributed in part to the public pressure mobilized to paint the university as unreasonable lawbreakers.
A recent vote by Berkeley CUE members to authorize a future strike shows that there is still a fighting spirit left even though we have been bargaining since May 2001. If impasse is declared at some later point, we plan to organize aggressively on all of the campuses for the prospect of a post-impasse strike.
Democratic Open Unionism
So far our constant educational efforts and UC's paltry offer of a 2.5% wage increase over two years have kept members behind CUE's efforts. Constant battles with UC over contract bargaining have taken their toll, both financially and in our ability to expand on CUE's open and democratic model by developing a significant layer of new activists.
The fact that CUE has taken down many of the traditional union barriers to member involvement is good and healthy, but it is vital that we develop new ways to provide active support to these members.
Recently, CUE committed significant financial resources to in-depth anti-racist training for officers and activists. The training combined power analysis and interpersonal skills development and has opened up a number of both healthy and difficult conversations — while providing opportunity to debate and adopt guidelines under which to more productively have some of these discussions.
If we can successfully expand on that training, and move the lessons learned out beyond that narrow activist layer, we hope to make CUE's leadership (both formal and informal) more truly reflective of our actual ranks.
CUE is part of a current within the labor movement that looks to a more democratic and member-run (as opposed to staff-driven) model of unionism.
In part, this model developed in reaction to the experience of many founding CUE members in the previous union (AFSCME), where they had little control and almost no access to resources to organize. But it has also developed out of necessity. In its earliest days, the only resources CUE had were the dues paid by its members.
At the end of 1998, California Governor Gray Davis signed agency fee legislation. In June 1999 (following a member vote), CUE implemented agency fee and since then CUE has also collected "fair share" fees from non-members.
CUE represents 18,000 clerical workers and now has a healthy-sized budget; however, given the low salaries in the clerical unit and the low dues rate, CUE's budget is simply not large enough to support a staff-driven model of organizing. For that reason, CUE is in every sense dependent on the activism of its members.
In the Wake of 9/11
CUE's persistence in organizing after 9/11 helped open up the campuses to activism and was rewarded by a new level of militancy in CUE. The strike wave both shook off remnants of post-9/11 jitters, and facilitated the development of a statewide caucus of members who are currently collecting signatures on a petition to hold a statewide membership referendum asking CUE to commit to opposing any use of the Bush "preemptive strike" doctrine including attacking Iraq and also go on record opposing the PATRIOT Act and use of the Taft-Hartley Act.
On every striking campus, CUE members took ownership of the strike, making all the decisions from large strategic questions (assessing their own strength to strike, setting the dates and length of the strike, strategizing on how to approach other unions about the strike), down to the nuts-and-bolts issues (buttons, posters, where to picket) and learning real-life lessons about how difficult and rewarding it is to build participatory democracy in the process.
We have found that members are more willing to fight when they have a real voice in setting the union's agenda and demands. Member control has led to an increase in member militancy, but there are still difficult lessons to be learned about building real power.
The strikes, limited as they were in duration and scope, raised expectations of a victory in a very difficult context. UC has traditionally linked UC staff salaries to the state budget, and California has experienced one of its worst budget years in recent history, projected to continue or worsen over the coming months.
This economic crisis has provided UC with good cover for a wage proposal that would amount to an actual decrease in most workers' paychecks, once increases in the costs of health benefits and other costs are factored in.
CUE has developed steadfast new allies among other UC unions, many of whom have thanked us for giving them a push to mobilize their own members. Now we plan to expand on that outreach and coalition building.
Recently CUE's executive board voted to actively oppose moves to raise student fees, and we plan to share our research on the UC budget with the student government and other groups organizing to make the university more accessible to low-income students.
ATC 102, January-February 2003