Against the Current, No. 98, May/June 2002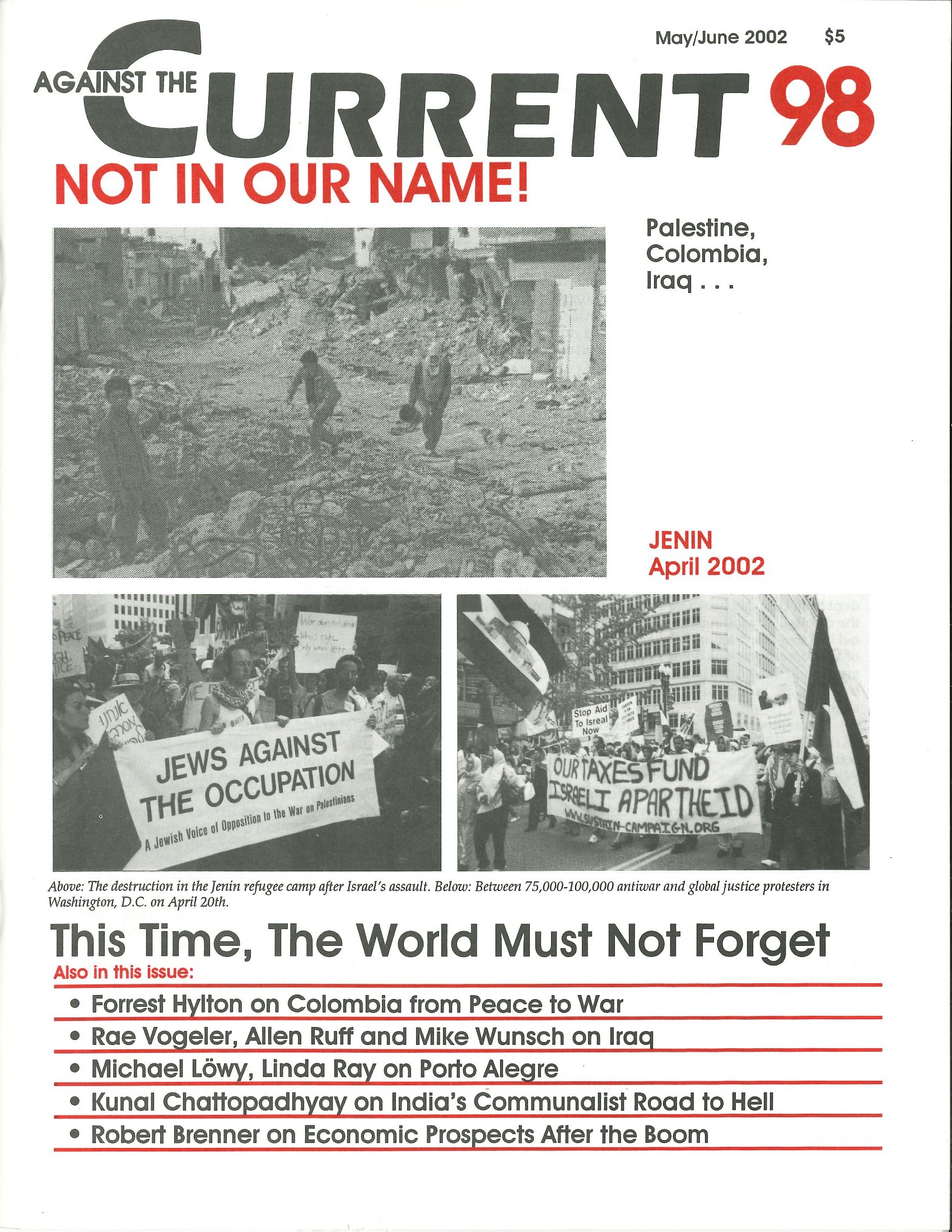 [Among the courageous activists organizing solidarity with besieged Palestinian towns, the organization Ta'ayush (Arabic for "partnership") is among the most vibrant. It is jointly led by Arab and Jewish citizens of the Israeli state. The following message, dated March 19, 2002, conveys a sense of the group's mission as well as some of the desperation of the situation — although the latter, of course, has since become immeasurably worse. We urge our readers' attention and support. –David Finkel, for the editors of ATC]
DEAR FRIENDS AND allies,
On Thursday, March 14, Ta'ayush sent a truck carrying $5000 worth of food and diapers to Ramallah, then under direct Israeli assault by tanks, helicopter gunships, F-16 fighter jets, and snipers.
As you may know, Israel's widespread military incursions into the Palestinian territories [in early March] have killed more than 165 Palestinians, injured 1000, and caused severe damage to hospitals, ambulances, roads, schools, and water and electricity grids.
In addition, Israel continues to ban the movement of people and goods both within the Palestinian territories and also into Israel, thereby blocking the entrance of vital medical care and basic foodstuffs. In several refugee camps, villages, and towns, the lack of food and access to medical relief has reached dangerous levels.
Due to the Israeli army's tight siege of Ramallah, we were unable deliver the supplies in person and to meet with our colleagues on the other side of the border, as we usually do.
Instead, Ta'ayush organized a two kilometer solidarity march from the Ram checkpoint to the Qalandiya checkpoint (located in between Jerusalem and Ramallah), in cooperation with Physicians for Human Rights, B'tselem, Adalah, the Israeli Association for Civil Rights, Rabbis for Human Rights, and other rights organizations.
Over 200 Jews and Palestinians participated in the march to Qalandiya, where we were stopped by the soldiers. As we waited for the International Committee for Red Cross truck carrying our supplies to arrive from Jerusalem, we held a demonstration to protest the prevention of medical care and food provisions to city residents, attacks on civilians and medical relief workers, and the ongoing Israeli occupation.
Ten days before this march and food transport, during Israeli attacks on Balata and Jenin refugee camps in which 24 Palestinians were killed, 150 Ta'ayush activists went to Al-Maqasid hospital in East Jerusalem to donate blood.
Hospitals in Nablus and Jenin had run out of blood supplies, and we thought that Jews and Arabs lying side by side in an East Jerusalem hospital while donating blood for the victims would be the best way to express our solidarity with the Palestinian people. Simultaneously, this action could provide an alternative vision, the possibility of living together.
Two hours before we reached the hospital, a suicide bomber exploded himself outside a Jerusalem synagogue, killing ten Jews. His assault, like those perpetrated by the Israeli military, confirmed our claim that eventually "the blood will drown us all."
On March 16, Ta'ayush sent a second convoy of supplies to Ramallah and this coming Saturday we intend to march to the Bethlehem checkpoint with another truck full of basic foodstuffs and medical supplies. We are currently organizing additional convoys to Jenin, Salfit, and al-`Arub refugee camp.
For more information including pictures of these activities visit our unofficial website at http://taayush.tripod.com.
Thank you again for your support.
Donations can be sent to Ta'ayush care of: Elizabeth Rottenberg, 1210 St.Paul St.,Apt.2F, Baltimore MD 21202. All checks should be made out to Ta'ayush.
from ATC 98 (May/June 2002)