Against the Current, No. 94, September/October 2001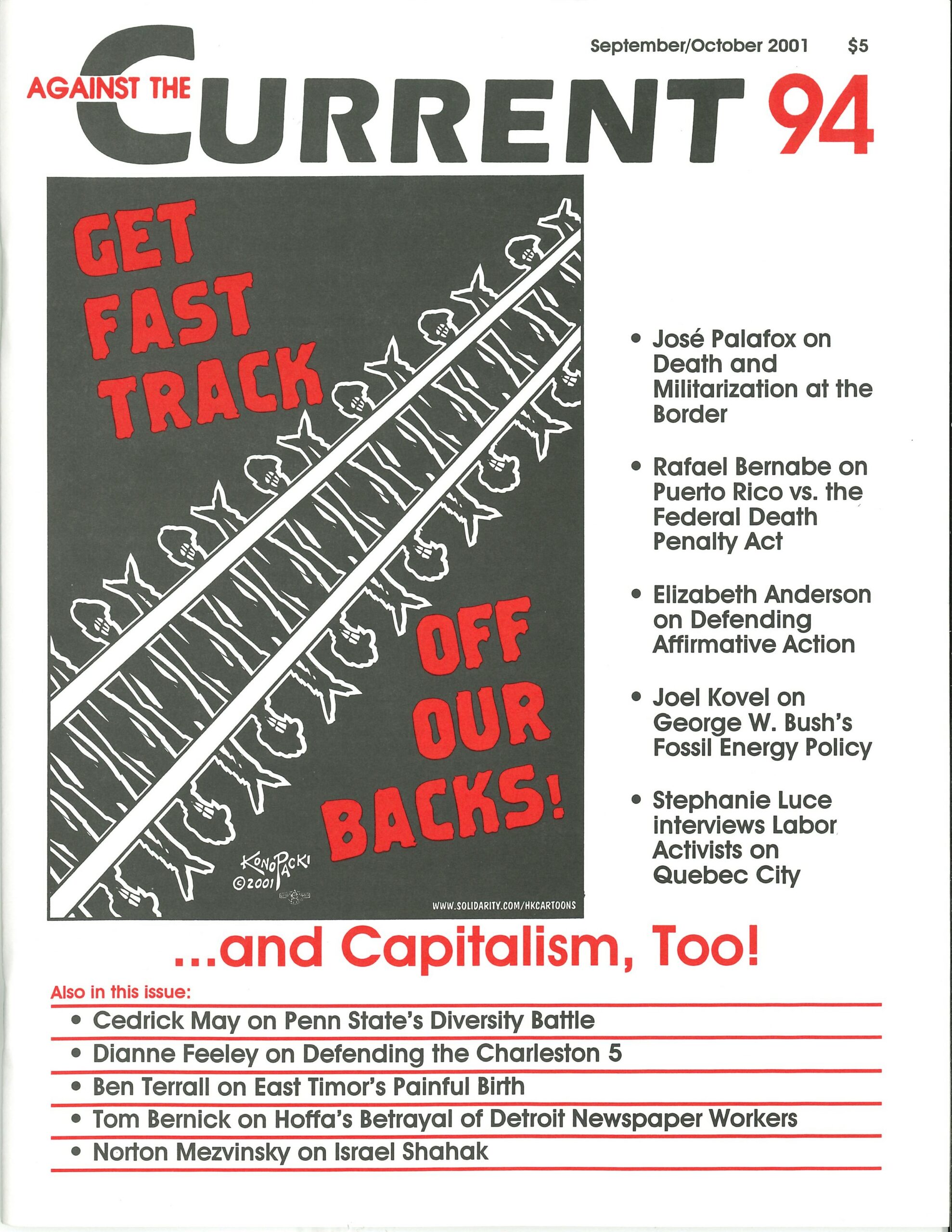 [The following article was written before the August 30 election to the East Timor Constituent Assembly. An accompanying article discusses some of the political parties and individuals involved in the elections.]
THOUGH THE EAST Timorese people are finally free of Indonesian military domination, their struggle to rebuild and achieve peace with justice remains daunting. Officially Washington is supportive of East Timor's emergence as the world's newest nation, but a brief overview of events since East Timor's independence vote two years ago shows that the U.S. government still prioritizes "stable" relations with resource-rich Indonesia.
On July 4, 2000, more than fifty East Timorese held a demonstration at the U.S. Liaison Office in Dili, East Timor's capital. Calling themselves the 1975-1999 Alliance for Justice, the activists chose a U.S. Independence Day celebration to call attention to the history of U.S. support for the Indonesian military's reign of terror.
Protestors distributed a pamphlet calling on the U.S. to:
"1) Release all U.S. government documents relating to East Timor from 1974 through 1999, including intelligence files, transcripts of meetings, and transcripts of intercepted communications between and within the different sectors of the Indonesian military and government;
"2) Create an independent commission composed of academic experts on U.S. foreign policy, East Timor and Indonesia, human rights advocates, and international legal specialists with full subpoena power to investigate, analyze, and report on U.S. involvement in Indonesia's 1975 invasion of East Timor and the subsequent occupation;
"3) Apologize publicly to the people of East Timorese for U.S. complicity in the well over 200,000 deaths, massive human suffering and destruction that took place during Indonesia's invasion and occupation; and, on this basis;
"4) Begin discussions with representatives from the various sectors of East Timorese society regarding reparations from the United States Government to the people of East Timor; and
"5) Actively support the establishment of an international war crimes tribunal to investigate and try those guilty of war crimes and crimes against humanity in East Timor from 1975 through 1999."
The United States "Contribution"
Gary Grey, a U.S. diplomat present at the festivities, gave the official Washington position on such questions when he told an AP reporter, "It's better to concentrate on the future than to rehash the past." Another official added that no other country had contributed as much to East Timor's reconstruction.
But given the scale of twenty-four years of destruction and terror — and the fact that much of the aid ends up in the pockets of what some call the "humanitarian industrial complex" — one can seriously question the adequacy of U.S. aid.
When the Indonesian armed forces and their militia proxies laid siege to East Timor in September 1999, destroying more than seventy-five percent of the territory's infrastructure and forcing hundreds of thousands into exile, the Clinton administration wasted crucial days encouraging its allies in Jakarta to "invite" international troops to East Timor.
Washington even sanctioned an absurd declaration of martial law (a state the territory had effectively been under since the Indonesian military's December 7, 1975 invasion), allegedly to weed out Indonesian troops disobeying orders. The administration did not back an "intervention" until the worst of the violence was over.
Though the United States, Australian and Indonesian governments repeatedly stated that the September, 1999 destruction was a "rogue operation" carried out by renegade soldiers and East Timorese militias upset at a population that refused to knuckle under, the removal of 250,000 people (roughly one-third of the total population) to Indonesian-controlled West Timor in less than a week could not have been accomplished without the coordinated participation of the Indonesian navy, air force, and army.
It is assumed that at least 2,000 East Timorese were killed in the orgy of destruction; death toll estimates are difficult as many victims were killed at sea and the United Nation's commitment of forensics experts came late and was at best exceptionally limited.
Ongoing Killing Campaign
In the fall of 1999, Australian-led "Interfet" troops belatedly drove most remaining militiamen into Indonesian West Timor, but the paramilitary killers, and their special forces backers, were soon using refugee camps as staging grounds for cross-border raids, targeting and killing East Timorese civilians.
Militias also repeatedly harassed humanitarian aid workers assisting East Timorese in the West Timor camps. There were over 100 reported attacks on UN workers between September 1999 and September 2000.
On September 6, 2000, three international staff members of the United Nations High Commissioner for Refugees (UNHCR) in Indonesian-controlled West Timor were hacked to death and set alight by militias as police stood by and did nothing.
This slaughter briefly brought the world media's attention back to the West Timor camps, though few news outlets mentioned that an unknown number of East and West Timorese civilians were killed along with the UN workers from Croatia, Puerto Rico and Ethiopia.
Strong statements came from Washington, and World Bank President James Wolfensohn wrote Indonesian President Abdurrahman Wahid, "I would ask you to do your utmost to stop the violence before any more innocent lives are lost."
Referring to an impending meeting of the largest donors (both countries and agencies) to the World Bank's Indonesian programs, Wolfensohn told Wahid that "I look forward to being able to report to donors at next month's Consultative Group meeting that the violence has ended, that the United Nations has been able to resume its humanitarian activities and that those who want to return home to East Timor are now being allowed to do so in safety."
He further reminded the Indonesian leader that "this is . . . an issue watched closely by the international community."
But despite this implied threat of financial sanction, the military did little more than go through the motions of cleaning up its act. Sergio Vieira de Mello, head of the interim UN administration in East Timor, called Indonesia's follow-through on disarming militias "pathetic."
In the end the West Timor killings did not get in the way of international business as usual, and the Consultative Group on Indonesia duly pledged $5.3 billion to Jakarta.
Limited Aid
There were clearly limits to how far Washington would go: Though U.S. ambassador to the United Nations Richard Holbrooke made tough public statements condemning conditions in the West Timor camps, in the course of praising veteran Suharto apologist Paul Wolfowitz (now George W. Bush's Deputy Secretary of Defense), Holbrooke told an audience in Bologna, Italy in May 2000, "Paul and I have been in frequent touch to make sure that we keep [East Timor] out of the [2000] presidential campaign, where it would do no good to American or Indonesian interests."
The UN International Commission of Inquiry on East Timor wrote in its January 31, 2000, report to the UN Secretary General: "The intimidation, terror, destruction of property, displacement and evacuation of people [in 1999] would not have been possible without the active involvement of the Indonesian army, and the knowledge and approval of the top military command."
The Commission went on to recommend: "The United Nations should establish an international human rights tribunal consisting of judges appointed by the United Nations, preferably with the participation of members from East Timor and Indonesia."
As of this writing that has not happened. While more than a year ago the UN Security Council called upon Jakarta to bring to justice those responsible for the 1999 violence "as soon as possible," the intellectual authors and the agents of East Timor's destruction remain untouched by prosecution.
And investigations by the Indonesian Human Rights Commission, KPP-HAM, the Indonesian Attorney General (and most UN investigations) have focused on crimes committed in 1999, leaving aside the more than two decades of atrocities leading up to the fall 1999 bloodshed.
Protection for the Criminals
In April 2001, then Indonesian President Wahid issued a decree stipulating that the new human rights tribunal would only hear cases from after August 30, 1999, effectively eliminating the possibility of prosecuting scores of military officers responsible for crimes against humanity.
The new president, Megawati Sukarnoputri, recently revised this decree, and is even more hostile to human rights tribunals. She opposed East Timor's independence, and is a strong supporter of the military and its campaign to violently suppress independence movements throughout the archipelago.
Adding insult to injury, she has appointed Eurico Guiterres, among the worst East Timorese militia leaders, as the head of the youth wing of her party.
In early May, an Indonesian court sentenced six East Timorese militiamen responsible for the September 2000 killings of the three UNHCR workers to prison terms of 10-20 months. The killers, who boasted of what they had done, were convicted of conspiring to foment violence, not murder.
Meanwhile, more than twenty months after the vote for independence, up to 80,000 East Timorese continue to languish in militia-controlled refugee camps in West Timor. Humanitarian organizations report as many as five deaths per day in the camps, with conditions worsening.
"The refugees in the camps are suffering great hunger. They have had no support from local aid groups since January and from international agencies since September," Jesuit Refugee Services, the only international organization regularly in the West Timor camps, reported this spring.
Rape, sexual enslavement, and other forms of violence against women are prevalent in the camps. Militias have continued cross-border incursions, firing machine guns and throwing grenades at UN peacekeepers and East Timorese.
"Walking Together"
La'o Hamutuk ("walking together" in Tetum, East Timor's indigenous language) is a joint East Timorese-international organization, which has provided consistent support for grassroots voices like the NGO Forum.
The International Federation for East Timor, a coalition of solidarity groups that coordinated UN-accredited observers who monitored the 1999 referendum process, helped create La'o Hamutuk, which exists "to monitor and to report on the activities of the principal international institutions present in Timor Loro Sa'e as they relate to the physical and social reconstruction of the country."
Its bulletin (available in English, Indonesian and Tetum at www.etan.org/lh) provides excellent coverage of UN, World Bank and international non-governmental organizations in East Timor.
The LH bulletin has protested inadequate representation of East Timorese in the interim government of the UN Transitional Authority in East Timor (UNTAET), and has published documentation of the staggering differential in UN salaries between international and East Timorese workers.
Though it is not necessarily unreasonable that international workers should be adequately compensated to cover their expenses at home in the "developed world," it is unconscionable that the average international staff person is paid more than thirty times the average local UNTAET staffer.
Given that East Timor is a communal society in which more fortunate people support those in need and, thanks in no small part to the dictates of the IMF and the World Bank, East Timorese unemployment hovers at around eighty percent, the several thousand East Timorese employed by the UN (who make an average of $240 per month) are supporting extended networks on pay inadequate for a single person.
Salaries for East Timorese employed by the East Timor Transitional Authority (ETTA) are even lower, averaging $123 a month. The ETTA will become East Timor's administration when UNTAET leaves next year, and officials justify low salaries by asserting that there is not enough money available to pay local staff the same level the UN pays.
Meanwhile UN "volunteers" receive an average of $2,250 per month, contributing to inflation and other distortions of East Timor's economy.
In prioritizing open markets, which a high-ranking UN official called "the only remotely viable means of pulling billions of people out of the abject poverty in which they find themselves," the UN and World Bank are supporting a two-tier economy.
Grassroots Assistance Needed
A U.S. activist working in East Timor recently wrote, "My mom read that the kids here don't have notebooks and wanted to help — the thing she can do that will best insure long term notebooks for the masses is press the U.S. government to push Indonesia to disarm the militia, leave the border alone, send the refugees back and allow an international tribunal! Without that, resources will be squandered arming the border and squabbling with the militias."
East Timorese working for alternatives to the "Washington consensus" on development priorities need the continued solidarity of U.S.-based activists in their struggle. Ties to grassroots activists and organizations in East Timor, and initiatives like the "Sister City" project between the East Timor Action Network's Madison, Wisconsin, chapter and the East Timorese town of Ainaro, will be of continuing importance.
And as the State Department and Pentagon move toward "reengagement" with the Indonesian armed forces, ETAN will work with the newly-formed Indonesia Human Rights Network and other anti-militarist groups to oppose aid to Jakarta's armed forces, and to push for both an international tribunal for war crimes committed in East Timor and a return of all forcibly displaced East Timorese who wish to return to their homeland.
from ATC 94 (September/October 2001)