Against the Current, No. 93, July/August 2001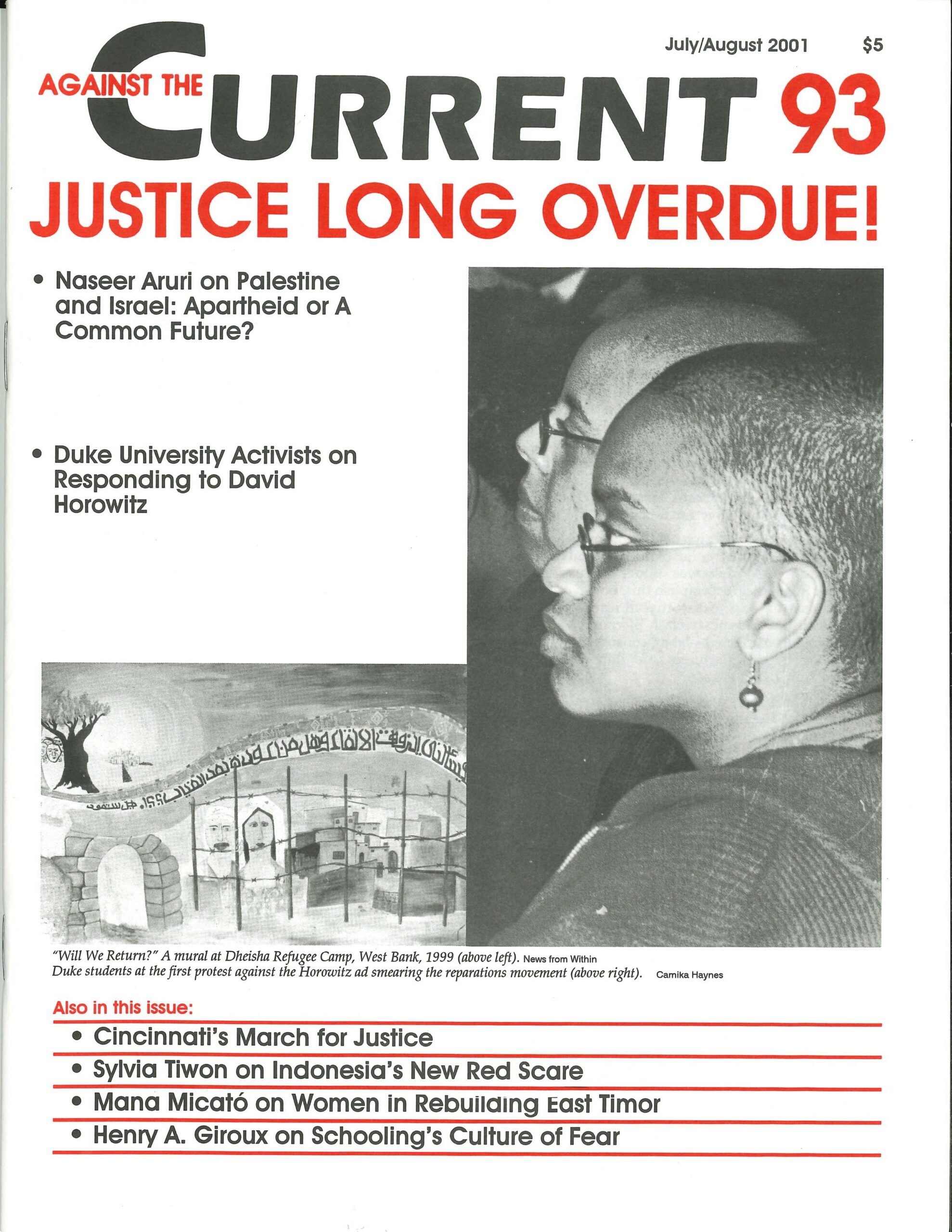 I FIRST ENCOUNTERED the photographic work of Charles "Teenie" Harris as a weekend visitor to the wholesale food market known as the Strip District in downtown Pittsburgh, where for more than a decade a man named Dennis Morgan sold reprints of Harris' work for $15.
During my weekend visits to the Strip, I remember being particularly struck by a series of photographs Harris had taken of Cassius Clay. In one photo Clay held his mother in his arms while standing in a kitchen; in another, Clay's smooth young profile was captured in a close-up while he was talking on the telephone.
These photographs reminded me of images of the young Elvis: so fresh and raw that they possessed only the slightest hint of the man that Cassius Clay (Muhammad Ali) would later become.
In a similar way, because of the piecemeal way that Dennis Morgan distributed Harris' photographs, there was only the slightest hint of the man that Charles "Teenie" Harris had been.
Now, finally, and after far too long, Harris is getting the recognition he deserves. His first one-man show in a major gallery, "Spirit of a Community: The Photographs of Charles `Teenie' Harris" is on display at the Westmoreland Museum of Art in Greensburg, PA. In addition to showing his photographs, the Westmoreland exhibit offers some clues to the dramatic story of Harris' life.
A Chronicle of Life
Born in 1908, and photographed with a camera in his hands at the age of three, in the late 1920s Harris borrowed $350 from his oldest brother, "Woogie" Harris (a neighborhood numbers man and community philanthropist), to open his own studio in "The Hill."
The Hill District, which overlooked downtown Pittsburgh, contained one of the most culturally and politically vibrant Black communities in America during the 1930s, 1940s and 1950s. While still maintaining his studio business, in 1931 Harris joined the staff of the largest circulation Black newspaper in the country: The Pittsburgh Courier.
For the Courier Harris photographed fires, murders and political events, as well as the Black celebrities that frequented Pittsburgh during the American mid-century. He photographed musicians (Duke Ellington, Billy Strayhorn, Louis Armstrong), entertainers (Lena Horne, Paul Robeson), political figures (John F. Kennedy, Martin Luther King, Jr., Jesse Jackson) and sports figures (Jackie Robinson, Josh Gibson, Joe Louis).
According to Frank Bolden, then editor of the Courier, Harris had a better sense for news than many of the Courier's beat reporters, "because every picture he took had a story behind it."
Harris also photographed the decidedly ordinary scenes of daily life in the Hill, including ballet classes, teenage girl basketball players, children playing in an open fire hydrant, a girl and her dog immersed in a comic book, a waitress at the legendary Crawford Grill, a soda jerk at a drugstore counter, elderly women on a porch swing, a female disc jockey, a coal miner, members of the steelworkers union, and street demonstrations against workplace discrimination.
A Community's Image
Bolden used Harris' photographs to offer a positive vision of Pittsburgh's Black community. While the mainstream press showed African Americans as either roughnecks or entertainers, and while other notable Black photographers like James Van Der Zee and Gordon Parks created highly aestheticized images of African Americans, Harris' photographs showed the simple pleasures of everyday Black life, from the dance halls and "sandlot baseball" games, to Sunday services, back yards, and workplaces.
It is tempting to compare Harris' news photographs of fires and street car accidents with those of the legendary New York news photographer "Weegee" (born Arthur Fellig), who used a similar large format camera to capture Manhattan night life during the 1930s and 1940s.
As William McCleery noted, Weegee took his camera "and [rode] off in search of new evidence that his city, even in her most drunken and disorderly and pathetic moments, [was] beautiful."
An important difference between the two photographers, however, is that Harris did not look for beauty in places of drink and disorder.
In an interview toward the end of his life, Harris claimed that he did not even like to photograph in pubs and bars. He found beauty in the faces of the people who were his friends and neighbors, often coaxing a smile with his own creative dance-steps and disarming likability.
Moreover, Harris' photographs provide a compelling record of working-class American life in the post-war era. While images culled from Life magazine depict a mostly white American middle-class homogeneity, in Harris' photographs from the same period we can see the pride that Black Pittsburghers took in their steel mills, restaurants, pool halls, barber shops, drugstores, coal mines, hotels, corner stores and railroads.
We also see African Americans fighting collectively for better jobs in "white" establishments, as in the photograph of two gracefully dressed Black women holding a sign that reads: "Isaly's discriminate against Negroes by refusing to hire them as counter clerks."
A Legacy Reclaimed
Harris himself was a member of the photographers' union. While he complained that he was poorly paid at the Pittsburgh Courier, throughout his career he never accepted the higher-paying jobs he was offered at white newspapers.
Towards the end of his life Harris made a deal with Dennis Morgan to distribute his work, in return for a share of the profits. When Morgan, while possessing Harris's negatives, reneged on the deal to share the revenues from their sale, Harris found an ally in Cynthia Kernick, a lawyer with Reed Smith L.L.P.
She and other members of her firm agreed to work on Harris' case free of charge, and after a two-year lawsuit, and "Teenie" Harris' death at the age of 89, the photographs were returned to the Harris family.
It is ironic, of course, that the first major show devoted to Harris, a man who rarely left the Pittsburgh city limits, is about an hour's drive from the center of town.
Nonetheless, this show is still a great victory, stressing how important it is for marginalized peoples to own the means of reproduction. Finally, this show is a powerful reminder of the beauty in work: the beauty in the work of photography itself, as well as the beauty in the hundreds of Black workers whose pride Harris captured in a flash.
from ATC 93 (July/August 2001)