Against the Current, No. 93, July/August 2001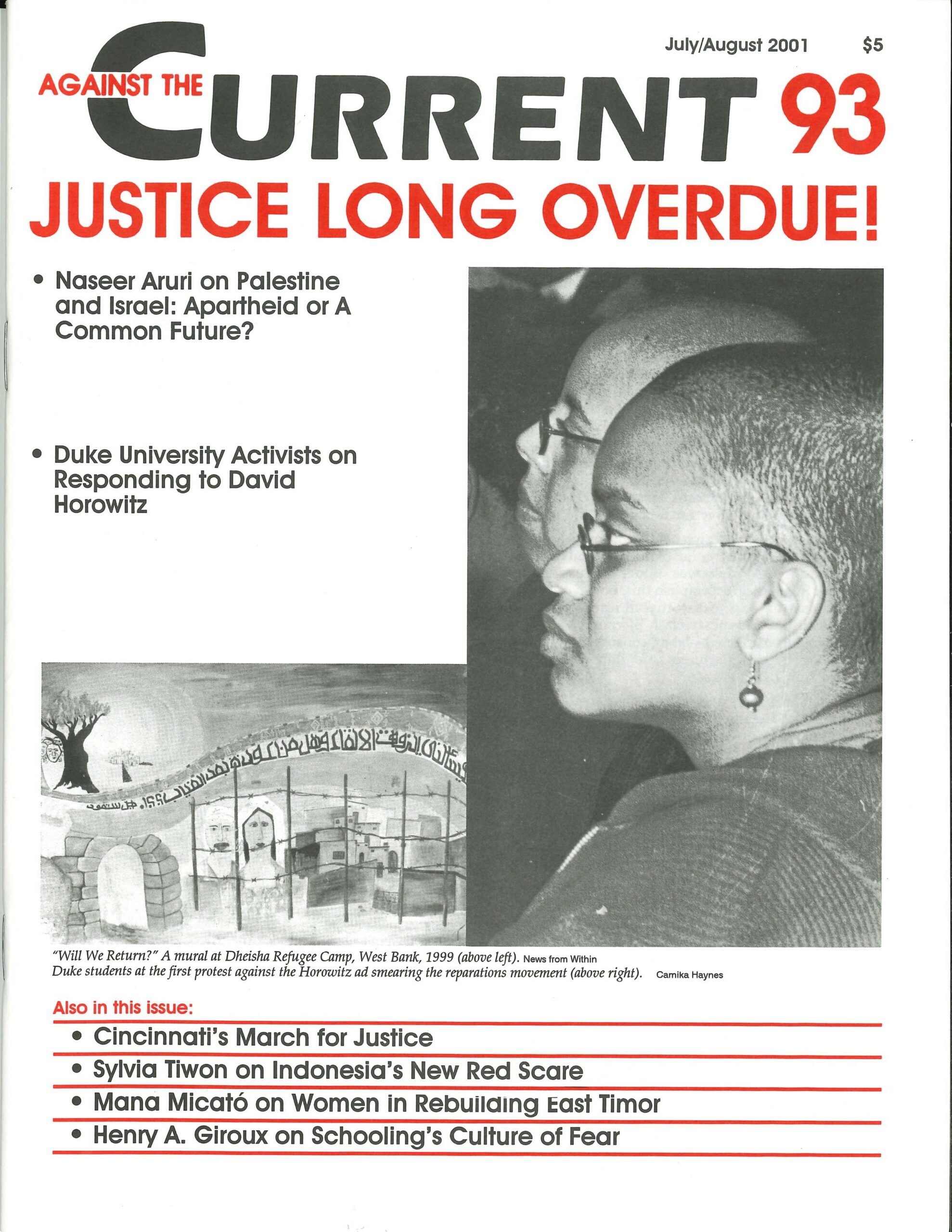 SARAH WIGFALL AND Camika Haynes are initiators and organizers of the Duke Student Movement, which sprang up when The Chronicle, the campus paper at Duke University, published the infamous ad by David Horowitz, Ten Reasons Why Reparations for Slavery are a Bad Idea for Black People — and Racist Too. (For background see "A Response to David Horowitz" by Douglas Taylor in our previous issue, ATC 92.)
David Finkel from the ATC editorial board conducted this interview by email and phone with Sarah Wigfall. She will be a senior at Duke this fall. Many thanks also to Camika Haynes for supplying the photographs.
Against the Current: After the smoke has cleared from the Horowitz ad, what has your organizing accomplished in raising consciousness or building some ongoing organization around racism and reparations?
Sarah Wigfall: The Duke Student Movement has made a number of accomplishments, of which I am very proud. First, we have made The Chronicle more aware of its diverse readers, letting them know that we simply will not stand for racism in our school publications.
Second, we have forced the administration to take notice of campus racial issues and step up to make Duke a more conducive and supportive learning environment for ALL of its students. Thirdly, the Movement has strengthened relationships between members of Black undergraduate, graduate, faculty and administration.
Finally, we have acquired the promise from administration to create a much-needed multicultural center in a visible area on campus.
ATC: Please tell us how students responded to the Horowitz thing. What kinds of actions took place? How many were involved? What was the ultimate result?
S.W.: There were about 250 initial protesters who met in the Alumni Lounge to express how the Horowitz ad affected them on a personal level. We collected over 400 signed petitions demanding that The Chronicle and administration fulfill specific requests, and over 150 students marched silently into President Keohane's office to present these demands.
We also had scheduled protests that took place at the West Campus Bus Stop and outside of the McDonald's All-American Basketball game in Cameron. Today, we have an active group of about 100 persons from all areas of the Duke and Durham community who meet regularly to continue discussion on how to improve the racial climate at Duke University.
A majority of our active supporters were Black, but we had a spectrum of support including white and Asian students. I believe the overall proportion of Black students at Duke is around 8-9 percent. My class, the Class of 2002, has 10 percent Black students, the highest proportion in the university's history.
ATC: What was the response of the university administration? Cooptation? Threats of repression?
S.W.: The University responded reasonably well. President Nan Keohane responded to us in a timely manner and seemed to empathize with our cause.
The Chronicle has not been responsive. We demanded an apology but did not receive one. We also demanded space for a researched piece to refute Horowitz's arguments. We received no response.
While all of our initial demands were not met, I'm grateful that we have the administration's attention and hope that we can work together to ensure fair treatment of each and every Blue Devil [Duke student –ed.].
ATC: Historically, when students began organizing around some immediate question (free speech, war, etc.) all kinds of broader issues soon arose (the nature of the university, institutional racism and so forth). As your organizing took place around the Horowitz ad, did broader issues arise?
S.W.: The broader issues that arose centered around the mistreatment of racial minorities on this campus. We have dealt with issues regarding racial hate crimes, specifically in connection with Asian students, one of whom was allegedly harassed and received unsigned threats.
There are issues of unequal funding for and inadequate media coverage of minority events, and inadequate space allocation for minority centers. The Mary Lou Williams Center [named for the famous jazz pianist –ed.], which is the official center for Black students, is located in the basement of the West Union building, basically one room and invisible from the campus.
A weekly poetry reading that took place there, the Blue Roach, couldn't get funding even though it had been going on for two years. It has subsequently been canceled.
Since the protests the administration has decided to expand the Mary Lou Williams Center. I am not sure of the specifics, but this is a gain we've made.
ATC: How do you assess the nationwide activism that took place around the Horowitz ad — and the present state of the reparations movement? What are your own plans for picking up the struggle in the fall?
SW: I have mixed feelings about the debate over reparations. On a personal level, I don't believe that any amount of money will ever "repair" the effects of slavery. There are numerous psychological and social ramifications of slavery that will never be corrected by a check, regardless of the amount. Instead, I think the government should work to ensure equality by improving housing, schools, and businesses in minority areas.
A number of active members in the Movement have remained here at Duke for the summer, so we're formulating plans of how to keep things motivated in the fall. I will be returning home (Atlanta, GA) in July, but I plan to come back to school early to continue the effort.
from ATC 93 (July/August 2001)