Against the Current, No. 93, July/August 2001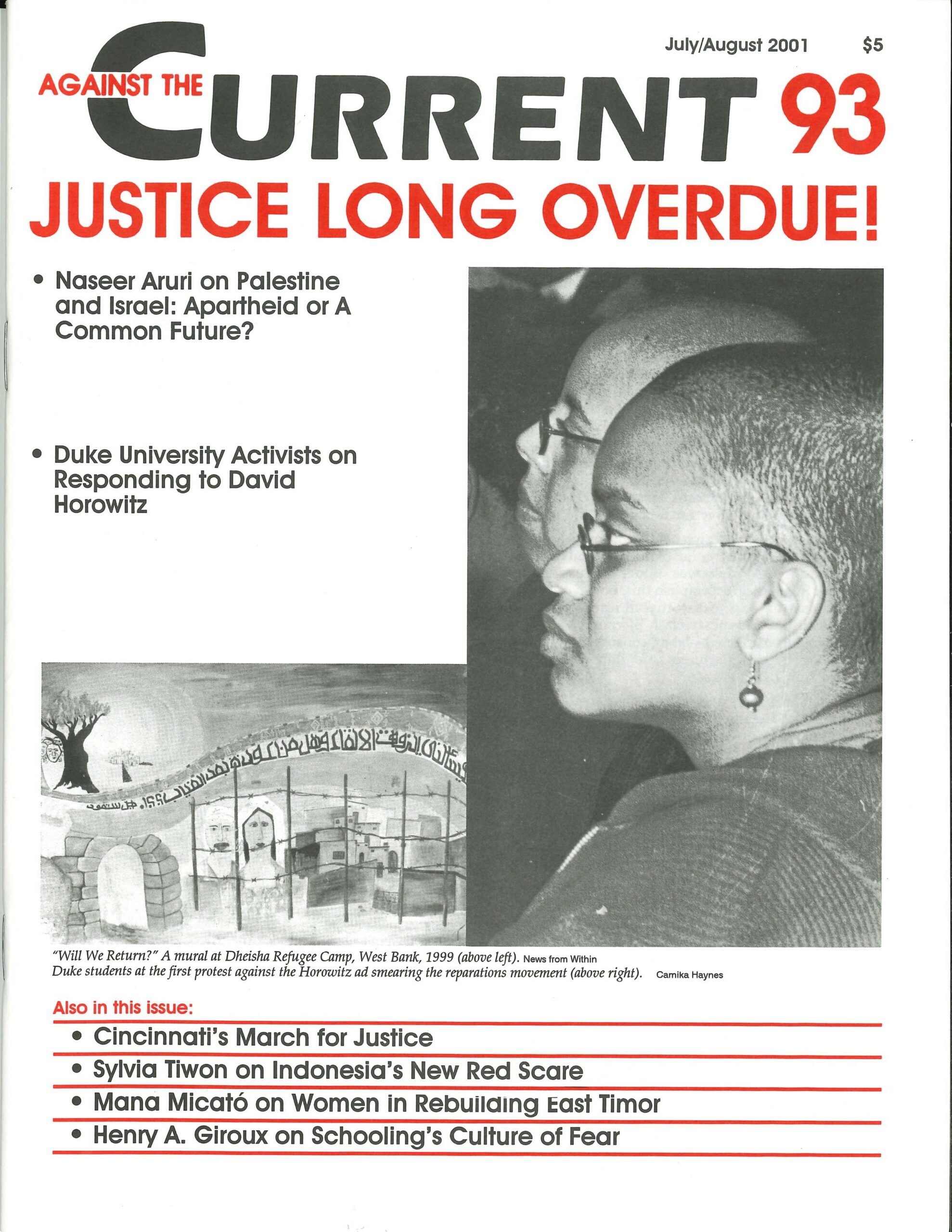 statements by the organizers
THREE THOUSAND PEOPLE (according to Cincinnati police estimates) joined the March for Justice through downtown on Saturday, June 2, in response to police brutality and official indifference. The march was preceded by a rally in Fountain Square, addressed by a broad range of speakers from a former governor to youth and religious leaders to Angela Leisure, the mother of Timothy Thomas.
We present here excerpts from the statement distributed by the Committee for the March for Justice, titled "No Justice — No Peace. Do we want peace, harmony and safety, or a long hot summer?"
–The editors of Against the Current
THE KILLING IN early April of Timothy Thomas, a 19-year-old African American, is the latest in a series of Cincinnati police killings of young black men in the last five years. Self-defense was the justification given after chasing Thomas into a dark alley, even though he turned out to be unarmed and charged with misdemeanors.
The current policy on pursuit is truly a recipe for tragedy. Yet not a single white official in the City government or Police Department has condemned this policy which we believe represents both police abuse and racism. No personnel, policies or procedures have changed.
Timothy Thomas was no threat to our community, but Mayor Luken says "I don't get it" about all the protest. Therefore, we are here today to:
* stop police killings and the abuse of police power
* end the police department's racist patterns and practices
* build social and economic justice
Our March for Justice is multiracial, legal, nonviolent and determined to make sure the Cincinnati establishment finally "gets it." People taking a stand for justice are in our march to show the power of a united movement with clear goals.
If police policies don't change and the economic problems facing Cincinnati residents are not addressed, we can look forward to more than a summer of depressed downtown business and declining convention bookings. Cincinnati will become the poster child of racism in America, and a lightning rod on police brutality.
We are protesting police brutality, but we have other concerns. Cincinnati needs economic and social development that benefits all citizens, not just corporations and sports franchises. For areas like Over-the-Rhine, the West End and many other neighborhoods what we need is not gentrification and "Black removal" but improving existing communities.
Most of all, we need policies that benefit employment. We need:
* a "living wage" for all city employees, contractors, and suppliers
* "card check" (so workers can join unions to
get decent jobs)
* no more privatization (replacing union jobs with minimum wage/no benefit jobs)
No justice — No peace . . . Join the solution or keep the problem.
THE FOLLOWING WAS written by Lon Coleman, one of the fifty organizers of the March for Justice, and read to an evaluation meeting where it was roundly applauded because it caught the mood of everyone involved. He was also a member of the 25-person Steering Committee, which met weekly in preparation for the march. –Dan LaBotz
My Observations On The March
DESPITE LESS THAN perfect weather.
Despite minimal coverage by the major news media, and when the coverage did occur it was shoddy, inaccurate, and biased toward fearmongering.
Despite heavy handed tactics by the police and city hall, like press releases which listed in disturbing detail the formidable police armaments to be made available for the march, and predictions of violence, hysteria, and chaos at the march.
Despite disingenuous negotiation by the police and safety department on key march milestones, like the parade route.
Despite sometimes petty, and energy consuming bickering, and ideological posturing at many march planning meetings.
Despite our own, and including my own, significant shortcomings and mistakes.
Despite our own, and including my own, inexperience.
Despite having only a meager budget.
Despite all of these things.
The March still accomplished its goal of a massive, peaceful, and legal march. This March brought thousands of people into the streets. Many, possibly most, had never engaged in an organized protest before. I talked with them. They were moved.
This speaks directly to the great appeal of the basic March call, the gravity of the police killing unarmed citizens, and the tenacity of our group commitment.
I am amazed at what a collection of humans can accomplish, even if their only resources happen to be the moral high ground and sweat.
Right and work make a formidable combination.
from ATC 93(July/August 2001)