Against the Current, No. 92, May/June 2001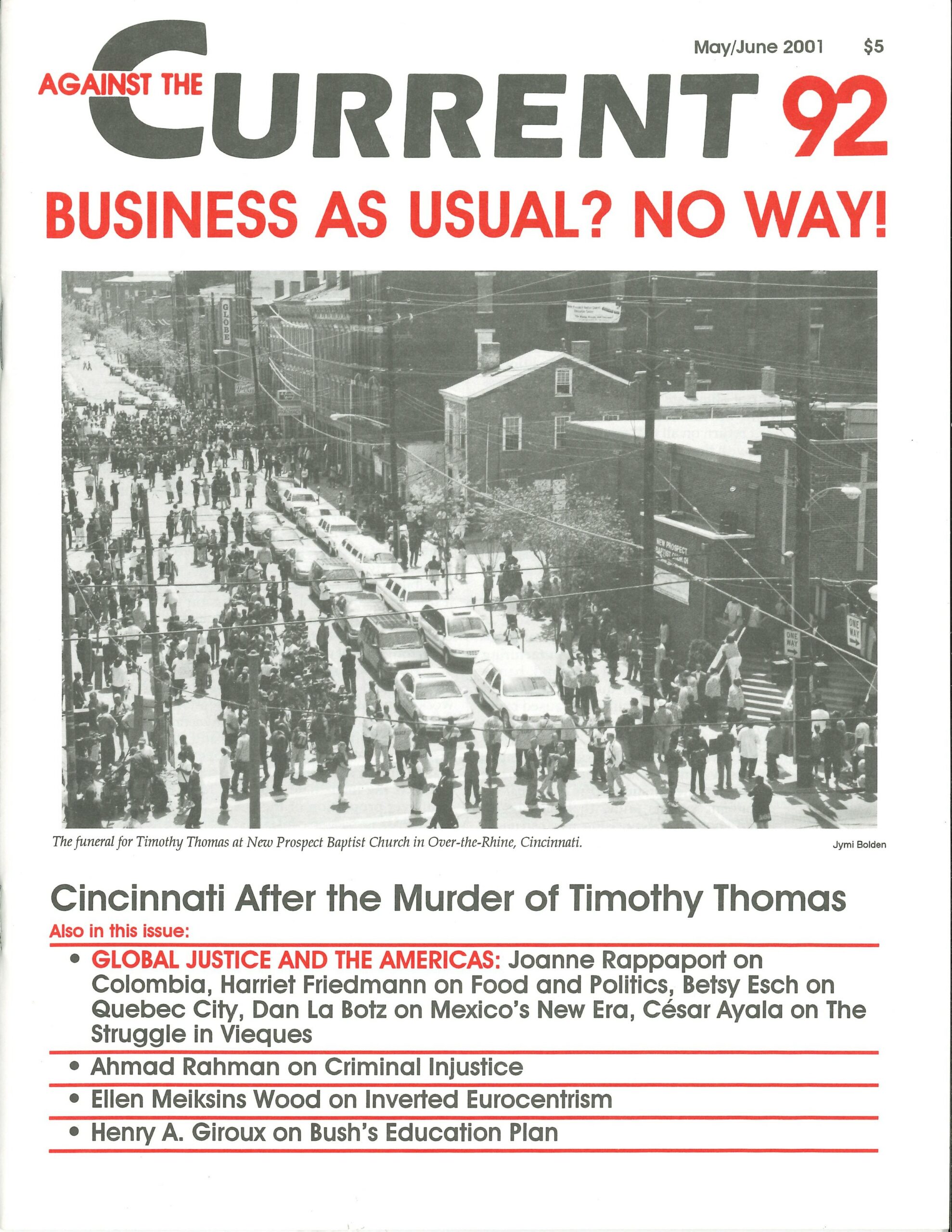 ACTIVISTS IN THE campaign to win freedom for former Black Panther Mumia Abu-Jamal, on death row in Pennsylvania, gathered in Washington D.C. March 30-31. About 400 attended a rally on Friday evening and 150, from as far away as Europe and California, participated in planning sessions on Saturday.
They took note of important developments over the last year in Mumia's legal situation and made plans for the next round of actions in Philadelphia and San Francisco during the weekend of May 11-13. Projections also reaffirmed a major mobilization whenever Federal District Court Judge William Yohn holds a hearing in the case.
As a complement to the "International Day of Solidarity with MumiaAbu-Jamal" on May 12, a May 11-13 youth encampment for Mumia will be held on the steps of Philadelphia's City Hall.
May 13 is the anniversary of the fire-bombing by the city of Philadelphia against the MOVE organization in 1985, which killed six adult members of the group along with five children. The fire burned down an entire city block. Mumia, a radio journalist (before his frame-up trial in 1983 for the killing of Police Officer Daniel Faulkner) had a history of reporting accurately on the city's persecution of MOVE, and this is what gained him the enmity of Philadelphia authorities.
Crucial Mobilization
Another key in the plan to continue rallying public support for Mumia will be the mobilization at the time of his federal court hearing. This may well be the only hearing Mumia gets at the federal level since any subsequent hearing is discretionary.
Much of the evidence about Mumia's case which is available to the general public — witnesses who have recanted and tell stories of police coercion in 1982, ballistics evidence that completely contradicts the prosecution's version of events, the phony "confession" story, etc. (evidence which has convinced literally millions around the world that Mumia was the victim of a government-sponsored frameup) — is not part of the written record now before the federal courts. It was excluded from the transcript by the original trial judge, Albert Sabo, who also heard Mumia's appeal for "post-conviction relief" at the state level in 1995. As a result of the "Effective Death Penalty Act" passed in 1996, federal courts are now supposed to accept the "facts" of cases as they were established in the state courts, which in this case means Sabo's record.
However, there is some discretionary power for federal judges in situations where they deem the state process "unreasonable." By any normal standard this certainly ought to apply in Mumia's case, but there is no guarantee that it will. And in a number of recent key rulings Yohn has indicated that he is not inclined to let Mumia introduce new evidence.
If Yohn refuses to open up the record and hold hearings where new facts can be introduced, Sabo's record will be all that federal judges consider as the case makes its way through any process in higher courts. Thus the public pressure that is put on now — and when Yohn holds the one projected hearing, where he will hear oral arguments from attorneys on both sides — may well prove decisive.
"Amicus" Briefs and Amended Petition
Last year significant new facts in the case were revealed through the filing of four "Friend of the Court" or "Amicus Curiae" briefs. Judge Yohn rapidly ruled that he would not consider them, and the Court of Appeals upheld this decision.
One of the Amicus briefs in particular, filed on behalf of the Chicana/Chicano Studies Foundation (CCSF — a California non-profit organization), contained some startling revelations. Reading through the transcripts of the original trial, the attorneys for the CCSF noted a conference in Judge Sabo's chambers in which Sabo, the prosecutor, William McGill, and Mumia's own court-appointed defense attorney Anthony Jackson were collaborating, apparently along with a State Supreme Court Justice, to defraud Mumia and deny him his right to a fair trial.
Mumia repeatedly asked Judge Sabo to allow John Africa, leader of the MOVE organization in Philadelphia, to sit at the defense table as an adviser. Sabo denied this request each time. During the conference in Sabo's chambers McGill and Jackson reported on an alleged hearing that took place earlier the same day before a single Pennsylvania Supreme Court Justice by the name of McDermott. They stated that Justice McDermott sustained Sabo's decisions regarding John Africa and other matters. Back in the courtroom Mumia was informed by Sabo that Sabo's legal rulings had been upheld by Justice McDermott, acting with the authority of the State Supreme Court.
But from a legal point of view there was no hearing at all. Pennsylvania procedure is quite explicit: No single Supreme Court justice may dismiss or otherwise determine an appeal on such matters. At least two judges must issue any ruling. What's more, there is no written record of any hearing ever taking place, and no recorded opinion by Justice McDermott. Everything is based on oral reports by Jackson and McGill.
When Judge Yohn refused to consider the Amicus briefs, Mumia asked to amend his own petition before the court. But on March 22 Yohn summarily rejected this as well.
Shift in Political Strategy
The revelations in the Amicus briefs (there are others, such as the way Sabo actively worked to create a jury that would favor conviction) have resulted in a shift in political strategy by Mumia and the main national defense organization, International Concerned Family and Friends of Mumia Abu-Jama (ICFFMAJ), based on Philadelphia. For years activists have utilized a variety of slogans ranging from "Free Mumia" to "We Demand a New Trial" to "Stop the Execution."
Until now neither Mumia himself, nor ICFFMAJ has expressed any strong preference, and national mobilizations have sometimes focused on one, and sometimes on another, demand.
However, with the new facts in the Amicus briefs, on top of everything which had previously been known about police, prosecutorial, and judicial misconduct in the case, a decision was made to focus on the demand that Mumia's original conviction be vacated and that he be released from prison. This was the action taken in hundreds of other cases in Philadelphia recently when it became clear that people were in jail as a result of fraudulent evidence presented in court by the police. There is no reason why Mumia should be treated any differently.
Mumia Fires Legal Team
In early March supporters were taken by surprise when Mumia announced that he was firing the team of attorneys who have been handling his case in recent years. This was precipitated when one of them, Dan Williams, announced that he was about to publish a book — billed as an "inside account" of the case. Mumia had not been informed that Williams was writing the book, nor was he consulted about its contents.
In papers filed with Judge Yohn Mumia cites "the Rules of Professional Conduct [which set forth] several `Prohibited Transactions,' among which is a prohibition against making or negotiating a literary agreement based substantially on information acquired by way of a lawyer's representation.<170> He states: "Counsel has created a clear undeniable conflict of interest based upon the said publication of an `inside account' which constitutes a breach of client loyalty."
In addition to Williams, Mumia also fired lead attorney Leonard Weinglass. Pam Africa, leader of ICFFMAJ, explained this action when interviewed by New York's widely-read Black paper, the Daily Challenge: "He brought Dan Williams in. He knew about the book and did nothing to stop it. His priority is supposed to be his client."
In the same Challenge article Williams acknowledges that he had not consulted with Mumia. In later accounts, however, he changed this story, claiming to have given a synopsis of each chapter to Mumia's literary agent. So far he has not attempted to explain this inconsistency.
In a statement issued on March 9, the New York Free Mumia Abu-Jamal Coalition noted that the key thing at this point is to focus on the united actions in the streets necessary to win Mumia's freedom:
"It is essential . . . that we continue to build a united movement, that we not get distracted into discussions about the change in Mumia's legal team. This is a choice for Mumia to make and we should respect his choice. Mumia is not responsible for Dan Williams's decision to write a book, nor for the timing of its publication. None of this changes anything in terms of the facts of the case . . . nor does it alter our political goal: to publicize the state-sponsored frame-up that passed for Mumia's original trial far and wide, and mobilize an outraged public opinion, with a message so strong and in numbers so massive that our demands for justice and Mumia's freedom cannot be denied."
The same message of unity and determination was delivered by the D.C. conference March 30-31. Anyone interested in getting more information can consult: 1) International Concerned Family and Friends of Mumia Abu-Jamal, PO Box 19709, Philadelphia, PA 19143; 215-476-8812; 2) NY Free Mumia Abu-Jamal Coalition, 212-330-8029; www.freemumia.com; 3) Mobilization to Free Mumia Abu-Jamal, 3425 Cesar Chavez, SF, CA 94110; 415-695-7745; www.freemumia.org.
ATC 92, May-June 2001