Against the Current, No. 92, May/June 2001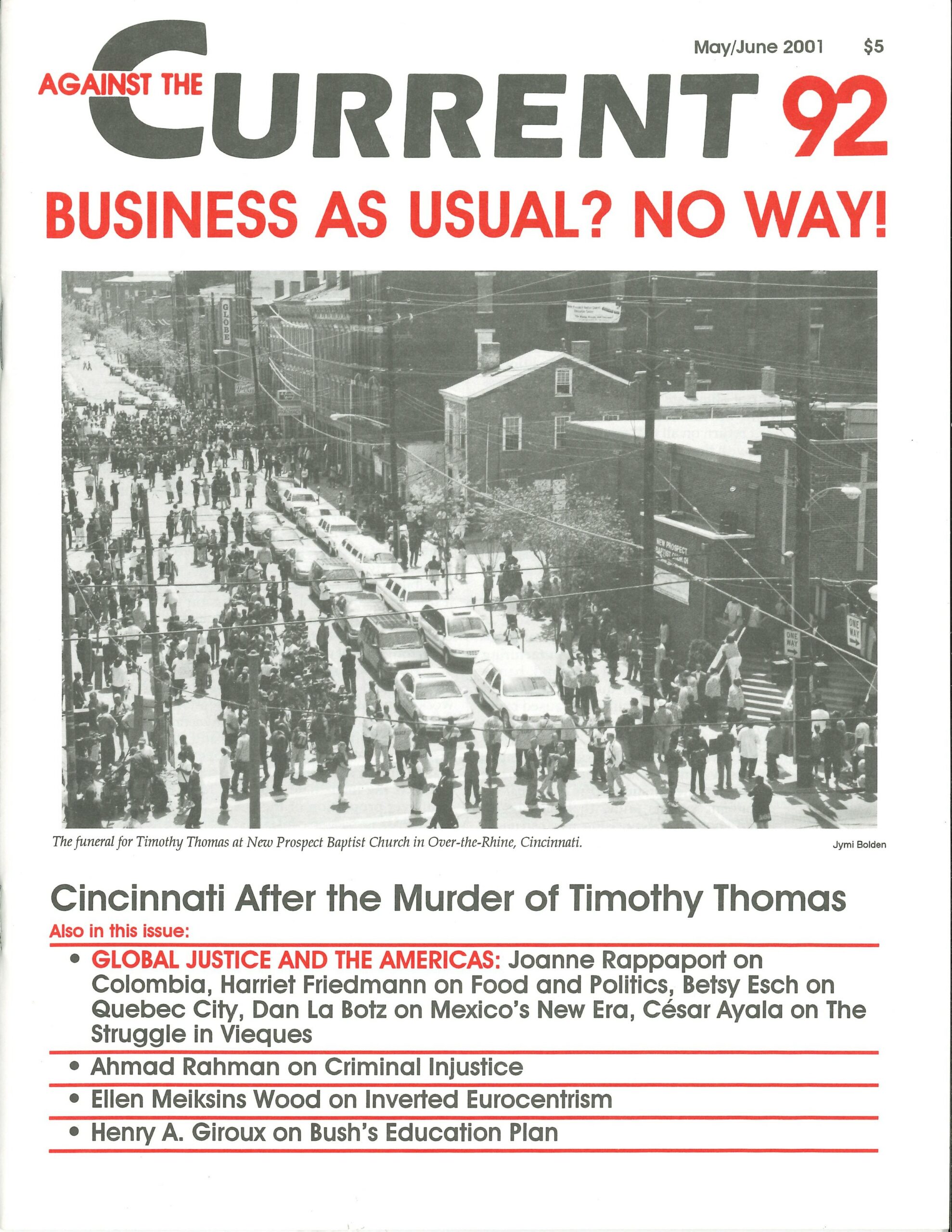 THE INDONESIAN MILITARY is on a rampage. One example is Aceh, the area on the northern-most tip of the Indonesian island of Sumatra. On March 29, the bodies of two human rights activists and their driver were found shot dead. The three men had just left the South Aceh police station after one of the men was summoned for questioning as a suspect in a defamation case involving police.
These killings are only the latest in which the Indonesian military and police have been implicated.
In response to growing violence by Indonesian security forces, almost 200 activists, academics and human rights advocates from Indonesia, Australia, Europe, the United States and elsewhere gathered in Washington, D.C. February 23-25 to attend the Kick-Off Conference of the Indonesia Human Rights Network.
The conference, entitled "Indonesia: A Human Rights Agenda," featured workshops, panel discussions and strategy sessions on topics ranging from Indonesian politics and economics to grassroots activism.
Among the many speakers were Sidney Jones of Human Rights Watch Asia, Hendardi of the Jakarta-based Indonesian Legal Aid and Human Rights Association (PBHI), Liem Soei Liong from the London-based organization Tapol, Charlie Scheiner, National Coordinator of the East Timor Action Network, and Dr. Jeffrey Winters of Northwestern University.
During two strategy sessions, participants prioritized three national campaigns for IHRN:
* Working to support civilian control of the Indonesian military by strengthening the current ban on U.S. training and assistance;
* Generating support for rule of law by assisting judicial reform and pressing for an international tribunal to prosecute those responsible for crimes against humanity committed in East Timor;
* Advocating for assistance for international and Indonesian non-governmental workers, and international presence to help deter further human rights violations in conflict areas.
Participants also discussed various ideas for regional campaigns, including speaking tours, teach-ins, and working together with the anti-sweatshop movement.
IHRN released a statement urging the Bush administration "to stand strongly in support of Indonesian democratization and to maintain and strengthen the current congressional ban on U.S. aid to the Indonesian military."
The conference was dedicated to IRHN founding member Jafar Siddiq Hamzah, by Jafar's sister Cut Zahara. Jafar was an Acehnese human rights activist whose body was found last year in North Sumatra. Jafar founded the New York-based International Forum for Aceh, a non-governmental organization working for a peaceful solution in Aceh.
Human rights activists created the Indonesia Human Rights Network last year to support progress already made by people struggling for democracy in Indonesia. IHRN strives to break the power of the Indonesian military by denying it international support, thus freeing up the peoples of Indonesia to make their own economic and political choices. IHRN supports workers' rights, monitoring the World Bank and IMF, and opposes violence and discrimination against minority racial, ethnic, and religious groups, women and sexual minorities.
If you are interested in the work of the Indonesia Human Rights Network you can learn more by visiting our webpage at www.IndonesiaNetwork.org or calling 202-546-0044.
ATC 92, May-June 2001