Against the Current, No. 91, March/April 2001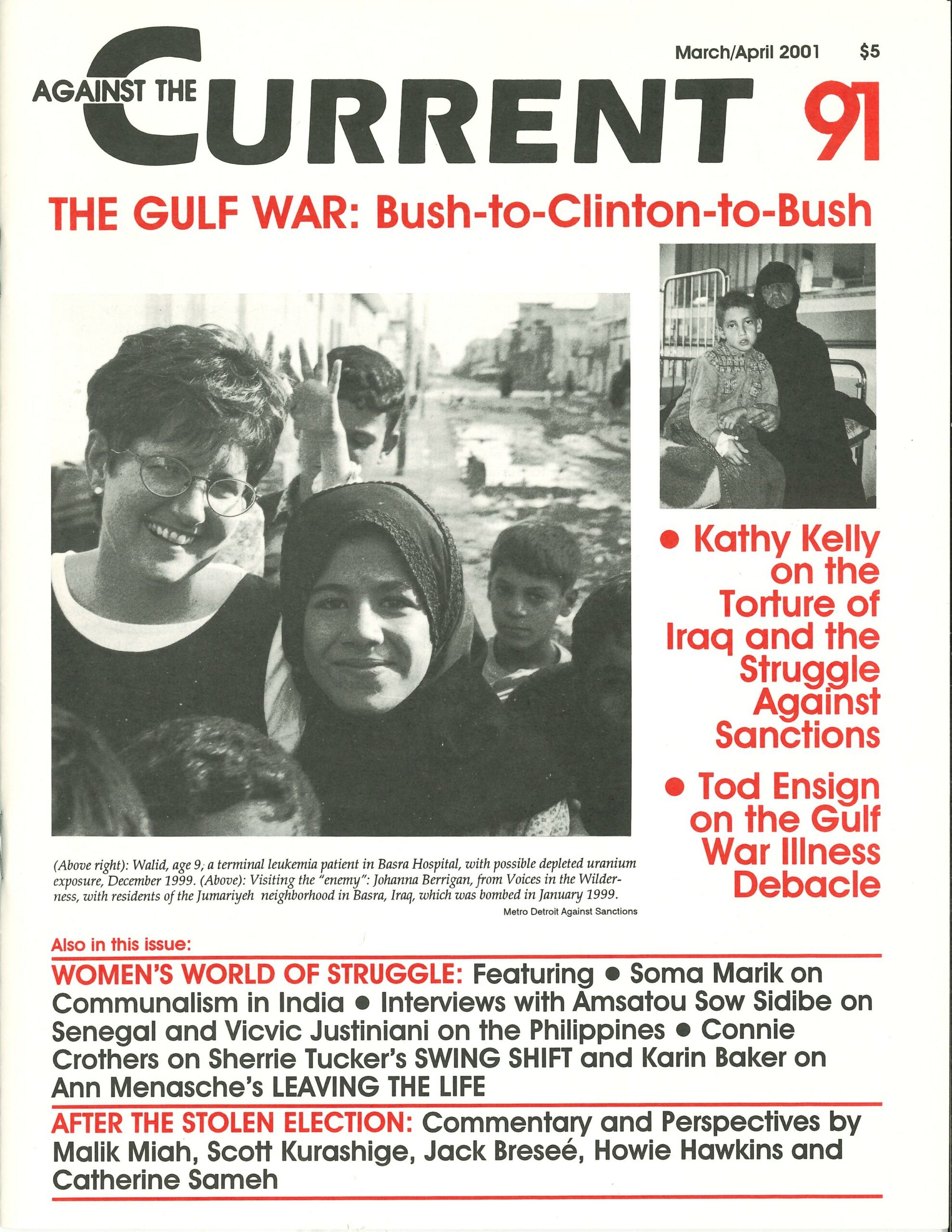 Swing Shift: "All-Girl" Bands of the 1940s. by Sherrie Tucker (Duke University Press, 2000) 384 pages, $29.95 hardback.
GO TO A jazz club anywhere, and with few exceptions, you will see men on the bandstand. This is true after nearly a century since the advent of this musical art form. (One of the first bands—Louis Armstrong's Hot Five—had a woman pianist, Lil Hardin Armstrong.)
Whatever changes in consciousness have been brought about in our society by the women's movement have pretty much bypassed performance in this musical lineage. Even challenges to this male-centered tradition from within the community, such as "women in jazz" concerts or features on women musicians in magazines, don't change the situation for women performers.
Swing Shift, a dynamo of a book, shows in great factual and anecdotal detail, how different this picture was in the 1940s during the war. It was a kind of "Rosie the Riveter" phenomenon—because the men musicians were drafted, women musicians were hired to form "all-girl bands" (their favored term).
There were hundreds of these bands. They performed frequently, touring extensively. They featured outstanding musicians, among them trumpet players Ernestine "Tiny" Davis, Clora Bryant and Jane Sager, and tenor saxophone players Vi Burnside and Margaret Backstrom and alto saxophone player Josephine Boyd.
As author Sherrie Tucker observes, we don't know about these bands because "often . . . swing histories totally omit all-girl bands. When all-girl bands appear, they are frequently buried under unspoken definitions that take all-man bands to be normal and all-woman bands to be novelties."
Beyond that, what little is in the histories is skewed. Tucker notes, "In asking who is represented in the histories and who is not, I would immediately notice that the African American bands, such as the Prairie View Co-Eds, the Darlings of Rhythm, Eddie Durham's All-Star Girl Orchestra and the International Sweethearts of Rhythm have tended to go unmentioned in most major swing texts.
"They appear prominently in the entertainment pages of the black press of the 1930s and 1940s but somehow do not translate into jazz historiography, generally penned by white men. The all-girl bands that get the occasional (and often trivializing) mention in the histories are the very famous white bands, such as Ina Ray Hutton's Melodears and Phil Spitalny's 'Hour of Charm.'"
Civil Rights Pioneers
Tucker frequently makes the point that to study these bands is to gain invaluable insight into the early years of the civil rights struggle. Traveling and working conditions, especially in the southern states were always steeply challenging and sometimes horrific.
"There were ubiquitous threats of violence, many of them legal or authorized by the law's indifference . . . Black women's bands that offered an image of talented, successful, mobile black women . . . irritated patriarchal white racists whose worldview was undermined by visions of black women's autonomy."
Clora Bryant described being chased out of public places, such as train stations and gas stations. Bass player Doris Jarrett recalled that it was not unusual for Black women musicians to be sexually harassed by white sheriffs and deputies.
Traveling meant finding it impossible to find food and lodging and even access to rest room facilities. Band leader Blanche Calloway was thrown in jail for using a "ladies" room at a gas station at six in the morning. ("Ladies" meant "white." Separate rest rooms for "colored women" were not always provided.)
These difficulties were exacerbated, at times in terrifying ways, when the bands hired and traveled with white women musicians. Bassist Violet Wilson said, "We lived dangerously in those days. See, it wasn't like now. Believe you me, history will find out musicians were the ones that learned people how to be together."
Breaking Law and Custom
"A bass player from Eddie Durham's All-Star Girl Orchestra puts her legs and coat over a trumpet player who hides on the floor while the police search the bus. The crime? Black women are traveling with a white woman, breaking Jim Crow laws. An alto player in the International Sweethearts of Rhythm longs to wipe a bead of sweat from the side of her nose—but she doesn't dare. The police are watching, and streaks get people arrested.
"The crime? If any of those black women are really white passing for black, it means that black and white women are working and traveling together and probably eating together, too—all crimes under Jim Crow," Tucker relates.
"For black all-woman bands with white members, the problems presented by life on the road intensified—what was already grueling became illegal as well … No aspect of black traveling bands' existence escaped surveillance—behavior was monitored on roads and sidewalks, in restaurants, hotels, and rest rooms, and of course on the bandstand. All band members were affected when police hovered around the bandstand, trying to figure out if Jim Crow were being broken."
The Darlings of Rhythm faced down a perilous situation when their white trumpet player Toby Butler was arrested. This incident hit the front page of the Philadelphia Courier with the headline, "Georgia Law Got Her."
Violet Wilson tells the story: "Toby had to sit in the back seat (of the squad car) and she whispered to us, `I will never let them take me to jail because you know what they do to white girls that are with [black bands. They misuse them] just like they misuse colored girls.' She said, `They'll never do that to me.' She had a little thirty-two pistol in her purse. And she said, `When he puts his foot on that starter, I'm going to blow him away.' And we would just cringe; we said, `We're not going to let them take you.'. . .
"But you know what happened? [Trombonist] Jessie [Turner] went up and leaned on that car with her cigarettes and started talking . . . `Now wouldn't you feel real stupid going to your supervisor, telling them that you've got a white girl in the car, and this girl is my cousin?. . . Now you can take her if you want to, but you're going to probably get fired.'
"Oh, she just kept talking, and they kept looking, country hicks, they kept looking at one another. And, you know, she talked Toby out that car!"
As Turner comments, "Wilson is not alone in her assertion that jazz and swing musicians of the 1930s and 1940s `paved the way' for integration. Historians may disagree on the extent to which racial mixing in jazz and swing bands inspired a shift toward commitment to racial equality in the wider society, but the fact remains that some jazz and swing bands constituted early integrated social groups in the United States . . .
"Civil rights movement-style integration would later be criticized for focusing on black people's entrance into the white mainstream rather than demanding a radical restructuring of a system built on inequalities. When black-owned and -operated all-girl bands included white members, they practiced a kind of integration that challenged the white mainstream."
Sexual Harassment, Musical Accomplishment
Turner recounts the gender specific intimidation that these women musicians faced. Often, they were described in press releases in terms more visual than auditory. The successful band leader Phil Spitalny auditioned prospective band members in his underwear.
When the bands entertained troops as part of the USO program, some officers aggressively expected more "entertainment" besides just the music.
In spite of this inimical societal context, some of the women gained renown for their outstanding musical accomplishments. Clora Bryant, in the Prairie View Co-Eds, became "one of the most vital players, esteemed for her ability to dazzle audience with her own improvised solos."
Reminiscences of outstanding performers describe for us what we can't hear for ourselves, because these women were under-recorded or not recorded at all.
Margaret Backstrom of the Darlings of Rhythm was lauded by her admirers. Jessie Harper, a fan, writes that Backstrom is ". . . the lick on tenor sax . . . Anyone who can hold an audience under her spell for twenty minutes, execute with excellence any request and demonstrate the complexities of jazz must have something on the ball."
Trumpet player Thelma Lewis recounted, "Padjo (Backstrom) could play fifty choruses, all different. She stood straight up and played a lot of saxophone."
Organist Sarah McLawler describes one of the Darling's brightest stars, alto saxophone player Josephine Boyd, who also played with Eddie Durham's All-Stars. "She was a genius."
Lillian Carter Wilson insisted that Boyd helped invent bebop. "Sometimes Josephine would just get to herself. Just her and her horn. And run these dumb-sounding changes, you know, like what bebop sounds like. And we'd be saying to ourselves, what in the world is she doing, you know? . . . She played sax, and I mean she played it."
Carter sums it up: "We took off. We took solos. We did it all. I'll tell you something about being female. We were never taken seriously."
---
Connie Crothers is a jazz pianist in New York. For information on her latest quartet release "Ontology" and her other recordings on the New Artists label, or the label's CD sampler, "Notes from New York," go to their web site or write to New Artists, PO Box 549, New Yorkm NY 10018.
---
ATC 91, March-April 2001