Against the Current, No. 91, March/April 2001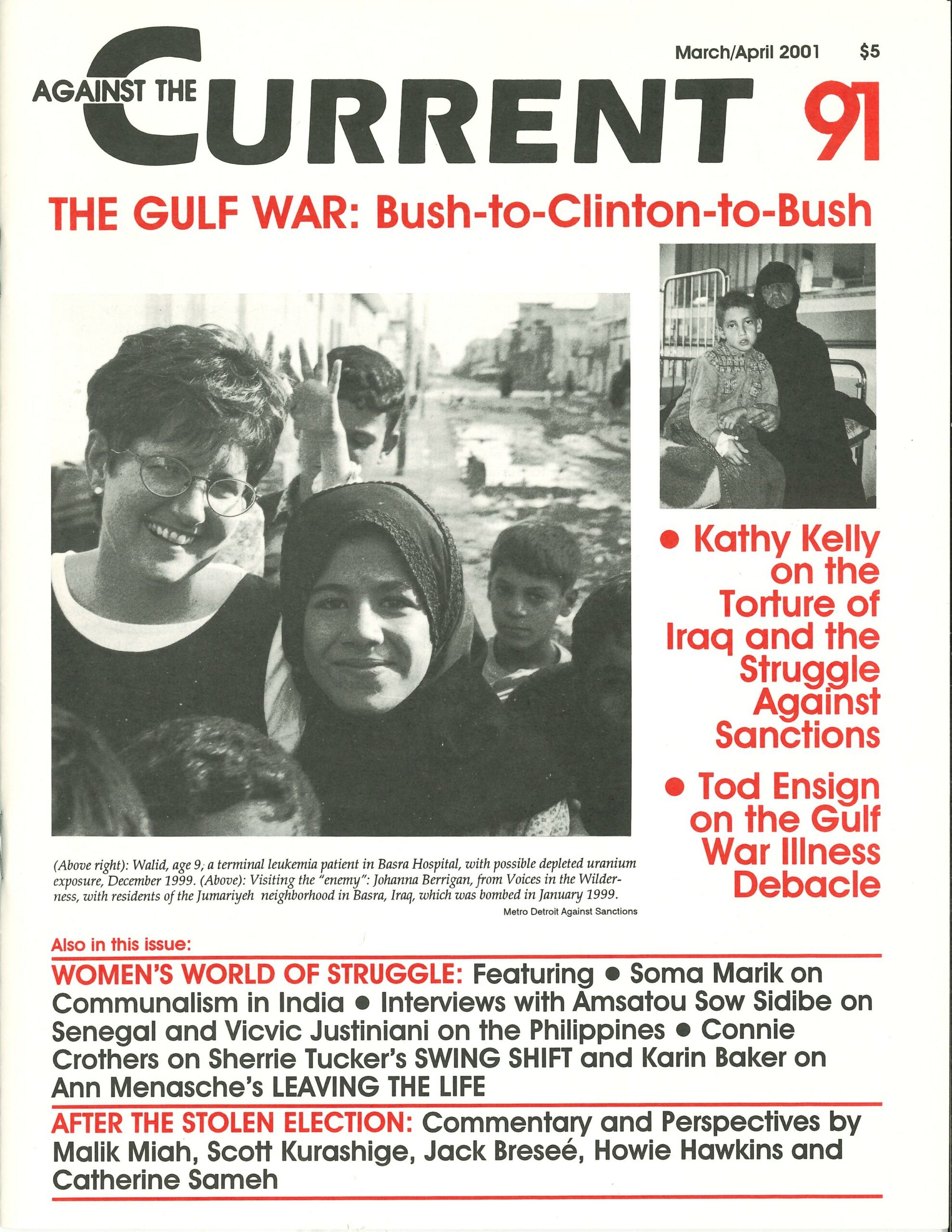 The following is excerpted from a statement by Voices in the Wilderness following the February 16 bombing of Iraq.
VOICES IN THE Wilderness decries today's bombardment of Iraq which hit sites just south of Baghdad. However, we find it instructive to recall the digest of bombings that occurred in the past week and to note that on December 22, 2000 the Gulf News from Dubai quoted figures of civilians killed and injured as a result of US/UK air raids since December 1998 as 311 killed and 927 wounded.
In January, 2001 another 6 were killed and 9 injured in January of this year for a total of 317 killed and 936 wounded.
Digest of civilian suffering caused by U.S. bombing, week of February 11-16:
On February 9, 2001 an Iraqi News Agency report said that a bomb left over from the Gulf War exploded in al-Arouba in the Kerbala province of southern Iraq. Six people were injured and 10-year-old Ali Awad was killed (Reuters).
A second bomb exploded in the Kut Akwam area of Shatt-el-Arab district in Basra province, injuring six people who were taken to the hospital for treatment.
On Sunday, February 11, U.S. and British warplanes injured seven people and destroyed 17 houses in air strikes on Sunday in the southern part of Iraq, hitting civilian buildings and military installations in the provinces of Basra and Maisan. (Reuters)
On the 13th, U.S. and British planes struck targets in the south of Iraq but there were no injuries or deaths. (That same day) an Iraqi news agency report stated that two children were injured when a cluster bomb dropped during the Gulf War 10 years ago exploded in Anbar province; the report did not say when it happened.
Voices in the Wilderness believes the US and the UK must end their illegal "No-Fly Zone" bombing attacks on the north and south of Iraq. There is no UN provision for such bombardment. Resolution 688, sometimes referred to as a document legitimizing the no-fly zone bombardment makes no reference to a right to take over Iraqi airspace, resulting in the tragic killing of civilians.
ATC 91, March-April 2001