Against the Current, No. 90, January/ February 2001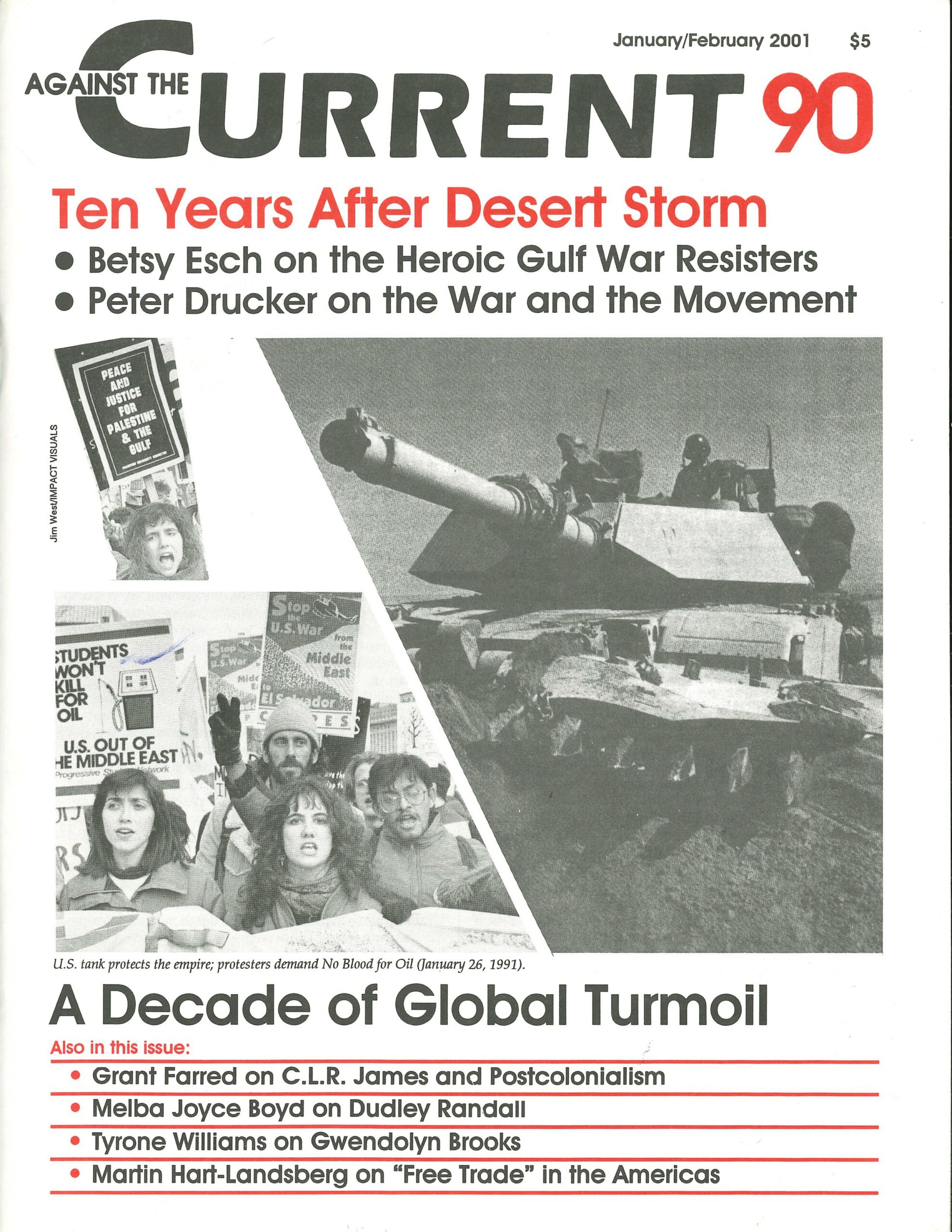 ON DECEMBER 9, the 19th anniversary of the shooting, in Philadelphia, PA, of police officer Daniel Faulkner—the act for which former Black Panther Mumia Abu-Jamal was convicted and sentenced to death—1500 people participated in a march and rally in Harlem, New York City, demanding a new trial for Mumia and his release from prison.
The date is a traditional one for the Mumia movement and is usually marked by demonstrations in Philadelphia. This year two factors dictated the change to New York: 1) Plans for a major demonstration on the following day, December 10, in support of Leonard Peltier (the American Indian activist still in prison as a result of a frame-up stemming from the Pine Ridge Indian Reservation shootout where two FBI agents died in June, 1975); and 2) the difficulty in arranging a large indoor meeting space in Philadelphia.
International Concerned Family and Friends of Mumia Abu-Jamal (ICFFMAJ, the main national defense committee) reports that due to political pressures in Philadelphia they were having difficulty arranging for an adequate venue. As a result ICFFMAJ teamed up with the New York Free Mumia Abu-Jamal Coalition plus community activists in Harlem to commemorate this year's anniversary.
The main part of the program was organized teach-in style, to help activists become more familiar with the legal issues, the facts of the case, and the social context in which the trial took place.
Talks by knowledgeable individuals included Leonard Weinglass, Mumia's lead attorney; Rosemari Mealy, with WBAI radio and a former member with Mumia of the Philadelphia Black Panther Party; Sam Jordan, a representative of Congresswoman Maxine Waters and formerly director of Amnesty International's Anti-Death Penalty Program; and Safiya Bukhari, a former political prisoner and cochair of the NY Free Mumia Coalition.
These were interspersed with film clips of the 1997 international tribunal on Mumia's case, a ballistics expert, one of the witnesses in the original trial (Veronica Jones), and even former Philadelphia Mayor Frank Rizzo.
Twenty Years in Hell
Weinglass spoke of the strength Mumia exhibits as he enters his 20th year of incarceration under the most inhuman conditions. In Pennsylvania, he noted, death-row inmates are held in a state of sensory depravation.
They are not allowed to touch another human being, not even their wives and children. There is always a thick glass kept between them and their visitors. Pennsylvania authorities claim that these conditions are necessary, but even in Texas, the state with the largest population on death row, condemned prisoners are allowed to embrace their families.
There have been three executions in Pennsylvania which took place because the condemned asked their attorneys to stop all appeals when they could no longer cope with the conditions under which they were being forced to exist.
Jordan spoke about the independent investigation which Amnesty International undertook on Mumia's case, concluding that his trial represented "a violation of minimal standards" of justice in a capital case. "The interests of justice would be served by granting a new trial to Mumia Abu-Jamal."
Another feature of the rally was the appearance of an international delegation, which included Julia Wright, daughter of the author Richard Wright and head of ICFFMAJ in France.
One new development in Mumia's case revolves around four Amicus Curiae ("friend of the court") briefs filed with Federal District Court Judge William Yohn, in whose hands Mumia's appeal now rests. The groups filing were the NAACP, the ACLU, twenty-two members of the British Parliament, and the Chicana/Chicano Studies Foundation.
Each contended that any decision reached in relation to Mumia's request for a new trial had broader social implications which affect them or their constituencies. Judge Yohn should, therefore, consider a series of additional legal issues not raised directly in Mumia's petition to the court.
However, in a move that surprised those who filed the briefs—and other legal experts—Judge Yohn said he would not read or consider them, asserting that they did not contribute anything new of substance and that to do so would merely delay the appeals process.
Two of the groups have now filed a petition with the Federal Court of Appeals, asking that Judge Yohn be directed to take their legal arguments into account. As a result the proceedings in Yohn's court cannot move forward until a decision on this matter is reached.
(The texts of these Amicus briefs are available online. Go to www.freemumia.com, the website of the New York Free Mumia Abu-Jamal Coalition.)
Crucial Hearing Still Pending
More than a year ago, on October 15, 1999, Mumia's attorneys filed his appeal for a new trial with the Federal District Court. The next legal steps will take place when Yohn sets a date for an initial court hearing in the case.
At that hearing he will listen to oral arguments from attorneys on both sides. Mumia will be present in the court and plans are underway to mobilize masses of his supporters to be both inside and outside the courtroom. (Most likely the date for this hearing will not be known until a week to ten days before it takes place.)
One of the key issues which Judge Yohn must decide is whether he will allow new evidence to be introduced into the record as part of the appeals process. He is not legally required to do so, but may at his discretion. If he prefers he could simply decide to review written transcripts of state proceedings.
Mumia is requesting an evidentiary hearing because so much crucial testimony was excluded from the written record by trial Judge Albert Sabo (who also presided over Mumia's initial appeal).
Judge Yohn's courtroom is the last place where this evidence can be introduced, and if he says "no" to a hearing none of it will be introduced. Later federal appeals, to higher courts, will be based strictly on the written transcripts, and that's why Yohn's decision on this matter is so crucial.
It is no exaggeration, then, to say that the fate of Mumia Abu-Jamal may well depend on the public outcry that is raised in the time before Yohn makes this determination.
Supporters are being urged to continue organizing political activities around the case. Demonstrations are planned for the Presidential Inaugural in Washington D.C. on January 20. And a major national activists' conference is projected, also in Washington (with a companion conference on the west coast) for February 24, where the next steps in Mumia's defense will be projected.
Leading Supporter Jailed
In a related development one of the leaders of the national campaign around Mumia, Clark Kissinger, was sentenced to ninety days in jail by a Federal Judge in Pennsylvania—for giving a speech.
The jail term stems from a probationary sentence handed down to Kissinger as a result of the sit-in for Mumia at the Liberty Bell on July 3, 1998. Most of the activists arrested that day pled guilty and paid a fine. Kissinger and a handful of others pled not guilty and demanded a trial. After being found guilty, they were given punitive conditions of probation, which included being forbidden to leave their home jurisdiction (New York in Kissinger's case) without permission.
Kissinger defied this provision by travelling to Philadelphia to give a speech during demonstrations at the Republican National Convention. At a hearing on December 6 Federal Judge Arnold C. Rapoport ordered him to serve the time in jail, after which the restrictive terms of his original probation will be reinstated.
Kissinger is appealing, on grounds that the original probation was illegal and violated of his constitutional rights.
Financial contributions to Mumia's political and legal defense are urgently needed. Make checks out to "International Concerned Family and Friends of Mumia Abu-Jamal" ("ICFFMAJ" is OK). On the memo line indicate whether the contribution is for "legal expenses" or "organizing." Mail to: ICFFMAJ, P.O. Box 19709, Philadelphia, PA 19143.
---
Steve Bloom is a member Solidarity in New York and author of the handbook Fighting for Justice: The Case of Mumia Abu-Jamal.
---
ATC 90, January-April 2001