Against the Current, No. 90, January/ February 2001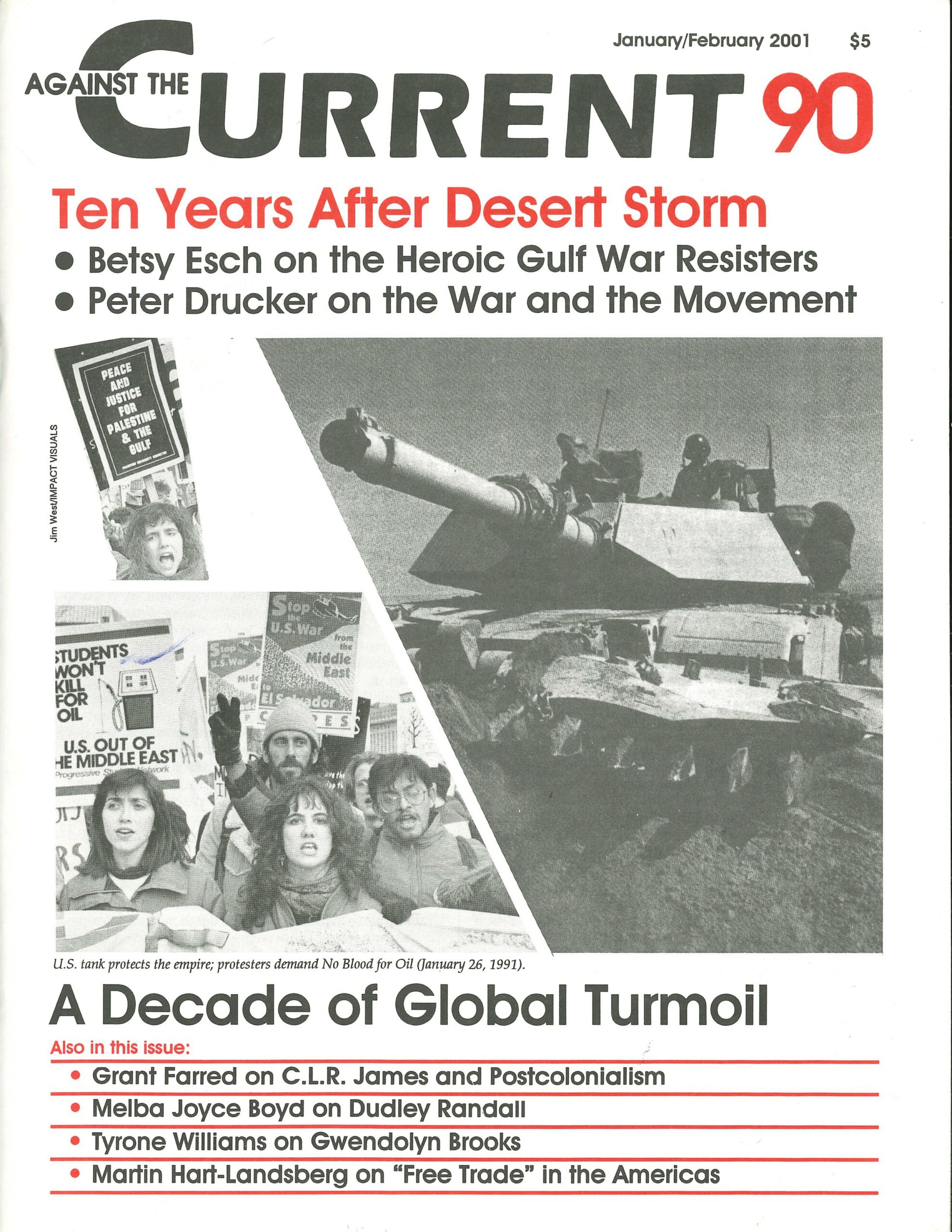 A KEY ACHIEVEMENT in the November elections was the defeat of school voucher schemes in California and Michigan.
California's Proposition 38 would have offered every child in California a $4,000 voucher to use at a private school of their choice; a more modest proposal in Michigan would have provided vouchers worth $3,300 to public school students in school districts with the highest drop-out rates. The fact that both were defeated so resoundingly (with seventy percent voting against) may sound the death knell for other voucher schemes around the country, as well as other efforts designed to pave the way for privatization of our public schools.
Presented by proponents as increasing choice for poor families stuck with failing schools, California's Proposition 38 was a particularly nasty piece of legislation sponsored by Silicon Valley venture capitalist Tim Draper. Draper, a loose cannon Republican with his eyes on the governorship, spent $23 million of his own money on the effort, which if successful would have gutted the public system, drawing funding away from neighborhood schools and expanding the trend toward a two-tier education system that favors rich families over poor.
Spinning a classic free market line, Draper claimed his scheme would increase parental choice, break up the state's monopoly on education, and improve standards by forcing public schools to compete with the private sector for both funding and students. Those that didn't compete, said Draper, would be "run out of business."
Not surprisingly, Prop 38 sold choice but offered none. Sure, parents could send their kids to private schools, but there was no requirement that those schools provide credentialed staff or a quality curriculum.
Children switching to private schools would lose rights to free transportation and meals. And unlike public schools — which are required to accommodate the needs of children with different language skills and learning abilities — private schools would define their own entrance criteria. This would leave them free to discriminate on the basis of such things as English-language proficiency, prior disciplinary or academic record, and ability to pay additional fees.
Such criteria would clearly work against working-class students, especially those of color. Currently, more than a quarter of California's public school children speak English as their second language.
Kids of color are more likely than their white counterparts to have disciplinary records, and to do less well on standardized tests, which have been consistently proven to be both racially and culturally biased.
Thus while outright discrimination on the basis of race would have been illegal, the use of such criteria would be unlikely to work in favor of the average student of color seeking acceptance to the private school of their choice.
The same would be true for children with special needs or those with disabilities. So whom are vouchers really designed to benefit? Not the disaffected parents of inner city kids, but the (mostly white, upper class) parents of the 650,000 kids already
in private schools.
In addition to stacking the deck against working-class students and students of color, Prop 38 would have had far-reaching consequences for school funding. To generate the estimated $2.8 billion needed to pay for the scheme, the state would have been forced to slash budgets for higher education and other public services.
Even more alarming, Prop 38 would have eliminated provisions providing minimum, guaranteed funding levels to public schools. Infrastructure and overhead costs for individual schools would have remained the same, but future funding would be tied solely to how many students they could keep. The result: a permanent drain on the state's resource-starved schools.
Faced with one of the most potentially damaging propositions to come out of California since Prop 13, the California Teacher's Association took no chances and threw its full weight behind the "No on 38" campaign.
The CTA spent $26 million carving out a broad coalition of educators, unions, and community activists to bring about a defeat. Leading organizations in the African American and Latino communities lined up against the initiative, despite efforts by the Draper campaign to make inroads into communities of color.
Yet while a large majority was mobilized to defeat Prop 38, this vote can't be taken to indicate overwhelming support for Californias public school system. The measure was so badly written that even some pro-voucher supporters rejected it-either because it wasn't means tested, or because it failed to make private schools accountable to the students they serve. The fact that a number of prominent business leaders and Republicans also came out against Prop 38 is another indication that traditional private school advocates opposed the measure in large numbers.
Black Voters Just Say No
Given this, Michigan's Proposition 1 may provide a more accurate indication of where the voucher movement is headed. More politically sophisticated than the California scheme, Prop 1 targeted seven "failing" school districts, offering vouchers for students to attend non-public schools in districts with the high drop-out rates.
Yet despite being written to directly appeal to the African-American and Catholic vote, the plan lost by a wide margin among African Americans (4-1), Democrats (4-1) and women (2-1). The plan also failed to gain the support of key suburban voters, despite the inclusion of additional sweeteners designed to appeal to this group. Significantly, parents of public school students defeated the measure by a margin greater than 2-1, suggesting a clear commitment to the public system on the part of parents.
A strong grassroots campaign conducted by the "All Kids First" Coalition (made up of over 240 organizations) clearly made a difference here. In addition, the fact that more than forty-four percent of voters who went to the polls on election day were from union families also likely made a difference; many unionized workers recognizing the scheme as an intent to destroy the public schools and a move to privatize.
These defeats demonstrate that voters failed to be persuaded or to believe the voucher hype. And for good reason. There is no evidence to suggest that children who opt out of the system end up with better grades or that families experience greater choice.
Private schools are not required to participate in voucher schemes, so with limited options available, most students end up in religious schools. It is this issue, more than any other, may ultimately prove the movements undoing. By directing public funds to religious entities, voucher programs in a number of states have been ruled unconstitutional based on a violation of the 1st amendment principle separating church and state.
As recently as December 2000, a federal appeals court in Cleveland upheld a 1999 decision which found that city's voucher program (where ninety-six percent of students attend parochial schools) to be unconstitutional. With the issue now likely headed to the Supreme Court, a definitive ruling on vouchers may soon be forthcoming.
Continuing Attack
Even if vouchers are finally defeated in the courts, such a decision is unlikely to end efforts to privatize our schools.
Vouchers represent only the latest in a long line of attacks on public education — just one element of a wider attack on the working class over the past twenty-plus years.
California has systematically undercut funding to public schools in recent years, beginning in the `70s with the approval of Prop 13, and continuing through the '80s and '90s as expenditures on education were routinely forced to compete with growing expenditures in areas such as criminal justice and prisons. Since Prop 13's omplementation, per pupil spending has fallen well below the national average and student achievement ranks among the lowest in the country.
Clearly California schools are not universally bad (public schools in wealthy areas for example are still very good) but the system itself, and the way funding is currently structured, means that public schools are grossly unequal — in terms of the staffing, materials and facilities that they are able to provide.
These inequalities are directly related to differences in funding between individual schools and school districts — differences that primarily affect working-class, urban communities of color. Rather than address these disparities and direct more resources to these communities, the right's preferred solution is to dismantle the entire system itself, with proposals like vouchers leading the way.
Anything that halts this trend is positive and welcome. But taking a defensive approach at election time is not enough.
Organizing our communities around key issues of equity in education is the only approach that will result in quality education and better schools. Reduced class sizes, more money directed at education, and the replacement of high stakes standardized testing with more equitable and authentic assessment measures are all key areas for change.
Such reforms are proven to be both cheaper and more effective than schemes like vouchers — for example, reducing class size in California costs half as much a year as Prop 38 would have and affects three times as many students.
The fight for such reforms requires a unified movement of the various participants in the education process — a good example is the Coalition for Educational Justice (CEJ) in LA, which is working to bring parents, teachers, and students together to fight for change.
And maybe the time is right for a more progressive agenda to emerge. On the same day as they rejected vouchers, California voters approved Prop 39 that makes it easier for local communities to raise property taxes and pass levies to raise local funds for schools if they so choose. Perhaps the people of California are finally fed up with racist policies that cheat working-class Black and Latino kids of a quality education, and which set them up to fail rather than succeed in our schools. If so, it's about time.
ATC 90, January-April 2001