Against the Current, No. 90, January/ February 2001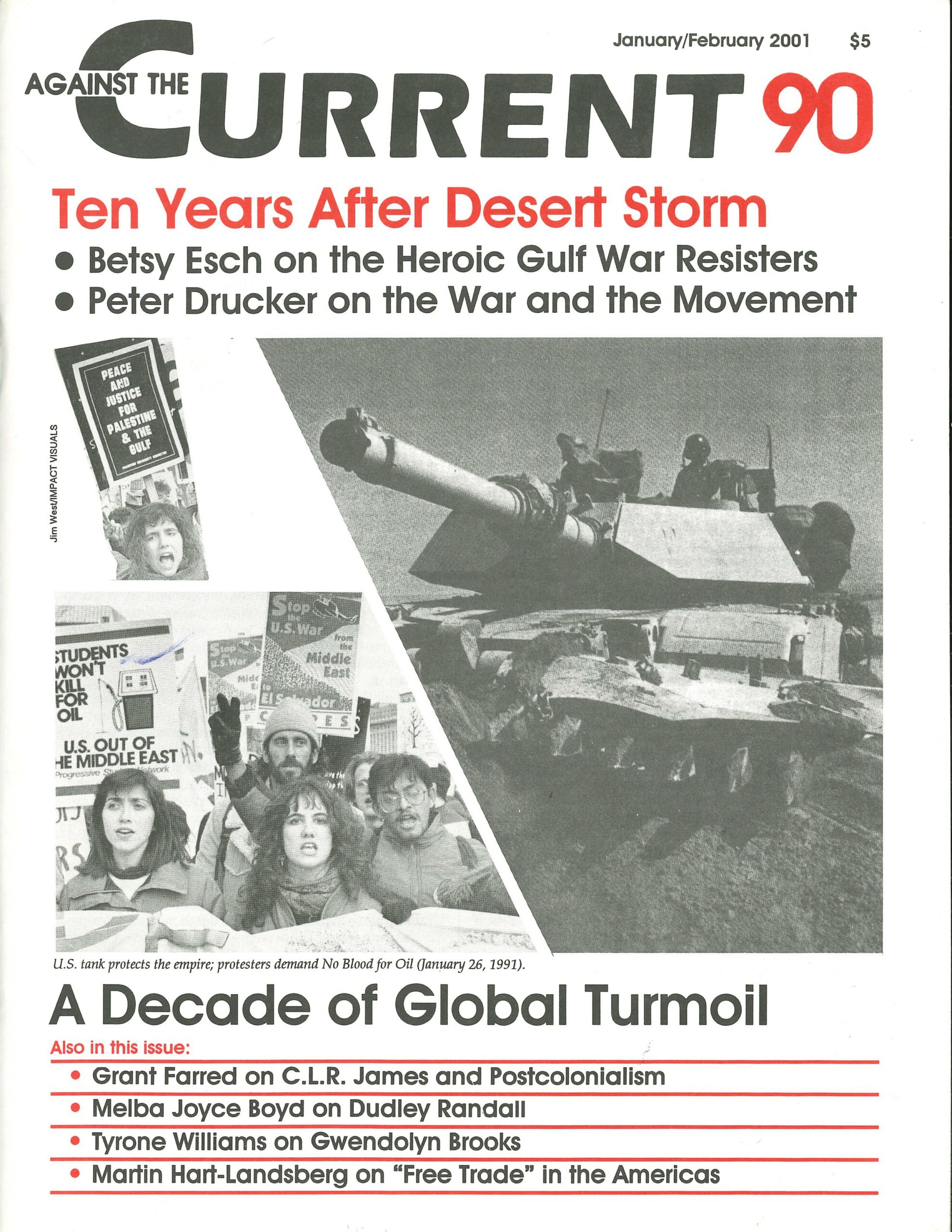 ON DECEMBER 5, slightly less than half of South Africa's registered electorate went to the polls, and Thabo Mbeki's ruling African National Congress (ANC) emerged with just under sixty percent support — down from the two-thirds received in the 1994 and 1999 national elections — and control of all major cities aside from Cape Town.
Most noteworthy about the election was the convergence of South Africa's fragmented multiparty politics into a two-party scene. This is partly an outcome of race loyalty, but also reflects the still fluid ideological terrain upon which the ANC campaigned for working-class votes with enticing new promises.
The ruling party's main challenge in most areas came from the Democratic Alliance (DA), which with the majority of white, Indian and crucial Western Cape "coloured" (mixed-race) votes, scored twenty-two percent of the total.
The DA is the product of a merger between the Democratic Party (traditionally white English-speaking capital's mouthpiece) and the New National Party, which had ruled apartheid-era South Africa from 1948-94. The latter party lost most of its core white support in the 1999 national election, as DA leader Tony Leon impressed hardline Afrikaners with his vociferous attacks on ANC rule.
The conservative Inkatha Freedom Party — still led by mercurial Minister of Home Affairs Mangosuthu Buthelezi — fell far behind in the polls but retained control of rural KwaZulu-Natal provincial areas under the influence of ethnic Zulu authorities, as well as the province's small co-capital of Ulundi.
Likewise, civil servants in other ex-homeland ("bantustan") capital cities — such as the Transkei's Umtata and Bophuthatswana's Mafeking, victims of decay due to economic trends and declining patronage Opportunities — revolted against the ANC, with Umtata electing the United Democratic Movement of the charismatic, former ANC figure Bantu Holomisa.
The African Christian Democratic Party and United Christian Democratic Party won a few council seats amid similar pockets of strength.
Contesting elections largely to gain some spoils of a shrinking state is a frustrating exercise. Fortunately, election violence was significantly lower than in previous years, but six people were killed at a polling station on the outskirts of Johannesburg and several candidates were assassinated during the run-up to the vote.
The traditional ethnic leaders across the country's ex-homelands intimidated Pretoria, forcing the ANC into a last-minute compromise which will reportedly give the chiefs as much as half the voting rights in rural district councils once the national constitution is amended.
Savage Neoliberalism
Meanwhile, the country's tiny independent left can point to high-profile victories in the low-income Durban suburb of Chatsworth where community leaders opposed to evictions won convincingly against the ANC, and in East London where outspoken Pan Africanist Congress Health Officer Costa Gazi took a council seat.
In a third closely watched case, Soweto's radical councilor Trevor Ngwane — fired from the ANC a year ago for questioning the privatization of Johannesburg municipal services — gained a respectable thirty percent of his ward's vote, losing only because of vigorous campaigning by ANC provincial leaders.
But otherwise, the left's fortunes were at stake in indirect ways. The SA Municipal Workers Union held anti-privatization strikes in Johannesburg and Cape Town during the week prior to the election, as well as in smaller towns. And in many settings, brave community residents resisted water/ power cutoffs and housing evictions.
In all such cases, "neoliberal" (free market) development policies and fiscal conservatism adopted nationally by the ANC government
are the main source of the problem.
To illustrate, in August, cuts in what had been free (apartheid-era!) water supplies to impoverished rural KwaZulu families catalyzed a cholera outbreak which appears set to continue through the rainy summer season, with 100 new cases reported most days.
Between September and mid-December, nearly 8,000 people got the infectious disease due to lack of clean water access, resulting in forty fatalities so far.
The waste of millions of dollars spent in treating the cholera, and the enormous damage done by the illness to households (especially women), reflect the brutal, ideological conviction of neoliberal bureaucrats, who — following explicit World Bank advice to the ANC Water Minister — are still cutting off water supplies even where running costs are merely a few thousand dollars a month.
Epidemics of diarrhea and other water-related diseases are common, and exacerbate the country's extremely high levels of HIV/AIDS-related vulnerability.
ANC Left Face
The widespread grievances that follow from municipal-level neoliberalism compelled ANC strategists to shift unequivocally leftwards two months before the December vote. The party's platform promised free lifeline supplies of water and electricity, and reduced the prevailing pro-privatization rhetoric to the point of virtual silence.
Both the ANC national government in Pretoria and a small Western Cape municipality run by the DA were also ashamed when they lost a Constitutional Court case in October, in the first victorious citizen's defense of rights to shelter and municipal services.
A low-income woman, Irene Grootboom, successfully demanded that Wallacedene municipality urgently provide emergency services to 1,000 households on grounds that her children's entitlements in the South Africa's 1996 Bill of Rights were violated.
Ultimately, of course, only a dramatic national policy switch away from the neoliberal premise of full cost-recovery can deliver such rights.
The ANC election manifesto promised that "ANC-led local government will provide all residents with a free basic amount of water, electricity and other municipal services, so as to help the poor. Those who use more than the basic amounts will pay for the extra they use."
But to achieve universal lifeline supply in many of the country's low-income settlements<197>with insufficient higher-income residents for cross-subsidization<197>will require massive central-local state grants, which were systematically cut (by eighty-five percent after inflation) during the 1990s as part of the South African neoliberal elite's home<->grown structural adjustment regime.
Left critics argue that national budgetary constraints must now be relaxed substantially, and that the ANC must double the amount of water being promised; must concretize a programme for household energy supply; and must do more than allow a municipality to be merely the "preferred provider" of municipal services, at a time when pressure to privatize remains intense.
French and British water companies are fervently proposing outsourcing contracts that will cripple the power of municipal workers, whose excellent union will have to redouble their labor-community campaign to maintain public supply of services.
Struggles to Come
Given resistance by recalcitrant bureaucrats and half-hearted politicians, the promised free water and electricity will also be struggled over for many years to come. Cynics expect that the ANC will once again "talk left, act right" and within weeks officials will have forgotten the pledge. If so, the coming period will include further alienation between machine politicians and grassroots activists, and intensification of militancy in local settings.
As Africa's most proletarianized city, Johannesburg is a key site of persistent class conflict, and leftists here welcomed the post-election announcement by the United Nations that the city will host the Rio+10 "Earth Summit" in 2002.
With an anticipated 60,000 delegates to be met by an energized mass base in Soweto, Alexandra and other black townships, the likely ANC failure to deliver on municipal election promises could be punished in a way that causes acute — Seattlesque — international embarrassment.
ATC 90, January-April 2001