Against the Current, No. 89, November/ December 2000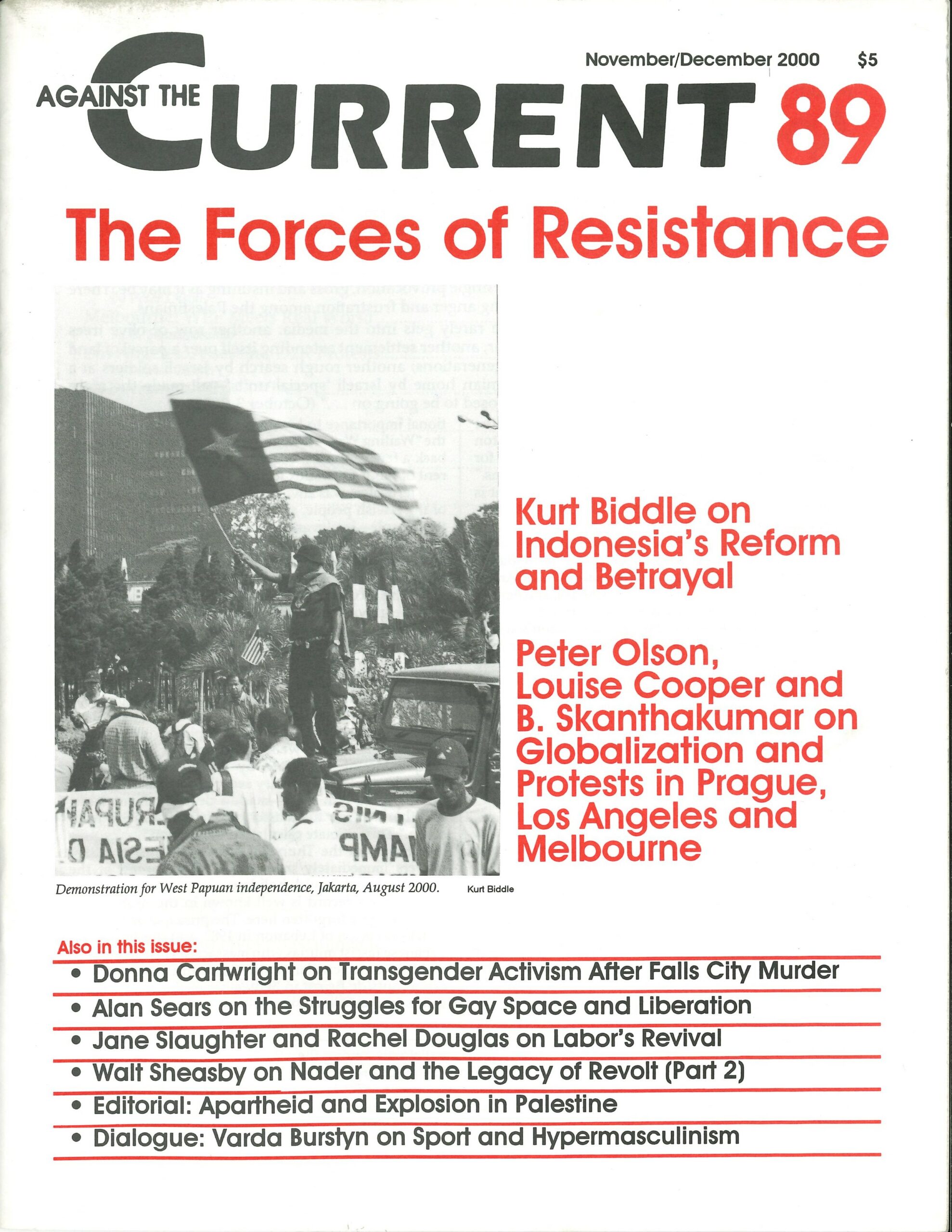 MAITREE IS A West Bengal-based network of forty-two women's organizations, NGOs and individual women activists concerned with women's rights.
Maitree supports the struggle of the Narmada Bachao Andolan (NBA) and of the people of the Narmada valley for their right to survive in a manner of their own choosing. Consequently, we express our grave concern at the recent Supreme Court judgment [to permit construction of the Sardar Sarovar dam to proceed], which ignores the problems of rehabilitation and environmental degradation.
Amongst the thirty large dams planned for the Narmada, the Sardar Sarovar dam is the largest. Due to related displacements by the canal system and other allied projects, at least one million people are expected to be affected if the Sardar Sarovar Project (SSP) is completed.
The water problems of drought-prone areas of Gujarat are admittedly real. However the expensive SSP will do little—and indeed will harm the people involved by blocking resources better used in genuine programs. Sardar Sarovar takes up over 80% of Gujarat's irrigation budget but it will cover only 1.6% of cultivable land in Kutch, 9% in Saurashtra and 20% in North Gujarat. It is not the toiling people of any part of Gujarat but big capital, both the multinationals and the Indian contractors, who stand to gain.
The Maheshwar dam is the first of the Narmada dams to be placed in the hands of the private sector. It will provide electricity at four times the current price and is expected to barely exceed 10% of its projected capacity.
Meanwhile the construction, not only of the Sardar Sarovar but a host of other dams, will mean a major environmental disaster, endangering a fifth of the world's freshwater fish.
Between 30-60 million people will be displaced. Supporters of dam building claim that the displaced will be resettled and provided with land. However, the government admits no land is available.
We therefore call on all those who oppose this dehumanized model of development to rally behind the NBA in its struggle. There must be no building of big dams without independent environmentalist studies, and without actually resettling whole communities threatened with being uprooted. Pending these developments, all big dam projects must be halted. We also demand that real, low-cost, local people-oriented programs must be launched.
We call on the President of India to use the powers vested in him to stop the work of the SSP since most of it falls in tribal areas. We also call on the Prime Minister of India to call a halt to the project.
For further information, e-mail Soma Marik for Maitree and the NBA.
---
ATC 89, November-December 2000