Against the Current, No. 89, November/ December 2000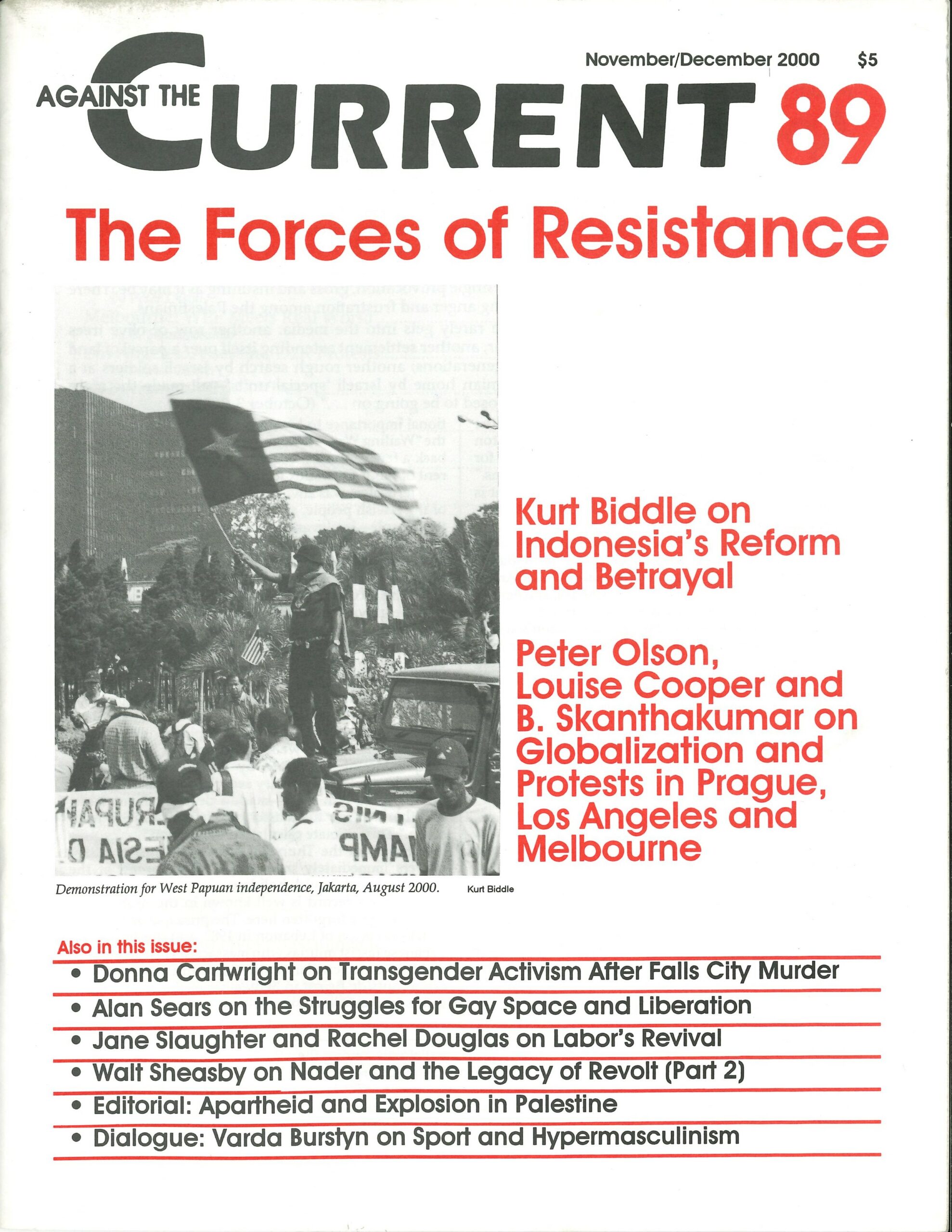 IN COMPLETE BETRAYAL of the student-led Reformasi (reform) movement, the ruling judge in the Suharto corruption trial dropped the case after hearing a report by a twenty-three member team of court appointed doctors that the former Indonesian dictator was physically and mentally unfit to stand trial.
Upon the news, riots broke out in Jakarta with angry anti-Suharto protestors clashing with Suharto supporters. In 1998, student-led demonstrations brought down Suharto and have since demanded that he be brought to trial for his crimes.
Suharto never appeared in any of the three court sessions. His lawyers claimed he was too sick to answer complicated questions. South Jakarta District Court Chief Lalu Mariyun, who dropped the case, blamed the prosecutors because they didn't bring Suharto to the court. Frustrated prosecutors vowed to appeal the case to the Jakarta High Court. Suharto was charged with corruption and stealing $571 million in state funds. He hasn't been charged with the countless murders, kidnappings, torture and other human rights violations carried out during his authoritarian rule of over three decades.
Meanwhile, Suharto's son, Hutomo "Tommy" Mandala Putra, was recently found guilty of corruption resulting in $11.2 million loss to the Indonesian government through a scandalous land deal with the main food supply agency, Bulog. (See note 1) He admits that he made a mistake and is asking President Abdurrahman Wahid for clemency. He was sentenced to a mere eighteen months for his crime.
Suharto's successful act of playing "too sick to be tried," the fact that he has only been charged with corruption (not human rights violations), and Tommy Suharto's light sentence highlights a dangerous reality in Indonesia: the reality that the forces of the old ruling elites represented by the military high command in addition Suharto's family and cronies still hold onto great power and influence.
As I will demonstrate below, they seek to destabilize the current government through a campaign of violence and terror. But another reality is also visible on the streets of Jakarta and other cities, especially amongst high school and college students—a growing interest in radical ideas and politics in general.
Spread of Radical Ideas
I first visited Indonesia during the parliamentary elections in May 1997. Suharto was still in power, his Golkar party won by a landslide once again in a sham election, and pro-democracy and labor union activists were being sent to prison.
At that time I met students and other activists who were secretly organizing against Suharto's military regime. People carefully chose their words and even very few activists spoke openly about politics or political ideas.
Since then much has changed. The student-led Reformasi (reform) movement brought down Suharto, the nation had its first democratic elections in forty-four years, and there are now political freedoms that many, perhaps most, Indonesians have never experienced.
Still, I was surprised when I went to Indonesia this year and saw students wearing T-shirts with images of Che Guevara and Tan Malaka (an Indonesian revolutionary socialist). (See note 2) Bookstores had prominent displays of books on Marx, socialism and the pro-democracy movement, as well as books critical of President Abdurrahman Wahid.
Demonstrators outside the gates of the People's Consultative Assembly sang "Revolusi sampai mati" (Revolution until death). Many of the activists I met described themselves as socialists. Leftist groups like the Peoples' Democratic Party (PRD) are growing. Small groups with socialist ideas are springing up all over Java and other islands.
The Jakarta Post reported that books on communism and leftist figures were the hottest sellers to legislators at a book kiosk on the People's Consultative Assembly compound during the recent annual session.(See note 3)
I certainly did not think that leftist ideas would be so . . . trendy. But what does this all mean? Most of the interest in radical ideas comes from activists and students. These ideas are not prevalent amongst most Indonesians. Yet there is a lot of interest in politics.
Politics itself was taboo for ordinary Indonesians under Suharto. Now, political talk shows and commentators fill Indonesian television. Political party flags (in Java, the vice-president's Megawati's party the PDI-P are most popular) color the sky atop houses, boats and village gates.
Political currents, such as the People's Democratic Party and others, are trying to find ways to utilize people's interest in politics and mobilize workers and other social groups for fundamental social and political change. However, there aren't (yet) any organizations with significant numbers of activists and mass support that have been able to focus people's aspirations for democracy, land reform, fair wages, ending corruption, ending military power and other demands.
During the student demonstrations that brought down Suharto, coalitions of necessity and convenience were formed, but no lasting organization of substantial size has been maintained. Activists complained to me that they have not been able to find a rallying point for people now that Suharto is no longer president.
The student-led pro-democracy movement has actively pushed many of their demands to cut off the power of the New Order forces (Suharto called his regime the New Order. New Order forces generally refers to Suharto's Golkar party and the Indonesian military, the TNI.)
Land Struggles and Strikes
Indeed the New Order forces have had their power curtailed and threatened. For years, the military acted without impunity, factory owners answered any labor union activity with intimidation and violence.
The Suharto government stole peasants' land and sold it to corporations. Resources such as natural gas and oil in Aceh (on the Northern tip of the island of Sumatra) and gold and copper in West Papua (Irian Jaya) were stolen from the outer islands to benefit the Indonesian elite and multinational corporations.
Now, strikes are breaking out here and there across the archipelago, separatist movements are gaining momentum in Aceh and West Papua, and peasants are demanding (and in some cases getting) their stolen land back.
I met with peasants near Bandar Lampung in Southern Sumatra who were successful in getting their stolen land back. Their land had been stolen by PT Lampung Pelletizing Factory (LFF), a tapioca processing plant. LFF is part of the Dharmala Group—a huge conglomerate based in Jakarta that owns everything from fast food restaurants to financial services companies.
In 1970, without consulting the peasants or compensating them, the company came in the middle of the night and bulldozed their land. Army units provided security and prevented peasants from stopping the bulldozers. During the Suharto era, the military intimidated the peasants and labeled them "Communists" if they asked for their land back. Throughout the Suharto years the peasants were unable to openly struggle.
In the early `90s students began building links with peasants and in 1998, the peasants joined with students, workers and other activists around reformasi demands. By building solidarity with other social groups and forming their own organization, POSKO, nineteen out of twenty-two villages have won back their land.
The struggle has radicalized the local population; their success has emboldened them. Graffiti on the side of one peasant's home said, in Indonesian, "Whoever messes with Reformasi must answer to POSKO."
The New Order forces aren't happy about these developments and want the "old days" back. At the very least, they want to hold onto what power they still have. It is extremely important not to underestimate their enormous power. The New Order forces remain a threat to democracy in Indonesia, and are using various tactics to preserve and regain their power.
Military Hangs On To Political Power
One tactic is safeguarding the military's power in the political arena. I was in Jakarta during the annual session of the People's Consultative Assembly (MPR). Behind barbed-wire fences and with riot police guarding them, the legislators voted to maintain the seats given to the military and police faction in the MPR until 2009, seats they were scheduled to lose in 2004. This betrays one of the central demands of the Reformasi movement, to end the political power of Indonesia's military and police.
Another boost for the TNI was a constitutional amendment that stated the military's role was to defend "national integration." this will serve as justification for the violence against alleged separatists in Aceh and West Papua.
Perhaps the biggest victory in the MPR for Indonesia's military was the approval of an amendment to the Indonesian constitution, which states that "the right not to be charged on the basis of retroactivity is a basic human right that may not be breached under any circumstances."(See note 4)
What this means is still being debated, but human rights organizations have interpreted it as prohibiting any retroactive application of a law. Attorney General Marzuki Darusman claims the new amendment will only prevent any new laws from being retroactive.(See note 5)
This amendment may protect former TNI commander General Wiranto from prosecution for his role in last year's bloody militia rampage in East Timor. Currently, there is little evidence to link Wiranto to direct orders of killings and burnings. What the evidence does point to is that Wiranto knew about the arming and training of militias by his military, then did little to stop it once the militias began their violent mission.
Indonesian legal experts say that such an act of omission is not illegal in Indonesia. Indonesian lawmakers are debating new human rights legislation that would make such behavior criminal. But the new constitutional amendment will prevent any such new laws from applying to past crimes.
In fact, Wiranto was not on the list of nineteen suspects released by the attorney general's office on September 1. Neither were top leaders of the militias or then intelligence chief Zacky Anwar Makarim. Human rights groups have condemned these omissions as politically motivated. Lawyers representing TNI officers named as suspects plan to use the new amendment to defend their clients.
The change to the constitution and the extension of the military's and police role in the MPR all passed without debate or opposition.
Political observer Arbi Sanit told the South China Morning Post that prolonging the military's role in the MPR was dangerous because the military was already powerful. "They will ask for more if we let them linger," he said. "It's the politicians who have to be blamed . . . [t]hey should be ashamed of themselves."(See note 6)
Members of the largest faction in the MPR, vice president Megawati's Indonesian Democratic Party of Struggle (PDI-P), dismissed anti-military protests outside the gates and justified their decision to retain the military and national police seats in the Assembly. Other legislators, according to the Associated Press, said privately they were forced into passing the pro-military measures by hard-line generals, who threatened to foment trouble in Aceh, Maluku and West Papua, unless they got their way.(See note 7)
In fact, the military is already running amok in those areas and others. The army funded, trained and armed the anti-independence militias' campaign of violence last year in East Timor. And the army has consistently refused to stop these same militias in the refugee camps in West Timor. The military and police stood idly by on September 6, as militias hacked to death three UN refugee workers.(See note 8)
This is the other main tactic the New Order forces are using to maintain power: creating instability by stirring up violence in the outer regions, and many say in the capital with bombs.
Aceh and West Papua
In Aceh, the Indonesian province on the northern-most tip of the island of Sumatra, calls for independence are getting louder due to the military's ten-year campaign of violence and the stealing of the region's rich natural resources by Jakarta and multinational corporations such as Mobil.
The Free Aceh Movement (GAM) is a rebel organization advocating armed struggle to achieve independence from Indonesia. A movement independent of GAM emerged in late 1998 with a platform of independence by referendum, rather than by force.(See note 9) Both movements have been faced with brutal repression by the TNI.
A three-month cease-fire was negotiated between GAM and the Indonesian government, but at least 119 people have been killed since it began on June 2. Also, during the cease-fire, five high-profile Acehnese community leaders were kidnapped or killed including Jafar Siddiq Hamzah, a leading Acehnese human rights activist based in New York.
Abducted in Medan, North Sumatra, his dead body was found with four others, brutally tortured and his hands bound. An autopsy was required to identify Jafar.
At the other end of the archipelago, in West Papua (Irian Jaya) people are also calling for independence. Like Aceh, the region is rich in natural resources, yet the people see little of them. The wealth is extracted and benefits the central government and multinational corporations like Freeport McMoRan Copper & Gold, based in the United States.
Although there are legitimate demands for independence, recently New Order figures have been playing a rather curious role in the West Papuan independence movement.
Yorris Raweyai is deputy chairman of Pemuda Pancasila, an organization made up of gangsters and thugs and infamous for doing Suharto's dirty work. On July 27, 1996, Raweyai allegedly ordered his goons, with backing from the military, to attack the headquarters of Megawati's Indonesian Democratic Party.
In the violence at least five people died, 149 were injured and some pro-democracy activists are still missing. Raweyai is awaiting trial for the attack.
But now Raweyai is funding the West Papuan independence movement through a self-proclaimed leader Theys Eluay and his black-clad militia.(See note 10)
Why would a leader of an organization known for its loyalty to Suharto be supporting the West Papuan independence rebels? Theys Eluay himself was a member of the Golkar party and voted for integration with Indonesia in 1969. With echoes of East Timor, reports of militias loyal to Jakarta are being trained by the military in parts of West Papua.(See note 11)
End U.S. Military Aid
What can we in the United States can do to support activists in Indonesia? The most important thing we can do is to pressure the U.S. government not to fund, train or supply the Indonesian military or police.
Although these ties are currently suspended by a Congressional ban, there are calls to resume these relations and the Pentagon has made some tentative overtures to Jakarta such as providing medical training and allowing Indonesian officers to observe military exercises.(See note 12)
The people of Indonesia are struggling against a military that is repressive and involved in every level of society. Officers in the TNI own businesses, hold offices in the government, run prostitution rings, and have shown little respect for human rights or Indonesian law. The military is not under civilian control.
Since 1975, the United States has given the Indonesian military over $1 billion. This money has trained and equipped a brutal military. We should not allow U.S. complicit partnership in kidnapping, killing and torture. We must shatter the power of the Indonesian military by denying it assistance. This will allow the people of Indonesia to make their own choices about the type of society they want to build.
---
Note
"Tommy Suharto to serve jail soon: AG," Indonesian Observer, October 6, 2000.
(Back to text)
Tan Malaka was a member of the Indonesian Communist Party (PKI). In 1923, Tan Malaka was appointed Comintern agent for Southeast Asia. He left the PKI in disagreement over the PKI's decision to launch uprisings in 1926 and 1927 that were intended to create an Indonesia-wide revolution. After leaving the PKI, he remained politically active and participated in the Indonesian National Revolution in 1945. For more on Tan Malaka see The Rise of Indonesian Communism by Ruth T. McVey (Ithaca, NY: Cornell Univewrsity Press, 1965) and From Jail to Jail by Tan Malaka. Translated by Helen Jarvis (Ohio University).
(Back to text)
"Books on Communism Hot Sellers at MPR," The Jakarta Post, August 9, 2000.
(Back to text)
"Military Chiefs To Escape Prosecution," by Vaudine England, South China Morning Post, August 19, 2000.
(Back to text)
See TAPOL press release dated August 18, 2000 "Suharto and Military Win Immunity From MPR". For Marzuki Darusman's comments see Far Eastern Economic Review, "Long Journey to Justice," September 14, 2000.
(Back to text)
"Army to Entrench Political Power," by Vaudine England, South China Morning Post, August 14, 2000.
(Back to text)
"Indonesia's Military Win Concessions From Top Assembly," by Slobodan Lekic, Associated Press, August 18, 2000.
(Back to text)
"Indonesia Risks Losing International Support Over West Timor: US," Agence France-Presse, September 25, 2000.
(Back to text)
"Aceh Independence Movement Enters New Phase," by Carwil James, IndonesiaAlert! Winter 2000.
(Back to text)
"Going West," Sydney Morning Herald, March 6, 2000.
(Back to text)
"Stone Age Rebels Risk Wrath of Indonesia," by Ian Williams, The Observer (UK), August 6, 2000.
(Back to text)
Cohen to Warn Indonesian President Over Militias," by Charles Aldinger. Reuters, September 17, 2000.
(Back to text)
---
Kurt Biddle is editor of the quarterly newsleter IndonesiaA1ert! and a board member of the newly formed Indonesia Human Rights Network (IHRN). He recently returned from a month-long visit to Indonesia where he met with activists, workers and peasants. For individual subscriptions to Indonesia-Alert! send $15 to IndonesiaA1ert! PO Box 267, Oakland, CA 94604-0267. Kurt can be reached by email at editor@indonesiaalert.org.
---
ATC 89, November-December 2000