Against the Current, No. 89, November/ December 2000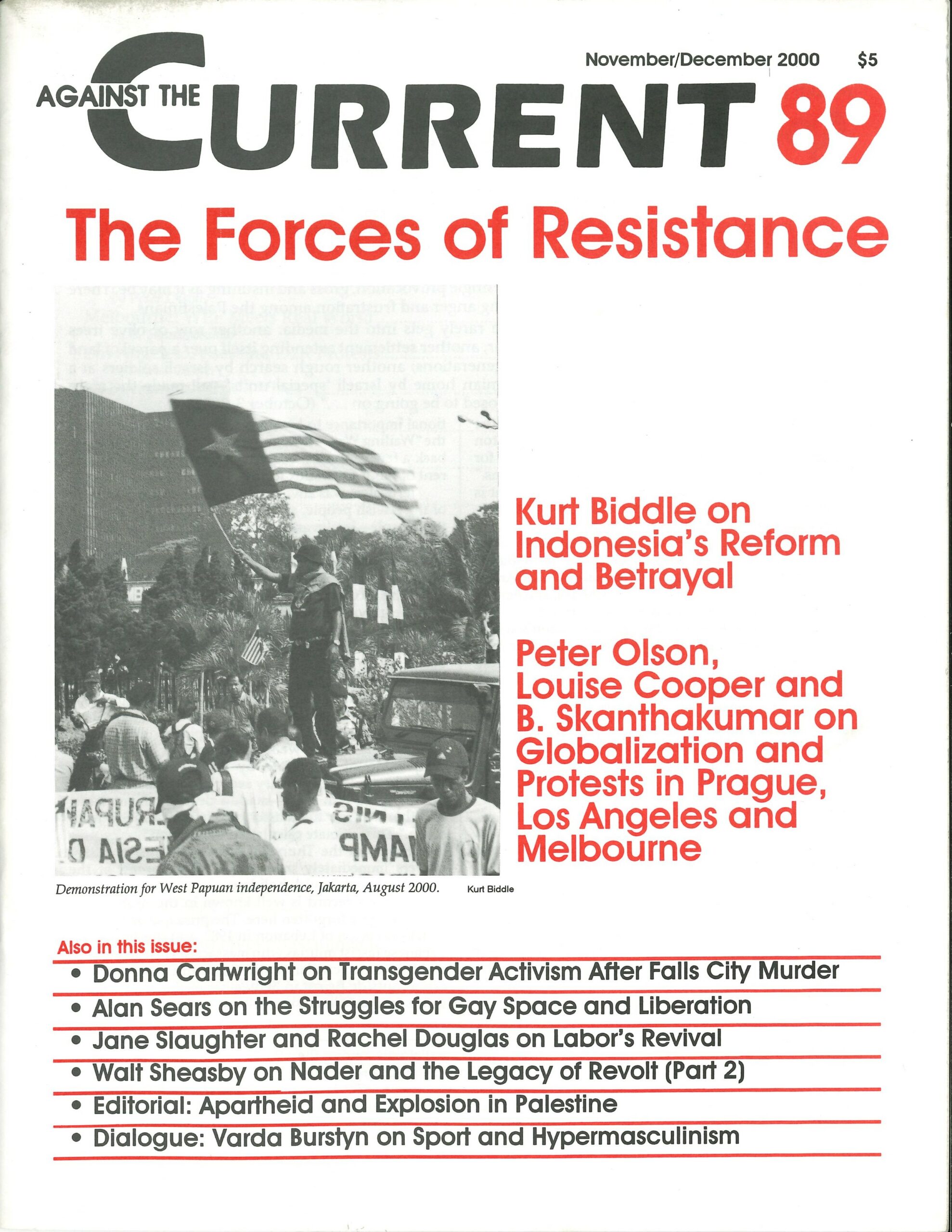 MORE THAN 10,000 activists gathered in LA for the Democratic convention protests August 5-18. The main protest held Monday, August 12 drew around 10,000 activists. Three thousand had gathered for the Mumia march held the previous day.
An impressive number of smaller mobilizations came together throughout the week, delivering a strong message to the Democrats on numerous environmental, racial and economic justice issues. Overall, this was a positive showing (large by LA standards, and the strongest evidence of independent organizing outside the Democratic Party in more than 30 years.
Despite these successes, the protests raised more questions than they answered about the new movement that began (in the United States) in Seattle, and continued with protests in DC, Philadelphia and now LA. After the actions, questions arose over tactics, leadership and the overall strength of a movement which at times seemed unclear in its direction and whose numbers have become smaller with each demonstration.
These tensions were quickly picked up on by some in the mainstream media, who immediately heralded the movement's demise. We don't need to buy into this analysis to know that a critical evaluation of events is valuable at this point, particularly if we see this movement as an important measure of the strength of independent political action in the United States today.
At almost any other time in the last ten years, the LA actions would be considered a resounding success (thousands of community, labor, environmental and human rights activists challenging the corporate-fronted Democrats on their own turf. But after Seattle, LA seemed a letdown.
The power and spontaneity of direct action which characterized Seattle was missing. Numbers were lower. And while the Los Angeles Police Department clearly set the tone, many left LA feeling that more should have been accomplished.
Labor's Minor Role
A key difference was that organized labor, highly visible in Seattle, was represented in smaller numbers in LA. A few hundred rank-and-file union members attended the main protest, many marching under the Labor for Nader banner. As expected, union leaders distanced themselves from the event.
The latter fact was not lost on the mainstream media, who were quick to dismiss the actions as irrelevant and disruptive, an invasion of (dangerous and potentially violent) outsiders, who failed to represent "real people's" issues and interests.
While having any labor representation at all could be seen as something of a victory, the absence of a stronger showing clearly undermined the legitimacy of the protests (particularly in the eyes of a skeptical public). So long as many in the labor movement continue to identify with "progressive elements" in the Democratic Party (while others continue to see the party as a whole as part of the solution), lack of labor participation will continue to put a damper on the movement.
Tactical Problems
Another difference from Seattle was the decision to favor mass protest over direct action. This was a surprise given the key role played by groups such as the Direct Action Network (DAN) in organizing events. While the focus on mass protest was important in that it allowed a broader base of activists to participate, the absence of creative interventions certainly weakened the protests.
Obviously the overwhelming police presence was a factor here and set limits on what direct action could reasonably achieve. Even so, some of us felt that there were opportunities for impact on Democratic Party events and fundraisers (taking place outside the main convention hall and away from the LAPD's stranglehold on Staples Center and downtown), opportunities that were not effectively seized.
Others lamented a lack of leadership in crucial moments, including a failure to coordinate a decisive response to police attacks on protesters when they came (such as at the Rage Against the Machine performance following the main Monday protest).
There issues reflect tension in the movement over strategy and tactics. They also suggest the need to develop a less fluid approach to decision-making, and to create clearer institutions through which decisions can be made. As things stand, the absence of such institutions at times results in a planning process overly influenced by a small number of individuals, particularly those in established leadership positions.
These shortcomings derive not from a calculated avoidance of democratic process, but rather from the newness of the movement and tensions between the different tendencies that comprise it. The opportunity remains for more visible, formal (and therefore) democratic planning bodies to emerge, opening the way for broader participation in discussions around tactics and strategy.
Moving Forward
Despite these criticisms, there are positives to draw on. In some ways LA improved on Seattle. The protests were more ethnically diverse (a big criticism of Seattle) and covered a broader range of issues. The anti-globalization themes of the WTO protests were broadened to include strong attacks on the Democrats' record on health, welfare, and education, and their flagrant promotion of racist policies that criminalize and incarcerate youth.
Local struggles and issues were strongly represented ( excellent mobilizations were held around issues of police brutality and corruption, sweatshop labor, immigrant rights and educational justice. These protests not only raised the profile of these issues locally, but also reflected strong participation among youth and women of color.
In-depth discussion around many of these issues took place at conventions and teach-ins held throughout the week to complement the protests. The Shadow Convention was particularly well-attended; other events included the Mothers' Convention on Welfare, the People's Convention and the National Homeless Convention.
These mobilizations achieved success despite taking place under conditions of massive police presence. The use of preemptive tactics witnessed here reflected yet another shift toward the criminalization of dissent/protest, already evident in Seattle but clearly stepped up in LA.
Despite the difficulties inherent in mobilizing against the Democrats in this instance, and despite the tensions in the movement as a whole, the LA protests continue to demonstrate that a powerful movement is at work that is willing to challenge both main parties and fight for independent political alternatives.
We in the movement may disagree on the direction of those alternatives, and may need to do something of a better job in articulating our different positions within it, but the fact is that a functioning movement exists that has the potential to be built upon.
This is a movement with some momentum: "Solidarity protests" were held September 26 in San Francisco and Los Angeles to coincide with the World Bank/IMF protests in Prague, and the protests have continued to generate support for progressive slates in the November Elections (Nader/LaDuke being the most obvious example).
Perhaps even more importantly, energy from the protests continues to filter onto campuses and into schools, where a strong current of radical activism (much of it fueled by Seattle but also by the existence of regular, mass actions like LA) continues to grow.
ATC 89, November-December 2000