Against the Current, No. 87, July/August 2000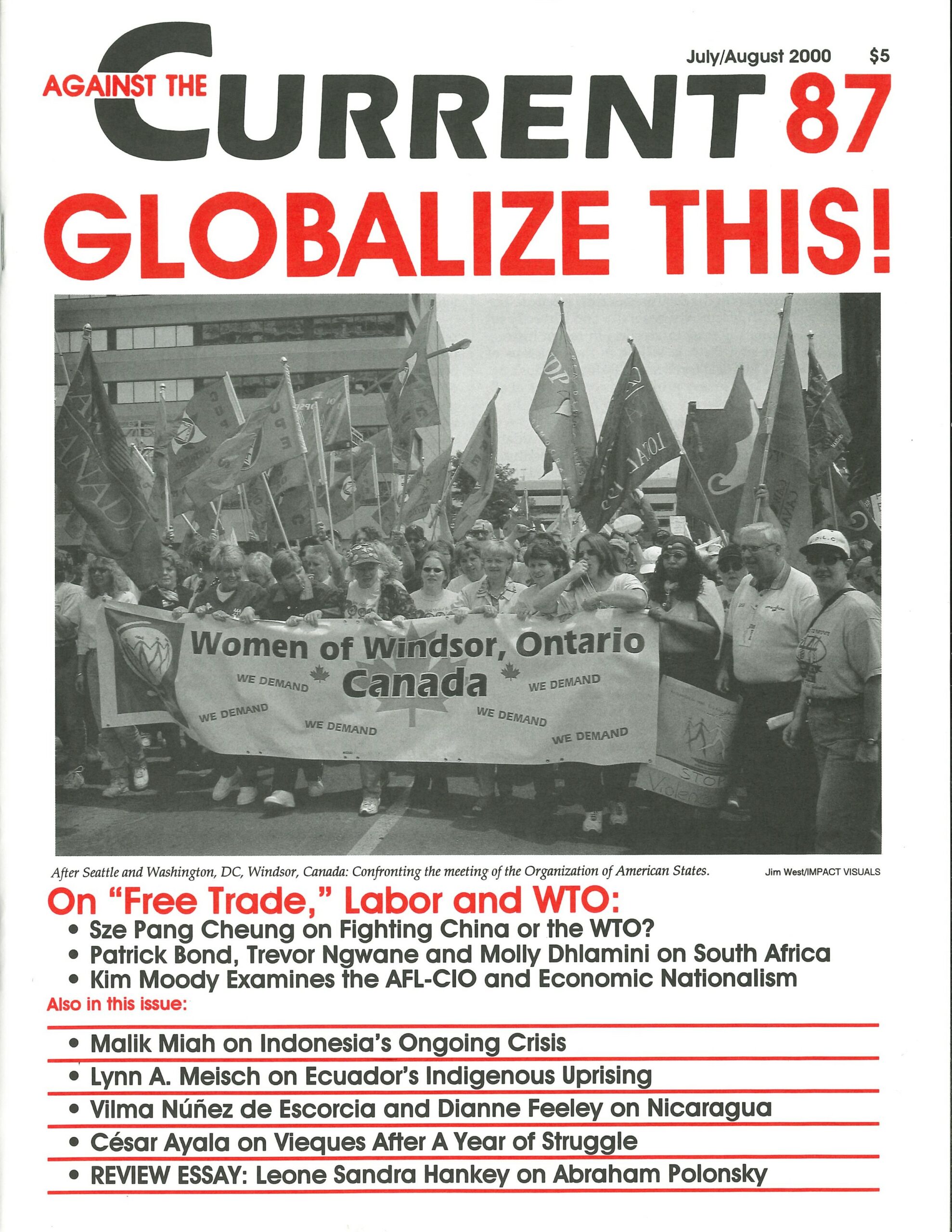 1. TAKE WASHINGTON D.C. to Johannesburg. What the youth and other activists in the U.S.A. have done, must be repeated here in South Africa.
Of course, it will not be parrot-like, it will have to take into account our specific situation and circumstances. We must target the World Bank and International Monetary Fund as agents of neoliberal economic policy in our country and our region. We must then find issues around which we can organize the people, for example, water, electricity, jobs, etc.
We must work on one issue and build a struggle around it, all the time showing the links. We must organize in communities, in mass organizations, in the unions, in the churches, among students, in NGOs, in the villages, everywhere. The vision of a better life for all must be kept alive and the main obstacle, global capitalism, must be clearly identified for all to see and understand.
2. Provide alternative information to the masses. One of the greatest advantages that capital has over the Left is that the masses are kept in ignorance. They are marginalized from the centers of power and knowledge.
Not only are parliamentary and business practices kept from public scrutiny, but the masses are evicted from centers of information and knowledge such as schools, universities and even municipal libraries if they cannot pay the fees. The mass media are under the strict control of the bosses.
Our job is to take information and knowledge to the masses. We must present the ordinary people, the workers, the unemployed, the youth, the church-goers, with alternative information which will empower them to make sense of what is going on and make up their minds as to what needs to be done.
Unless people know the issues, there is no chance that they will fight around the issues. Use community radio that reaches deep into rural areas. Use community newspapers, and where they don't exist yet, set them up. Use word of mouth, have meetings and question-and-answer sessions with the people, conduct workshops to empower the people, etc. Whatever you do, get the message across.
3. Locate the place of control amongst the masses. Most people feel that they are not in control of major decisions which affect their lives. Even President Thabo Mbeki says this, in so many words: Globalization made me do it!
Who, then, is in control, and what are we doing about it? We must educate, challenge and fight to relocate the locus of control within the individual, within communities, within the class. We must build the self-confidence of the people, and help reinsert the masses back into history as its makers rather than its victims.
Let us place our trust in our own strength, in our organizations, in our struggle. This requires the belief that we can do something about our situation. The protests in Seattle and Washington, D.C. and many similar points of struggle, have revived that belief.
4. Organize and support action. All our action and information must aim at getting the people to do something about their problems. Start small: Decide to write a letter of complaint, then wait for the reply, push for the reply to come sooner, arrange a meeting with the official, organize a mass meeting, then organize a march, then civil disobedience, etc.
But the people must be in control and be responsible for their actions, and do what they are able and willing to do. The action must be nonviolent, and must be mass-based and profoundly democratic. It is important to learn from the U.S. youth the meticulous training and preparation for action.
Start with the aims, how it will be done, who will do what, has it been done before, which philosophy/theory informs it, what if we get arrested, what if they teargas us, who will confront the authorities, will the press be around, etc. We have a rich tradition of organizational structures into which we must inject new life — in part by studying and adapting the method of affinity groups — in order to give the struggle a big heave forward.
5. Network and build solidarity. In our campaigns we must build solidarity and alliances across organizations, international allies whom we met in Washington, D.C.
Socialists, build socialist alliances that transcend your tiny groups and your national borders. Christians, extend a hand to workers in the struggle to cancel the debt and for reparations. Workers, build alliances with community organizations in the struggle against privatization and job losses. Students, build links with students in other parts of the world and learn new ways of struggle.
Let us keep ourselves informed about struggles in other parts of the world, support them and get their support in our own struggles. Let us build a global movement for economic and social justice:
PHANSI IMF PHANSI! PHANSI WORLD BANK PHANSI!
FORWARD TO FOOD, HOUSES, HEALTH, EDUCATION, A LIVING PENSION, A LIVING WAGE AND JOBS FOR ALL, FORWARD!
STOP GIVING TAX MONEY TO THE IMF TO OPPRESS U.S.!
BOYCOTT WORLD BANK BONDS!
SCRAP THE THIRD WORLD DEBT!
DEMAND REPARATIONS FOR SLAVERY, COLONIALISM AND APARTHEID SUFFERING!
ATC 87, July-August 2000