Against the Current, No. 87, July/August 2000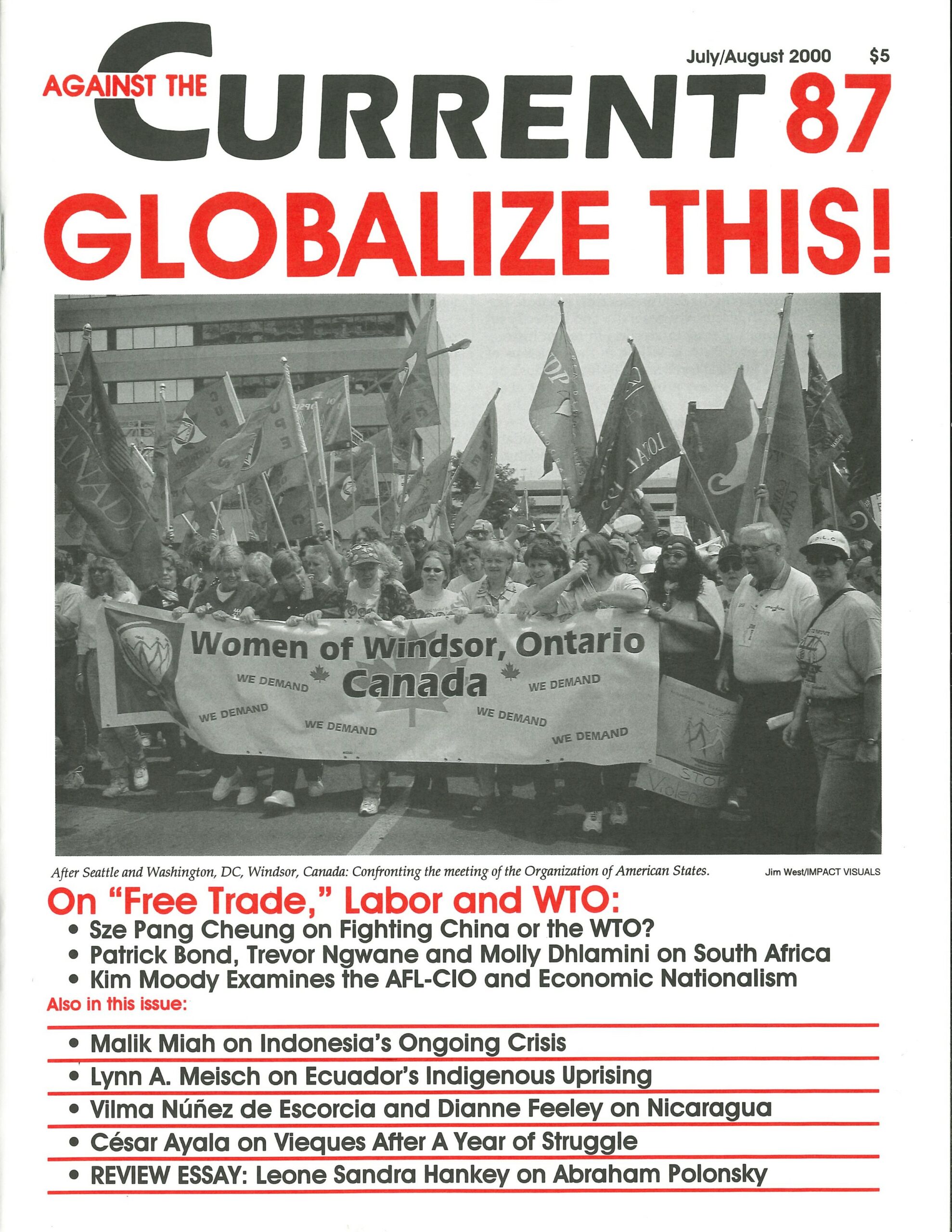 IN A HIGHLY significant display of solidarity, the 1100 delegates to the International Convention of the Service Employees International Union (SEIU) voted without dissent on May 24, 2000 to demand justice for Mumia Abu-Jamal.
Representing the largest union in the United States with 1.4 million workers, this convention was assembled in the very state where Mumia continues to sit on death row. Meeting in Pittsburgh, Pennsylvania, the assembled delegates voted to support a Moratorium on the Death Penalty and a new trial for Mumia Abu-Jamal.
The delegates from Local 1000 performed exemplary work in spearheading the passage of this resolution. After initial rejection from the resolutions committee, the brothers and sisters did not give up. They took it to the convention floor where it passed without dissent.
Many of the forty-nine delegates from Local 1000, which represent California State Employees, had participated just one week earlier in the first Labor for Mumia Conference, held in Oakland, CA on May 12, hosted by SEIU Local 250. In an air of optimism, even excitement, more than 100 delegates, representing hundreds of thousands of workers from more than seventy-five labor organizations, gathered to prepare a broad labor campaign to win justice for Mumia.
Labor for Mumia Conference
The front of the flyer indicated the theme. "Mumia is an award winning journalist, author of three books and a proud member of the National Writers Union (UAW). When ABC sent Sam Donaldson with a strike breaking `20/20′ crew to interview Mumia, during a recent CWA-NABET strike, Mumia sent them packing. Mumia has stated that he'd rather die than cross a picket line.
"We in the organized labor movement must launch a massive campaign to demand justice for this union brother."
Chaired by Karega Hart, President of Amalgamated Transit Union 1574 and co-chair of the Black Radical Congress in the Bay-Area, the morning session heard various union efforts for Mumia described. From the Longshore (ILWU) April 24 West Coast shutdown last year to Bob Mandel who spearheaded the historic teach-in developed by the Oakland teachers (OEA), experiences were shared.
Al Weinrub, Chair of National Writers Union Local 3 (UAW), explained how the writers' union locally placed a series of ads in papers throughout the Bay Area, signed by 300 writers in Mumia's defense, as part of their organizing drive. D'andre Bitter from the East Bay Postal Workers Union (APWU) described local developments in his union.
Bitter also described Morgan for Mumia, a group in the Morgan postal facility in New York that developed a button-wearing solidarity campaign that culminated in lunchroom discussions of Mumia's case and support for the broader campaign.
Robert Ford, representing Longshore workers from ILA Local 1422 in Charleston, S.C. was a part of a delegation that came across the country to be part of this conference. Recently beating back a union busting attempt which included violent police assaults and union defense efforts, Local 1422 has concluded that the union busting efforts, the flying of the Confederate flag, and the continuing persecution of Mumia Abu-Jamal are "all part of the same fight."
The delegates broke into small groups following these reports. Following an afternoon plenary, workshops were brought in by Jericho, Global Exchange and a group from the faith community led by Father Bill O'Donnell from St. Joseph the Worker Catholic Church.
Show of Solidarity
Many workers were unable to attend, given that the conference occurred on Friday, such as supporters in Teamsters Local 315, where Teamsters for a Democratic Union (TDU) members have helped develop a Mumia action group.
Similarly, UTU Local 1741 school bus drivers in San Francisco that also have an active Mumia group in their local, couldn't attend Fridays conference. However, all showed up with their banners unfurled for a powerful display of Labor Solidarity for Mumia Abu-Jamal on Saturday, May 13 for a march and rally in San Francisco.
The conference was initiated by the San Francisco Labor Council, and supported by every Labor Council in the Bay Area, from Santa Cruz to Marin County, including support from the Los Angeles and Madison, WI Labor Federations.
In concert with many locals from the CWA, ATU, HERE, SEIU, NWU, UAW, AFT, NEA, CNA and more, national unions including the United Farm Workers, United Electrical Workers and the Longshore Workers Union (ILWU), this was indeed an historic gathering. The Black Radical Congress played a critical role, with support also coming from the A. Phillip Randolph Institute, Pride At Work, the Labor Council for Latin American Advancement, and many other individuals and organizations.
"Anything Less is Unacceptable"
The action section of the main resolution adopted at this gathering, along with many specific organizing tools, suggests:
"One focus of this work should be in demanding that the justice department launch an official investigation into Mumia's case. With twenty-nine constitutional violations, it shouldn't take eighteen years to discover only one, which are grounds to throw the case out. We must expose their inaction, which amounts to complicity.
"This proposal doesn't pretend to exhaust the possibilities of what we might do. Rather, it suggests that we undertake a broadly focussed campaign to effectively engage the immense power of the organized labor movement to win justice for Mumia Abu-Jamal.
"Anything less is Unacceptable."
A plan of action was decided on and, as can be seen by the action taken at the SEIU Convention, work is underway. Please contact us to help out in this critical solidarity campaign.
ATC 87, July-August 2000