Against the Current, No. 86, May/June 2000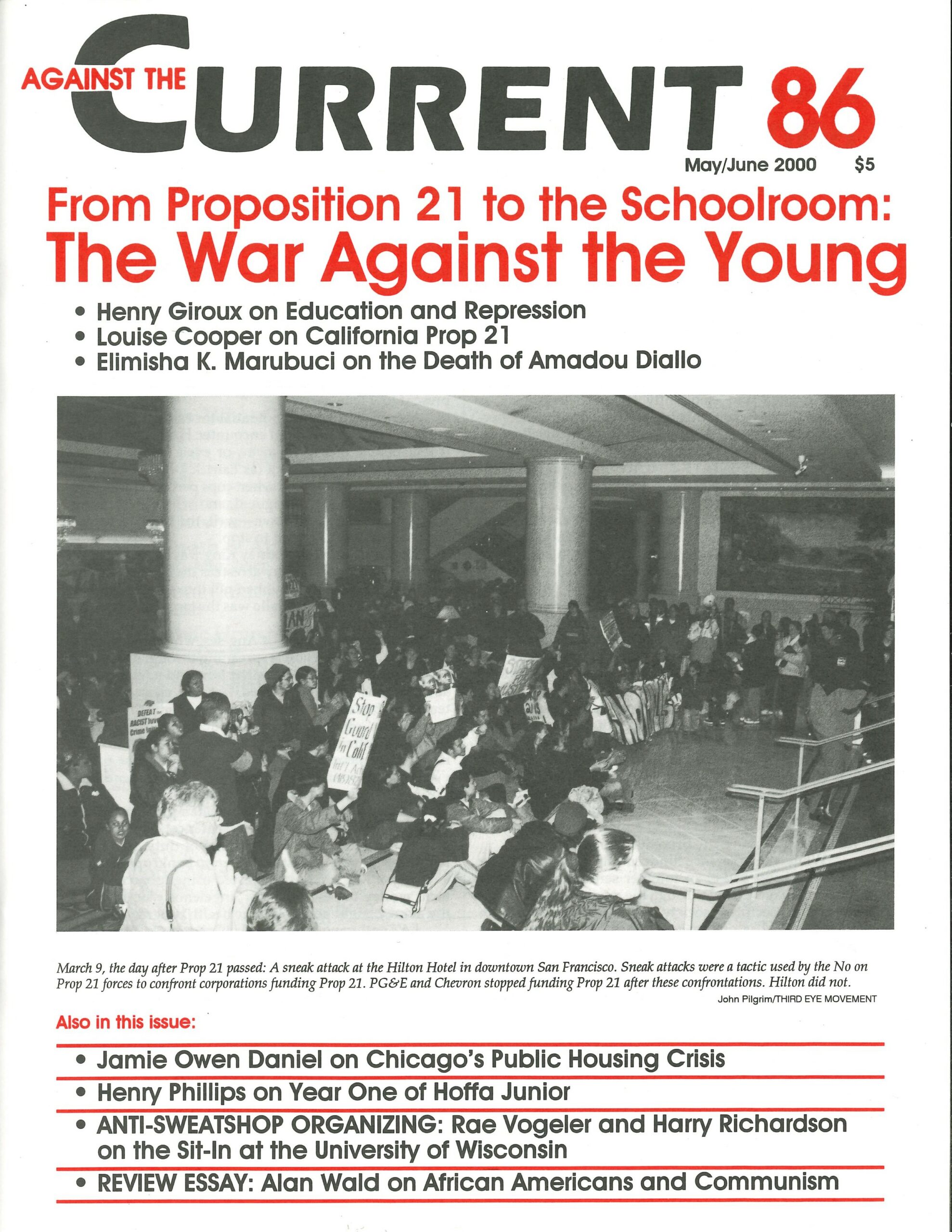 "If there is no struggle, there is no progress. . . Power concedes nothing without a demand. . ."
– Frederick Douglass, 1857
These words aptly describe recent events at the University of Wisconsin-Madison. At 2:00 PM. on Wednesday, February 16, 2000, seven students walked into UW-Madison Chancellor David Ward's office in Bascom Hall. The students-Brendan O'Sullivan, Molly McGrath, Mark Brakken, Sarah Turner, Riza Falk and Adam Klaus, chairperson of the Associated Students of Madison-demanded that the university change its sweatshop practices.
The university makes $1.2 million dollars each year by selling Bucky Badger clothing, some of which is produced in sweatshop factories here and abroad. The U.S. Department of Labor recently cited that over 65% of garment factories in Los Angeles were sweatshops. Among the items being manufactured was apparel licensed by the University of Wisconsin-Madison.
The students refused to leave the Chancellor's office until their demands were met. They called for the university to withdraw from the Fair Labor Association (FLA) and become a full member of the Worker Rights Consortium (WRC).
Molly McGrath, a UW student and member of the United Students Against Sweatshops Coordinating Council, explained: "The FLA is a sham. It is corporate controlled. The WRC is the only reasonable alternative. Corporations can't monitor themselves."
The students also demanded that the university assess the current state of the Collegiate Licensing Company (CLC), which represents over 160 universities that have license agreements with manufacturers. The students demanded that UW-Madison withdraw from the CLC if it failed to meet conditions established at the anti-sweatshop sit-in last year.
While the students were inside Ward's office, about 150 supporters walked into Bascom Hall. They were immediately locked out of the office. People were pepper-sprayed after attempting to follow the police into the Chancellor's office. John Peck, a member of the UW Greens and Alliance for Democracy, described what happened:
When we tried to follow a "reinforcement detachment" of police officers into the Chancellor's downstairs office to ensure the safety of our friends inside, they decided to slam the door and proceeded to crush people's limbs! They not only had my foot stuck, but also managed to mash a woman's finger in their crude attempt to deny us entry. Without any dialogue with those of us trapped in the doorway, they then shouted a warning and started spraying. Some bystanders grabbed 2x4s to try to wedge the door open enough to get people's limbs out…
People on the Progressive Wisconsin listserve were able to follow the events of the occupation as anti-sweatshop activists issued e-mail statements day-by-day, sometimes hour-by-hour, which proved a very effective way of getting out the truth and mobilizing support.
When the seven students inside heard of the police violence, they joined their necks together with U-shaped bike locks. Chancellor Ward appeared that night, and announced that he would withdraw from the Fair Labor Association. Ward, who had plans to be out of town, told the protestors that they could stay until Monday, February 21, when he would meet with them again.
Protestors decided to continue their occupation because only one of their demands had been met. They pledged to prevent property damage, disturbance of classes, and violence of any kind. And they lived up to that promise. However, Ward did not live up to his.
What the Students Demanded
Activists detailed their written demands February 17. That day protestors issued a pamphlet, titled: "Why the Chancellor's Office is Under Occupation." In addition to the three demands already described, they also called on the university:
To act on the recommendation of the 1999 Living Wage Symposium to form a university/college consortium for Living Wages.
To ensure that no punitive actions be taken against any member(s) of the occupation.
To take disciplinary action against the administrator who ordered the campus police to attack the occupation on Wednesday.
Later in the occupation, an updated version of the pamphlet was circulated. The revised version included another demand concerning the Shared Governance Equity Proposal, whose purpose is to democratize decision-making and involve students and faculty in governance. In addition, an apology was demanded from Chancellor Ward for the police attack on February 16.
Four Days of Occupation
Students, campus workers and community activists occupied Bascom Hall for four days-until being forcibly removed.
During those four days protestors held various events, issued press releases and communicated with anti-sweatshop organizers worldwide. The Madison left community came out in support of the occupation. People did shifts at the sit-in, made phone calls, sent e-mails, put up banners and stopped by with food, beverages and other provisions.
The atmosphere at Bascom Hall was upbeat and expectant. One of the protestors stated that it felt like he was "involved in a revolution."
At noon on Friday, February 18, a rally was held inside Bascom Hall, where union leaders and others spoke in support of the occupation. Paul Barrows, Vice-Chancellor for Student Affairs, later met with the protestors, giving them a statement from Chancellor Ward, who had agreed to provisional membership in the Worker Rights Consortium.
The sit-in continued because protestors wanted to meet with Ward in person about their demands, as the Chancellor had agreed. The next day, Paul Barrows and Roger Howard, Dean of Students, met with the protestors. Ward did not appear, instead, sending an ultimatum: Activists must leave Bascom Hall or else.
Observers have speculated that Governor Tommy Thompson sent this decree from high, forcing Ward to crack down on the sit-in and to renege on his earlier decision to meet with the protestors on Monday.
Protestors Arrested
At 4 AM, Sunday, February 20, fifty UW Police, Madison Police and Dane County Sheriff Deputies issued a warning and then moved in to arrest those occupying the Chancellor's Office. The police ordered the protestors to get down on their knees. They said that Chancellor Ward had ". . . declared this an unlawful assembly" and began to arrest people and forcibly remove them.
Scott Klein described the scene: "The police came in wielding their sticks and beating on stuff. They came in full riot gear. They came in with gas masks on. They came in with a tear gas launcher. It was an absolutely terrifying scene."
John Peck, who compiled a list of police brutality and misconduct, explained that the police used pain (pressure point) holds on the protestors, and confiscated cell phones, keys, medicine, cash and other personal belongings. Arrestees were taken out of the building one at a time; some were dragged out. One person was carried out with his hands and feet bound, and then "tossed" into a police vehicle, with his head slamming against the back wall.
As the occupiers were hauled away, supporters outside Bascom Hall sang solidarity songs and used cell phones to make emergency calls to the mainstream media. People could not reach the media, however, due to the early morning hour. The university administration had planned their timing well, but alternative radio WORT and community access television WYOU provided important coverage.
Arrests continued until 8:30 AM. Fifty-four activists were jailed, many without even knowing their charges. This was the largest arrest at UW-Madison since May of 1970, when over eighty anti-Vietnam war protestors were arrested.
Later some of the anti-sweatshop arrestees found out (and for some only when bail was posted) that they had been charged with unlawful assembly, disorderly conduct and resisting arrest. All fifty-four faced the first two charges, while sixteen were given the additional charge of resisting arrest. Under state statute, students and campus employees who are charged with unlawful assembly can be suspended from the university.
Radicalization and Support
While in jail, some protestors were held in solitary detention for up to four hours without being processed. Others were denied access to phone calls. Collect calls to certain phone numbers were blocked, and some jail phones didn't work at all. People were denied medication, such as insulin, even when guards knew that the medicine was available.
The police brutality was a rude awakening for some anti-sweatshop activists, especially those arrested for the first time. As Molly McGrath explained, "people have been radicalized" by the events.
The last protester was bailed out of jail at 8:00 PM Sunday night, February 20-sixteen hours after the arrests had begun. Bail ranged from $400 to $700 per person, depending on the charge. Resisting arrest had the highest bail of $700. In total, over $20,000 was posted by friends, relatives, the Center for Campus Organizing, and others.
That afternoon, 200 people attended a press conference and picket outside the Public Safety Building to show solidarity with the protestors jailed inside. At 5:00 PM on Monday, February 21, over 500 people rallied outside Bascom Hall in support of the anti-sweatshop activists, one of the largest rallies in Madison in recent times. People came from around the state, as well as Chicago.
Students, campus workers, religious leaders, community activists, union representatives, public officials and others spoke in favor of the protestors, while condemning the Chancellor and the police. Rodney Ward, who had traveled from the Solidarity National Office in Detroit, spoke in support of the protestors. The sit-in had received international coverage and endorsements from all over the world, including Canada, Mexico, Germany, Guatemala and El Salvador.
Roots of the Movement
When asked about the roots of the anti-sweatshop movement, Ben Manski, long-time anti-sweatshop and democracy activist, explained:
Starting early in the 1990s there was a lot of work going on through various human rights organizations and international solidarity groups in the U.S. who were . . . drawing the connections between U.S.-based trans-nationals and their activities overseas . . . That sparked college activism.
In the mid to later `90s, the AFL unions started to become very invested in the anti-sweatshop fight … some because they are in the textile trade and other unions simply because of positive resurgence of radical labor organizing.
Beyond those two dynamics, there's also been a rise in a democracy theme. This has been very strongly a part of what's gone on here at UW-Madison . . . a theme of trying to build a movement which establishes a new system of government in this country, which is truly democratic . . . What's gone on here and at some of the other campuses doing anti-sweatshop work has been . . . about resisting corporate power.
In 1995 and 1996, UW-Madison students and supporters organized against Reebok, a sweatshop company. Despite widespread opposition, the university signed a contract with Reebok. In response, activists formed the UW Alliance for Democracy, a group that works to transform "UW-Madison into a fully democratic institution . . . ."
The anti-sweatshop struggle has emerged from a wide spectrum of organizations and struggles. One group, the Madison Anti-Sweatshop Coalition-an association of students, labor unions and community members-has recently been diminished by sectarian politics. Anti-sweatshop organizers are less inclined to participate in MASC. The future formation of Madison anti-sweatshop organizing remains to be seen.
WRC Yes, FLA No!
Why leave the FLA and join the WRC? In September of 1999, United Students Against Sweatshops (USAS) organized the Worker Rights Consortium in consultation with labor and human rights groups. (For background see articles in ATC 84 by Eli Naduris-Weissman and Peter Romer-Friedman.)
USAS is a coalition of over 100 campus organizations, throughout the United States and Canada, which fights for sweatshop-free labor conditions and workers' rights. USAS believes in the power of students. Sit-ins have occurred at the University of Arizona, Duke University, Georgetown, University of Michigan, University of North Carolina-Chapel Hill, University of Pennsylvania, as well as University of Wisconsin-Madison and other places, some erupting even as this articles goes to press.
USAS formed the Worker Rights Consortium as an alternative to the corporate-controlled Fair Labor Association. A major difference between the FLA and WRC concerns independent monitoring. With the FLA, companies internally monitor their own practices and keep the information to themselves. With the WRC, monitoring is external. Worker allied groups inspect factories.
David Alvarado, an activist arrested at the recent sit-in, stated that in the FLA "companies picked the places for the inspectors to go. The FLA as global sweatshop police was very unrealistic." With the WRC, by contrast, "Workers can lodge complaints . . . and prompt the monitoring. Workers know better than companies when their rights are being abused."
As of March 2000, eighteen colleges and universities had joined the Worker Rights Consortium. The WRC founding conference took place in New York City on April 7, at which time a governing board was convened. Meanwhile, the FLA is losing members.
Commitments Broken
When UW-Madison students and supporters staged last year's ninety-seven-hour sit-in at Bascom Hall, February 8-12, 1999, they demanded a stronger Code of Conduct with provisions for full public disclosure of factory locations, protection of women's rights, and living wages. Chancellor Ward at that time signed an agreement to establish a "shared governance committee" to advise on the provision's implementation.
This was called the CLC Task Force Advisory Committee. In March 1999, the Associated Students of Madison (ASM) appointed three students, Molly McGrath, Samantha West and Mark Brakken, to the CLC Task Force Advisory Committee. Later Samantha moved away and David Alvarado was appointed.
The committee, which also contained three faculty members and three academic staff, never got off the ground. Meetings occurred haphazardly, minutes were not taken, and votes did not occur. Students were marginalized and not always notified of meetings.
In July, despite adamant student opposition, Chancellor Ward signed on to the Fair Labor Association. He met with ASM and verbally agreed to follow the recommendations of the CLC Task Force Advisory Committee. But that did not happen.
In December, the committee voted informally 5-4 in favor of joining the WRC and pulling out of the FLA. On January 21, 2000, however, Ward declared that he would continue membership in the FLA. Ten days later, all three students resigned from the advisory committee. By the middle of February, the second sit-in had begun.
A demand of the recent occupation was to act on the recommendations of the 1999 Living Wage Symposium. According to David Alvarado, the Living Wage Symposium concluded:
There are a number of ways of measuring a living wage . . . . The question is what impact would it [a living wage] have on the workers? Would it create golden "ghettoes," where all of a sudden you have workers who make university apparel living at higher standards than the other workers . . .
Even if you created a golden ghetto that would still be better than the current state of affairs. The conclusion of the Living Wage Symposium was that it can be done and it should be done. And again, universities are resisting.
What Was Won
The recent occupation won two important concessions from the university. Ward agreed to withdraw the university from the Fair Labor Association and to join-albeit provisionally-the Worker Rights Consortium.
Another important gain of the occupation was the ability of anti-sweatshop activists to win the local media war. When protestors were jailed, the Chancellor started to lose credibility with the public. He issued a five-page letter to the Academic Staff Executive Committee and to the newspapers.
As Ward put his media-machine into high gear, anti-sweatshop activists responded by urging people to send letters of support to the media, and it worked. The UWM Post, a student paper at the University of Wisconsin-Milwaukee, provided favorable coverage of the occupation. They printed a special March 1 four-page pullout section chock-full of information and letters of support, including the UW solidarity act passed by the Student Association of UWM.
The Badger Herald (February 29), a campus paper, contained a full-page advertisement developed by anti-sweatshop activists. The ad was excellent! Titled "Clearing Up the Confusion: Sweatshops, Riot Cops, & You," the page contained information on sweatshops, "facts" and "fiction" about the occupation, Ward's misinformation campaign, and how students could get involved.
One mainstream Madison paper, The Capital Times, printed dozens of supportive letters in February and March. A staff editorial piece advocated that Ward "back amnesty" for the protestors. Jose Manuel Sentmanat, 5th District Alderman, announced in a letter to the editor that he "would not grant approval to university projects in his district" until charges were dropped (February 28).
The other major paper, the Wisconsin State Journal, printed numerous letters of support, titled "Protestors deserve praise," "Why is chancellor unwilling to comply?" and the like (February 25). The campaign of support was successful: On March 24, criminal charges were dropped against the fifty-four anti-sweatshop protestors. Instead, each was given a $50 ordinance violation, in the same category as a parking or traffic ticket.
"It's About Power"
In mid-March, Chancellor Ward announced that he would "step down" in January of 2001 and take a sabbatical. Molly McGrath described Ward's actions as a "political tactic; why else announce nine months ahead of time?" Some people have speculated that Ward was just tired of the flack, or had been "asked" to resign by higher-ups.
Another significant victory of the sit-in was the ability of protestors to raise the broader issue of who controls the university. "It's about power," Chancellor Ward recently said after having the anti-sweatshop activists arrested. Ben Manski agreed, "When Ward said it's about power, he's right."
In mid-March, Molly McGrath spoke to a Plenary Session of the AFL-CIO's Working Women Conference:
I have a new slogan for you: "Whose University? Our University!!!"
That's what we were chanting three weeks ago when I and hundreds [of] other University of Wisconsin students and workers took over our administration building. We occupied the building for four days. We demanded an end to university profiteering off the labor of sweatshop workers. We demanded a voice in the governance of our university. But the Chancellor responded with violence. 54 of us were arrested . . .
The demands we posed in Wisconsin reflect a growing movement taking place on campuses today. Most often it is portrayed as a movement of students against sweatshops. Internally, however, this movement is rapidly changing. It is becoming part of the movement of global solidarity against the rule of corporate power . . . .
This movement is the voice of democracy. . . . And it is the voice of workers' rights.
---
Sources
The Badger Herald, February 29, 2000
February 17 and 22, 2000 emails by John E. Peck, UW Greens Infoshop, Madison, WI
UW-Madison brochure, "Why We Occupied the Chancellor's Offices," February, 2000; Wisconsin State Journal, "We're more united but scared, protestor says," February 22, 2000
The Capital Times, "Ward says it's about power," February 23, 2000
Interviews with Ben Manski, Molly McGrath and David Alvarado.
---
The authors are activists and members of Solidarity in Madison, Wisconsin. They extensively interviewed Ben Manski, Molly McGrath and David Ernesto Alvarado for this article, and extend sincere thanks for their time and commitment.
Ben Manski is a UW-Madison graduate in Sociology and a long-time activist in progressive politics. He has worked on sweatshop issues since 1993, when organizing a takeover of Nike Town in Portland, Oregon.
Molly McGrath, a senior in Women's Studies at UW-Madison, became involved in sweatshop issues through pro-choice activism. She is a member of the United Students Against Sweatshops Coordinating Council. She was arrested at the Madison sit-in this past February.
David Alvarado was born and raised in Mexico and lived in El Salvador for six months. He's been involved in social justice issues for seven years and anti-sweatshop activism since 1997. He was also arrested at the sit-in.
---
ATC 86, May-June 2000