Against the Current, No. 86, May/June 2000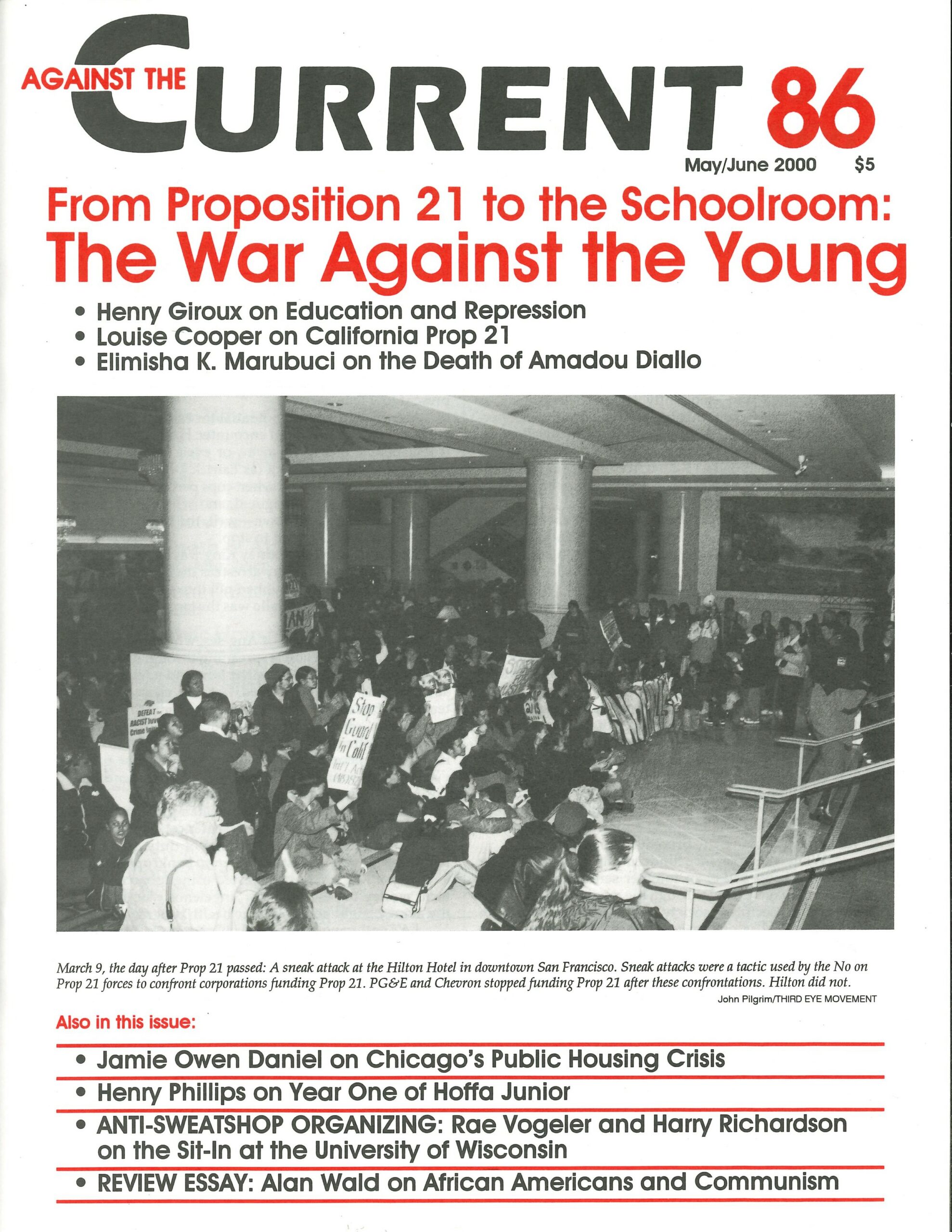 SOME AMERICAN ICONS just never die. Take Barbie, for instance. The most famous American doll turned forty last year, which is pretty old in doll years. In the newest Avon catalog, the forty-something Barbie looks fabulous, still all flowing hair, unblemished skin, not an ounce of fat on her body. How does she do it?
Having rich parents sure helps keep Barbie fit and adorned. Mattel, Barbie's maker, just keeps raking it in, in part because of hefty sales, in part because it has a clever fundraising strategy: it sues other companies for trademark infringement.
Mattel's latest victim is Seal Press, a small feminist publishing house out of Seattle. Seal is known for its wide range of solid feminist books, from literary fiction to feminist critiques of culture and society.
In 1998, Seal published Adios Barbie: Young Women Write About Body Image and Identity, edited by the twenty-something Ophira Edut, co-founder of HUES magazine and a current editor at Ms. Edut collected some of the best emerging young writers in the United States to take on mainstream notions of beauty, and offer up ways to challenge, subvert and redefine them. The book has been selling well in the general feminist market, and has been widely used by academics as an introductory feminist text.
Using Barbie's Image?
According to the current issue of Feminist Bookstore News (Volume 22 Number 6), Mattel, in their lawsuit, "claimed that Seal's use of the Barbie hairbrush, the Barbie high heel, the Barbie scallop-shell brush, the Barbie heart-shaped pendant, the Barbie foot, and even the shade of pink and font used on the word 'Barbie' on the cover illustration of Adios Barbie used the Barbie image to sell the book."
Mattel claims that Seal is "a conspirator whose intent was to take advantage of Mattel and Barbie." As their suit reads, Seal used Barbie "to trade on the enormous goodwill Mattel has earned in its BARBIE products and to deceive and confuse the public into believing that Adios, Barbie is or was directly sponsored by, approved by, or otherwise associated with Mattel and its official licensees."
When those of us in the feminist book world first heard about the suit, we laughed, cheered, and felt affirmed in what we've always known as feminist writers, readers, publishers and booksellers: feminist books are dangerous; they can change our consciousness, our lives.
What an absurd suit, we thought, unlikely to go anywhere, sure to give the book even more sales.
But in January, Seal Press made the difficult decision to settle with Mattel, and, as the article in FBN makes clear, with good reason. Seal would have had to incur enormous costs in legal fees and time to fight the giant Mattel. According to FNB, Seal will have to pay Mattel $10,000, sell no more than 4,000 copies of Adios, Barbie and never again manufacture a product imitating the Barbie trade<->mark or elements of the Barbie trade dress.
While the $10,000 won't put Seal under, and they will be publishing a new edition of Adios, Barbie under the title, Body Outlaws, the outcome of the lawsuit is sobering. Mattel is an aggressive giant, with money and time to spend. Seal is a small feminist enterprise, and its greatest asset is the power of its ideas. But therein lies the good news, too. Feminist thought, ideas, writing and activism just keep percolating and spilling over.
The remaining copies of Adios, Barbie will sell, as will its reincarnated version, because it's an important book that women need. So buy this book, and continue to support feminist authors, publishers and bookstores. With that support behind feminist thought, ideas, and activism even the most heinous corporate censorship cannot silence us.
ATC 86, May-June 2000