Against the Current, No. 86, May/June 2000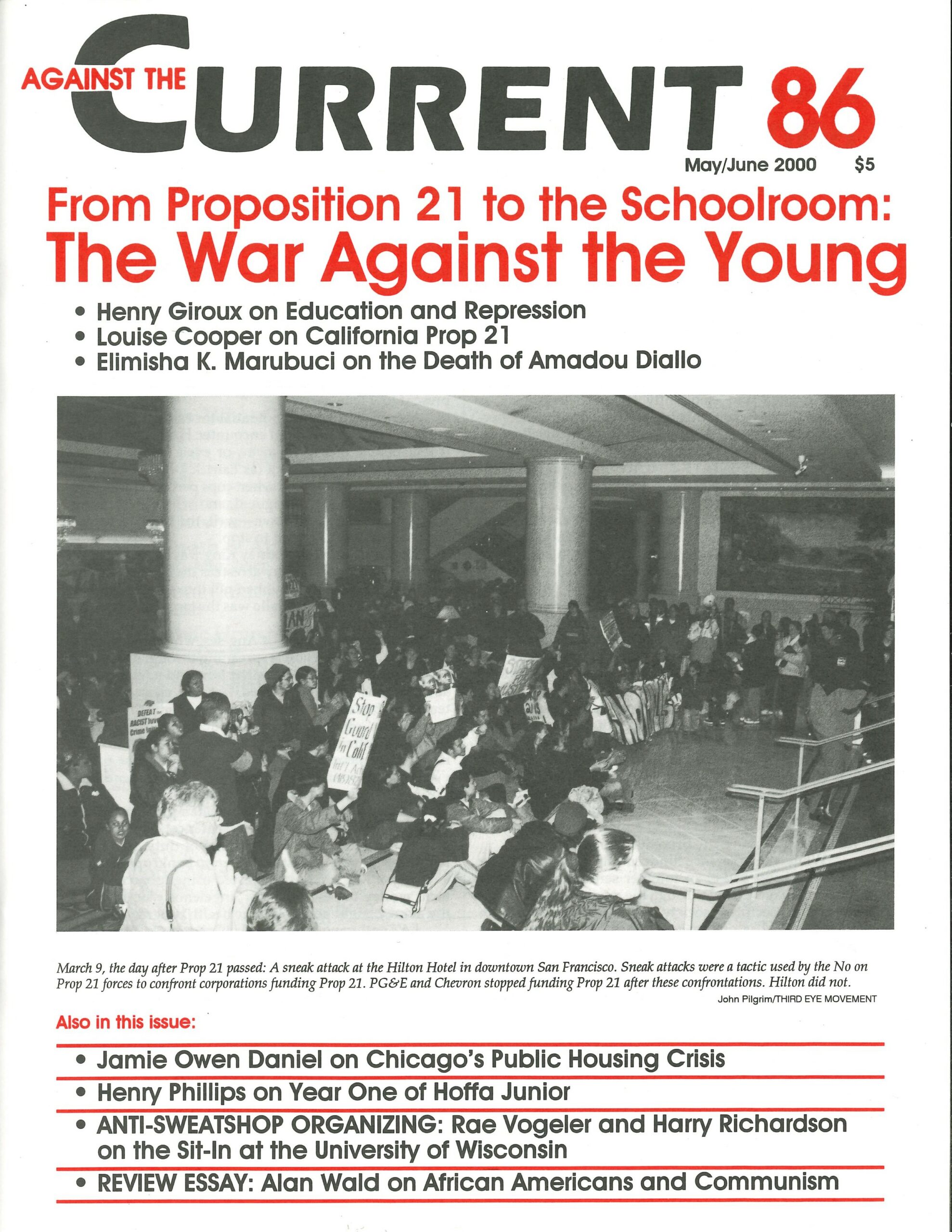 MARCH 22, 2000 — As this article is written the movement to win justice for Mumia Abu-Jamal is gearing up to mobilize for his first day in Federal District Court.
The date, unknown at this point, is crucial and could well determine the future of Mumia's appeal for a new trial. The key issue, of course, is the lack of elementary due process during both the original trial and Mumia's appeals through the Pennsylvania state courts.
The trial judge, Albert Sabo, who is notorious for sentencing more prisoners to death than any other judge in the United States, also heard the first round of Mumia's present appeal as part of a "Post Conviction Relief Act" hearing in 1995. He simply ruled that all of the original trial testimony in 1982 remained credible, while all of the new evidence introduced by the defense was not.
This evidence ranges from testimony by forensics experts clearly contradicting the police account of what happened the night police officer William Faulkner (and Mumia) were shot, to eyewitnesses who did not testify in 1982, to one witnesses — Veronica Jones — who told the court how she was threatened by the police with imprisonment and the loss of her children if she testified truthfully about what she had seen.
Sabo simply dismissed it all. Thus none of this new evidence, in support of Mumia's claim that he is the victim of a police/prosecution frameup, became part of the written legal record. The Pennsylvania Supreme Court, the only other court to hear this appeal (and one made up overwhelmingly of justices elected with an endorsement by the Fraternal Order of Police), simply rubber-stamped Sabo's "findings of fact."
Thus the legal record, as it now comes before Federal District Court Judge William Yohn, contains none of the essential evidence which has been reviewed by public opinion world-wide, and which has helped convince so many that Mumia at the very least deserves a new trial.
Mumia's attorneys are requesting that Yohn hold evidentiary hearings so that he can decide the credibility of this new evidence for himself, and make it part of the written record as Mumia's appeal works its way through the federal court system.
But Yohn is not required to do this. In fact, the 1996 "Effective Death Penalty Act" specifically instructs federal judges to simply accept any "reasonable" findings of fact by the state courts. They are all but prohibited from undertaking an independent review in death penalty cases.
Two key questions nevertheless remain for Judge Yohn: 1) Were Sabo's findings of fact actually "reasonable," even by the extremely generous standard set in the 1996 law? 2) How strictly should he follow this aspect of the law, which is of questionable constitutionality?
On February 28 the Supreme Court heard arguments in another case, "Williams vs. Taylor," the first legal challenge to the Effective Death Penalty Act to reach it. Mumia's lead attorney, Leonard Weinglass, explained the importance of how the court ultimately rules: "This decision will greatly impact Mumia's case because it will set the boundaries for federal judges. Either they will be able to conduct independent reviews of state cases or they are going to be severely restricted."
Justice for All?
All appeals to higher federal courts (Court of Appeals and Supreme Court) will be based on the written record as it is finalized by Judge Yohn — either the state record established by Sabo, or an expanded one containing new evidence. Thus Judge Yohn's decision on whether to hold an evidentiary hearing could well be decisive.
That is why activists are now focusing their efforts on the first day of hearings in his courtroom. A massive outpouring will remind Yohn that this case is a test for millions around the world who are watching to see whether there is any truth whatsoever to the claims of "justice for all" in the United States of America.
During this first day of hearings, Yohn will hear oral arguments from attorneys for both sides in support of legal papers previously filed. He will probably not issue a ruling on any of the substantive questions — including whether to hold an evidentiary hearing — at that time, but take the arguments under advisement and announce his decisions at a later date. He could also schedule additional hearings.
The deadline for filing all legal briefs by the defense and prosecution is April 1. No one knows how soon after this Yohn will schedule the oral arguments, but most likely there will be only seven to ten days' advance notice. So mobilizing efforts are beginning now, with some cities selling bus tickets with an open date, and people pledging in advance to take one (or more) days off from work or school in order to participate in the planned actions.
National Conference and Civil Disobedience
Meanwhile two major actions in support of Mumia took place in February, slightly more than a week apart. First, on February 19, more than 650 people gathered at the Cathedral of St. John the Divine on the upper west side of Manhattan, NY, for a day-long "Emergency National Conference to Save the Life of Mumia Abu-Jamal."
More than 250 came from New York, with the remainder from eighteen other states, Canada, England, France, Germany, Japan and Norway.
The event was structured as a working conference, not merely as a protest. Workshops were focused largely on constituencies: youth, labor, Black community and people of color, religious, lesbian/gay/bi/trans, death-penalty opponents, the legal community and educators.
In each workshop plans were made to step up organizing work around Mumia's case within the specific constituency. There were also workshops dealing with particular issues and organizing strategies such as planning civil disobedience, Leonard Peltier and Mumia, police brutality, and specific attacks against Mumia's supporters in Philadelphia.
At the morning plenary session Sam Jordan, from Amnesty International's Program to Abolish the Death Penalty, spoke about how Mumia's case is central to the fight against the death penalty in the United States. Two days before, on February 17, Amnesty had issued a comprehensive report: "A Life in the Balance: The Case of Mumia Abu-Jamal."
The author of this document, Piers Bannister, gave a presentation at the evening session of the conference. He pointed out how the U.S. government is always citing Amnesty's findings concerning human rights abuses in other parts of the world, and challenged officials in this country to accept the organization's report on Mumia.
Other speakers at the morning and afternoon plenaries included Ossie Davis, Leonard Weinglass, Robert Meeropol (son of Julius and Ethel Rosenberg), and Kathleen Cleaver. The conference closed with a series of presentations to give the audience a broad sense of Mumia's life and work, plus readings of original poems.
On Monday, February 28, a mass civil disobedience action took place in Washington D.C. The protest, in front of the U.S. Supreme Court, demanded a new trial for Mumia and the abolition of the death penalty.
As 2000 participants in a legal support vigil watched and cheered, 185 were arrested for blocking the street. Among them was Dennis Brutus, poet and former South African political prisoner.
On the same day, as part of a coordinated protest, 163 were jailed in San Francisco for sitting down in front of the U.S. District Court of Appeals. Demonstrations also took place in Toronto, Los Angeles, and other U.S. and Canadian cities. As the action was happening outside, the Supreme Court was hearing arguments in the case of "Williams vs. Taylor."
These events coincide with a period of increasing doubt, even among establishment political figures, about the death penalty in the U.S.A. In January, Illinois Governor George Ryan (a Republican) instituted a temporary moratorium on executions in that state after thirteen death-row inmates were found to have been wrongfully convicted.
On February 10 the Philadelphia City Council called for a halt to executions in Pennsylvania, and on February 22 the Judiciary Committee of Pennsylvania's Senate held hearings on a bill calling for a two-year moratorium.
ATC 86, May-June 2000