Against the Current, No. 83, November/December 1999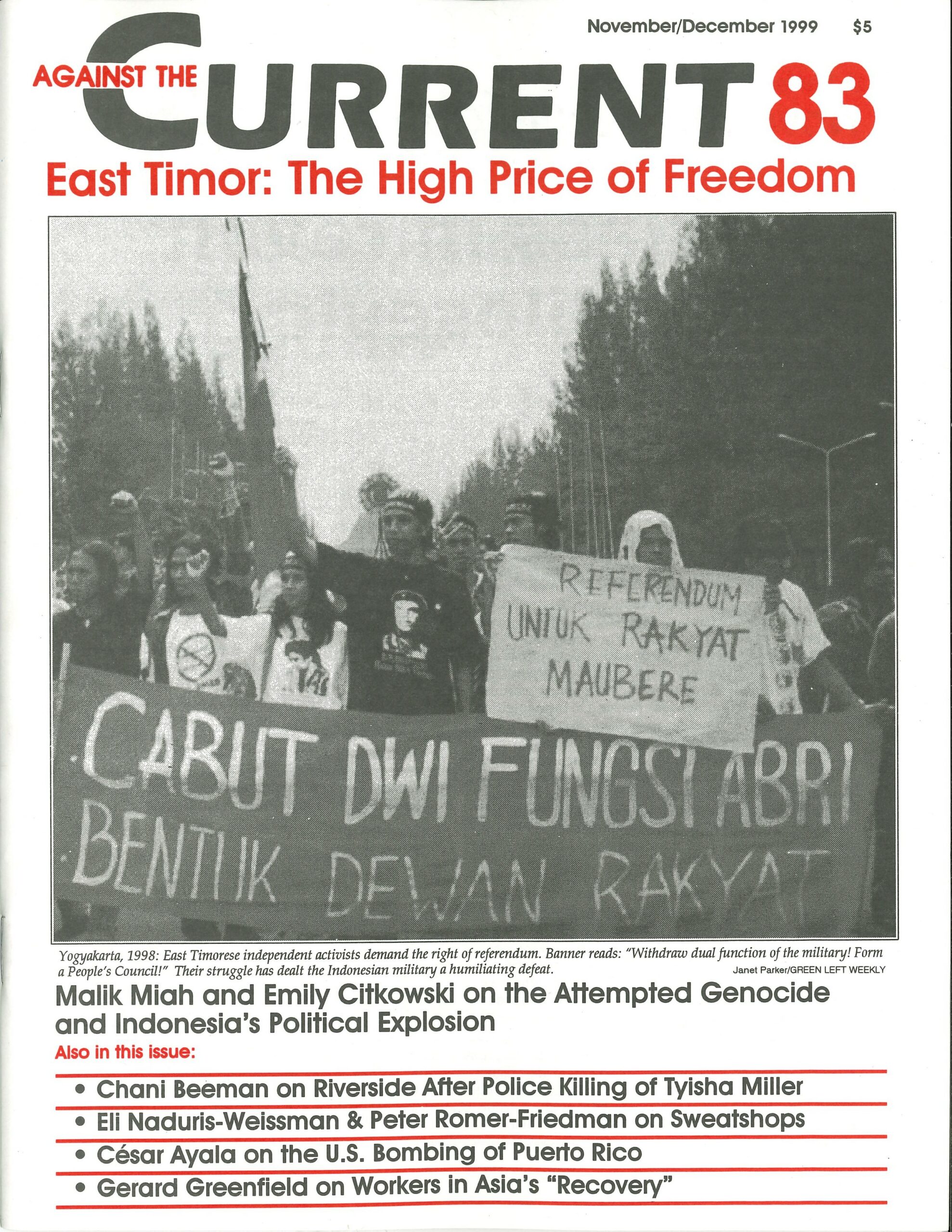 KATHIE LEE GIFFORD cried for the first time in 1996, bawling with teary eyes and pledging that young girls would no longer produce her WalMart apparel line. She promised to clean up the factories, and even initiated the Apparel Industry Partnership (AIP), a code of conduct meant to silence activists and cover up her sweatshop abuses.
Kathie Lee's plan to suppress workers' rights was well calculated—she teamed up with Nike and the Clinton Administration to create a code of conduct and she hired a top notch public relations firm.
But one factor that Kathie Lee and friends omitted while contriving their plan was the possibility that a student movement might respond, mobilizing thousands and delegitimizing corporate codes of conduct that airbursh the concrete problems workers face. Indeed, Kathie Lee and the Clinton Administration are currently stuck in a precarious situation they had not anticipated.
Students at more than 125 campus chapters of United Students Against Sweatshops (USAS) are uniting with workers throughout the world in a struggle to end the race to the bottom in the apparel industry—an industry that has pitted workers against workers and subcontractors against subcontractors to sweat profit out of women, from the meager factories in midtown Manhattan to the immense industrial parks of Honduras.
Students have been securing codes of conduct at their universities, mandating provisions such as full public disclosure of factory locations, a living wage for workers, women's rights, the right to collectively bargain, no forced or child labor, among other fundamental rights.
Sit-ins at six university campuses last semester ranged in duration from thirty-one hours at Duke University to 226 hours at the University of Arizona. Through strategic and grassroots collective action, students are applying massive pressure on the $2.5 billion collegiate apparel industry and the universities that profit from licensing their logos to companies such as Nike, Adidas and Starter.
The Apparel Industry Partnership has set up a monitoring system, called the Fair Labor Association (FLA), that is supposed to put an end to sweatshop conditions. But in fact the FLA is a cover up. [For background on the Fair Labor Association, see "Putting the Fox in Charge," by Medea Benjamin, ATC 79, March-April 1999-ed.]
The FLA does not call for a living wage or full public disclosure of factories and monitoring reports. FLA-affiliated companies will be able to say that they produce "no sweat" garments based on investigations at only five percent of their factories, and the companies will have notification prior to an investigation.
Although the FLA has not yet accredited monitors, it will likely lean towards accounting firms like Price WaterhouseCoopers that workers throughout Central America and Asia fear—the same Price WaterhouseCoopers that has done many studies for union-busting FLA members such as Phillips Van Heussen and Kathie Lee/WalMart.
The Union of Needletrades, Industrial and Textile Employees (UNITE) and the Interfaith Center for Corporate Responsibility (ICCR) were two of the many groups that withdrew from the FLA negotiations in November, 1998 due to the weak provisions mentioned above. These two organizations have been extremely important allies of students thoughout the nation.
Michael Posner, the executive director of the Lawyers Committee for Human Rights, has stayed loyal to the FLA, even though he says he agrees with students regarding the principles of full public disclosure and a living wage. In March 1999, Posner and other FLA advocates convinced seventeen universities, including the entire Ivy League, to join the FLA.
But students mobilized quickly and successfully educated the public about the institution their universities had joined. During a fifty-one-hour sit-in, the USAS chapter at the University of Michigan convinced the U-M administration to change its mind and not join the FLA.
Publicly the adminstration had said that the U-M would join, but they had not yet officially signed on. (U-M's General Counsel, Marvin Krislov, actually helped write the AIP when he was the top lawyer at the Department of Labor.)
In April, Brown University's president agreed to withdraw from it by October 15, 1999 if a living wage, full public disclosure and university autonomy were not added to the FLA. The real problem for universities that have joined the FLA, however, is that they have no power to change the charter document of the FLA—any changes would require the support of at least three of the six companies on the FLA executive board.
While students have pressured their administrations, protested at the Department of Labor and discussed the FLA with President Clinton's Economic Advisor, Gene Sperling, in the White House, the number of universities signed onto the FLA has nevertheless climbed to more than 100 institutions.
Just as activists expected, no changes have been made in the FLA. Faced with the question of what to do, 200 students from more than eighty campuses at the USAS conference this July collectively decided on a clear plan of action.
Worker-Student Power
If corporate codes and monitoring systems won't end sweatshops, our administrators ask, what will?
The anti-sweatshop movement, including workers, students, unions, religious and human rights groups from the United States, Canada, Central America and Asia, has created a plan for a Worker Rights Consortium (WRC) that will aid, not silence, workers who produce apparel throughout the world.
When USAS and its many allies began to conceptualize the WRC in April, we realized that the FLA had attempted the impossible by trying to monitor and police the entire global apparel industry.
We recognize that while universities cannot effectively police the entire collegiate apparel industry-for even inspecting 100 percent of a company's factories one day each year could not ensure that the factories are in compliance-they can certainly create accountability by holding an entire licensee or company responsible for violations in any one of its factories.
Therefore, WRC asserts that if universities discern one factory's violation to be an indication of systematic sweatshop abuses, companies will be forced to clean up all of their factories or risk losing their important contracts with universities.
Worker empowerment is the anti-sweatshop movement's answer to company-controlled monitoring. Keeping in mind that the firms and government entities that wrote the FLA did not seek input from workers, USAS made it a priority to incorporate the suggestions of workers and non-governmental organizations from countries such as El Salvador, Nicaragua and Indonesia.
For instance, many workers, fearing repercussions, said that they will never tell the truth to Price WaterhouseCoopers. The WRC plan indicates that only worker-allied groups would conduct investigations.
Full Disclosure and Verification
Instead of focusing only on monitoring and certifying firms as "no sweat" firms, WRC employs full public disclosure and limited independent external verification investigations to empower workers and hold companies accountable for their entire supply chains. By utilizing the licensing contracts as leverage, a consortium of universities can force the apparel firms to alter their labor practices.
The WRC can be broken into three sections which are interrelated: 1)broad full public disclosure; 2) true independent investigations; and 3) penalties for violations of the code.
Broad Full Public Disclosure:

Since sweatshops have proliferated in an industry that hides its factories behind closed doors, and because consumers have the right to know how their products are being made, disclosure is key to this plan.
Universities would require all of their licensees (which, in the case of the University of Michigan number 580) to disclose the locations of all facilities, including its subcontractors.
The licensee or company would also have to self-report objective measures of working conditions such as wages, benefits provided and average work hours. Misreporting this information would be a major violation of the agreement with universities.
Also, access to company records when requested would allow the WRC to facilitate the remediation of violations reported by workers or uncovered by an investigation. With complete transparency the WRC will use disclosure of violations such as harassment and firings to bring these practices to the public's view, and then the public can apply pressure to the licensee to clean up its act.
True Independent Investigations:

While universities cannot police the entire industry that profits from collegiate logos, true independent external investigations will be necessary to force companies to change their practices.
Through random inspections and "pro-active" investigations that target high risk countries, regions and factories or licensees that have a poor track record of labor practices, the WRC can uncover code violations and inform the public.
Most importantly, the WRC will include the "fire alarm" system. Workers can pull the fire alarm by filing complaints and investigations will verify the truth of their complaints. Follow-up visits will ensure that the licensee commits to the remediation of the workplace.
The WRC's method of conducting investigations gives companies no control over inspections-that means no notification of when investigations will happen as the FLA would allow, and companies can't revise the reports as the FLA requires. Only worker-allied groups will can conduct investigations because only they have the workers' trust.
The WRC will work with those same local worker-allied groups to build their capacity to provide resources, education and support for workers. By offering grassroots support, the WRC will ease the burden for workers who wage onerous struggles for their rights throughout the world. Finally, universities will keep an arm's length relationship from the investigations, since they have a substantial financial interest in this industry.
Penalties:

While the university is the sole decision-maker when it comes to its contracts with licensees, the WRC Advisory Board and staff will advise universities on what type of sanctions to impose upon licensees found in violation of codes of conduct.
Of course, the ultimate penalty is loss of the contract, but smaller sanctions can be applied when companies fail to disclose requested information, or refuse to improve a factory found in violation. Cutting and running—closing a factory after a violation is found—would constitute a serious violation.
It is our hope that the WRC will reverse the race to the bottom by forcing companies to dramatically change their practices.
As students and as compassionate citizens of the world we are disgusted by the methods that firms have employed to profit from the sweat of small girls and boys.
We are confident that public pressure and strong agreements between universities and companies will start to invert this downward spiral of falling real wages.
If our plan is indeed as well calculated as we believe it is, then companies will no longer compete to find the lowest wages, but instead will compete to prove to the public that they pay a living wage and have decent working conditions. This, in turn, will provide some space for workers to defend their rights, form unions and win concessions.
The Struggles Ahead
While we are optimistic that the WRC will cause immediate changes in the industry, we must stay flexible in introducing new methods that seem appropriate and by negating hypotheses that we find to be incorrect.
While WRC is quite feasible for universities—in fact, it was crafted specifically for them—this plan will be very scary to many administrators whose priority in higher education is to serve their universities' corporate sponsors. It will likely take many sit-ins, teach-ins and demonstrations to pressure universities to join the WRC.
But we will not be deterred in our struggle to unite with workers and help equalize the balance of power in an unfettered global economy. We are morally correct in our struggle, and we will expose university administrators who attempt to defend corporate codes or monitoring systems like the FLA that cover up sweatshop abuses. Workers and students will prevail, despite co-opting strategies by universities and corporations.
Students are linking activism and policy, refuting the neo-classical assertions of conservative economists who espouse their theory that paying workers a living wage will cause massive unemployment.
A new generation of activists and intellectuals is promoting a bottom-up model for organizing. Student activism is back on campus. Kathie Lee is crying again because students have exposed the recent death threats and firings that have taken place at her Caribbean Apparel factory in El Salvador, where workers are trying to form a union.
Companies are on the defensive, and so are some university administrators who preach the propaganda of Corporate America. Oh what a fine day to be an activist!
---
Peter Romer-Friedman is an anti-sweatshop activist at the University of Michigan in Ann Arbor where he is a junior majoring in Economics and Social Sciences. He is from Brooklyn, NY.
---
ATC 83, November-December 1999