Against the Current, No. 83, November/December 1999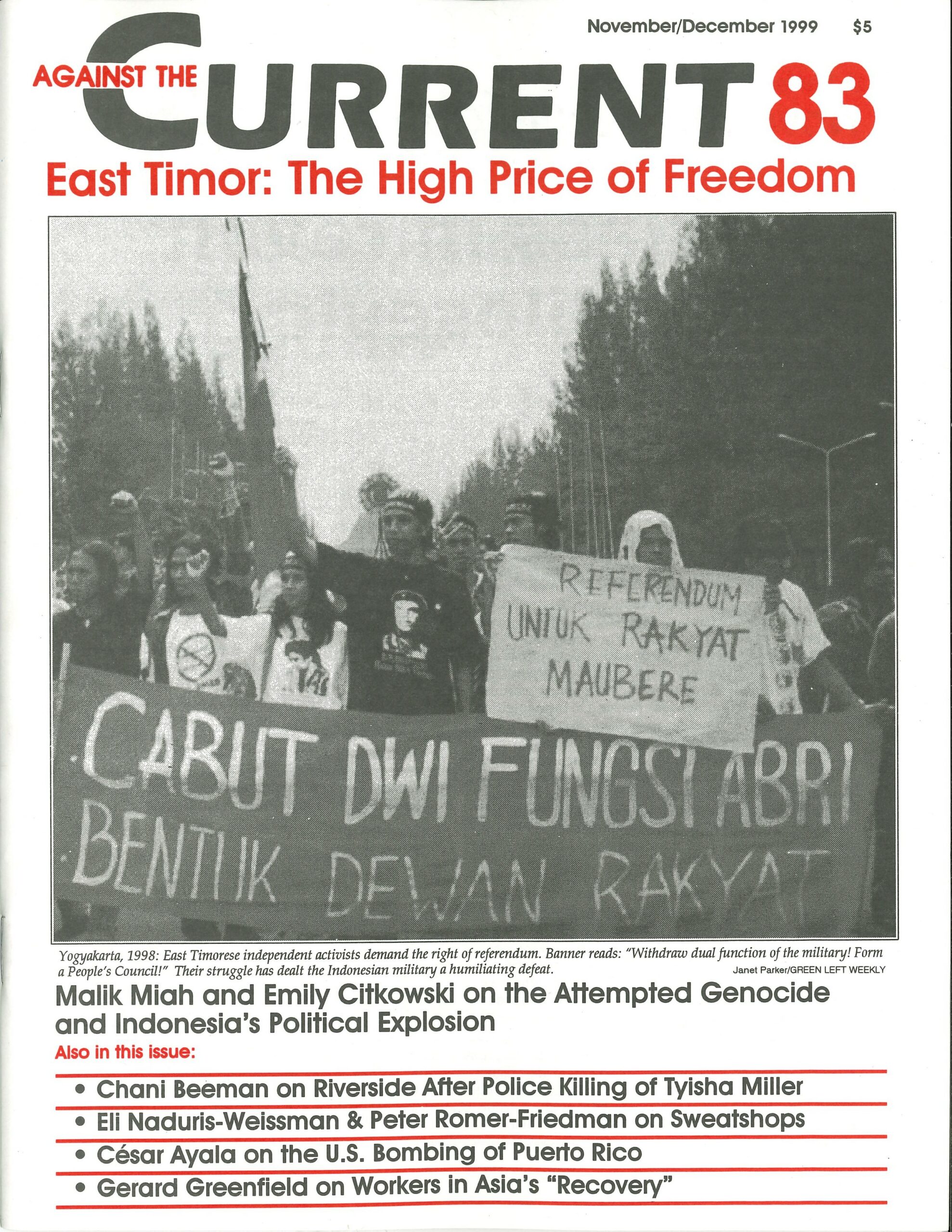 MOST OF US are glad to see a spouse commit a misdemeanor, e.g. violating a diet or a budget. It gives us license to go and do likewise.
In today's auto plants, having a bicycle to ride around on the shop floor is more prestigious than having a Cadillac in the parking lot.
To judge by the UAW's propaganda to the membership, the union seems to decide which candidates it will support on the basis of the car they drive.
A recent book reveals that Nixon used to cheat at golf. Somehow, we aren't a bit surprised.
The Treasury Department complains that everybody leaves their pennies in a jar on the dresser instead of keeping them in circulation. They need to bring back the penny-candy stores we used to have on every block.
Cultural Literacy
ANYONE WHO DOUBTS that the education system is in seriously bad shape should carefully study the following paragraph from an article "Democratic Socialists discuss capitalism" in The Voice, the Bloomsburg (PA) University student newspaper. Managing Editor Jim T. Ryan, reporting on an April 23 open forum of the campus chapter of Democratic Socialists of America (DSA-BU), states:
"The question was raised about DSA's relationship to Marxist and Communist theories, being that Carl Marx and Robert Engels are to this date the originators and inventors of socialist theories. Marx and Engels invented socialism in the nineteenth century after publication of the Communist Manifesto, in which they set down the principles and beliefs of socialist theory. This form of socialism is known as Marxism. In the early twentieth century, Vladimir Lenin and Josef Stalin set up a radical form of socialism, or Communism, in Russia."
DSA panelist Tony Sylvester, Faculty Emeritus is quoted as responding that "Democratic Socialists don't believe in Marxism." No kidding.
Kampfer's Kultur Korner
IF WARREN BEATTY runs for office the way he did in "Bulworth" we'll have a campaign worth staying awake for.
Check out a rising science-fiction author named Eric Flint.The book jacket describes him as a dedicated Trotskyist. In collaboration with David Drake, he's done an excellent trilogy on an alternate history of the Byzantine Empire.
How about gay and lesbian remakes of all those wholesome Sidney Poitier movies: "Guess Who's Coming to Dinner," "The Defiant Ones," "To Sir With Love"? If that doesn't give Jesse Helms a stroke, we'll try something else.
Like "The Phantom Menace," "Hannibal" was anticipated so long and so hard that it was bound to fall short of expectations.
Classroom Struggle
AFTER THE RECENT Detroit teachers' strike, the Michigan legislature is preparing legislation to impose automatic fines on striking teachers. If they spent the day with a herd of third-graders, they'd give the teachers a blank check—not that the State House is much different.
If teachers are going to get merit pay, how are you going to judge their worth? How hard is it to give everyone an A? You should wait until ten years after the class graduates and see how many of the kids are making themselves useful.
ATC 83, November-December 1999