Against the Current, No. 83, November/December 1999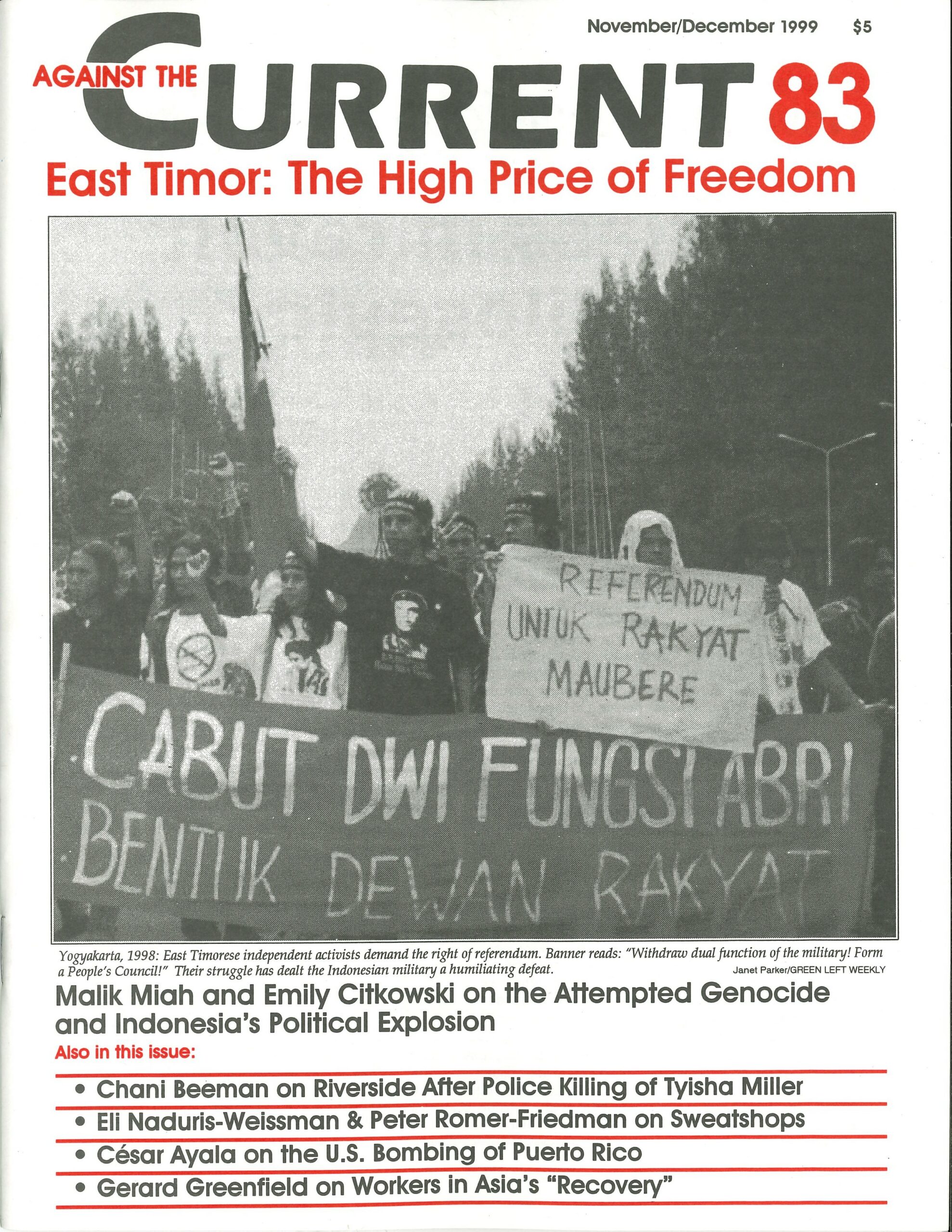 IN THE CURRENT age of rising attacks on communities of color, victories for left communities of color are few and far between. This spring, one small struggle on a campus with a rich history of resistance gave us one such victory.
The University of California system has been among the leading institutions attacking communities of color and poor communities of California in recent years. In light of the magnitude of these attacks, including the 1995 dismantling of affirmative action programs, which sent the number of students of color at UC plummeting, the recent victory in strengthening ethnic studies programs at UC Berkeley is truly to be celebrated.
Student organizers, elementary, middle- and high school students, and community members fought and won at UC Berkeley in one of the largest struggles in nearly a decade.
Reviving A Legacy of Struggle
In 1969, a multiracial coalition of students formed the third world Liberation Front (twLF) at UC Berkeley and San Francisco State. These students organized a massive student strike protesting the racist and exclusionary policies of these public universities. Their struggle directly resulted in the creation of ethnic studies programs on both campuses. These, in turn, have served as models for ethnic studies programs across the nation.
In the tradition of those who came before us and in the name of those who will come after us, the third world Liberation Front reconvened on the UC Berkeley campus this spring, thirty years later.
With guidance and support from many of the original third world strikers, this broad-based, multiracial coalition of students and community members came together aa a time when university officials and the UC Board of Regents threatened ethnic studies departments at all UC campuses. We had two explicit goals: to commemorate our collective legacies of resistance, and to demand action on the part of the university in addressing the needs of communities of color both on an off campus.
The 1999 third world Liberation Front organized a ten-hour long occupation of Barrows Hall, the on-campus building that houses all ethnic studies departments.
Students presented eight demands to university administration. These demands sought to build the Department of Ethnic Studies and meet the needs of students of color on campus. Hundreds of students both inside and outside engaged in peaceful protest, which was halted when police dressed in full riot gear invaded the building at 8 pm.
For two hours, the police used excessive and unnecessary force on protestors, which landed one student in the hospital and dozens of students with injuries. Seventy-five students were arrested at the orders of university officials Provost Carol Christ and Chancellor Robert Berdahl, who refused to negotiate on any one of the eight demands.
The period immediately following the occupation was a time of intense organizing. Little more than a week later, hundreds of students and community members gathered on the front steps of a university administration building, shared a meal, and began the 1999 third world Liberation Front hunger strike.
Six students fasted, taking only juice and water, putting their bodies on the line and demanding action on the part of the university. Hundreds of students and community members kept vigil with the hunger strikers outside of California Hall.
We set up a twenty-four-hour camp, which was the site of our daily morning ceremonies, afternoon rallies and evening cultural events, all of which drew the support of hundreds of people every day, all throughout the day. The entire ethnic studies faculty, for the first time in years, joined the students in protest.
On the fourth night of the hunger strike, the University of California Police Department, complete with police officers flown in from UC Los Angeles and UC Davis, invaded the camp, and again using excessive force arrested eighty-three protesters, including community members and students.
Organizers worked all through the night and came back with hundreds more protesters in the following days. The university agreed to sit down for negotiations, but was unwilling to make any real concessions. Phone calls inundated the chancellor and provost's office, putting pressure on them to meet students' demands.
On the eighth day of the hunger strike, the chancellor and his cabinet sat down with a team of student negotiators and agreed fully to seven of the eight student demands, and conditionally to the eighth demand.
The Power of Solidarity
The third world Liberation Front was true solidarity among students and community members. The hunger strike was victorious only because of the tremendous community support.
Solidarity with the struggle at UC Berkeley stretched nation-wide. Labor unions pledged support. Ethnic organizations, progressive community groups, and religious and spiritual communities rallied alongside protesters.
Young people representing numerous community youth groups came daily. Dozens of universities and community colleges held day-long solidarity fasts. Yellow armbands covered the campus, letters from across the nation poured in, the administration's phones rang constantly.
It was this massive expression that pressured the university, giving them no choice but to meet student demands.This strategic and extensive outreach was among the strongest points of the organizing.
Leadership development was also a significant success on the part of the third world Liberation Front, as more experienced student organizers made facilitating leadership a priority, passing on skills to leaders on the rise. The dedication of both core organizers as well as newcomers allowed for a strong, consistent presence for eight days straight.
Women of color were at the forefront of the struggle, seizing leadership from which sisters have been historically excluded. A clear political line was present throughout the organizing, ensuring that the struggle was not only about ethnic studies at UC Berkeley but about a larger system of oppression seeking to keep down communities of color and marginalized communities everywhere.
Mass Democratic Process
Democratic decision-making processes were used so all concerns, comments and ideas could be dealt with. One way in which this played out regarded the choice of whether to do a hunger strike.
Initial meetings after the Barrows Hall occupation presented two distinct ideas—either another building occupation or a hunger strike. There was hesitancy in deciding, mostly due to the seriousness and magnitude of a hunger strike. A vote was taken and a building occupation was decided.
At the next meeting, two days later, a substantial group of people asked for a revote. As experienced campus organizers, they expressed concern that past building occupations have been ineffective, and that the administration knows all too well how to deal with them.
A hunger strike was a new tactic on the UC Berkeley campus, one that the administration would not know how to deal with, and a tactic that had recently proved successful at UCLA and Stanford University. The group revoted, and decided to move ahead with a hunger strike.
A clear democratic process was necessary in negotiating this situation, because soon after, some people began to question the decision. After discussion virtually all who initially had concerns came to feel comfortable with the idea and participated fully in the organizing.
The twLF made sure to put out a political line, making it clear that the struggle is not just about Ethnic Studies at Cal but about the systemic nature of oppression. Therefore, it was understood by all that winning a campus struggle, regardless of its importance, is only a step in many we must take in order to achieve the liberation of all oppressed people.
From this understanding also arose a commitment by many newer organizers to view themselves in the struggle long-term.
Responding to Critics
Complex challenges faced twLF both during and after the hunger strike. Maintaining communication among several committees and keeping abreast of the negotiation process was difficult given the intensity and demanding nature of the hunger strike.
Almost immediately after the hunger strike ended, a huge public attack was made on twLF people in leadership positions. Those who issued the attack were a small group of people, most of whom were only marginally present at the hunger strike, and none of whom contributed to the organizing efforts.
This small group sent a lengthy e-mail, both nationally and internationally, criticizing the negotiations team of student organizers and Van Jones, a prominent community organizer who was present throughout the hunger strike to lend support and community resources.
Rather than dealing with criticism constructively and in a politically principled manner (like bringing their concerns to the group first so we could work them out), this small group publicly announced their critique, which led to confusion and disruption. Those attacked in the e-mail were given no place to assess their involvement, nor were they given appreciation for their hard work and undeniable passion.
As good organizers and aspiring revolutionaries, however, we must take these challenges, transform them into lessons learned, and incorporate them into our practice. The attack on leadership made it clear that we must have open discussions about the role of leadership in the movement.
Moreover, we must push people to help comrades grow as better leaders through constructive criticism and self-criticism rather than launch attacks against leadership in general and people in leadership specifically.
Moving Forward Always!
Throughout the summer twLF has met, ensuring the University implements its promises, including an ethnic studies research facility, a multicultural student center, and the hiring of eight full-time ethnic studies professors.
The struggle for ethnic studies at UC Berkeley has demonstrated that the power of the people is enough to challenge oppressive institutions and win. The victory on this campus is a message spread across the nation that people of color will not sit idly by as our education is ripped from our hands.
We will not allow the University of California or any oppressive institution to silence the voices of those who came before us or steal the undeniable right to education from those who will come after us. This victory is but one stepping-stone in the struggle we must build in order to end all forms of oppression. We stand strong, armed with revolutionary vision, moving forward always.
ATC 83, November-December 1999