Against the Current, No. 83, November/December 1999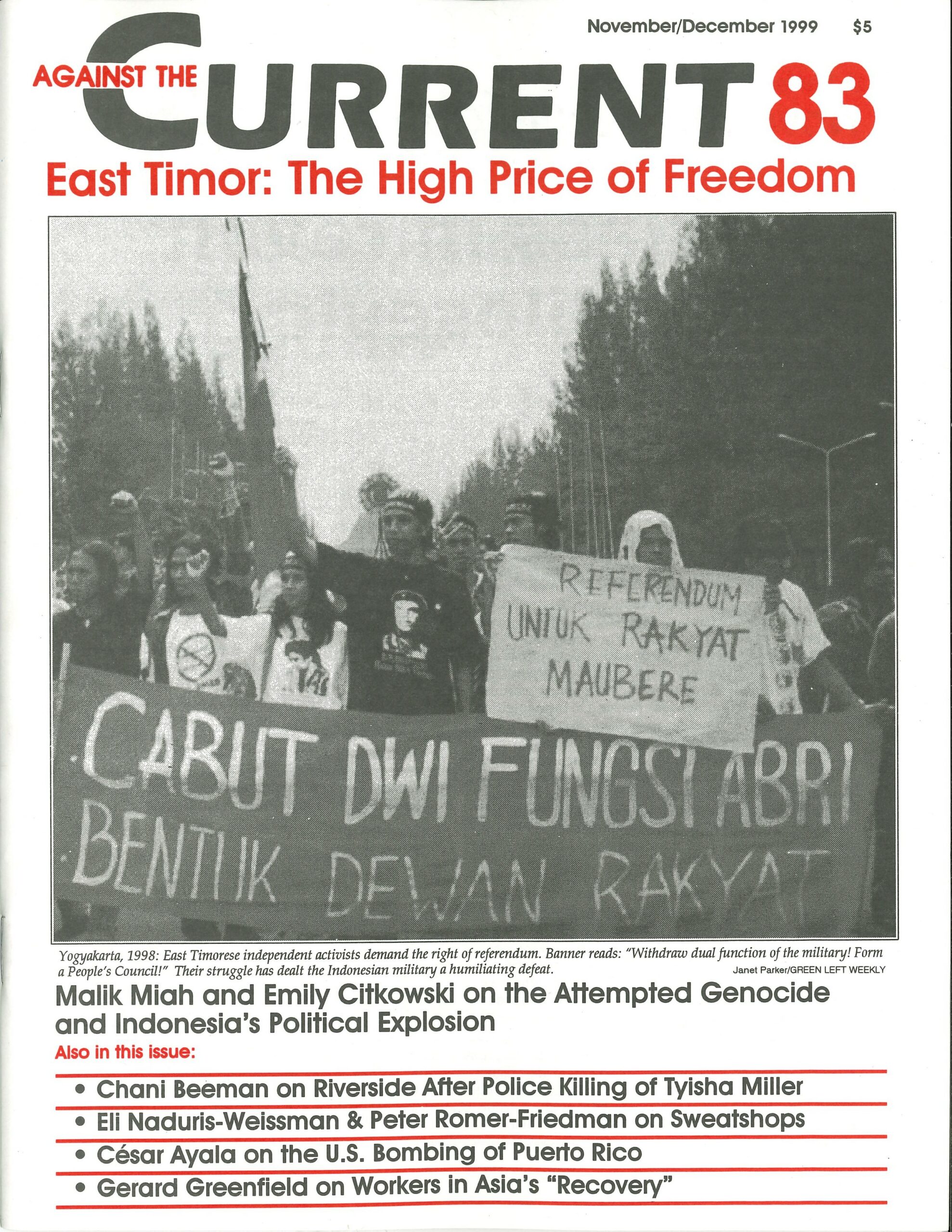 WHY ARE WE still talking about the Asian crisis? In recent months we have heard government policy-makers, economists, business journalists, financial analysts, IMF technocrats, big business and even some unions announce that "the Asian financial crisis is over."
In one sense, this is true. If we look back at the Asian financial crisis that started with the collapse of the Thai baht in July 1997, followed by the collapse of other Southeast Asian currencies and an explosion of bad debts and bankruptcies, we can see that things have certainly changed.
The crisis is no longer a matter of falling exchange rates and troubled banks. It is no longer just a financial crisis, but a widespread economic crisis affecting the livelihood and rights of working-class people in all industries and occupations. It is a crisis for the 25 million workers in Asia who lost their jobs in the last twelve months, and tens of millions more workers who have experienced a rapid decline in living standards, a deterioration of working conditions and job security, and continued attacks by governments and employers on trade union and workers' rights.
1. Crisis or Recovery?
It is also a fact that the crisis is no longer an Asian crisis—it is a global crisis. This crisis comes on top of the recession that many developed capitalist countries were already faced with since the late 1980s, and is worsened by Russia's economic breakdown and the Brazilian crisis in September 1998. In this sense, it is now much deeper and more widespread than it was before, and the prospects of this being a long-term, global economic crisis is something that unions at the local, national and international level must face.
Yet when government policymakers, economists, and technocrats claim that "the Asian financial crisis is over," they are not recognizing the fact that a global economic crisis has taken its place. Instead, they are desperately trying to sell the idea that we are now witnessing a "recovery."
Of course, they can easily "talk up" a recovery, especially with the help of the mainstream media—as when the Asian currencies "recovered" in January 1998 and the "end of the crisis" was declared. Less than four months later, Japan was in a much deeper recession and by July, Malaysia, Hong Kong, Thailand, Indonesia, South Korea and the Philippines were all in recession.
While the regional crisis deepened Japan's recession in April 1998, Japan, in fact, has been in recession since 1992, long before the collapse of the Thai baht. In addition, countries like Australia, New Zealand and the Philippines were already in a crisis of their own, having been subjected to the socially destructive "free market" policies of privatization and deregulation.
When these same free market policies were later imposed on Thailand, Indonesia and South Korea by the IMF as a "solution" to the Asian financial crisis, these countries quickly slipped into recession too. We should also recall that there was already widespread urban and rural unemployment, low wages, and poverty in Thailand, Indonesia, and the Philippines before the crisis hit.
Although unemployment in Indonesia was officially 5% (4.4 million workers) in 1996, compared to 20% now, even before the crisis over 60% of employment was in the informal sector and 40% of all workers were underemployed, earning less than they needed to survive.
So when policymakers, economists, technocrats and their associated business cronies claim that the crisis is over and we are on our way to "recovery," we need to ask: "Recovery from what?" Does "recovery" mean that we are returning to the levels of unemployment, low wages and poverty that we had before July 1997? Does it mean that we will finally get back to a "normal" situation of economic recession?
2. Economic Crisis and Trade Union Rights
Ironically, many local and international bosses are also saying the crisis is not over. The reason is that whether or not their own businesses are really in financial trouble, they can use the crisis to force concessions out of workers and their unions.
Over the last two years capitalists throughout the region have been using this crisis as an excuse to lay off regular workers, freeze or cut wages, withhold overtime pay, allowances and bonuses, and casualize workplaces by hiring more part-time and contract workers. These are changes that many unions successfully resisted in previous years, but which now seem to be "necessary" and "justifiable" under the present conditions.
Using "the crisis" has been an important way in which bosses have created fear in the workplace and shifted the balance forces in favor of more ruthless and repressive management practices. This includes:
a) Laying-off regular workers and replacing them with casual and part-time workers who are paid less, earn no additional allowances or benefits, and have no legal right to join unions. It is also common for workers to be hired as "self-employed," so they have a commercial contract to provide services in hotels or restaurants, but do not have employment contracts and are not protected by labor laws.
b) Wage freezes and wage cuts, combined with the introduction of individual performance-based pay and other individually-targeted incentive schemes which undermine the collective bargaining position of unions.
c) Refusing to renew or to recognize existing collective bargaining agreements on the grounds that the terms of the agreement cannot be met under the present economic crisis.
d) Lengthening working hours and overloading. For example, in the hotel/restaurant/catering/tourism (HRCT) sector in countries like Indonesia and Malaysia, employers impose "multiskilling" schemes which basically amount to workers being forced to take on several different jobs at the same time so that the company can save costs and avoid new hiring.
e) Imposing new management schemes (eg. TQM, HRM, "team" concepts), which bosses claim will reduce costs and increase productivity and efficiency in order to overcome the present crisis, but which in fact seriously diminish workers' rights and interests while replacing unions with "quality teams" and "staff councils" set up by the management.
f) Increased subcontracting (e.g. laundry services, booking and reservation call centers), outsourcing (e.g. pre-cooked foods and outsourced food preparation) and the use of labor-only contracting agencies. Throughout the region, labor hiring agencies are being used as one of the most effective tools for union busting. In fact, some large labor hire agencies have grown into TNCs themselves. For example, the U.S.-based hiring agency, Manpower, contracts out and manages over 2.6 million workers in the Asia-Pacific.
g) With many companies unable to repay their debts, financial institutions are exercising more control over management decisions, demanding more cost cutting and workplace restructuring. Financial institutions are in a position to threaten workers' job security since the alternative to restructuring is that the business is liquidated, its workers laid off and assets sold to recover some of the unpaid debts. As part of their push for immediate debt repayment, financial institutions are imposing "labor flexibility" and anti-union strategies to undercut workers' claims.
One of the key elements of workplace restructuring is "labor flexibility." In the conclusion to this paper it is argued that this is a long-term problem threatening workers' rights and livelihood, not a temporary crisis.
3. Impact of the Crisis on Tourism
The clearest impact on the HRCT sector has been the stagnation or decline of tourist arrivals and tourist spending in the region, with the exception of South Asia. The worst hit was Indonesia. In 1998, tourist arrivals fell 31% and tourism revenue by 48% compared to pre-July 1997 figures, while the average occupancy rate in Jakarta fell below 30%.
Even for countries like South Korea, Malaysia and Thailand that showed an increase in tourist arrivals in 1998, tourists were spending significantly less. More importantly, the increase in tourist arrivals in South Korea and Malaysia can be partly attributed to a drop in average room rates of 27% and 35% respectively. (However, there is a limit to this explanation, since a significant drop in room rates in Hong Kong was matched by a continued fall in tourist arrivals.) Room rates were cut to maintain occupancy rates, and intense competition to attract guests, price wars and package deals with travel agents and airline companies continue to drive rates down.
In their attempt to maintain profit margins, employers have cut costs, particularly labor costs. So the decrease in room rates has a direct impact on workers' wages and working conditions.
The costs of this downturn were clearly borne by workers in the tourism sector. Even after mass layoffs and wage cuts of up to 50% (along with rapidly rising living costs) in 1997, the employers' association, the Indonesian Hotel and Restaurant Association (IHRA), announced in early 1998 that between six to seven million tourism sector workers would be laid off by the end of the year.
While it seems logical that weaker regional currencies would make it cheaper for tourists from outside the Asian region, especially from Europe and North America, these tourists were largely concentrated in a few resort locations such Penang in Malaysia, Bali and Manado in Indonesia, and Phuket in Thailand, with a limited effect on the hospitality industry nationally.
Reports on "social unrest" and "political instability" (including workers' strikes and demonstrations) have kept tourists away, as well as "mini-crises"such as food safety and health scares in Hong Kong, Malaysia and Taiwan, and the Hong Kong airport crisis.
For the restaurant and catering industry, and star-rated hotels (especially the food and beverage departments), the drop in currency value after July 1997 meant that the prices of imported goods skyrocketed, driving up overall production costs. In some instances—such as the case of Indonesia in the second half of 1997—hotels tried to pass on these costs to customers, a move which exacerbated the problem because it led to a further drop in occupancy rates and travelers' spending.
In most cases management did not pass increased costs on to customers, but instead made cuts to other production costs such as wages and benefits and spending on key areas such as training and health and safety.
In addition, the rate of decline in tourist spending is greater than the decline in tourist numbers. This means that there are fewer tourists spending even less. This has exacerbated price wars and competitive "package deals," leading to losses in workers' service charge entitlements, especially where these package deals are advertised as including service charge. These deals also tend to require overtime or additional tasks that result in longer working hours and overloading.
The danger is that these low package rates may become fixed, or they may only be raised slowly even if there is an overall economic recovery. This locks tourism sector workers into lower wages and working conditions and "temporary" or "emergency" work arrangements negotiated under pressure will become permanent.
Finally, the decline in spending by tourists involves an increase in the use of mini-hotels and small- and medium-scale hotels. With a very low rate of unionization in these smaller workplaces, there is a threat to the overall working conditions and employment standards in the hotel sector.
Even if occupancy rates are maintained at a reasonable level and tourist arrivals and revenues stop falling, the fact is that a vast number of hotel-owning companies in the region were heavily in debt before the crisis and they are facing debt repayment pressures. In particular, companies which borrowed in foreign currencies before July 1997 are now faced with increased debt burdens. The collapse in property market prices has also undermined asset values and weakened the financial position of debt-burdened companies.
4. The Hidden Crisis in the HRCT Sector
In a sense the regional economic crisis was brought into the HRCT sector through a number of "flow-on" effects from other sectors. The overall decline in demand in the hospitality industries was directly linked to real wage cuts, inflation, job losses, lost savings and increased uncertainty in most countries in the region (and now the world). However, these "flow-on" effects are not simply due to a decline in demand.
Financial problems in related industries such as airline companies have also played an important role in spreading the crisis to the HRCT sector. The closure of a number of domestic airline companies in Indonesia due to bankruptcy, cutbacks at Garuda International Airlines, and the temporary closure international carriers like Philippine Airlines, are examples of this.
Despite the fact that Bali is one of the few parts of Indonesia where tourism has remained high, Garuda Airlines stopped its flights from several U.S. and European cities (the second major source of tourist arrivals in Bali next to Australia) due to financial problems in its parent company, Garuda Corporation.
While South Asia is still seen to be largely unaffected by the crisis, a similar pattern is emerging in India. Despite the current growth in tourism, the hospitality industry is indirectly affected by the financial problems of the national carrier, Air India.
In 1998, Air India suffered losses of US$80 million and this is expected grow to an annual loss of US$98 million in the year 2000. While it is not yet clear what concrete effect this will have on the HRCT sector in India, the Indonesian experience suggests that there is a risk of significant disruption to tourist arrivals.
Of course the crisis within airline companies has also had a direct effect on airline catering. A number of airlines have closed down or sold off their catering divisions as part of their internal restructuring to cope with growing losses. Independent catering companies trying to maintain contracts with airlines are faced with pressure to reduce costs in line with this restructuring and airfare price wars.
At the same time, there is increased competition within the sector as the European-based LSG-Sky Chefs is taking advantage of the crisis to gain a greater share of the Asian market. Most local airline catering companies are responding by reducing wages and benefits, laying off workers, and hiring short-term contract workers.
The further expansion of LSG-Sky Chefs in Asia also poses a more direct threat to workers and unions. Anti-union activities by LSG-Sky Chef in the United Kingdom and its recent sacking of 300 striking workers at Heathrow Airport provides us with an insight into the problems we can expect to face.
In response to this attack on the rights of airline catering workers and the increasing control over the industry by corporate giants like LSG-Sky Chefs, the IUF and the ITF have launched a campaign to "win justice for airline catering workers." (For details see the IUF web page: http://www.iuf.org/)
Although the HRCT sector has not been hit as hard as the textiles, garment and footwear, electronics and automobile industries in Asia, it is important to recognize that many of the underlying problems—the combination of overproduction and financial liberalization, leading to price cutting and heavy borrowing to cover losses—which led to the crisis in these other sectors also exist within the hospitality industry.
We can see this over expansion very clearly in the case of Indonesia just before the crisis. The number of star-rated hotels increased by an average of thirty-nine new hotels per year from 1993 to 1997, reaching a total of 810 star-rated hotels with 82,498 rooms in 1998. This expansion was mainly financed through overseas borrowing.
Now occupancy rates are down to 30%, and there is very little possibility that these loans will be repaid. It is reported that twenty-three hotels in West Java which have an accumulated debt of US$126 million are now on sale to foreign buyers.
In Malaysia, Faber Group, part of the Renong conglomerate, has been resisting attempts by Hilton International Co to buy two of Faber's six Sheraton hotels at "bargain prices." Although Faber has rejected the offer as too low, it may not be able to hold out for much longer. Faber must repay RM560 million in overdue debts by June 1999, and is selling off assets to do so.
Following losses of RM320.14 million last year, Faber is now selling all six of its Sheraton hotels in Malaysia as well as Sheraton Hanoi in Vietnam and Hilton Durban in South Africa—only three years after it launched the a debt-financed RM1 billion project to build these hotels.
The move by Hilton International to buy the Sheraton hotels from Faber Group at bargain prices reflects another critical challenge faced by HRCT workers. U.S. and European investment funds see the Asian economic crisis as an opportunity to move into Asia, especially into countries like Japan and South Korea where foreign capital controls and barriers to foreign entry have been strong in the past.
Hotel properties and resorts have been identified as an important sector for buying up locally- or regionally-owned hotels which are unable to repay their debts. According to the fund manager Jones Land Wootton's (JLW) TransAct, U.S. and European investors will use US $5 billion to buy up hotels in Southeast Asia alone. They are clearly taking advantage of the fact that hotel owners in Southeast Asia are being forced to sell because of debt repayment pressures—especially where loans were made in foreign currencies.
Of this US $5billion, more than US$500 million will be used to buy hotels in Indonesia, particularly Bali. Most of the buying spree, however, will be in Thailand and Malaysia where the situation is seen to be more stable.
Ironically, many of those U.S. companies which have declared a buying spree of Asian hotels at cheap prices are themselves in debt. When U.S.-based Marriot International Inc announced its expansion plans in Asia at the end of 1997—with the aim of becoming the second largest hotel owner in Asia by the year 2000—it already had US $1.45 billion in debt.
Marriot was forced to restructure its food and management services business by forming a joint venture with French-based Sodexho Alliance SA, and only then was it able to raise US$300 million in cash.
Of course, when hotels face closure and workers are going to lose their jobs, any buyer seems welcome. More importantly, unions are rarely in a position to influence these decisions anyway. The point is that the debt crisis of local companies and owners of franchises opened the gates to a wave of takeovers and mergers that will involve dramatic workplace restructuring.
There is also a shift in the location of decision-making power when these takeovers occur—and unions need to position themselves to deal with that shift, whether it means claiming better standards and conditions based on the new owning company's other unionized hotels, or fighting downward pressure and cutbacks. In some cases existing collective bargaining agreements may be ignored or the new management will suspend existing arrangements until restructuring is complete—which will be too late for the union.
Pre-emptive action was taken by the KCTU-affiliated Hilton labor union when faced with the sale of the Hilton Seoul Hotel to foreign buyers in mid-1999. The union waged a struggle to secure trade union rights and the protection of workers' jobs and wages by demanding that these rights be included as a condition of sale.
When looking at the problem of takeovers, we can already see a similar trend in India, where expansion by hotel-owning companies is creating overcapacity and accumulated debt that will eventually lead to a crisis and their forced sale.
a) Hotel Hindustan International (HHI) spent US $580 million to build three new hotels, increasing HHI's total room capacity to 850 in 1998. This involved overseas loans of US$58 million.
b) In July 1998, Asian Hotels (which owns the Delhi Hyatt Regency) launched new hotel projects costing Rs.460 crore (US $107.5 million), financed mainly through borrowing. The company received a Rs.100 crore (US $23.4 million) loan from Punjab National Bank (PNB) and Rs.80 (US$18.7 million) from the Industrial Finance Corporation of India (IFCI).
Using this money, Asian Hotels is risking overexpansion by building a 450-room Hyatt Regency in Mumbai and a 250-room Hyatt Regency in Calcutta. Until this expansion, Asian Hotels was a zero debt company.
c) In mid-1997, Anubhav Resorts announced it would build 400 rooms in four cities by the end of 1999 in a joint venture with Le Meridien. This involved overseas borrowing of US $117 million.
d) In the first signs of what may become a trend in the next couple of years, the debt crisis faced by over-extended companies have led to the sale of hotel properties. In May 1998, for example, Aruna Sugars and Enterprise Ltd (ASEL) was forced to sell Quality Inn Aruna to its subsidiary, Aruna Foods Ltd (AFL), then sell AFL to an outside buyer to raise enough money to pay back US$7 million in loans from financial institutions.
Overcapacity is also the result of increasing reliance in what we can describe as "single-event booms." This is where the expansion of existing hotels and tourist facilities and the construction of new hotels and facilities occurs as companies prepare for a surge in demand associated with a single event, like the Olympic Games.
Not only does this create extra capacity that will be unused after the event, it is also common practice for workers to be hired for the duration of the event then fired immediately afterwards. Already we can see overexpansion in the HRCT sector in preparation for single-event booms like the Sydney Olympics, the World Cup in Japan and South Korea, and the next ASEM meeting in South Korea in the year 2000.
Hotel Inter-Continental Seoul, for example, is planning to build another 656 rooms just for the ASEM meeting despite the fact that this—like other events—will not last more than a month. Although claims that the additional rooms and facilities will be used afterwards, this rarely happens. Just as the "excess" workers are laid off, the excess capacity goes unused.
This reflects the short-term nature of these investments—and the short-term nature of the jobs that are created. It is also a reminder that most of the real profit was in the construction of hotel and tourism facilities, not necessarily in their use. It is the construction companies—many of which are direct owners or investors in hotels—which profit most of all.
The problem of overcapacity has practical implications for unions. When resisting attempts by employers to impose workplace changes that undermine workers' rights and interests, union representatives are often faced with the argument that occupancy rates are down so the hotel is in trouble.
Room rates must be cut and special packages offered if occupancy rates are to be raised again. So the workers have to take their "share" of the cut. It is a familiar argument. But if we put this in the context of overexpansion and financial mismanagement, we can see that the crisis was caused internally.
For example, let us say that in 1996 a 200-room four-star hotel had an occupancy rate of 80% and in 1999 it has an occupancy rate of 60%. So the boss is crying "crisis" and demanding cutbacks on the part on the union. But the question is whether there has been a real change in the number of customers.
Let us assume that the owner (or the owning company) decided to expand to capture a bigger share of the market or to prepare for a big event that was going to attract more tourists, so money was borrowed to finance the addition of another wing with eighty rooms. The hotel now has 280 rooms.
If the occupancy rate was 80% in 1996, then it meant that there were on average about 160 guests. If there are 160 guests now, then the occupancy rate is only 57%, because the hotel now has 280 rooms. The fall in the occupancy rate from 80% to 57% is due to the expansion of the hotel's capacity.
Therefore the problem is not due to a decline in demand or an economic crisis, but to overcapacity created during the speculative boom by the people now facing you on the other side of the bargaining table. Rapid over-expansion financed through borrowing not only created a crisis of over-capacity, but also created debts that far outweighed the assets and realistic future earnings of these companies.
5. The Long-Term Threat of Labor Flexibility
What then is the relationship between this crisis and labor flexibility? The argument runs something like this: The destruction of jobs and the deterioration in the livelihood and well-being of millions of workers in the region did not occur overnight. The loss of jobs may have occurred overnight for many workers, but the nature of these jobs, the absence of ways in which they could be defended, their temporary character, and the way in which they could be thrown out so easily, are all issues relating to what was happening in the workplace well before the crisis hit.
This is the long-term threat posed by "labor flexibility." Over a decade of national and international policies, strategies and processes of exploitation and control which have demolished workers' collective rights (collective bargaining, the right to organize, trade union rights, and protection against dismissal), while creating new mechanisms of repression in the workplace and in society. This includes the casualization of work and the decline of regular employment, downward pressure on wages in the name of "competitiveness," increased working hours, removal of "rigidities" such as unemployment security and welfare rights, and the repression or co-optation of trade unions.
Underlying this global process is the downward revision of national labor laws and regulations, and the strengthening of their more repressive or anti-worker functions. We have seen this with the anti-worker labor law amendments that led to the general strike in South Korea in 1996, the legalization of casualization in the Philippines, the Employment Contract Act in New Zealand, the new Manpower Law in Indonesia, and the threat to revise the Labor Standards Law in Japan.
According to the World Bank, a chief enforcer of "labor flexibility" policies, short-term contracts are necessary to "maintain employee motivation and to minimize problems in releasing workers if need be." That is, workers are easily sacked and have no job protection. The Bank justifies this policy prescription by pointing to the East Asian growth experience in the 1980s:
"The Republic of Korea and Taiwan, China, achieved unprecedented rates of economic growth by letting entrepreneurs manage their workforces as they saw fit. They paid wages that were sufficient to acquire and retain the workers they needed."
The economic crisis in Asia illustrates precisely what happens when they are not needed. From the thousands of workers laid off in Hong Kong and Vietnam, to tens of thousands in Thailand, Malaysia and South Korea, to hundreds of thousands in Indonesia, capitalists are "managing their workforces as they see fit."
But this is not unique to Asia. Casualization, the disappearance of regular jobs, the destruction of job and income security, the increase in informal sector work and home-based work, subcontracting, dismantling of worker and trade union rights, privatization and the intensification of the struggle to maintain a basic livelihood—not even a decent livelihood—are all experiences of "labor flexibility."
These assaults have affected the lives of millions of workers in Britain, France, Brazil, Mexico, Canada, the United States and many other countries. The neoliberal project at the heart of globalization has created this common crisis for working-class people throughout much of the world.
ATC 83, November-December 1999